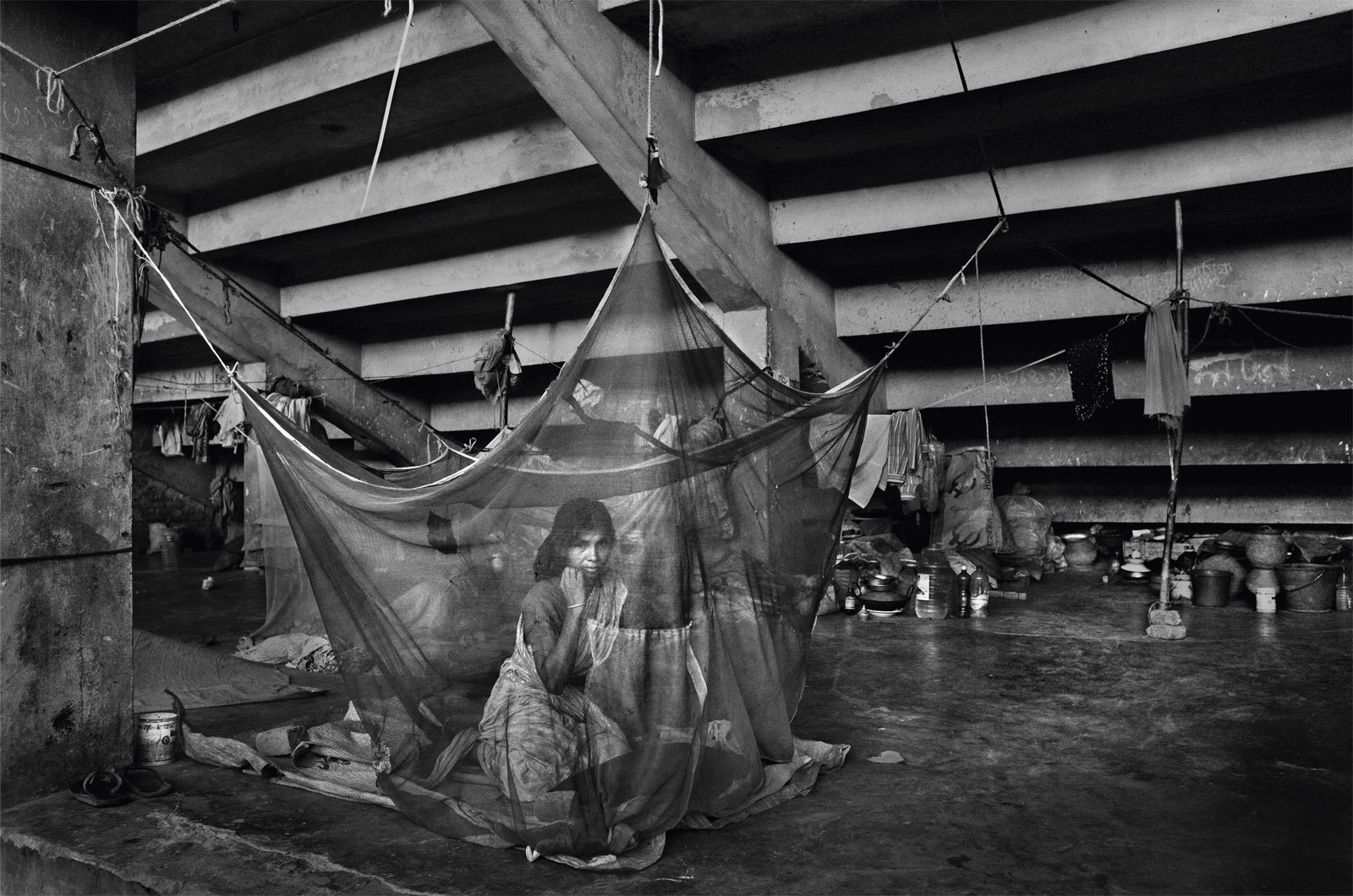 This article appears in the Photo Issue 2015
Photos by Shehab Uddin, from our collaboration with Magnum Photos and Magnum Foundation
The 15,000 to 20,000 pavement dwellers of Dhaka are among the most vulnerable and neglected people in Bangladesh. They have few means to survive in a political, social, and economic environment that virtually ignores them. Their main concerns are food, clothing, and a place to sleep. They live for the present—no past, no future. They engage in numerous activities to earn a living (working as porters, rickshaw pullers, maids, sex traders, and solid-waste recyclers), with their own particular struggles and joys. They are conscious of their identities as human beings.
Their population over the last decade has increased at the same rate as that of Dhaka in general. Many newcomers arrive after escaping floods that ruin livelihoods in rural areas and that are becoming more frequent with climate change. Others are crippled with debt and are reeled in by the promise of better opportunities. But for the future influx of pavement dwellers, the move will not bring the better life they hope for.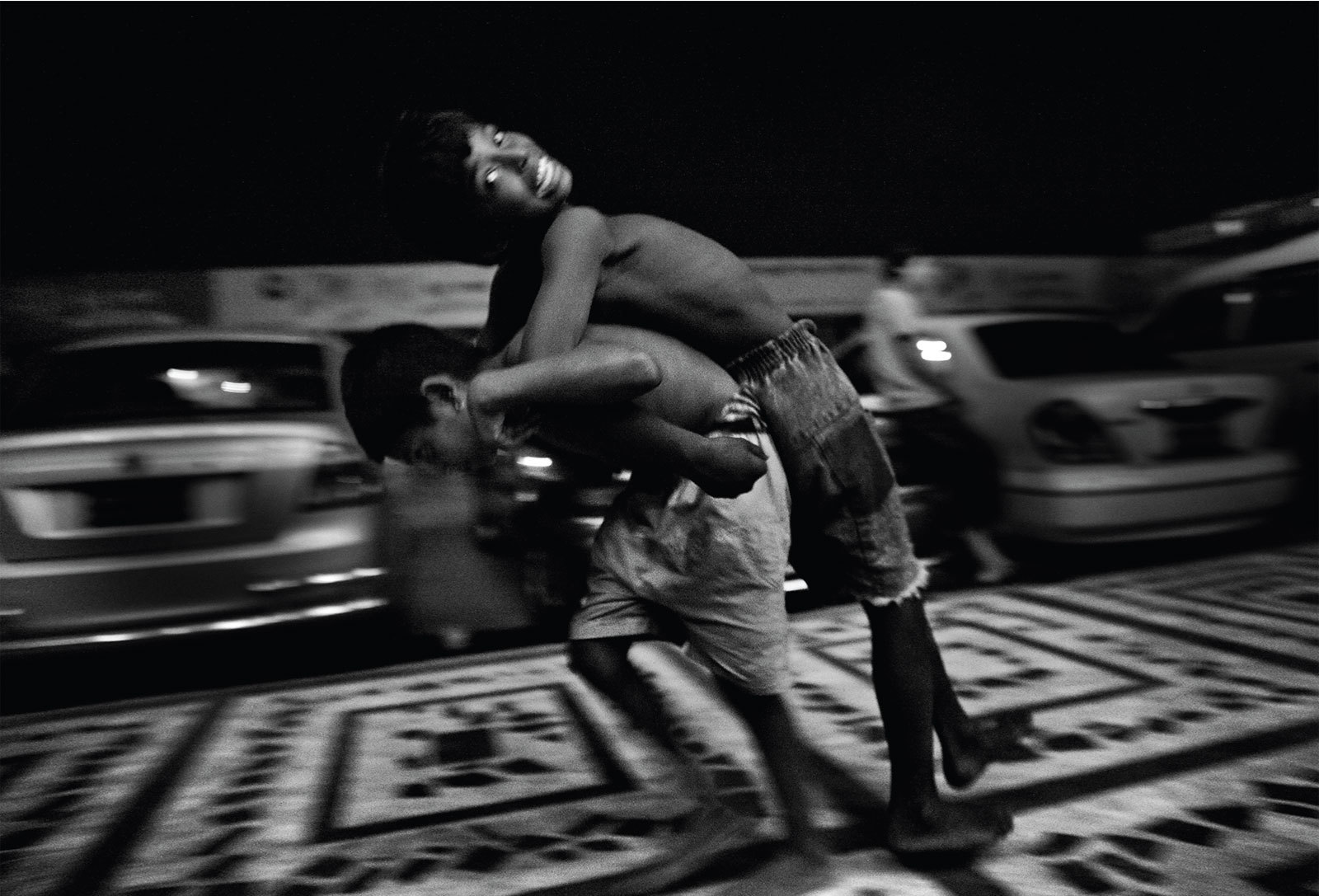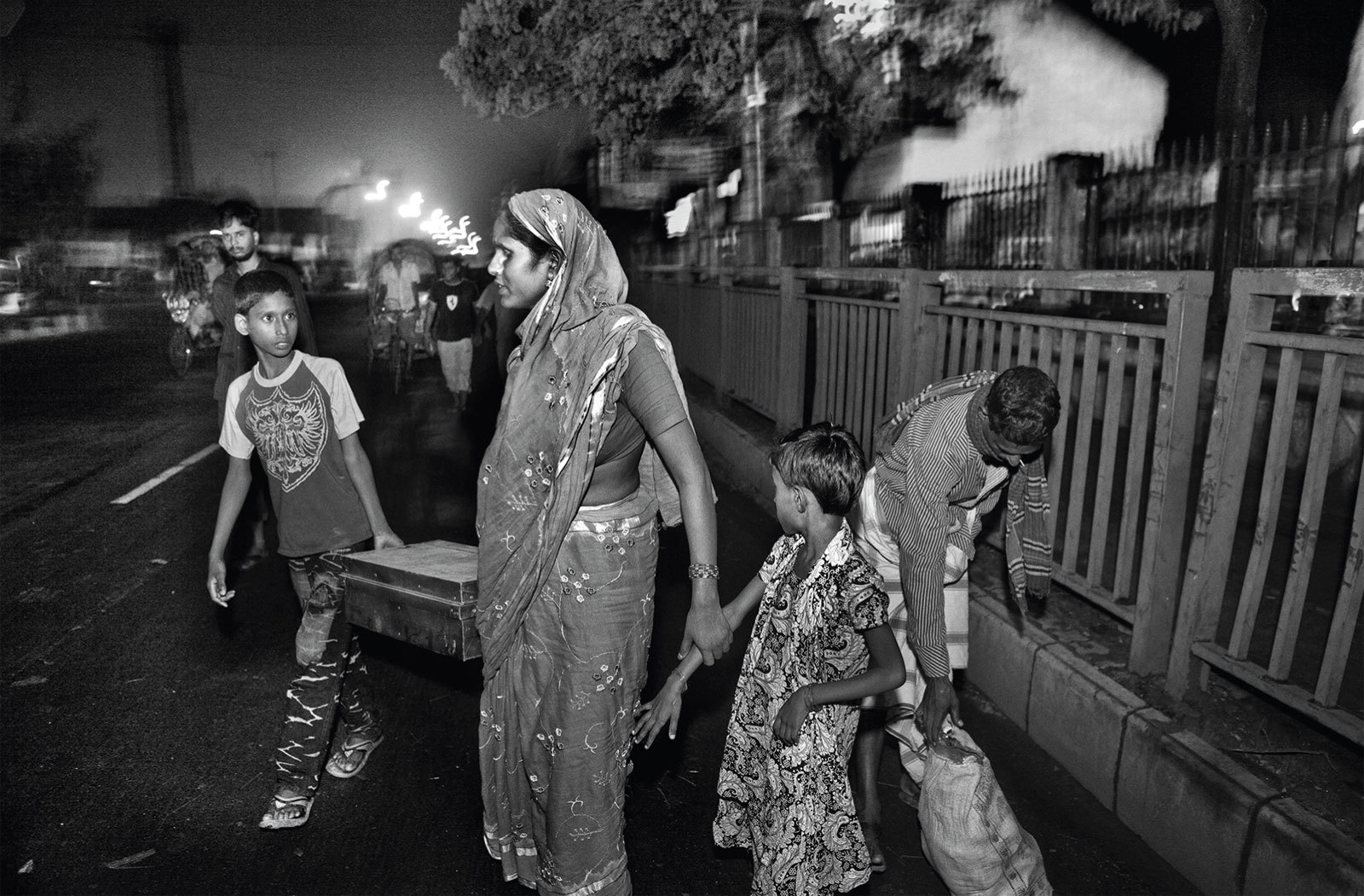 Mugda Stadium, 2010. Rezina and her family as they return to Dhaka after a visit to their relatives in Gaibandha. Families often feel they are thrown in the deep end when they first migrate to the city from a rural area. But they have faith that they will be able to stay afloat. The family migrated to the capital in search of work several years ago. Now Khabir pulls goods on a rickshaw van, and Rezina collects garbage to sell to recycling vendors. Their daughter studies at the Amrao Manush daycare center for pavement dwellers, but their son spends his time doing nothing.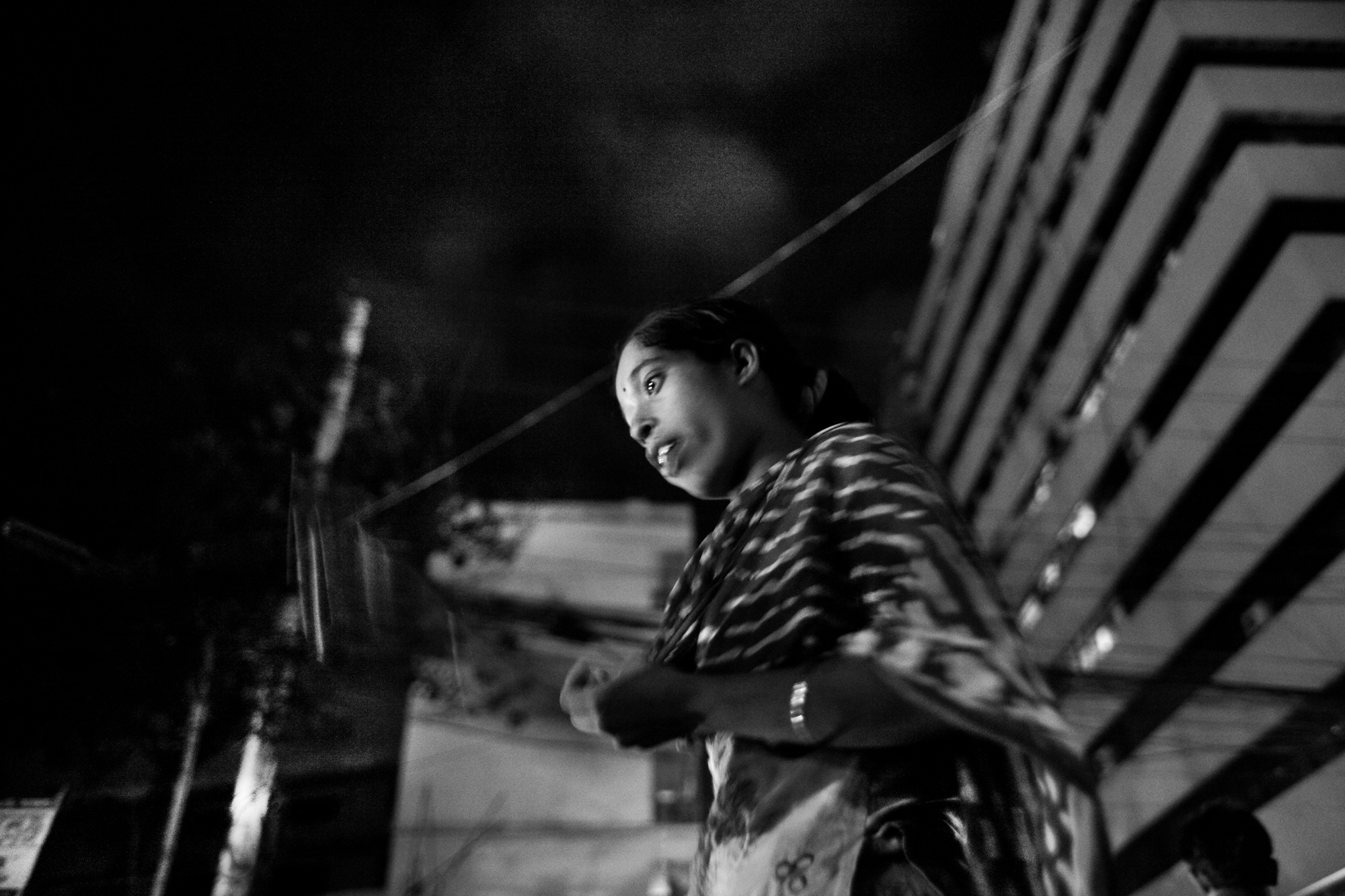 Rina getting ready to make her bed for her and her family on a footpath on the main street of Karwan Bazaar. She sells waste vegetables collected from the bazaar, which she sells during the day. 2010, Kawran Bazaar, Dhaka, Bangladesh.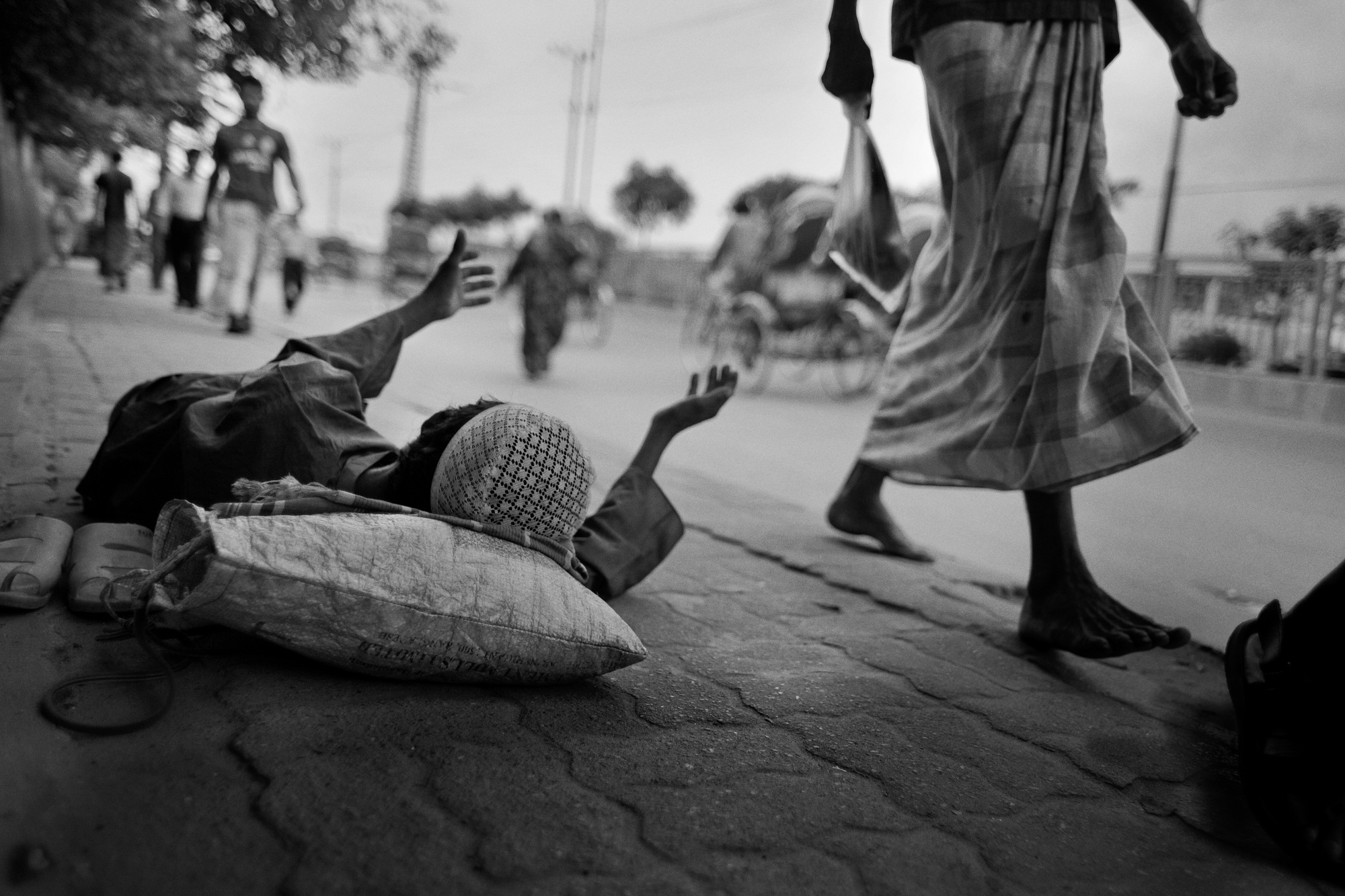 A disabled pavement dweller begging on Mughdha Street, Dhaka. Begging is the main source of income for pavement dwellers who are disabled, very young, or elderly. 2010, Mugda Para, Dhaka, Bangladesh.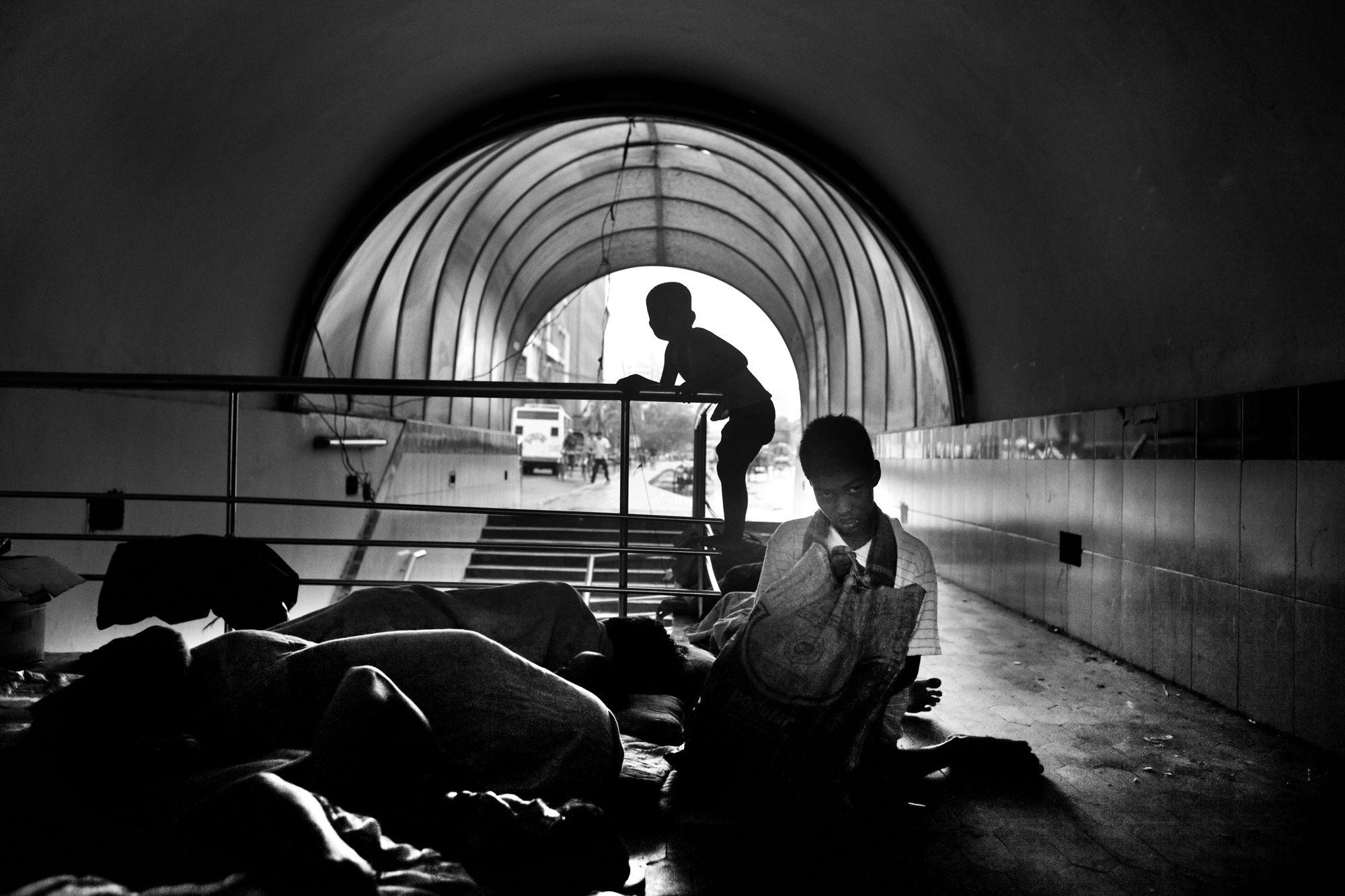 A child plays in an underpass in the early morning while it rains outside. He spend the last night in the underpass with his parents, who are still sleeping alongside their neighbors. 2010, Kawran Bazaar, Dhaka, Bangladesh.

A sex worker searches for a place to sleep for the night on the rooftop of Kamalapur Railway Station. Previously, they would sleep on train platforms and waiting rooms. But the authorities no longer allow them to sleep there, with police detaining those who try. The rooftop may also be used as a 'room' for sex workers during business hours. 2010, Kamalapur Railway Station, Dhaka, Bagladesh.

Rijia, an elderly street dweller prepares her dinner for the evening. She cooks only a little amount of rice that she got by begging in the street. She uses scrap material as fuel. The street in which she cooks is littered with garbage, mud, and human waste. 2010, Mugda Stadium, Dhaka, Bangladesh.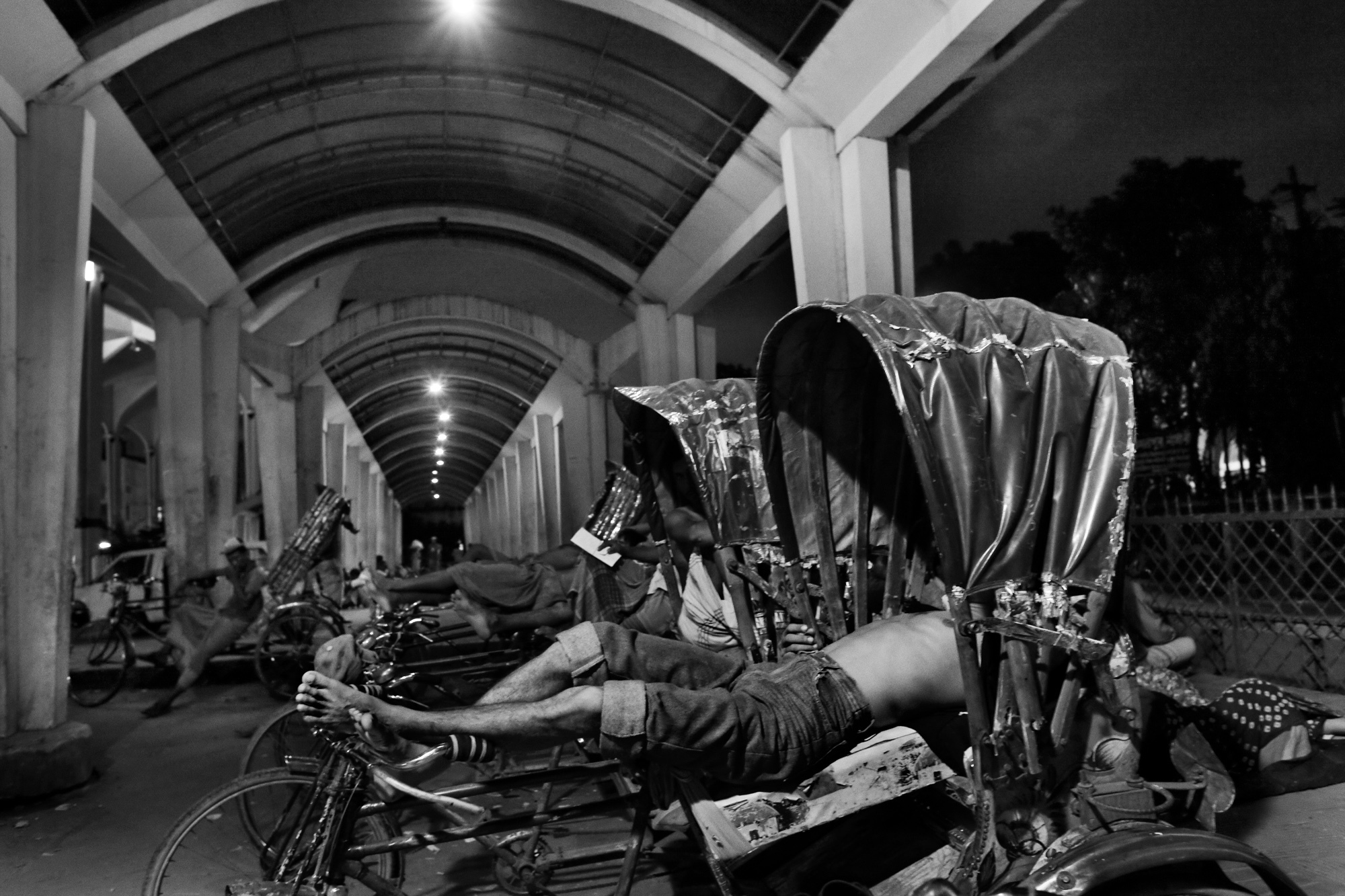 A rickshaw driver sleeping in his rickshaw at Kamalapur Railway Station. He uses it as his bed as it is safer for both him and the rickshaw. A lot of male pavement dwellers pull rickshaws for a living. 2010, Kamalapur Railway Station, Dhaka, Bangladesh.
Akhbar (right) and Nurbanu. Akhbar has been suffering fever for the past two days. Nurbanu pours cool water on his head to lower his temperature. 2010, Mugda Stadium, Dhaka, Bangladesh.