I Went On Vacation & Couldn't Relax All Week
Here are the songs that accompanied my anxiety.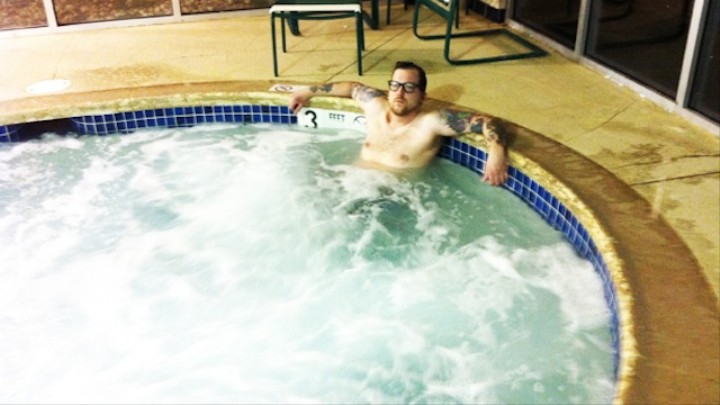 This past week I took a much-needed break from the back room at the record shop. My girlfriend and I grabbed a few bottles of vodka, bathing suits, and a portable record player and hit a chi-chi timeshare in the Poconos for five nights of what should have been relaxing, regenerative activity. But thanks to all the shit racing through my head, I couldn't relax the whole week. Here's a daily rundown of my diseased mind and the soundtrack that accompanied my anxiety.
MONDAY
Guided By Voices - "Doughnut For A Snowman"
On our way up to the mountains we stopped at a few record stores. I was already anxious about not having any new records to listen to and I needed to stock up. We checked out two dingy thrift stores and some ghetto flea market—I saw nothing I liked. When we finally decided to focus and get to the condo, we silently drove on as this track played over the car speakers.
TUESDAY
Nada Surf - "Clear Eye Clouded Mind"
This week was important to the history of records—in February of 1878, Thomas Edison scored the first patent for the phonograph player. With this in mind, Tuesday morning we woke up and checked out an antique store that carried several different versions of phonograph players as well as some of the later gramophone brands. I fought the urge to get further involved and although I perused over several hundred 78 rpm records, I ended up just buying a new album at the nearby, modern record store.
Late that evening, I almost relaxed when I walked down to the river with my lady to check out the stars in the night sky, but I pretty much ruined the experience with stress and obsessive babbling about Thomas Edison, his phonograph designs, and even later I got a little too in depth about the huge star-speckled sky we looked up into. The record we played that night made almost too much sense.
WEDNESDAY
Wire - "Map Ref. 41°n 93°w"
My girlfriend and I decided to head to an indoor pool in the morning to get some exercise. She asked me if I thought I could tread water for five minutes straight. I'm incredibly lazy, but I accepted the challenge and, although gasping for breath in the final seconds, I pulled it off. My secret? I treaded water to the tempo off one of the greatest Wire songs of all time and sang it start to finish in my head. With my own slightly extended mental version, I synced up and nailed it.
THURSDAY
Barry Adamson - "Destination"
My cousin showed up in the early evening and we later decided to play a three player strategy game wherein a fabled Minotaur guards a treasure we each race to reach first. The television was on in the background, with non-stop media speculation on the death of Whitney Houston. We drowned it out with the new Barry Adamson record. This track really stood out to me.
FRIDAY
Nick Lowe - "So It Goes"
My dad and my uncle showed up to spend the final night of our trip with us. They brought more vodka and took us out to eat. While at a mountainside restaurant, we all got into a lengthy discussion about Tom Petty. The table was split down the middle on whether or not he was an incredible rock musician and furthermore if he was the weakest link in the Traveling Wilburys. After cooling down from the heated debate I listened attentively to the music the restaurant was playing on their radio as I ate my food.
I really couldn't stand any of the songs I heard until this track came on as we were leaving—it almost made my night stress-free.
SATURDAY
Jimmy Eat World - "Anderson Mesa"
We got up early and drove to my parents' house in NJ to pick up our dog. I picked up some mail addressed to me that had accumulated in their mailbox. One of the letters was my February rent check, which had for some reason been sent to my parents' house. I left the house in a fit and drove home to Brooklyn with my girlfriend sitting shotgun and our dog curled up in the back seat. I had such a headache that we didn't listen to any music for the duration of the ride. When we got within view of our apartment, the dog threw up all over the car.
I'm home now, playing one of the latest scores from the week: Jimmy Eat World's Static Prevails on LP. I've been on the hunt for an affordable copy of this one for over fifteen years. As I type, this final track is blasting in my apartment and I almost finally feel relaxed.
Previously - Songs That Won't Get You Laid
If you live in New York, you can go bother Jeff at Black Gold Records in Carroll Gardens, Brooklyn.
Stories