Welcome back to The Weekend in College Football, VICE Sports' new column. Each week, we'll take you through everything you missed on Saturday (or, God forbid, Friday night), the things worth learning, and look ahead to what happens next. Enjoy.
1st and 10
The SEC is Alabama's to lose. The Big Ten is a slow boil to an Ohio State-Wisconsin showdown. Clemson is a cut above every team in the ACC. And even if Washington wins out, the Pac-12 probably won't have a representative with enough juice to force its way into the playoff conversation.
So the Big 12 offers by far the most compelling—and convoluted—conference race. Oklahoma, Oklahoma State, TCU, and Iowa State are knotted atop the standings with one conference loss apiece, albeit before considering a tangle of tiebreaks: TCU over Oklahoma State, and Iowa State over both Oklahoma and TCU. That puts the Cyclones atop the conference, which is delightfully batty given that, prior to this year, ISU hadn't appeared in the AP Top 25 since 2005. Coincidentally, 2005 was also the last time a program defeated two top-five teams this early in the college football season before ISU did it this season.
ISU gets West Virginia in Morgantown next week, the second of three straight tough games. The third comes against Oklahoma State, which is midway through a hellish stretch of its own: After defeating the Mountaineers this week, they get Oklahoma next week and the Cyclones after that. Oklahoma gets OSU and TCU, while the Horned Frogs get Texas—arguably the best defense in the conference—before going to Norman.
Connect the dots and here's what you find: In two weeks, the conference title race will be whittled down to two or fewer teams. So with respect to the other major conferences, the Big 12 will be the center of the college football universe through mid-November.
---
---
18 Obligatory Words About The 2018 College Football Playoff
A win over Miami in two weeks might put Notre Dame in the playoff. Thanks, Big 12 chaos.
2nd and 8
You probably will not be surprised to learn that Alabama has the nation's stingiest scoring defense. You might be surprised to learn that second place is Virginia Tech. The Hokies (7-1; 3-1) are allowing just 11.5 points per game which, as the Roanoke Times notes, is the least they've given up since 2006. Now ranked 13th, they are in a place to end the season as a top-10 team: The back seven is stacked, Cam Phillips is having an all-conference campaign at receiver and Josh Jackson is the best young quarterback that no one talks about.
Virginia Tech gets undefeated Miami in Coral Gables this weekend, and the Hurricanes, who have eked out close wins for a month, have not played a defense anywhere close to VaTech's caliber. After that is Georgia Tech, a tasty matchup for a defense that's 13th nationally against the run.
Get through those and it's a rematch against Clemson, the one team to best them all season. Justin Fuente's squad is probably a year or two away from really threatening the Tigers but a two-loss year with both defeats coming against a playoff team would be a season worth celebrating in Blacksburg.
Clips Of The Week
Bronze: George Fox University is a Division III school in Newburg, Oregon. You likely have never heard of them, nor wide receiver Lane Hadley. Which in this case is great, because you can believe me when I tell you that there is no context required to appreciate how insane this is.
Silver: No play has ever summed up Wisconsin's entire ethos quite like this, the perfect Badger play—it's like a fairly vanilla play call had a baby with a fat guy touchdown. Credit where it's due, though: Left tackle Michael Deiter made that look smoother than a 6-foot-6, 330-pounder ever should.
Gold: The only reason to ever bump a fat guy touchdown out of the top spot is for an even better fat guy touchdown. And this, my friends, is the best fat guy touchdown. Say hello to Utah's Darrin Paulo, who reeled in this deflected pass for a touchdown in Utah's loss against Oregon. No person this large should have such dexterity and yet here's Paulo:
It… it's so beautiful.
3rd and 1
The Heisman race is just as crowded as the Big 12 field. Even after Penn State's loss to Ohio State, Saquon Barkley is still the presumed favorite thanks to a pair of big play touchdowns, including a 97-yard kickoff return touchdown to open the game. But take out Barkley's 36-yard touchdown scamper in the second quarter and he gained only 15 yards on 19 carries. Penn State's offensive line shoulders a healthy amount of blame but regardless, a big performance in a PSU win could have distanced him from the rest of the field.
Now, his resume is thrown in amongst several other talented but flawed candidates. Baker Mayfield is in the conversation, and J.T. Barrett—more on him later—now might be as well. Bryce Love's numbers are undeniable, too, presuming he doesn't miss any more games for Stanford. Wisconsin's Jonathan Taylor as the first true freshman winner? Maybe, if he powers the Badgers to an undefeated season.
That's without considering Lamar Jackson, who according to ESPN's David Hale has produced 909 yards of offense more than any player in the country—and is averaging 33 more yards per game than he did as a Heisman winner last year—but may not even be invited to New York due to Louisville's pedestrian 5-4 record and the unwritten axiom that no one will ever repeat as a Heisman winner again.
And then there's this guy: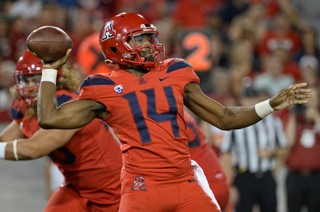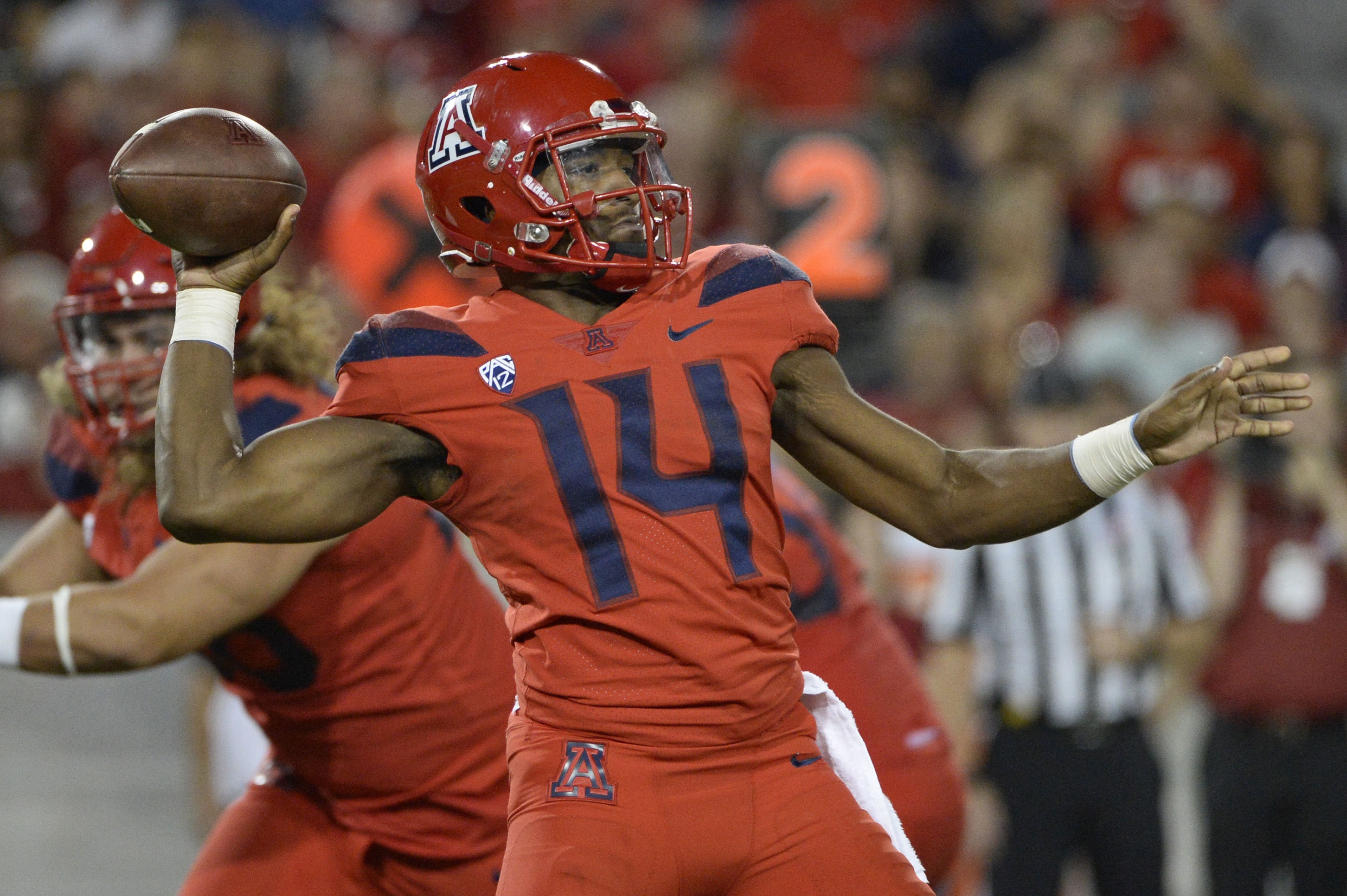 Punt
On the prospect of anyone stopping Arizona quarterback Khalil Tate ever again.
For the fourth game in a row, the sophomore from Inglewood hauled Arizona to victory with a bonkers stat line: 275 yards on 10 of 17 passing, 146 rushing yards on 13 attempts and three total touchdowns. Since retaking the starting job, Tate has averaged 393 all-purpose yards a game, and has positioned himself as both the most exciting player in the Pac-12 as well as a Heisman contender in 2018, if not even this year.
Perhaps the only thing more astounding than Tate's production is how suddenly it came on. Tate lost Arizona's quarterback competition in training camp and it wasn't an example of a head coach not knowing what he had. Tate played in seven games as a true freshman and looked every bit the player who nearly every school aside from Arizona recruited as an athlete instead of a quarterback. He played extensively in the Wildcats' Game 2 loss against Houston and it appeared to be more of the same. Then came two DNPs. The game after that, Tate racked up 481 yards of offense against Colorado to kick off his streak. As The Athletic's Stewart Mandel notes, it's already enough to rocket Tate to third nationally in rushing yards per game and he'd qualify for third nationally in passer rating if he had enough attempts.
The whole thing is borderline incomprehensible. So, too, is a strategy for stopping him.
Player Who Deserves to Be Paid This Week
J.T. Barrett lost some of his luster at Ohio State in 2015, when he threw for all of 46 yards in a brutal upset defeat against Michigan State. The shine wore off entirely down the stretch last season, when the Buckeyes' offense ground to a halt in its final three games and Barrett averaged a paltry 109 yards passing along with a 1:3 TD:INT ratio. This year's home loss to Oklahoma in Week 2 only amplified the criticism further, and Barrett was pelted by everyone from his own fans to coveted high school recruits.
Quietly, though, Barrett has been molten hot ever since that loss to the Sooners, completing 75 percent of his passes over his past six games and throwing 22 touchdown passes without a single interception.
The coup de grâce came in Saturday's frenetic 39-38 comeback win over Penn State, in which Barrett completed his final 16 passes as part of a 328-yard, four touchdown day. It was the best performance of his career and the same fans that so regularly savaged him chanted "J.T.! J.T.!" during his postgame field interview. There's even talk of him being back in the Heisman conversation now that the Buckeyes control their destiny in the Big 10 and quite possibly the playoff, too. If there's any justice, someone will cut Barrett a fat check for his efforts.
Coach Who Does Not
Choose your favorite boss of a prestigious program in the state of Florida:
Door Number One gives us Jimbo Fisher, whose Florida State Seminoles could only squeak out three points against a Boston College defense missing its best player (defensive end Harold Landry, last year's national sack leader) and who let the Eagles drop 35 points despite only throwing for 88 total yards.
Behind Door Number Two is Jim McElwain, the former offensive coordinator who gives up a couple letters in his first name to Fisher but makes up for it by presiding over a team that has only scored 16 offensive touchdowns in seven games, and just five in its current three-game losing streak.
McElwain is now out of a job after a week that began with a bizarre and unsubstantiated claim that he had received death threats, and ended with 42-7 humiliation by arch-rival Georgia. Fisher has a bit more rope, not to mention the excuse of losing Deondre Francois in the season opener against Alabama. But at 2-5, the Seminoles continue to lend more credence to those who doubt whether Fisher can truly win big without a generational quarterback like Jameis Winston at his disposal.
Obscure College Football Team of Note
I never specified that this had to be a good note, so let's shout out Dartmouth. They're not always so hot at special teams, as evidenced by a muffed punt in the second quarter of the Big Green's game against Harvard. One of their assistant coaches, Dion King, is apparently even less adept at anger management: He punched and shattered a window in the coaches' booth, leading to him being escorted out in the middle of the game by security. The aftermath of King's handiwork—yay, puns—looked like this:
The Big Green lost to the Crimson, 25-22.
Something To Look Forward To
Given the aforementioned stakes, let's stay in the Big 12 for Oklahoma-Oklahoma State, otherwise known as Bedlam. Between the longstanding enmity on the prairie, a collective aversion to defense, and uniform schemes that combine to look like a desert after a military training exercise, this game is always required viewing.
But this year's edition is absolutely essential given the current state of affairs in the Big 12. It's less about gaining ground than treading water: The losing party is effectively out of the playoff race, while the winning side simply stays in the conversation in a muddled conference title race. Oklahoma State has the homefield advantage while Oklahoma, in a battle of the conference's two best quarterbacks, has a the better one in Baker Mayfield.
Correction: An earlier version of this article incorrectly stated that the Big 12 does not have a title game. The title game was reinstated this season.