There were no utensils on the table at the Ethiopian restaurant, so the college students went ahead and used their hands to eat. Some were hesitant to grab food with their fingertips, but the gastro-diplomats on the field trip dug in, and sopped up the sauce of their chicken doro wat with pieces of injera.
This scene has played out annually for the past three years in Washington, DC, as part of an innovative course at the American University where food is used as a tool to teach the history of war and peace.
Johanna Mendelson Forman teaches the course, which is called Conflict Cuisine: An introduction to War and Peace Around the Dinner Table. In the classroom, she teaches her students about conflicts in Vietnam, Ethiopia, the Middle East and Central America—regions that all have a large diaspora in Washington, DC.
The students then go on field trips to restaurants serving the cuisines of these places, where they dine together and listen to the owners of the eateries talk about their homelands, their cultures, and how war has impacted their nations. The field trips last year included Vietnamese, Iraqi, Ethiopian, and Salvadoran cuisines. It's about giving a face—and a flavor—to the intangible facts and archives read in textbooks.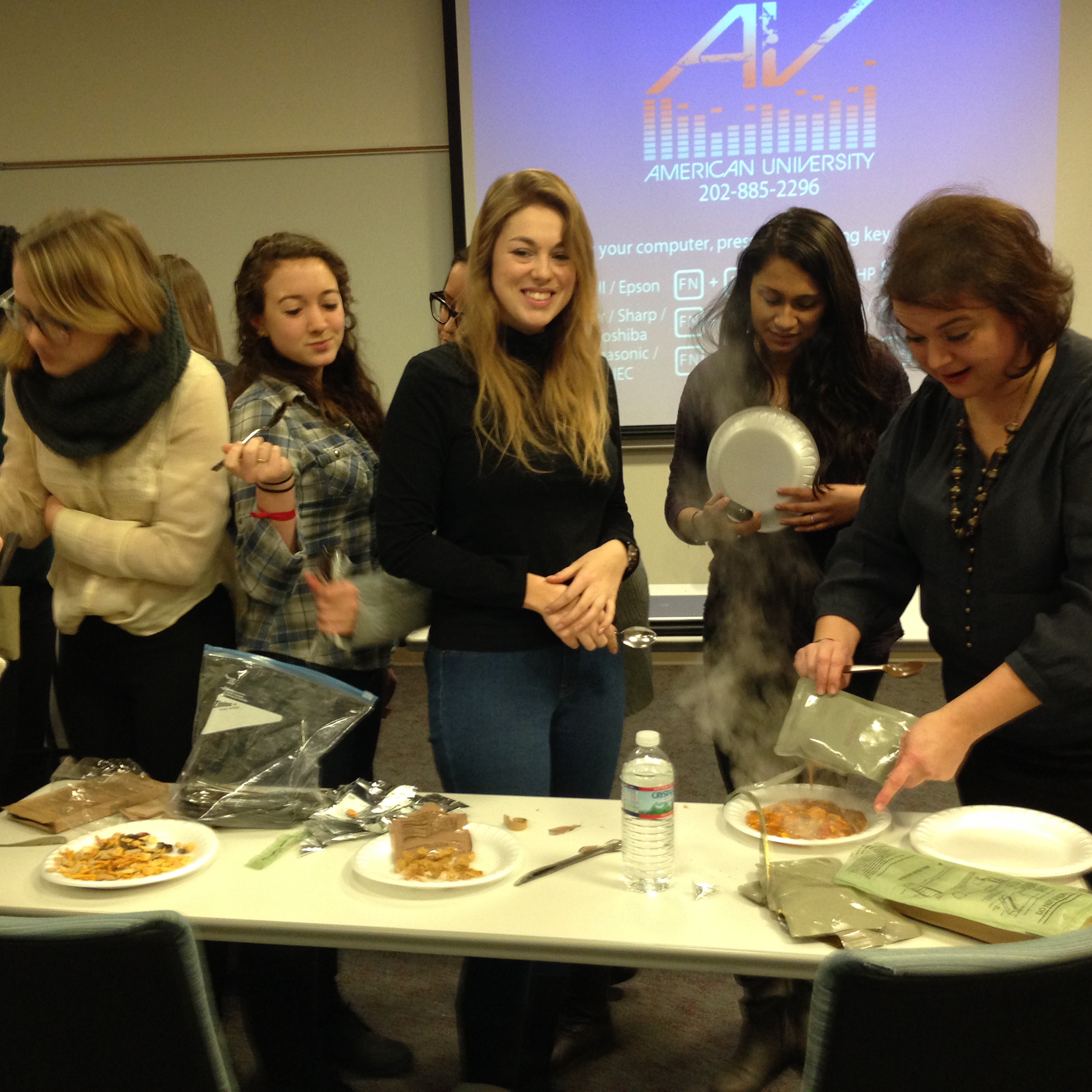 "There's a wonderful quote talking about ethnic restaurants as living rooms of the homesick, and it really is true," Mendelson Forman tells me. "Students would go to restaurants, and families would be there, and they began to see how important food was in the lives of people. It may be the only tangible thing they could ever have from a country they fled."
Sileshi Alifom understands this fully. The owner of DAS Ethiopian Cuisine, one of the class's field trip locations, came to the United States to attend school in 1970. However, when he arrived in DC, there wasn't an Ethiopian restaurant to be found. He and his friends had to be creative; once a week, they would visit the home of an excellent Ethiopian cook and pay them for a meal. It was a safe space to speak their language, reminisce about the country they'd left, and enjoy familiar dishes that had the power to transport them temporarily back home.
"We all come heartbroken," Alifom says. "Disenfranchised from the society itself, and then we come. We're trying to find a place where we can be able to rebuild, and the very first thing that you do is you go to a place where you know it's familiar, and that's a place where you eat."
Another culinary ambassador involved in the course is Mariano Ramos, the food service manager at Carlos Rosario International Public Charter School. The school has a high population of students from El Salvador, so Ramos cooks up a meal of Salvadoran food for Mendelson Forman's class that includes pupusas, chicken tamales, and seafood soup.
"I use cooking as a means of building bridges with people we normally may or may not be able to relate to," he said. "I think using food to teach about culture is pretty much a very large window of opportunity to explore what those people are like."
READ MORE: This University Is Offering a Degree in Pizza
Enrique Benavides took the course in 2015 and was attracted to it because of its innovative approach. He was one of the students in course who tried Ethiopian food for the first time, and it wasn't his last.
"This was the first time in my four years at university studying international relations that I was able to immerse myself culturally on what I was studying," he tells me. "Not just reading a book, but also experiencing the different flavors, the ingredients and just the different traditions."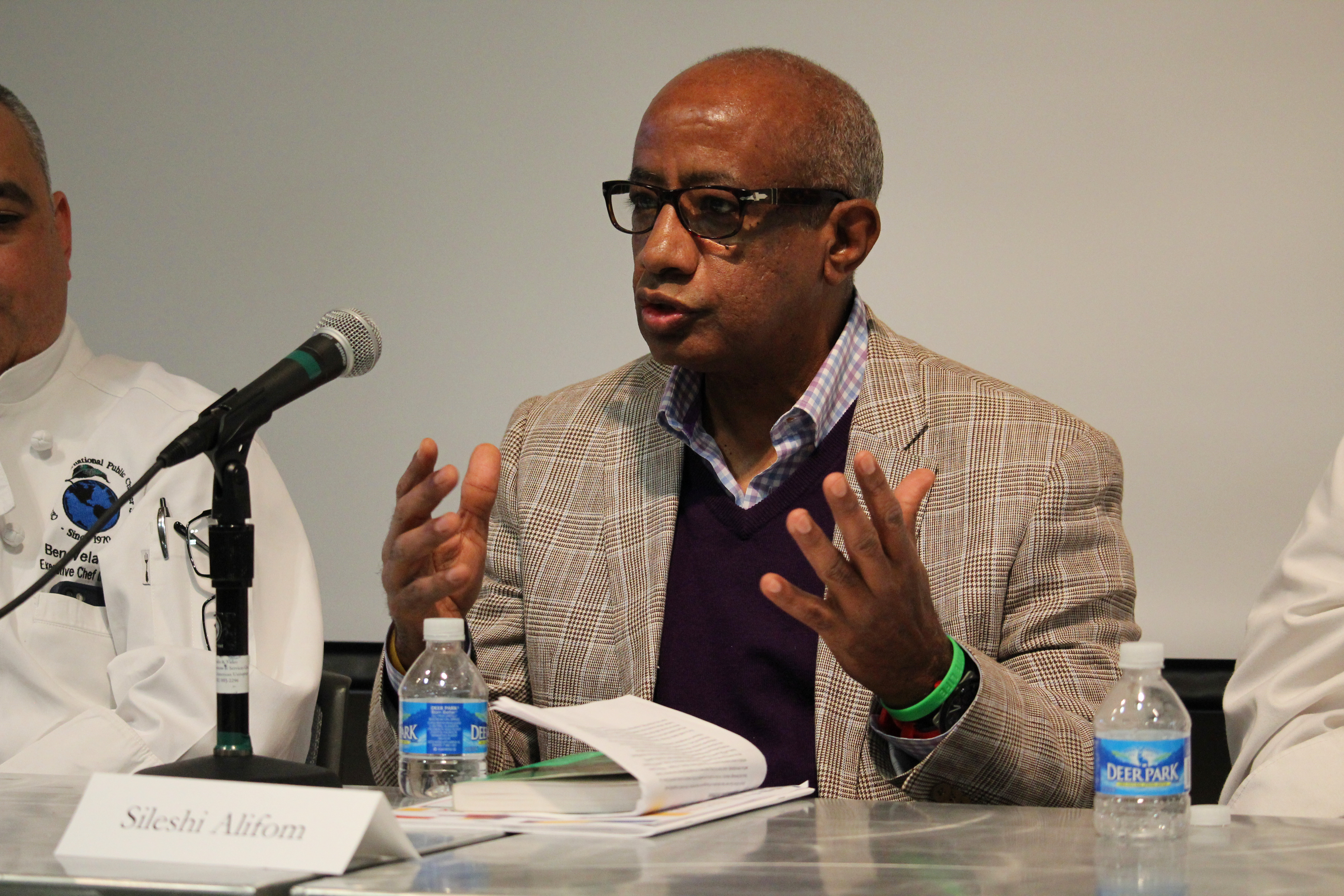 What the students are experiencing is referred to as "gastro-diplomacy." When students—or anyone, really—visit a restaurant that serves food from a faraway place, it allows them to engage with another nationality and learn about its culture through the cuisine, Mendelson Forman says. Another form of food politics the students learn about is "culinary diplomacy," which is state-sponsored, and refers to when a government hosts a state dinner or uses food to show power or wealth to the officials of another nation.
As well as learning about specific international conflicts and food diplomacy, the students in the course investigate how food can actually drive conflicts. "Food is a way to empower people; entry points of conversation using food are less contentious," she said. "But food is also a weapon of war, as we see what's happening in the famines going on that are man-made—from the Sudan to Yemen to Syria. And so it gives students a sense of the power that food has, beyond just a means of survival."
The idea for the course came to Mendelson Forman—appropriately—over lunch. The professor was at a US Department of State luncheon when a conversation got her thinking about a saying in Washington: "You can always tell where the conflicts are in the world by what restaurants are opening up."
READ MORE: You Can Now Study Tacos at the University of Kentucky
"I said, 'Wow, that's really true. I could build a course to teach students about conflict and war and peace through cuisine,'" she tells me. "And I guess they've known me long enough at American U to say, 'Well, the woman is probably crazy enough to do it.'"
So she did. She's entering her fourth year teaching the popular course, which fills up the first day it's offered to students. She believes it's so well-received because it combines students' interest in food with a global perspective.
"I think there's a benefit in their learning about another culture," she says. "Especially a culture that's often in the headlines, and at the same time having a human dimension to something that would otherwise be more of an abstract theory about war and peace."