The past always turns out to be way more interesting than whatever you were taught in history class. Take the paintings in Kent Monkman's new series The Rendezvous depict Europeans and Native Americans wrestling, carousing, making music, riding horses. The detailed scenes are surreal and anarchic, but also idyllic, with abundant references to classical painting. Men and women of different races enact tangled dramas under blue skies and amidst vibrant wildflowers. Though the series has fantastic qualities, it is inspired by a brief but very real time in North America.

In the early 19th Century, when Western Expansion was in its early stages, trappers and traders of European descent coexisted with the Native American tribes of the Rocky Mountains. Each spring, they would convene for an event called the Rendezvous. The purpose was to trade furs for goods, but it was also one of the biggest parties in recorded history. There was dancing, gambling, and competition. People got married. A great deal of alcohol was consumed. Sometimes things got out of hand.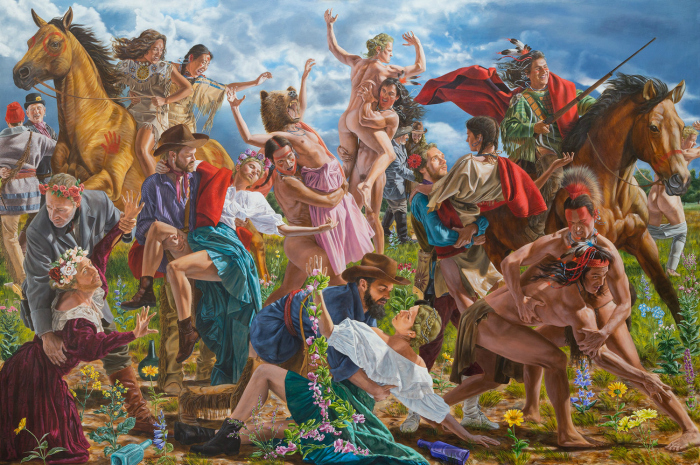 Monkman is a Canadian artist of Cree and Irish ancestry, who has made a career of destabilizing the narratives settler colonialism, often by reimagining 19th century history paintings to retell the past from an indigenous perspective. He says he wanted to explore the Rendezvous because of the relatively equal exchange it represents. "This subject appealed to me because it was before the colonial policies had really reached the far West. I wanted to focus on the strength of indigenous people in that period," he recalls.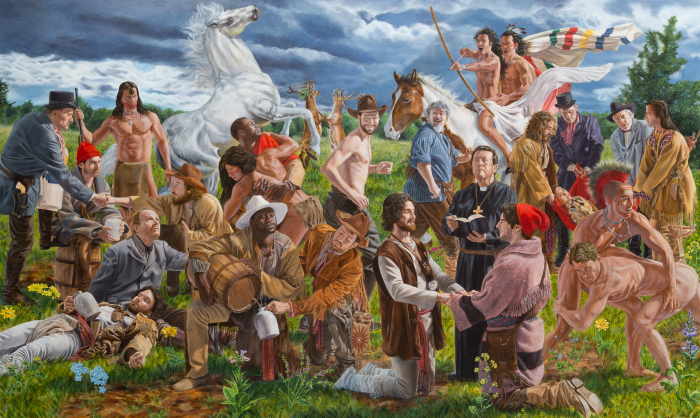 The idea for the series was sparked by Monkman's discovery of the watercolor sketches made by artist Alfred Jacob Miller at the 1837 Green River Rendezvous. Those sketches, and Monkman's later research into the period, seem to have captured the artist's already fertile imagination, or, perhaps more accurately, set it free. Some of the pieces are chaotic, even violent, but there is something profoundly optimistic about them. Ultimately, the series is an investigation into freedom that transcends the specifics of time and place.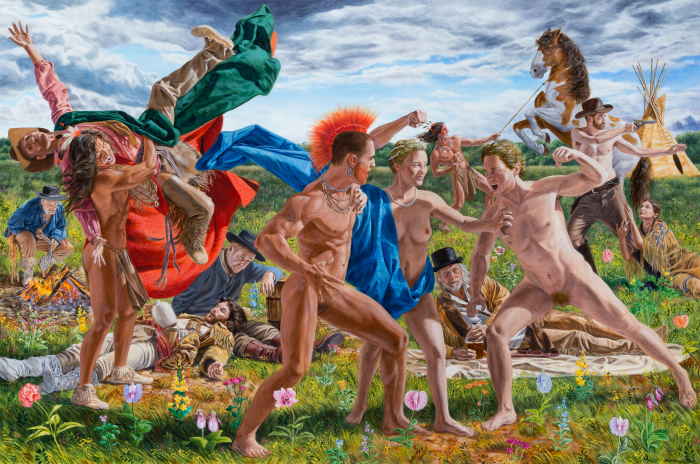 A few of Monkman's figures in this series have male physiques and female genitalia, or feminine bodies with breasts and male genitalia. It's meant as a kind of allegory, linking the ever evolving frontiers of gender and sexuality to these gatherings that took place on a literal frontier. "They represented that freedom outside the bounds and the boundaries of what would have been considered normal," he says of the historical Rendezvous," adding, "I wanted to play with gender roles and to also play a bit with sexuality in these paintings to kind of talk about freedom and how that is something that we're still coming to terms with."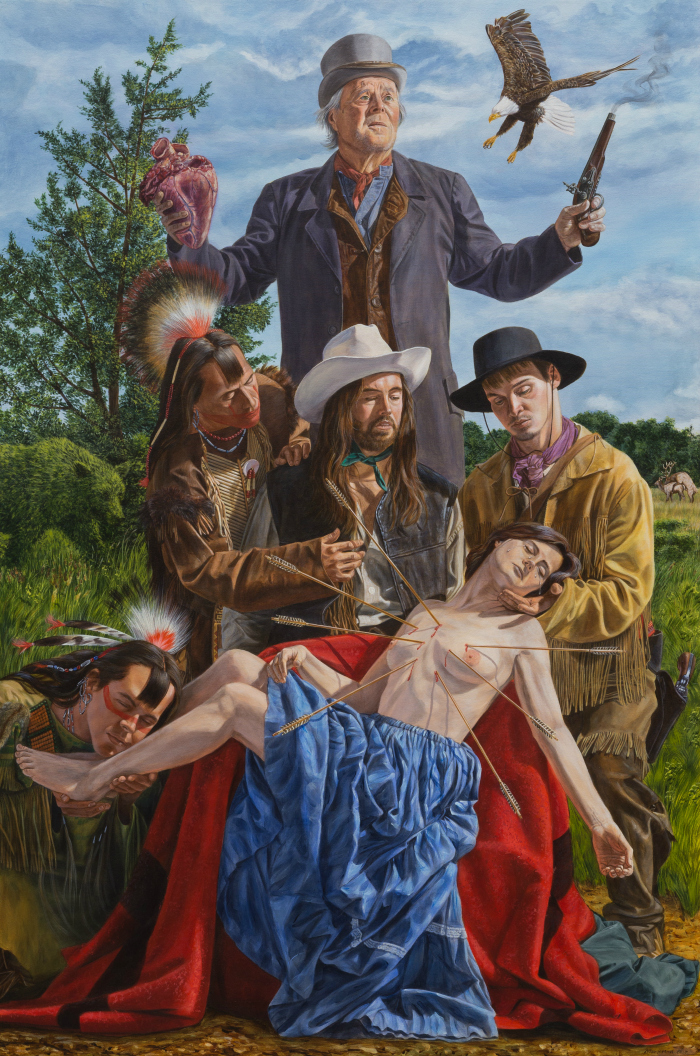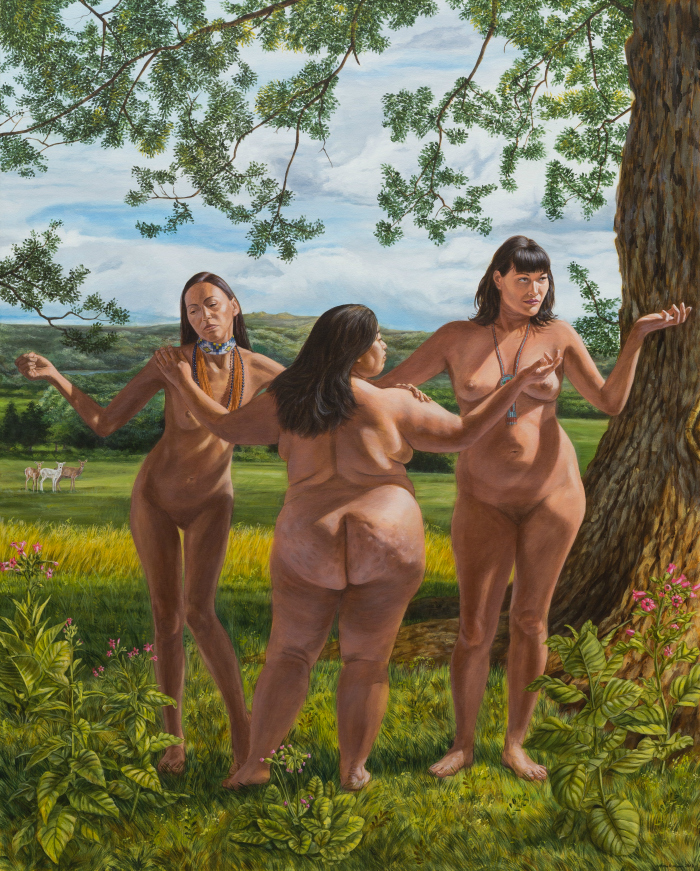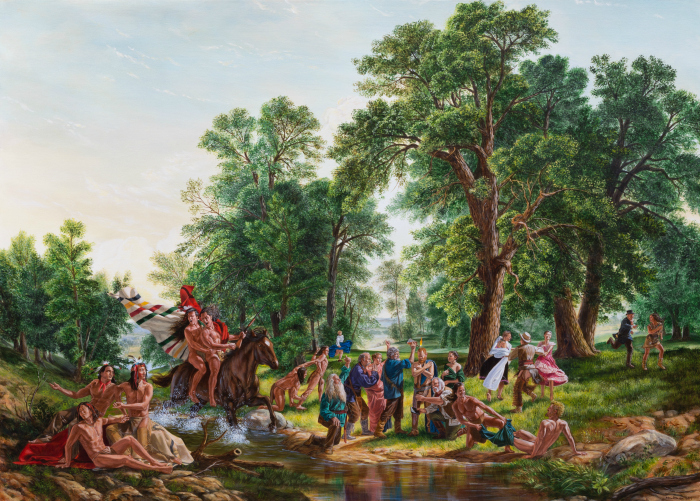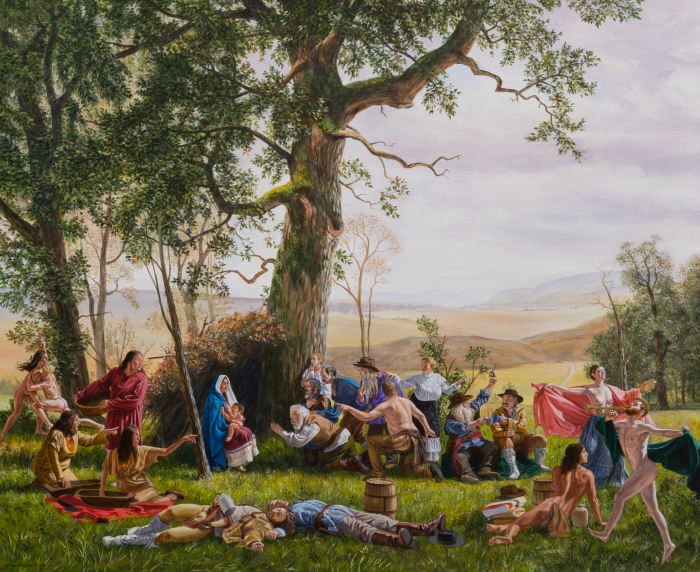 Kent Monkman's The Rendezvous is on view at Peters Projects in Santa Fe through September 2, 2017. Follow this link to find out more.

Related:
Kent Monkman's Massive Renaissance-Style Paintings Upend Colonial Narratives
Australia's Indigenous Art Triennial is Powerful and Political
Essay: A Hawaiian Artist Confronts the Lasting Legacy of Colonialism | #50StatesofArt