Your Food Delivery Habit is Killing Local Pizza Shops, But This App Wants to Help
Some delivery apps get a cut as high as 30 percent of the order cost, which is a tough margin for your local slice joint.
Photo via Flickr user Thomas Hawk
Ah, the modern delight that is the Seamless binge. You load up a cart with enough food to meet the minimum, and minutes later, someone is at your door bearing overflowing plastic bags for you to devour wholesale in the private communion of your living room sofa.
Where did that food come from? Who made it? What would they recommend? These are the questions of the courier age; there are numerous Chinese take-out spots I only know through the digital index. When I stumble by their brick-and-mortar locations, it's like seeing a ghost. The era of scribbling down numbers from the whitepages are long gone. In 2018, we've offloaded all of that work to the machines.
But Slice, a nationwide pizza delivery app, hopes to change that culture. In their world, you can still be a good old regular when you're ordering online.
Slice CEO Ilir Sela grew up in the pizza business, which means he's uniquely aware of the financial stresses that restaurants are put under by third-party delivery services. Grubhub and Seamless take a 13 percent cut, on average, from the orders they take, and UberEats is reportedly looking for a heftier 30 percent. Restaurants never had to give up any cash in the offline era, when people placed their orders directly with the establishment itself, and that's something Sela would like to resurrect.
Slice doesn't take a percentage-based surcharge out of a restaurant's bottom line. Instead, they ask for a flat, no-questions-asked $1.95 fee from every delivery, (which is advertised clearly and transparently on their website.) Sela says this model is especially advantageous for pizzerias, where people tend to order more food at once. "I always thought it was unfair to charge a 20 or 30 percent fee when the order value is high," he explains. "What I think is important is that owners get the benefit of online ordering. It shouldn't be to the benefit of someone else."
Anthony Quko, owner of Billy's Pizza and Pasta in Long Island, is one of Sela's longest-running partners. He signed up for Slice eight years ago, and has since taken the business off all other delivery services. Over the phone, he struck me as someone immediately wary of the Silicon Valley money infiltrating the restaurant business, but he says he was willing to try Slice because they were willing to help him with advertising, and stay out of his business. "In my first month with them I think we processed five orders," he laughs. "But today we process almost 900 orders a month."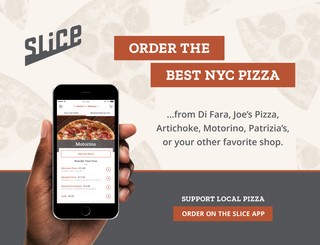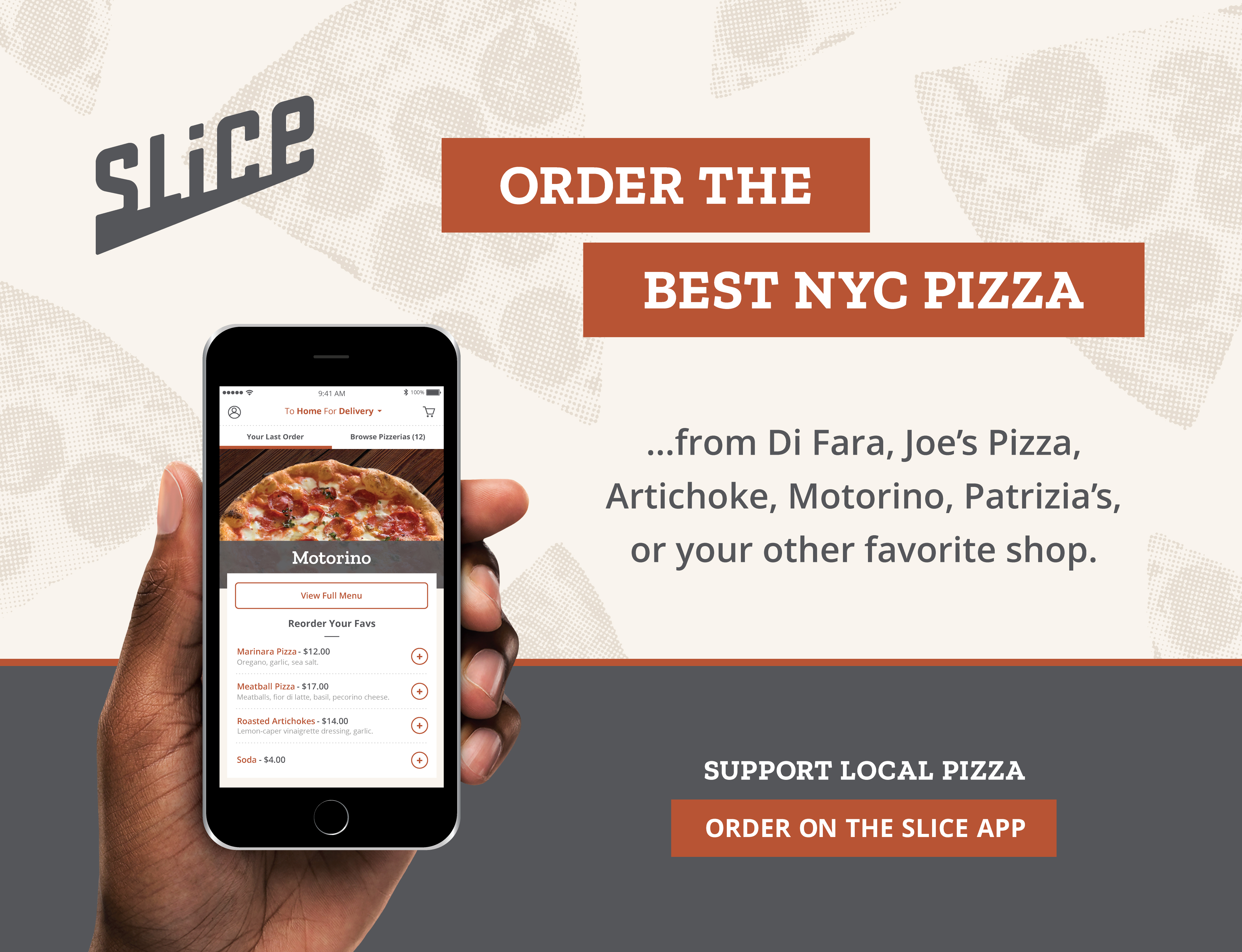 "At the end of the day, it all comes down to making money. Let's say I take in $10,000 a month in online ordering, and let's say the average order is $20," continues Quko. "With Slice, you're paying $2 an order, so that's $1,000. Compare that to somewhere where you're paying 30 percent, that's $3,000. I think a lot of restaurant owners are too focused on the sale, rather than what you're actually paying. I could put that extra $2,000 to payroll, hiring people, the rent, or insurance, so why should I pay more?"
Right now, the New York subway network is flyered in freshly inked Slice ads. They tabulate a short list of some of the respected pizza joints available on the service, as well as a promise to treat those restaurants with tender loving care.
This is, of course, a Seamless city, but Slice is trying something interesting. They're betting on our shared empathy to change our ordering habits to something that offers a better deal to the restaurants themselves. Surely, the average consumer can't tell the difference between $1.95 and 30 percent, but if the message gets out, who knows? We've already seen a service like Lyft make gains on Uber by promoting a better deal for drivers. Who's to say those reforms can't land in the food business?
"I hope so—that's our goal," says Sela. "Our team has done a wonderful job of taking that message and putting it front and center for consumers. A lot of what [brands like Uber Eats] do is driving authentic small businesses out of business. They're dying a slow death, because the margins don't work.
"Our hope is that consumers take notice and understand why we're doing this. I think it's really important the impact that their choices have."