Charlize Theron in 'Mad Max: Fury Road.' Photo via Warner Bros. Pictures.
It's the Best and Worst Time to Be an Amputee Actor in Hollywood
There have never been more roles calling for actors with missing limbs. But there's a ceiling to success.
Charlize Theron in 'Mad Max: Fury Road.' Photo via Warner Bros. Pictures.
The Mediability talent and modeling agency characterizes its clients by three major categories: experience, location, and amputation. Performers stuff their portfolios with their best pictures and most notable clips, while also detailing the precise nature of their disability—double above knee, double below knee, single below elbow. The casting calls that flow consistently through the bulletin board are both brazen and entirely expected. "We are needing around eight people with prosthetics," explains one. "The scene is a veteran's award ceremony. In the scene terrorists come in and there will be fake explosions and gunfire."
Amputee talent demands in Hollywood are more common than you might expect. The Walking Dead casts hundreds of chittering zombies, Grey's Anatomy needs to fill its medical bay. They might not be the most prominent roles in the business, but they're still a crucial part of the machine.
"If you're in this industry, you know what it is. You fit the suit," says Kimberley Barreda, owner of Mediability. "Every job is an opportunity. Every job is an opportunity to get another one. It's not demeaning."
Barreda, herself a double above-knee amputee since birth, got into the biz when she noticed a gap in the market—actor amputees needed work, productions needed actors to fill amputee roles. So after years of modeling and acting herself, in 1994 she founded IMAGE Management—the marketing and networking agency that pilots Mediability—to do just that, immediately signing 72 union actors, all disabled, and carving out a distinct corner of the entertainment business. (Mediabiltiy currently boasts 100 actors on its roster and has put many amputees to work over the years.)
The work is, as you might expect, highly specific. Typical roles include military veterans, emergency room patients, and zombies—anyone who has suffered a violent catastrophe, really. There's also a market for industrial training videos, where amputees role-play as combat victims in order to teach aspiring doctors how to treat grave wounds on the field. The vast majority of amputees in Hollywood work bit-parts and background roles, filling the niche their disability opened up. "They loved to blow me up before the accident," says Erick Kaffka, a part-time stunt double who lost his legs in a car crash. "Now they love to blow me up even more."
As Kaffka's quote and Mediability's job board both suggest, there's currently plenty of work for actors with amputations. And many, like Kaffka, are grateful for it.
But for others it's not that simple. Zack Rukavina is a career performer. Beyond acting, he has "no plan B., C., or D." He signed with a commercial agent a few weeks before he learned that he was going to lose his arm to nerve cancer. That was more than five years ago, and he still remembers his first audition as a newly minted amputee. It ended quickly, the "Thank you, we'll be in touch" brush off coming much sooner than it had when he auditioned as an able bodied actor. "I knew from that point I was going to be perceived differently."
Traditional roles dried up, but playing a bit amputee parts has kept Rukavina busy—since his surgery, he's been working more than ever, with recent credits including The Accountant, You're The Worst, and Jack Reacher: Never Go Back. "I've booked a lot more because I'm now a big fish in a small pond," he says. "But if someone said, 'Hey, we'll let you have your arm back, but you'll have none of credits and you'll have to start from scratch,' I'd take that in a heartbeat.'"
There are undoubtedly other amputee performers who are at peace with their place in the Hollywood machine, but it's hard not to sympathize with Rukavina's frustration. Adding to it is the fact that, as the Hollywood Reporter pointed out a couple years back in its article "Cut! Amputation Is Having a Hollywood Moment," storylines including amputations are on the rise. Still, many of the juicier roles don't go to amputees, who are still mostly relegated to the background.
In that THR piece—"From 'Grey's Anatomy' to 'The Walking Dead' and 'American Horror Story,' limbs are flying off the screen this TV season"—and its accompanying slideshow, the mag runs through all the then-current shows that featured amputation plot points or scenes, each one filled with able-bodied, mainstream actors like Chloe Sevigny, Marion Cotillard, and Scott Wilson. (Hell, even non-actors like Adam Levine got a walk-on role that saw him lose an arm in AHS: Asylum.)
In this way, amputees are running into the same barriers other actors with disabilities in Hollywood have been up against. Last year, a study led by the Ruderman Foundation, an advocacy group for people with disabilities, found a whopping 95 percent of television characters with disabilities are played by able-bodied actors. "It's a statistic that's at odds with the real world" wrote i-D when the report came out. To that point, there are some 57 million Americans living with disabilities, about 19 percent. "TV hiring is about 2.4 percent. The film industry is worse, at 0.9 percent," according to industry mag Variety, which coined disabled actors as "Hollywood's invisible minority." "In Hollywood, diversity tends to ignore the disabled," is how the Los Angeles Times put it.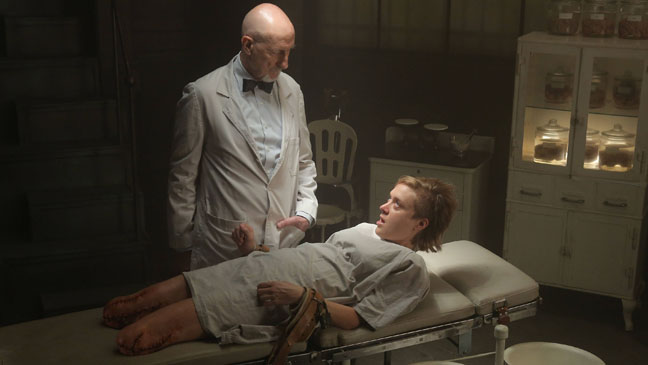 "Having [casting directors] view me as a regular actor is impossible," Rukavina continues. "Even the ones who tell me 'Oh no man, I'd bring you in in a heartbeat, I love your work!'—three years later, you're like, 'Well I've seen you've cast a whole bunch of roles of guys in their late 20s, and you didn't call me in once.'"

Rukavina says he routinely responds to casting calls looking for a nondescript "amputee" actors, only to get called into audition rooms filled with dozens of people, all with their own unique conditions. "It's obvious these guys just want an amputee, and are not trying to build a character.'"
There is one casting agency trying to reverse the stigma and address this issue. VisABLE People is a UK based firm started by Louise Dyson that focuses exclusively on disabled talent. Dyson previously worked at a more mainstream agency, but found her passion for disabled performers after a client asked for someone in a wheelchair. "It had never crossed my mind before then—I didn't know anyone disabled," she says. "It was just an opportunity to change the mindset."
VisABLE does offer its talent gigs as zombies and military veterans, but its driving principle is to put amputees, and the disabled acting community at large, into roles that don't start and end with their condition. Instead, Dyson chooses to imagine a world where a missing arm is treated like the color of your hair.
Barreda agrees, and says disabled performers often feel dissatisfied with the work available. Still, she doesn't see it changing anytime soon. "I would prefer to see more [integration], but it really just depends on a casting director's level of enlightenment," she says.
"We really try to encourage for artists with disabilities in everyday roles," Dyson says. "Where they portray the architect, the mother, the murderer, the lover. We get the predictable roles, and those are fine—they're happy to do them. But we make a case that a disability is just a physical characteristic. It should be unremarkable, and we love the stories where the disability isn't in the storyline."
Follow Luke Winkie on Twitter.