Image via Gates Foundation.
How the World's Most Influential Leaders are Trying to End Extreme Poverty
At Bill and Melinda Gates' Goalkeepers Event, global minds came together to champion the Global Goals to try and change the world for the better.
Image via Gates Foundation.
It's one thing to set ambitious goals to save the planet. But without accountability, a list of goals is no more than hopes and dreams. At Goalkeepers 2017 in September, Bill and Melinda Gates asked leaders, organizers, and on-the-ground activists to report back on how they're achieving the 17 Sustainable Development Goals set by the UN in 2015 as a roadmap to ending extreme poverty, inequality and climate change by 2030.
When the Gates Foundation was launched in 2000, global health and technology were at the core of the mission, and they still are. But there's a third, unanticipated issue that has also become central to the mission of the Gates Foundation.
"When Bill and I started the foundation," said Melinda Gates as she welcomed hundreds of innovators, entrepreneurs, activists, and artists to Lincoln Center in New York, "I never would have guessed that I'd be at an event like this to talk about women and girls."
Empowering women and girls worldwide, and utilizing the strength of women's movements to bring entire communities and societies closer to peace and progress is fundamental to the success of the Global Goals.
"It's time to reimagine grassroots women's work, peace, and security."
The Goalkeepers Event opened with a breakfast where leaders from all over the world sipped their morning coffee together. Nik Hartley is the CEO of Restless Development, an organization that looks to empower young people, especially in moments of intense conflict, to strengthen their communities. He stood beside Bina Maseno, who started Badili Africa, an initiative that uses unconventional tactics like makeup artistry as a way to encourage young people's participation in the political arena.
---
Check out more videos from VICE:
---
Then the event began with Still I Rise: The Power of Women's Movements with Melinda Gates, Malala Yusafzai, Leymah Gbowee, Laurel Weldon, Nick Kristof, and others.
Leymah Gbowee won a Nobel Prize for ending the Civil War in Liberia, leading to the election of Ellen Johnson Sirleaf, the first female leader of an African nation.
"What I started with was conviction and ten US dollars," she said. "Why was I successful? We were naïve."
But they were working on true commitment to their cause. They were fighting for their lives, for their children's lives, to end the rape and the kidnapping.
"It had nothing to do with the outside," said Gbowee. "It had a lot to do with the future of Liberia."
This conviction and connection to the community is what fuels women's movements worldwide, and it's the reason philanthropists and everyday individuals are starting to see that by empowering these women's movements, their dollars can go right to the source.
"It's time to reimagine grassroots women's work, peace, and security," said Gbowee. "If you give money directly to women, they will make sure to get it to the people."
Laurel Weldon, a political science professor who has written several books on protest movements, sat on the panel beside Gbowee."There is no mechanism as effective for women's rights as women organizing on their own behalf," said Weldon. "People driven by conviction – people can tell you're coming from an authentic place. Women have power when they stand together."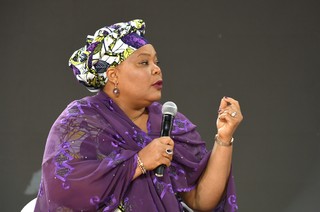 By improving women's access to healthcare and education, the future looks brighter and more peaceful for everyone.
"They have hopes to become doctors and teachers and politicians," said Gulalai Ismail, who works with girls like Malala Yusafzai who want an education in Pakistan.
"But instead they become brides. Every day I work with girls like Malala, and they understand that if they don't speak out for their rights, their lives will not change. We need to invest in the next generation of leaders. The next generation of Malalas. When a girl is empowered she changes her family, her community, and in time, the world."
Of course, change is never easy, and those with the most to lose usually hold on tightest to the status quo. At the conference, Canadian Prime Minister Justin Trudeau explained how he's trying to work to level the playing field on his cabinet. Now that he's ensured that his cabinet consists of as many women as men, necessary adjustments need to be made.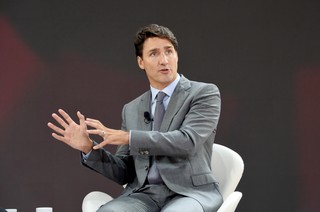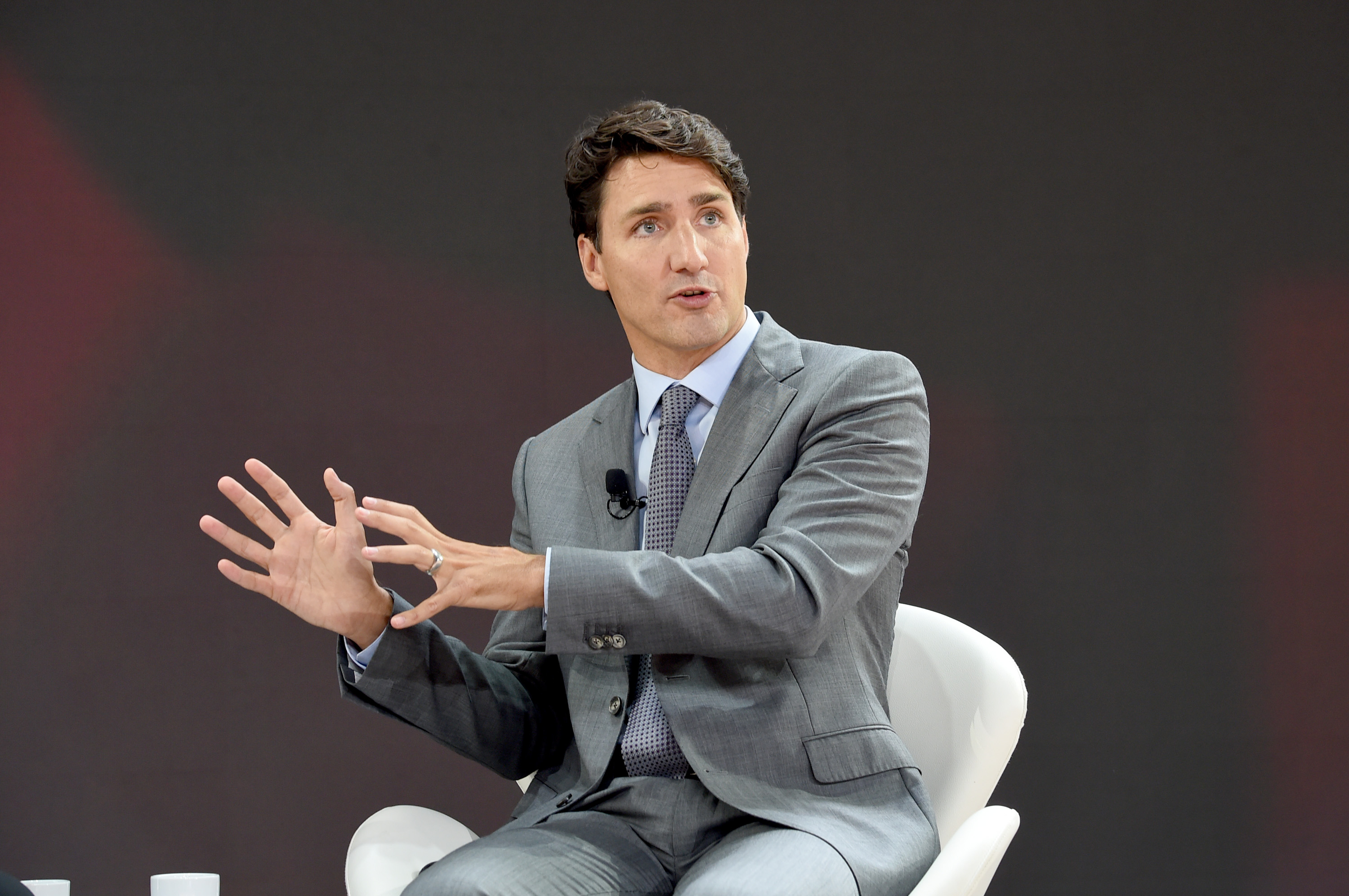 "These parliaments were built for old white grandfathers," said Trudeau. "One of our ministers just announced she's pregnant, and it's bringing a whole new and important conversation on how we are enabling her to do her job and be a great mom at the same time. We wouldn't be having those conversations if we hadn't pushed the envelope."
With improved accessibility, the revolutionary power of technology could be the greatest tool we have to reach many of the Global Goals, like ending poverty, ensuring equitable quality education, and promoting sustained economic growth.Dr. Astro Teller, CEO of Google X, talked about some of the technological innovations he's pursued in the quest for global equality.
"Technology in cooperation with communities and governments and companies around the world can make an enormous difference in the problems we really care about," he said.
They've invented energy kites to address climate change and self-driving cars to address public health. But a major issue Teller sees today is that half the world doesn't have access to the internet. So half the world is left out of this movement that could benefit the poorest people most of all. As a result, he came up with Project Loon, which sends balloons into the stratosphere to bring internet access to everyone.
"It's called Loon because it's that unusual and we were all worried that you would think it was that crazy," he said. "But sometimes the craziest ideas are the best ones."
Will.i.am came onstage and immediately reminded the global audience that, even though they were sitting in a beautiful space on Columbus Circle, overlooking Central Park that there is real poverty right here in the US.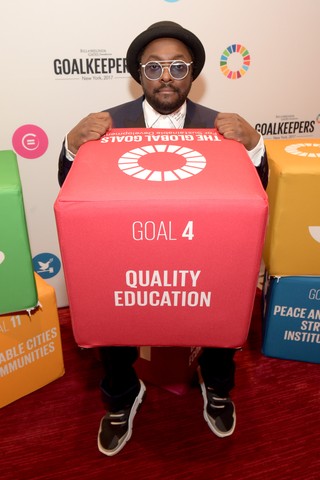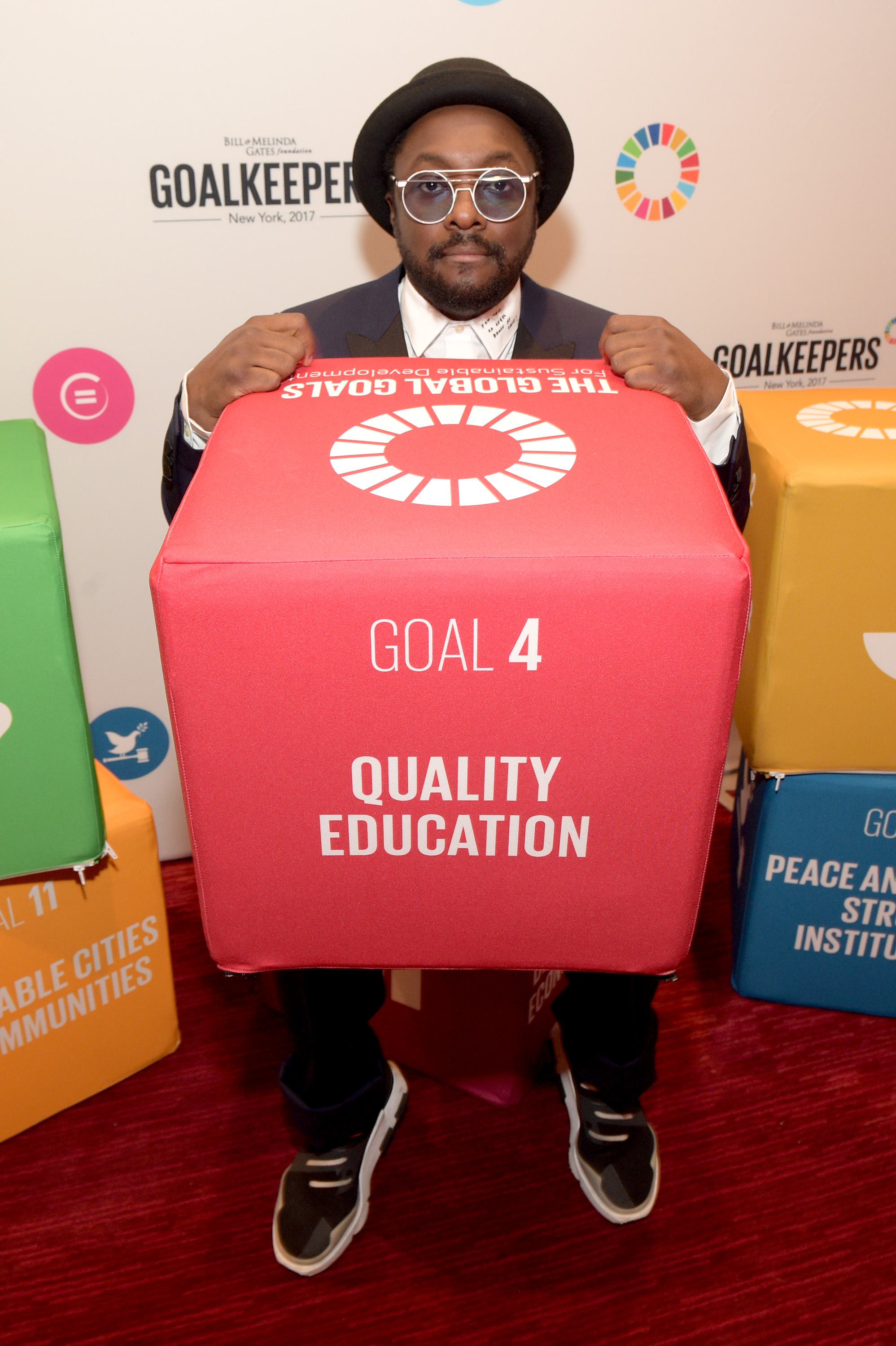 "Six miles from this building is the poorest congressional district in America," he said. "A community that has been left behind. The hardest hit areas in the US must also be included in the conversation about Global Goals."
He said he believes that the single biggest problem for these communities is a lack of access to quality education. Kids growing up in poor neighborhoods have few opportunities to learn the skills needed for the jobs of the future. But he's working to change that.
"My goal is to get young people in underserved areas to get excited about technology and STEM skills," said will.i.am. "I tell kids in the hood, 'You don't have to be like Bill Withers. Be like Bill Gates. You don't have to be like Michael Jordan. Be like Michael Dell."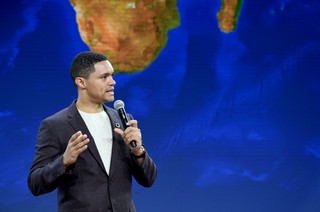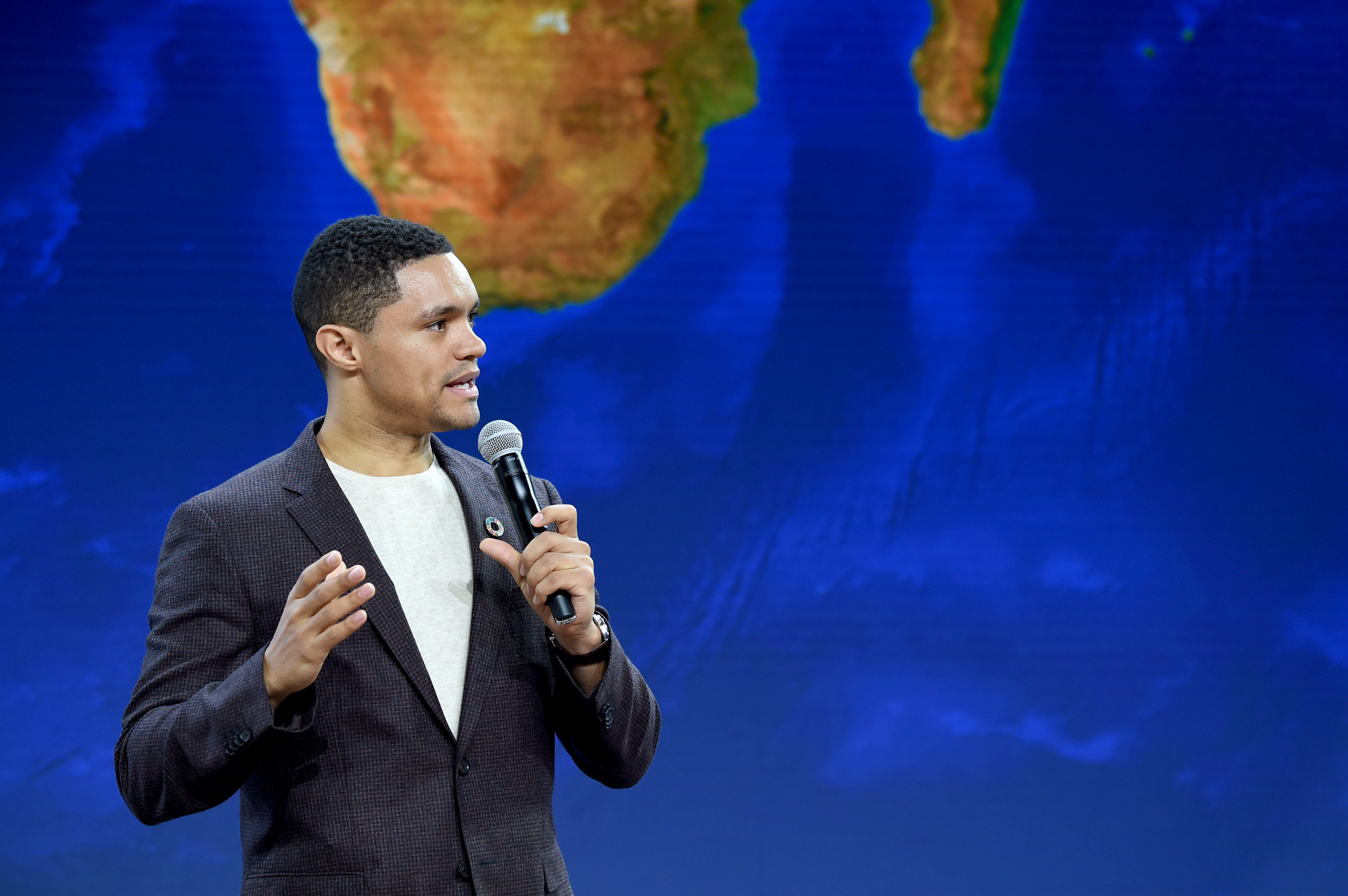 When Trevor Noah came onstage, he spoke about growing up in South Africa during apartheid, with a black mother and a white father.
"We were a family that was a crime that existed," he said. "I was a crime."
What gives him hope now is technology, and access to information. He believes that with the information and tools we possess today, "we can change our destiny."
Bill Gates came onstage to address the central question of the day: Is the world getting better? And bringing in the themes of women's movements and technology with a purpose, he then looked at global health.
"Life really is getting better," said Gates. "Malaria, pneumonia, violence, childhood death rates: all those are going down."
He points out that the HIV epidemic has been largely contained because of the major commitments by funders, primarily the United States, set in 2005. However, these successes could unravel if the current proposed federal budget goes through.
"That would mean over 5 million more deaths by 2030," Gates said.
He brought up Dr. Tom Ellman of Doctors Without Borders to discuss the issues.
"The problem with doctors is we think we know it all," said Ellman. "We have the training, and patients do not. This attitude has informed HIV treatment for decades."
"Most big change is driven by young people who don't know any better. Old people get comfortable or cranky or protective of their status or set in their ways."
Things began to change in 2007, when a group of patients in Mozambique decided that instead of all walking for many hours to get their medicine, they would send one person who would get the medicine, and they would rotate the job regularly. Instead of refusing to allow the patients to do this, the doctor listened to their needs and prepared them to be able to administer their own drugs.
"This kind of approach is known as differentiated care," said Ellman. "One size doesn't fit all. It's about listening to patients, trusting what they say, and adapting to their needs."
One of the great victories in public health in the past 100 years is in the realm of vaccines, and the successes are measurable. By looking at global childhood mortality rates, you can see that in 1990 12 million children under five died. In 2017, that number has dropped to 6 million. Much of that is due to the lifelong protections that vaccines offer.
But Gates pointed out that there needs to be innovation in the way vaccines are delivered. Often people, particularly in Sub-Saharan Africa, can't get to a clinic and the vaccines need to be delivered over many miles, frequently without roads. Morgan Fowler is a scientist who helped develop the Indigo Cooler, a backpack-like invention that keeps vaccines cool without electricity, batteries, or ice. Since half of children in Sub-Saharan Africa only get their vaccines if they are brought closer to them, this has the potential to vaccinate many more people.
The morning wrapped up with a keynote address by former President Barack Obama, and then a conversation between Obama and Bill and Melinda Gates. Ms. Gates asked President Obama what drives people along, especially when many people aren't on the same bus.
"Most big change is driven by young people who don't know any better," said Obama. "Old people get comfortable or cranky or protective of their status or set in their ways. The leaders of the Civil Rights movement were in their 20s. Dr. King was 26 when he started. He was 39 when he was killed."
But, he explained, organizing and mobilizing has to start with a compelling story.
"If we want to move towards these SDGs," he said, "we've got to be able to tell a story to big donors and politicians. And you can't create a story that moves large numbers of people unless you're able to listen to the story of the person next to you."