Durban Fish Curry
Hot from the red chilies in the masala, tangy from the tamarind that lends it a richly-colored sauce, and with slivers of soft garlic – bring on the napkins and tissues.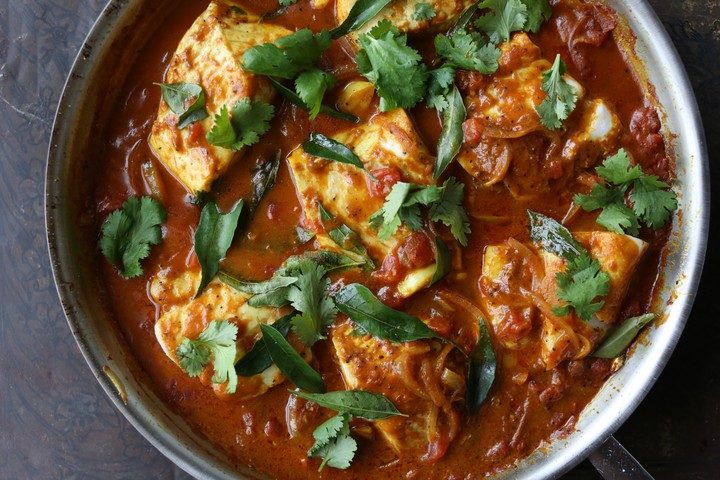 Photo by Farideh Sadeghin
Servings: 4-6
Prep: 20 minutes
Total: 40 minutes
Ingredients
1/4 cup|60 ml vegetable oil
1 large yellow onion, sliced
4 tablespoons|50 grams tomato paste
1 tablespoon freshly ground pepper
4 teaspoons|11 grams masala
1 teaspoon turmeric
1 teaspoon ground coriander
1 teaspoon ground cumin
1/4 teaspoon paprika
1 (410 gram) can peeled and chopped tomatoes
1 5/8 ounce|50 grams tamarind soaked in 1/2 cup|125 ml water, then strained to remove sediment and stones
5 large cloves garlic, quartered
3.3 pounds|1.5 kilograms fish cutlets (such as yellowtail or any thick, firm fish)
kosher salt, to taste
1 handful fresh coriander
10-12 curry leaves
white rice or bread, to serve
Directions
1. Heat the oil in a large saucepan over medium. Add the onion and cook until soft, about 5 minutes. Stir in the tomato paste, black pepper, masala, turmeric, coriander, cumin, paprika, and tomatoes and cook for 6 to 8 minutes, or until the tomato reduces slightly.
2. Stir in the tamarind water (which should be kind of like a paste) and garlic. Allow this to simmer on medium heat for 1 to 2 minutes. Add ¼ cup|60 ml water and mix.
3. Place the fish in the saucepan and shake the saucepan gently. Don't push the fish around with a spoon but spoon some sauce over the fish (we don't want the fish breaking!).
4. Season with salt and mix carefully without breaking the fish.
5. Tear the coriander and curry leaves and sprinkle over the curry. Cover with lid and cook for 10-15 minutes on low heat, or until the fish is cooked through. Serve with rice or bread.
AUTHOR'S NOTE: This recipe has been reprinted with permission of the author from Curry: Stories & Recipes Across South Africa.
Stories