Trump Is Making Life Harder for Children Seeking Asylum in the US
"These are refugee children, which is a double whammy. We are closing our doors on some of the most vulnerable youths," said one advocate.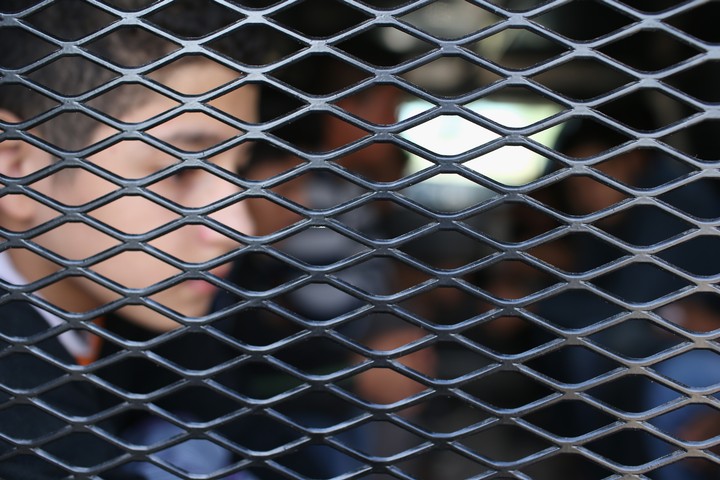 Central American migrants in Texas after turning themselves in to the US Border Patrol in 2015. Photo by John Moore/Getty
On Sunday night, after repeatedly urging Congress to pass a bill legalizing DACA—an Obama-era program granting work permits and deportation relief to immigrants brought illegally into the country as children—President Donald Trump made that legislative process a lot harder. He did so by sending lawmakers a laundry list of hardline immigration demands—including a border wall and drastic cuts to legal immigration—that would need to be met for him to sign a DACA bill.
"These priorities are essential to mitigate the legal and economic consequences of any grant of status to DACA recipients," White House legislative director Marc Short told reporters on a Monday call. "They fulfill the President's promise to advance immigration reform that puts the need of American workers first."
But not all of Trump's demands can be clearly linked to policies that affect workers. On the list was also a proposal to step up deportations of another youth population: unaccompanied minors who enter the country alone, often seeking asylum from violence in their home countries.
"The Administration proposes amending current law to ensure the expeditious return of unaccompanied minors," Trump declared in his letter to congressional leaders outlining his immigration priorities, claiming that "loopholes" in the current system enables these children to remain in the US "sheltered by the Department of Health and Human Services at taxpayer expense."
"These priorities would help DHS better and more effectively enforce immigration laws, protect our borders and reduce threats to national security and public safety," a DHS person said in an email.
Already, the federal government has begun taking steps to roll back protections for unaccompanied minors, which it can do without congressional action. The Department of Homeland Security has begun targeting their parents for deportation if the parents live in the US, ICE acting director Tom Homan told CNN Wednesday. The Department of Justice also sent out a memo last month instructing immigration judges to revoke the "unaccompanied minors" protection for youths who are reunited with their relatives in the country.
An ICE spokesperson told me that "as of August 21, ICE had made over 400 arrests with over 30 cases accepted for criminal prosecution" of sponsors (who are often family members) of unaccompanied minors, "on charges including alien smuggling and re-entry of removed aliens."
Jennifer Podkul, director of policy for Kids in Need of Defense, a national nonprofit providing pro bono legal representation for immigrant youths told me that that revocation of protection would mean that "kids can now lose the opportunity to have their asylum case heard in a non-adversarial setting, lose their exemption from the one-year filing deadline, and lose the right to have government assistance when they accept voluntary departure."
To further speed up the youths' deportations, the White House is pushing a host of bills to roll back critical protections for the minors, said Ur Jaddou, who was chief counsel of US Citizenship and Immigration Services under Barack Obama.
"They're trying to remove everything we've put into place the last 15 years to ensure children are treated like children," Jaddou told me.
One current White House proposal would enable the government to place all children in expedited removal—fast-track deportation proceedings—as long as they are not victims of human trafficking and can "safely" be removed from the US. Border Patrol Agents would then be empowered to make the determinations over whether children could remain in the country.
Fast-track deportation proceedings for all children would dramatically impact the ability of unaccompanied minors to present their claims for protection, Jaddou said.
Under a 2008 law, only children from the neighboring countries of Mexico and Canada can currently be deported that quickly. But 95 percent of unaccompanied minors came from Guatemala, El Salvador, and Honduras in fiscal year 2016, according to the US Department of Health and Human Services' Office of Refugee Resettlement. Those three countries all have record gang violence and murder rates that prompt children to flee persecution and seek international protection, as the United Nations High Commission for Refugees has documented.
"The youths leave principally because of violence and because of the lack of opportunities in Honduras," said Lourdes Ramirez, an award-winning journalist in San Pedro Sula, Honduras, where she has been threatened and kidnapped. "If they're deported, they return to migrate again because the risk of staying here is worse than the journey."
---
---
John Sandweg, who served as acting director of ICE under Obama, said that though the former administration had also taken measures to address the migration of Central American youths and families—such as instituting family immigrant detention facilities—they never targeted unaccompanied minors as the Trump administration is. "We never considered anything along these lines like reclassifying unaccompanied minors or adding to the deportation priority list parents of unaccompanied minors," he told me.
But Trump in his priorities list attributed the unaccompanied minor influx to US policies, which he said must change to reverse the pattern. "These loopholes in current law create a dramatic pull factor for additional illegal immigration," he said.
One other "loophole" Trump seeks to close is the current standard of care for holding immigrant youths. He proposed creating legislation to "terminate" the 1997 Flores Settlement Agreement court decision, which requires minors to be held in unlocked facilities licensed as childcare providers.
"There was a time before regulations from the settlement were in place, and there were a lot of terrible stories of kids found in adult detention facilities by themselves," said Jaddou. "This settlement ensures the rights of the child."
Trump did not clarify in the priorities list what standards the new legislation would create to replace Flores. But Sarah Pierce, an analyst at the Migration Policy Institute, said any new standards Congress did pass would need to fulfill Flores stipulations in order to avoid a lawsuit.
"If the standard of care in that legislation falls below that of Flores, they'll face immediate court challenges," said Pierce, adding that "terminate" was not the best word for the White House to use about the settlement, since they must continue complying with it.
In an email, a DHS spokesperson said that "the Flores Settlement Agreement is 20 years old and doesn't reflect current conditions," and reiterated that it would be replaced with the required legislation.

Other White House proposals would further strip children of legal protections, said Podkul. "It's incredibly shocking to suggest one group of young people should be traded for another group of young people," she said of the White House's demands in exchange for DACA. "These are refugee children, which is a double whammy. We are closing our doors on some of the most vulnerable youths."
Unaccompanied kids currently apply for asylum with an asylum officer in a non-adversarial interview—but the White House wants them to be tried in immigration court instead, which Podkul said would be particularly taxing on children who lack understanding of the legal system and also have no guarantees to a lawyer.
It would also become more difficult to get special immigrant visa status, an alternative protection to asylum, said Podkul. Currently a child must prove that one parent has abused or neglected him to qualify for such a visa, but the White House seeks to change that to both parents.
The proposed policies come just weeks after the Trump administration closed another legal avenue for Central American children to apply from their home countries for protection in the US through the Central American Minor (CAM) program.
"By closing CAM the administration pushed minors further into the hands of traffickers and smugglers," said Podkul.
But White House press secretary Sarah Sanders said at a Tuesday press briefing the White House's provisions offered "commonsense immigration reforms with broad bipartisan support that finally puts hardworking Americans first." Sanders declined to tell reporters whether the list was a firm requirement in order to pass DACA, but said her office was "laying out our priorities."
"We're going to work with Congress to try to get the most responsible immigration reform package that we can," she said.
This article has been updated to include comment from the Department of Homeland Security.

Follow Meredith Hoffman on Twitter.