Shaved Brussels Sprouts, Kale, and Citrus Salad
This bright, fresh salad will make you want to never roast your Brussels sprouts ever again.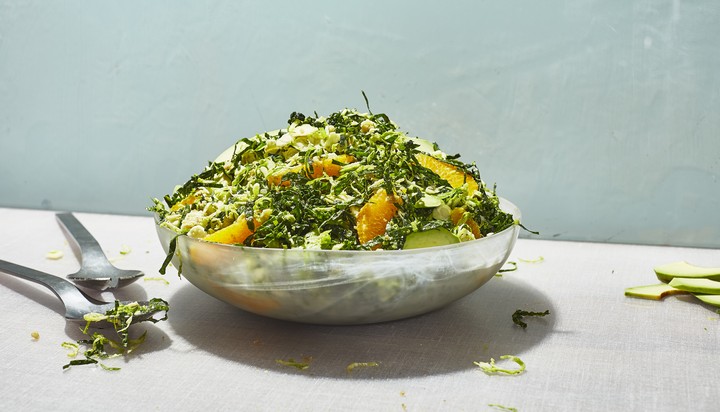 Photo by Heami Lee
Servings: 6-8
Prep: 30 minutes
Total: 40 minutes
Ingredients
½ cup|70 grams walnut pieces
3 tablespoon nutritional yeast
1 lemon, zested and juiced
1 ½ pounds|700 grams brussels sprouts, thinly shaved using a mandolin
1 pound|450 grams lacinato kale, stemmed and thinly sliced
2 firm-ripe avocados, halved, pitted, and thinly sliced crosswise
2 oranges, peeled and supremed
⅓ cup|75 grams olive oil
1 teaspoon maple syrup
Kosher salt and freshly ground black pepper, to taste
Directions
1. Heat oven to 350°F. Spread walnuts on a baking sheet and bake until lightly browned and fragrant, 8-10 minutes. Let cool slightly and transfer to the bowl of a food processor with nutritional yeast and lemon zest. Pulse just to combine and set aside.
2. Combine brussels sprouts, kale, avocados, and oranges in a large bowl. Whisk together reserved lemon juice (you should have 2-3 tablespoon), olive oil, maple syrup, salt and pepper to emulsify. Drizzle over salad, add walnut mixture, and toss to combine; serve immediately.
Stories