The VICE Morning Bulletin
Roy Moore tries to block Doug Jones from office, Trump falsely claims to sign record amount of legislation, NYC crime rate reaches new low, and more.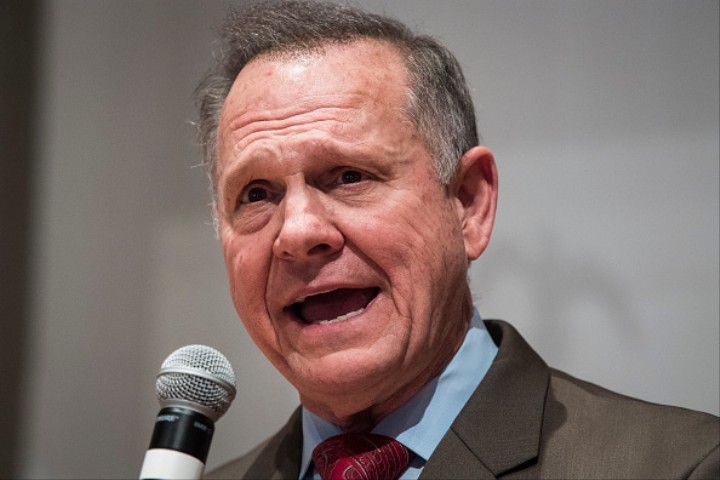 Photo by Jabin Botsford/The Washington Post via Getty Images
US News
Roy Moore Launches Legal Bid to Block Opponent's Victory
The Republican—defeated in the special election for an Alabama Senate seat by 20,000 votes earlier this month—filed a lawsuit late Wednesday night in a bid to stop the state's canvassing board from naming Democrat Doug Jones the official winner. Moore's lawyer suggested alleged trickery merited a fraud investigation. Alabama's secretary of state, John Merrill, insisted Jones would be certified as the victor.—AP
Trump Claims to Break Record Is Wrong
Speaking to a group of firefighters in Palm Beach, the president said he had "signed more legislation than anybody… We broke the record of Harry Truman." According to GovTrack, Trump has signed fewer bills, at this point in office, than the previous nine presidents. Trump has signed fewer than half the number of bills Bill Clinton and George H.W. Bush had after one year in the White House.—Politico/GovTrack
Crime Rate Continues to Fall in New York City
The latest figures showed fewer than 95,000 major crimes had taken place in the city this year, which would be the lowest number since current forms of record-keeping began. There had been only 236 killings so far in 2017, a remarkable drop from the 2,245 killings that took place in 1990. One noteworthy increase was in "misdemeanor sex crimes," which ticked up 9.3 percent.—The New York Times
Pharma Bro's Former Lawyer Convicted of Fraud
A federal court found Evan Greebel guilty of conspiring with Martin Shkreli to engage in wire fraud and securities fraud. Prosecutors argued Greebel "hatched a plan" with Shkreli to help him steal $11 million from the pharmaceutical company Retrophin Inc. Greebel now faces up to 20 years in prison.—Bloomberg
International News
Dozens Left Dead After Kabul Bomb Attack
At least 41 people were killed and another 84 injured when at least one suicide bomber stormed a Shia site in the Afghanistan capital, according to the country's health ministry. The initial blast was reportedly followed by more explosions at the Tabayan cultural center and the adjoining Afghan Voice news agency. ISIS said it was responsible for the attack, claiming a suicide bomber and other explosives were used.—BBC News
Putin Claims Terrorists Responsible for Supermarket Bombing
At least 13 people were hurt after an explosive device blew up in St. Petersburg on Wednesday. President Vladimir Putin described the incident as a terrorist attack, and said another attack planned for the city had been foiled. Russian investigators said the supermarket bomb contained shrapnel.—AP
China Backs Cambodia Over Disputed Election
China's National Election Commission plans to step in and supply Cambodian officials with equipment needed to hold 2018 general elections. Both the US and the European Union pulled support for the vote after the country's main opposition party was broken up.—Reuters
Ukraine and Pro-Russian Forces Agree to Major Prisoner Swap
Hundreds of prisoners were exchanged in Ukraine's Donetsk region Wednesday as part of a deal reportedly mediated by the Russian Orthodox Church. Pro-Russia rebels released 74 Ukrainian soldiers and 235 rebels were handed over in return, according to Ukrainian officials. Their captivity was the legacy of the armed conflict that began in eastern Ukraine in 2014.—Al Jazeera
Everything Else
Obama and Clinton Remain Most Admired Figures
Gallup's annual poll has revealed Barack Obama is still the man Americans most admire, with 17 percent picking the former president. Hillary Clinton remains the most admired woman, with 9 percent choosing her—a 3 percent fall from last year's poll.—NBC News
Solange Knowles Shares Disorder Diagnosis
The artist revealed on Instagram that she has been "quietly treating, and working through" a disorder affecting the autonomic nervous system. The illness forced Knowles to scrap a planned New Year's Eve performance in South Africa.—i-D
Former Miss America Winners Will Help Choose New Leaders
A group of former winners of the beauty contest will help appoint new leadership at the Miss America Organization. CEO Sam Haskell and other officials recently resigned after emails showed at least some of them making disparaging remarks about contestants.—Variety
Weed Use Among Pregnant Teens Soars in California
A new study by Kaiser Permanente found marijuana use by pregnant teenagers under the age of 18 rose from 13 percent in 2009 to almost 22 percent in 2016. Among pregnant women aged 18 to 24, it rose from 10 percent to 19 percent.—VICE News
Fruitcake Causes Bomb Scare in Seattle
A ferry terminal in the city was evacuated and incoming boats stopped when a suspicious package was spotted under a decorative tree in the waiting area. Thankfully, the local bomb squad found only fruitcake inside the wrapped box.—VICE
Make sure to check out the latest episode of VICE's daily podcast. Today we revisit an interview with comedian and actor Hannibal Buress.