A green SUV with the red, black, and green flags of the African nation suction cupped to its back windows is parked at the curb, bearing stickers shouting FREE THE MOVE 9 and STOP MURDER BY POLICE. I've seen this car all over Philadelphia, chugging reliably near the end of every Black Lives Matter protest, always ready to offer a bottle of water or a ride to someone on crutches. Now it stands like a sentry welcoming us to the first ever MOVE conference, held in the first week of May. The idea is simple: to hear about one of the most notorious incidents in Philly history directly from the horse's mouth, the people of MOVE themselves.

Ramona Africa, the conference's main organizer, is greeting attendees. She was a college student at Temple University about to head off to study law when she went to a meeting about a group called MOVE in 1979. "You want to be a lawyer?" one of the members asked her. "Well, you should go and sit in on the trials of our family."
In 1978, the Philadelphia Police Department raided MOVE's home, resulting in the death of Officer James Ramp. Nine MOVE members were put on trial for his murder, and each sentenced to 30 to 100 years in prison.
Ramona went to the trial. "For the first time, I saw the American legal system clearly," she says. "Their trials showed me that if you believe in the legal system and think it has justice to give, you're being bamboozled." Two of the nine have died in prison; seven remain incarcerated.

Ramona joined MOVE after it relocated to a new house, a row home several miles west in a middle-class black neighborhood of West Philadelphia. There, MOVE loudly demanded the release of its members and an end to police brutality against people of color across the city, which, under Mayor Frank Rizzo, was blatant. The neighbors complained, and there were rumors of the group getting more militant, so the PPD began to arrest them for minor infractions in an attempt to disband the house. On May 13, 1985, under the direction of Mayor Wilson Goode, a police helicopter dropped a bomb on the roof of the MOVE row home.
Eleven members of MOVE, including five children, were killed. The house exploded in flames.
"There was a conscious decision to let the fire burn," says Goode at an independent commission hearing formed to investigate the events. An entire city block, including 61 homes belonging to black citizens unaffiliated with MOVE, burned. Ramona and a young boy were the only survivors among group members present that day. Later he died too, making Ramona the only original MOVE member at the bombed home still breathing.

But there were more members who didn't live in the bombed house, plus a fresh infusion of members who joined up after the tragedy. Most people think that the story of MOVE ended with that explosion, but that's not the case. These days, the MOVE family consists of about 50 people living in five row-homes scattered around West Philadelphia and perhaps 50 more living in the suburbs and New Jersey (members decline to give exact numbers or addresses for fear of police harassment).

They also have supporters around the world, many of whom travel to attend the three-day conference this month. A white-haired couple leaned close together, speaking German; I could hear French too. Other attendees had come from Belgium, Texas, Georgia, Indiana, and New York City. The hallways smelled of patchouli and essential oils. Vendors unpacked dresses in colorful African-inspired prints, as well as volumes on Palestine, Mumia Abu-Jamal, and Malcolm X.

Members of MOVE today still follow most of the guidelines laid down by the group's founder, John Africa, who died in the bombing. Besides taking Africa as a surname, they protect and feed animals, compost and grow their own food as much as possible, and homeschool their children. They also hold family meetings about once a week.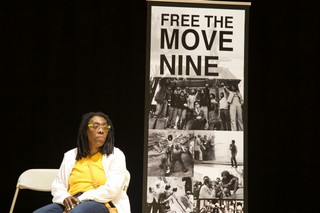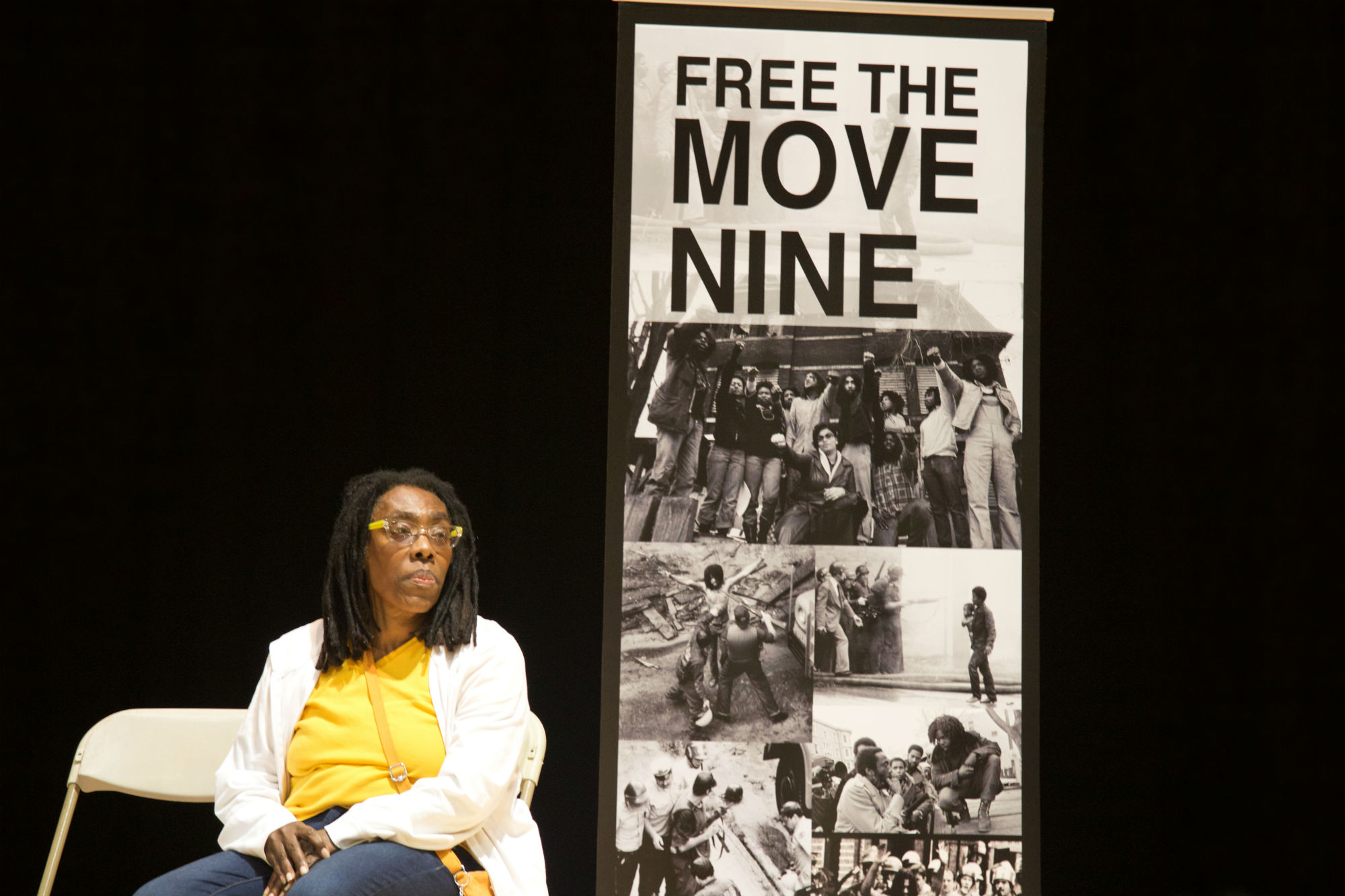 "Why should people care about MOVE today?" I ask Ramona, who shakes her head. "Eric Garner. Michael Brown. Freddie Gray. The list of people who aren't MOVE members who are being victimized by the system is so long. We are on that list, and we are working to keep it from getting any longer."
Yet in this age of citizen activism and the galvanizing call to arms of Black Lives Matter, despite the drama and significance of their story, MOVE remains virtually unknown outside Philadelphia—and a cloud of suspicion hangs over the members even in their home city. Roughly 50 supporters have gathered for the conference when I visited; the event did not seem to have been featured in any publication, local or national.

Over the course of the three days, I take up residence at a round cafeteria table with attached round stools made for children.

Dr. Suzanne Ross is the chairperson of the New York City chapter of an organization that works to free Mumia Abu-Jamal, a journalist who reported on MOVE before he was incarcerated (many believe wrongly) for murder. Dr. Ross is here because she sees MOVE as an ongoing symbol of the injustice against people of color in the country, and believes it's one of the most powerful groups working on issues at the core of Black Lives Matter.

When I point out that it's curious MOVE doesn't attract the hordes that BLM rallies and events do, Dr. Ross shrugs her faux-fur vested shoulders. "MOVE is still a working class, non school-based group. They don't have the academic backing that BLM does. They come from the streets."

Joshua Africa, a MOVE member, comes over to the round table. I ask why he thought the conference hasn't been better attended. "I think it has a lot to do with a lot of distractions from the system," he offers. "People don't pay attention until it really starts to affect them. What happened to us is so hard for people to imagine. They think it will never happen to them."

Gary Wonderlin, a conference attendee and not a MOVE member, agrees with remarks that have been swirling all weekend from the panelists—the reason MOVE doesn't get more support from Philadelphians is because the group was smeared in the local media. "All the people my age still think MOVE eats its babies," says Wonderlin, 60. He's from the area and stays involved because he likes the optimism of MOVE, and the possibilities it offers for hope, even in the era of Trump. "Left-wing people get so defeated," he said. "But MOVE is never depressed. They are always moving, always doing something. But we need more young people to come into this movement, not just us old heads."

He's right: The demographic of the conference attendees does skew older, another marked difference from Black Lives Matter.

But there are young people here, many of them in fact, ranging in age from two to 25, sitting together in a cluster in the back of the auditorium—the MOVE kids. You can pick them out by their locks and the orange T-shirts they all wear with the words "WELCOME TO PHILADELPHIA" printed above an image of a helicopter.
Below it: "This was not an accident. This was deliberate murder."

At 19, Chad Africa is tall and broad, his long dreadlocks tied back in a ponytail. He was born into the group after the bombing and now lives in a row-home near Clark Park in West Philadelphia with his mother, Ramona, and many siblings. He rubbed his brown eyes, tired from getting up early in the morning to protest at the airport where ex-mayor Wilson Goode was delivering a lecture.

When they reach their teen years, MOVE children generally learn carpentry or masonry or drywalling or plumbing and join their parents in working construction jobs that bring in money for the family. Chad works outside every day as a landscaper and has friends who are not MOVE members. His dad left MOVE, an uncommon but not unheard-of occurrence, and now works as a computer technician.
"I could never do that," Chad says. "Stay inside and stare at a computer all day? No way."
MOVE's older girls and women often end up staying home to take care of the children and the dogs; the organization prizes motherhood and encourages big families, a fairly traditional vision of gender compared to Black Lives Matter. The members also believe in natural childbirth. Going to protests and MOVE programs like the conference is viewed as part of MOVE children's educations, like field trips.
On stage in the auditorium, Sue Africa, the only white member of old guard MOVE, talks about how she joined and why she's still involved. Sue grew up in an affluent white suburb of Philadelphia, and her family thought she was crazy for living in community with the black separatist group.

"This is the kind of devious background I came from that teaches upper-middle class white people the myth that they are superior," she says. "That myth makes us feel good for a while, but ultimately it is separation. Racism comes from the concept of separation. As long as you are a prisoner of this philosophy, you will be a victim of its consequences."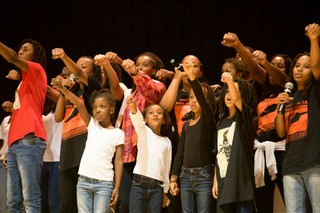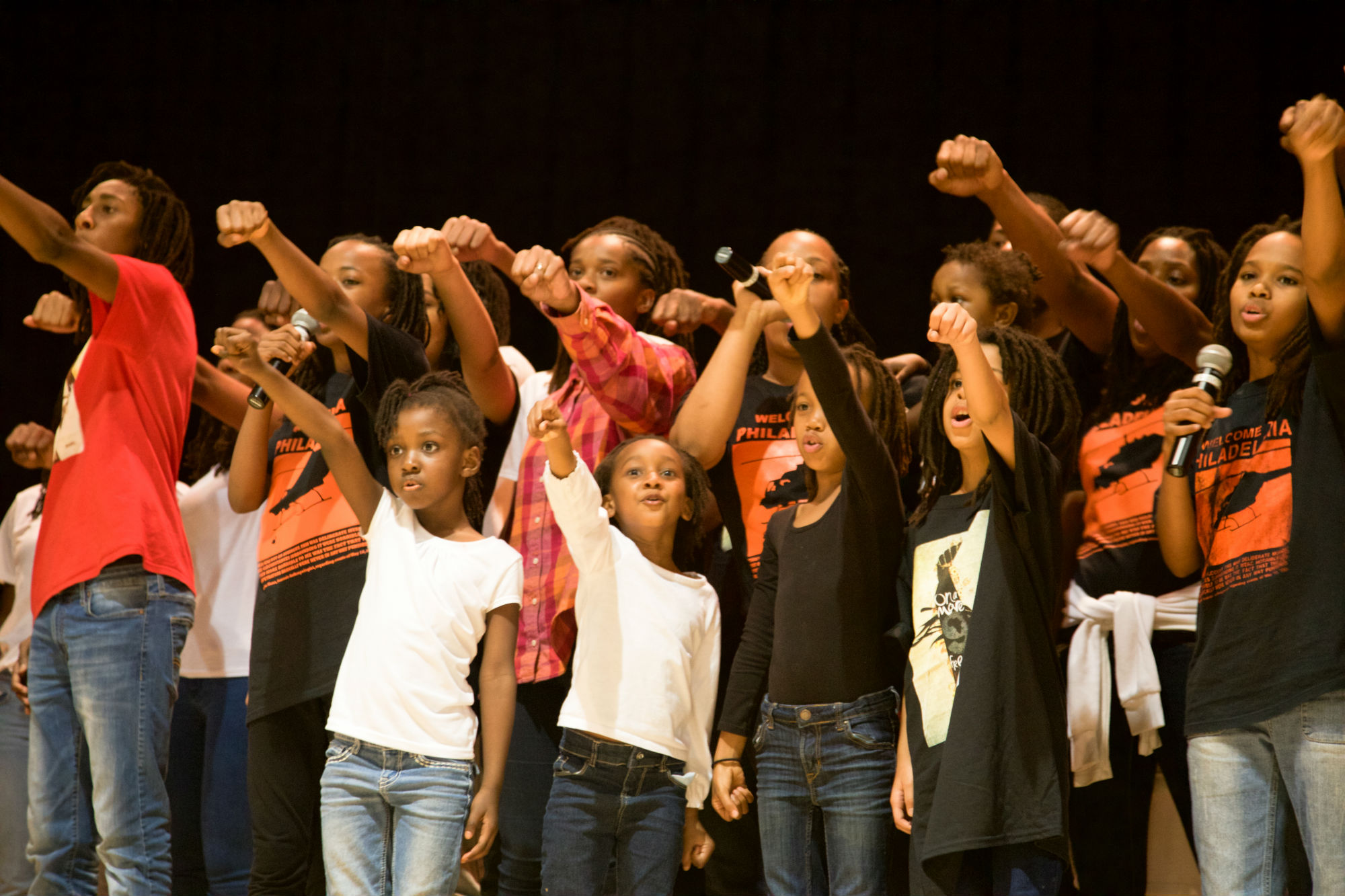 At the end of the conference, the MOVE kids take the stage. Together with the conference's leaders, this makes three generations of activists—the original MOVE members, their kids, and their kids' kids. The youth performed a rap inspired by the guidelines written by the group's founder. More than 30 young black people dance and call, "What you gonna do when a crazy killer cop starts coming after you?"

Ramona Africa claps and grabs a microphone. "This is what they tried to kill when they dropped that bomb on us," she says. "But it didn't work."
Follow Emma Eisenberg on Twitter.