The three women who have come forward with sexual misconduct allegations against Brett Kavanaugh have at least one thing in common: They all want an FBI investigation before the Senate considers his lifetime appointment to the nation's highest court.
Democrats also doubled down on their calls for the bureau to look into the allegations during Thursday's Senate Judiciary Committee meeting, where the first woman to accuse Kavanaugh, Christine Blasey Ford, appeared to testify.
"Despite repeated requests, Trump and Republicans have refused to take this routine step and direct the FBI to conduct an impartial investigation," Democratic Sen. Dianne Feinstein said during opening remarks at the hearing. "This would clearly be the best way to ensure a fair process to both Kavanaugh and Ford."
But a criminal probe is highly unlikely, largely because of the length of time that's passed since the alleged incidents occurred back in the 1980s. The statute of limitations that would apply in various states have long expired. And even if they hadn't, the FBI almost certainly wouldn't be involved in looking into state-level crimes.
The next option would be reopening the FBI's background investigation, which the bureau conducts for all federal nominees. But the only person who can make that call is President Donald Trump.
"We don't get involved unless we're requested to by the White House," explained Chris Quick, who spent three decades working as an FBI agent. While the FBI routinely runs background investigations on potential government employees, they do so at the request of the agency looking to hire them — which, in the case of a Supreme Court nominee, is the White House.

So far, Trump has pushed aside the idea of reopening Kavanaugh's file in light of the sexual assault allegations against him. "Well, the FBI told us they've investigated Judge Kavanaugh six times, five times — many times over the year," Trump said at a press conference Wednesday. He also called the Democrats pushing for the background investigation "con artists."
To start, the goal of a background investigation is to determine that a nominee isn't a spy, or a terrorist, and can be trusted with secrets, according to Gregory Vecchi, assistant professor of criminal justice at Missouri Western State University and a retired FBI agent of 29 years.
READ: Kavanaugh is turning #MeToo into a campaign issue for Democrats across the country
Kavanaugh would have already had to undergo a background investigation when President George W. Bush nominated him to the U.S. Court of Appeals for the D.C. Circuit 10 years ago.
Even if Kavanaugh's file were to be reopened, corroborating the allegations against him, especially given the amount of time that's passed, would be difficult at best.
But the FBI would have had to follow up on any derogatory or questionable information.
"If someone says, 'He raped me,' the FBI investigators would say, 'OK, what can we do to prove this?'" Vecchi said. "If there's no way to independently verify it, and because it's not a criminal investigation, it's not for prosecution, that would be as far as they'd go."
"We don't get involved unless we're requested to by the White House."
"Memories fade, evidence goes away. How does someone remember something from 30 years ago. How do you corroborate the story?" Quick said. "A witness says, 'I was at that house.' OK, what was the house number? If you don't have the house number, there's no way of verifying if John Smith lived there 30 years ago or not."
During Thursday's Senate Judiciary Committee hearing, Ford laid out her allegations in excruciating detail. "I was pushed onto the bed and Brett got on top of me. He began running his hands over my body and grinding onto me," Ford recalled. "I yelled hoping that someone downstairs might hear me, and I tried to get away from him but his weight was heavy."
During the hearing, Judiciary Committee Republican Special Counsel Rachel Mitchell asked questions on behalf of Republican senators that challenged Ford on her memory of the incident, including whether or not Kavanaugh was the man who assaulted her. But Ford said she's "100 percent" certain.
READ: Christine Blasey Ford, who's a memory expert, said she remembers who attacked her just fine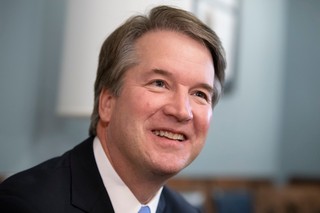 Two other women, who haven't agreed to appear before the committee, have also accused Kavanaugh of sexual misconduct. Deborah Ramirez, who attended Yale University with Kavanaugh in the 1980s, said that the Supreme Court nominee exposed himself to her at a party and thrust his penis in her face. Julie Swetnick, a former government employee, also said that she saw Kavanaugh and his friend Mark Judge at a party where women were drugged and gang raped in the 1980s.
Kavanaugh — and the White House — have categorically denied all the allegations. But Kavanaugh hasn't said that Ford is lying — rather that she's confused about the identity of her attacker.
READ: All the ways Brett Kavanaugh has denied the sexual misconduct allegations against him
Once any background investigation is complete, Vecchi said a candidate's file would go to a vetting committee, which in this case would be White House vetting committee. Based on the information in the file, the committee could recommend that the president move forward with a nomination, or withdraw a candidate.
"Typically presidents go with what their experts on the committee say. But this one here is different, so who knows," Vecchi said, referring to Trump.
Earlier this month, the Justice Department released a statement about FBI background investigations when Democrats first started calling to reopen the investigation.
"The purpose of a background investigation is to determine whether the nominee could pose a risk to the national security of the United States," the DOJ's statement read. "The allegation does not involve any potential federal crime. The FBI's role in such matters is to provide information for the use of the decision-makers."
In theory, the FBI could open a criminal investigation on its own, but only if the alleged crime was a federal offense. Experts said that it's unlikely the sexual allegations against Kavanaugh would warrant a federal criminal investigation because most sexual offenses are covered by state law.
"The federal sex crime has to be very specific. A lot of sex crimes are local violations," Quick said. "A federal sex crime would be something like using the internet to lure someone to travel to another state or posting child pornography."
If law enforcement believed that Kavanaugh committed a sex crime under state law, that crime would have to still be within the state's statute of limitations, which restrict how much time prosecutors have to file criminal charges. In the case of Ford, the alleged assault took place in Maryland, which has no statute of limitations on felony sex crimes and did not have one at the time of the alleged attack.
But legal experts have said that Ford's allegations against Kavanaugh are likely misdemeanor sexual offenses which, under Maryland law, have a one- or three-year statute of limitations.
Ramirez said that her encounter with Kavanaugh took place when they were both students at Yale University in Connecticut, where the statute of limitations would have expired five years after the incident. And the party that Swetnick alleged seeing Kavanaugh lining up to gang rape a woman took place in Washington, D.C., where even the most serious of sex crimes has a statute of limitations of 15 years.
Cover image: Supreme Court nominee Judge Brett Kavanaugh smiles during a meeting with Sen. Mike Lee, R-Utah, a member of the Judiciary Committee, on Capitol Hill in Washington, Wednesday, July 18, 2018. (AP Photo/J. Scott Applewhite)