Opening Day is here! It's that wonderful time of year that signals your brain to push just a little bit more and your lingering season affective disorder will soon be lost to sunshine and 75-degree days at the ballpark. The winter blues soon will be replaced by a seething hatred of ESPN's strike zone box.
Side note: March has become, to me, the worst month for SAD issues because February always gives you that one warm day and you just accept that month is a frozen wasteland while March should be warm but every morning you wake up to freezing deception and the realization winter lasts longer with each passing year. Feeling the warmth through my TV while watching a baseball game in California is how I get through the finish line so the start of baseball season is wonderful on a lot of emotional levels.
As for your favorite baseball team, there's a good chance it's extremely easy to hate.
With that in mind, I'm here to get you excited for baseball season by shitting on every team and ranking them by likability. I will use a scientific method rooted in mathematical theories approved by engineers at... actually I'm just going with what's in my heart. That's what is important.
THE LOVING 10
These are the teams we should all love. Unless you don't want to. No pressure.
30. Milwaukee Brewers
They have a mascot that slides into a vat of beer after home runs! Well, now it's home plate but we all know home plate is the beer of bases. They actually spent money on free agents this summer! Their name is literally the Brewers! That gives me hope for marijuana in America. Think about it. This team is named after people that make beer, something that was banned in my stupid country for a brief time. That's marijuana now, so in 2033, there could be a team called the Omaha Weed Farmers or the Gainesville Growers. Ryan Braun trying to get a delivery person fired because he didn't want to confess to juicing does cost the Brewers points but not enough to discount from the mascot slide.
29. Washington Nationals
Hating the Nationals would be like hating Charlie Brown. Every year, we think the Nationals are going to kick that football and win a playoff series but some other team pulls it away in this mixed metaphor that would be removed from any comedy movie script. Max Scherzer has different colored eyes and throws 105 mph, so he's basically an X-Man. Bryce Harper's hair is so good that he may also have mutant powers. "I'm Bryce. Call me... Follicle." The moment the Nationals win a World Series we drop them into the bottom-third of lists like this but for now they should be the team you hope beats the Cubs in the playoffs.
28. Tampa Bay Rays
Remember when the financially strapped Montreal Expos essentially served as a farm system for baseball's big spenders? The Rays are a slightly better version of that ideal with much worse uniforms. Evan Longoria wasn't traded until his prime was over but for most everyone else, the Rays are like a really good internship program that places talented people in high-paying jobs with other companies. The Expos produced stars like old Saturday Night Live casts; the Rays produce stars like The State, and everybody loves The State. You can't hate a team that has an aquarium in its outfield.
27. Seattle Mariners
I have a hard time mustering hate for a team that is clearly cursed. Kyle Seager is likely minutes away from falling into an open manhole and breaking his legs. Is it a coincidence that this team's key players seem to be suffering injuries at the same time the stadium started selling grasshoppers? Even if the grasshoppers are haunting the Mariners, who cares? Those things are delicious. Totally worth Felix Hernandez's arm falling off. The M's brought back Ichiro this season and they have a damn train in the outfield. I assume that train will eventually fall on Mike Zunino but that will only make me like the Mariners more.
26. Pittsburgh Pirates
Maybe these teams aren't so much "likable" as they are "worthy of your pity." The Pirates found a way to take one of the sport's best, most well-liked players in Andrew McCutchen and run him out of town because they don't want to pay him next offseason. How are you going to hate this team when you can't name more than five players on the roster? I expect big things this season from... Jose Lind? Even when things are bad, you can flip on a Pirates home game and enjoy the stadium for a few minutes. You can see the bridge and think about how Bane blew it up. That's always fun.
25. Los Angeles Dodgers
There's something endearing about a team that spends wildly but keeps fucking up the end game. Think about all the Dodgers have going for them—fun-ass Yasiel Puig, hook-dropping Clayton Kershaw, Justin Turner running around looking like Tormund Giantsbane, and Vin Scully's time in the booth will score them points long after his retirement. NOTE: I am always one dirty Chase Utley slide away from dropping this team to 30th.
24. Minnesota Twins
The Twins are the A's without the analytical mystique around all their failures. The thing I enjoy most about the Twins is the fact Paul Molitor looks like Mark Harmon, so you can pretend Gibbs from NCIS is managing the team. I really want Joe Mauer to win a World Series because that state's sports teams have been through enough hell the past two decades. And I love that the Twins have Trevor Hildenberger, a sidearm/submarine guy who can occasionally slip a fastball up there in the mid-90s. Every heater is like someone dropping a shot of whisky in your crappy light beer.
23. Colorado Rockies
Remember the old Nintendo game Baseball Simulator 1.000? There was a stadium that existed in space where balls flew out of the park easily, because there was no gravity. That's Coors Field. They built a stadium in space with no care at all about pitching. Charlie Blackmon looks like a guy who owns a one-man moving company and shows up to your place at 5:00 AM in overalls asking if you want any of the Dunkin' Donuts he brought with him. I will always make room in my heart for a guy like that on a team that plays 8-6 games at home.
22. Los Angeles Angels
The Angels are so insecure about where they play they lie about it in their team name, so I don't want to say anything negative about them. What prevents other teams from doing that? The Los Angeles Mets of New York. This team is the little brother of the real Los Angeles team and I will pull for them to have their day in the sun. If Shohei Ohtani is a bust, they should just fold the operation because it would be too much to take. Please let the Angels make the playoffs this year.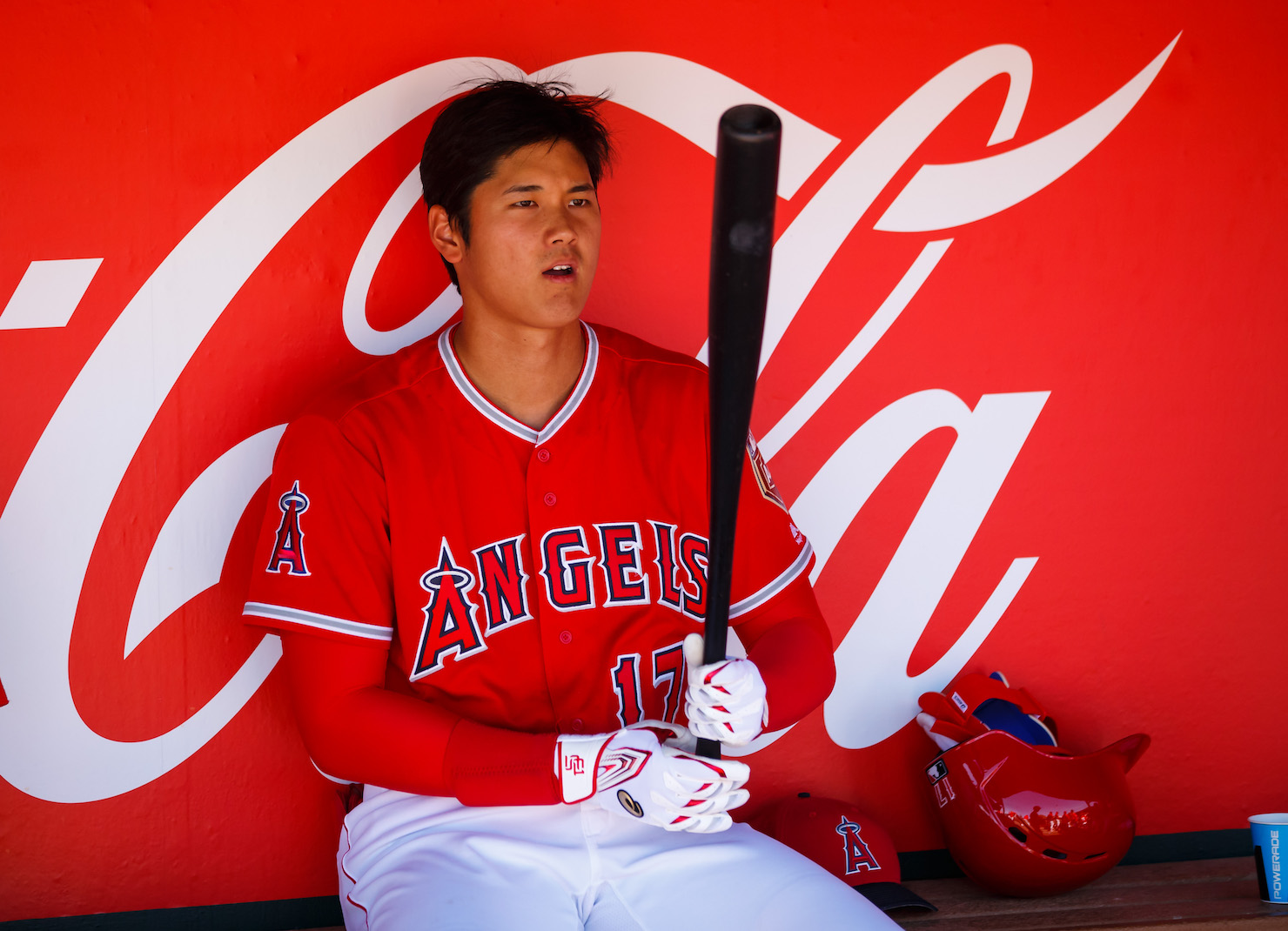 21. Baltimore Orioles
The Orioles are the only team with a manager that appeared in a Seinfeld episode. Adam Jones is cool. I hate when teams are referred to as "fun" because that's usually just code for "good and please like them" but I find the Orioles to be fun. When Buck Showalter gets tossed, it's an event. They've got mashers in the lineup. It's another bad team with a beautiful park, which I'm beginning to realize is how you get me to like you. If the Yankees played at Camden Yards this list would be way different.
THE INDIFFERENT 10
These are teams that do not evoke any feelings in me so I will keep it brief.
20. Arizona Diamondbacks
Why are they named after a snake yet their primary logos do not have a snake? A pool in the outfield is dynamite, though. Paul Goldschmidt sounds like the name of a German beer that costs $9 a bottle in New York bars.
19. San Diego Padres
Bartolo Colon hit a home run in their stadium. That results in lifetime immunity from hate.
18. Chicago White Sox
The most invisible team in any major market in any sport.
Fan: "Hey, who won the 2005 World Series?"
White Sox: "We did!"
Fan: "Anyone? Anyone know?"
White Sox: "Us! We beat the Astros!"
Fan: "It seems like this list of champions is blank in 2005, so weird."
White Sox: "I'm right here screaming in your face! We won it all in 2005!"
Fan: "I guess 2005 is one of life's great mysteries."
White Sox: [puts on Cubs hat] "The White Sox won the World Series in 2005."
Fan: "Oh, hey, didn't see you there. Thanks for the info."
It's hard to hate or like something that may not exist.
17. Toronto Blue Jays
It's cute that we let Canada have a team. You can't root against the Blue Jays the way you can't root against puppies at the Puppy Bowl.
---
---
16. Texas Rangers
All the dingers offset Cole Hamels entering the Old Extremely Dickhead portion of his career. The guy who faded in September the last two seasons being the one most vocal about hating the six-man rotation to give everyone more rest evens out with Joey Gallo hitting 500-foot bombs every other series.
15. Detroit Tigers
Things are about to get bleak at Comerica. They should just let Jim Leyland sit in the dugout all season smoking darts in his underwear.
14. Atlanta Braves
If they ever rebooted Major League, they would use the Braves. "Dansby Swanson! Run like Mays, hit like... Ron Swanson, I guess."
13. Cincinnati Reds
Did you know the last time the Reds won a playoff series was 1995, the year Barry Larkin was the NL MVP? Fun fact: The Reds have averaged 69 wins per season the past four years.
12. San Francisco Giants
There's something about this team that doesn't impact me much emotionally, and it's a team that won three titles in five years and won its third World Series after winning only 88 games. That should piss me off more. There's something about an aesthetically pleasing ballpark that makes me indifferent to your winning and annoying shit like "Even-Year Magic," which sounds like a Gerard Butler/Sandra Bullock romantic comedy that doesn't make its money back in theaters.
11. Houston Astros
Yulieski Gurriel is preventing the Astros from sitting in the love section but the rest of the team holds them out of the hate group. Jose Altuve is a marvel but the Astros are about to go on a run of dominance that will surely turn us against them. Enjoy this ranking while you can, Astros.
THE HATEFUL 10
10. Boston Red Sox
This team's only redeemable quality is it isn't the Yankees but the Red Sox are almost indistinguishable from the dynasty teams now. America hated the Yankees so much that nobody cared when David Ortiz would step into a batter's box with syringes in his arms every year. The Red Sox spend wildly, have a pitcher (Steven Wright) suspended for domestic violence, and Bill Simmons tweeting crybaby shit any time something goes wrong. If the Yankees are a bucket full of diarrhea, the Red Sox are a bucket full of solid, healthy feces. You shouldn't be happy about having either pushed in your face.
9. Philadelphia Phillies
No, there are no reasons to hate a team that's averaged like 70 wins a year since 2012, but I'm getting on the hate bandwagon early. It wasn't that long ago that Boston was the lovable loser sports city. There was a Red Sox drought, the Bruins sucked, the Celtics sucked, and nobody in Boston was really sure if the Patriots existed. Now Boston is the center of insufferable sports fans because that city wins like two championships a year. That's where Philadelphia is headed. The Eagles are going to, like, six of the next ten Super Bowls. The Sixers' process was worth your trust and when LeBron James gets there, it's over. The Flyers aren't far off from being a perennial playoff team. So I'm starting the Scott Kingery Hate Club before he plays a single game. Eat shit, Kingery!
8. New York Mets
It's a roster with multiple players involved in domestic violence issues. I don't know if it's possible to hate a player more than Matt Harvey. Mr. Met gave someone the finger last year, by far the best thing to happen to the Mets in decades, and it resulted in the guy in the suit getting reassigned when you know damn well that dude with the camera had that finger coming. This is the team that made Wilmer Flores cry in the middle of a game. The Mets are as despicable as the Yankees only without all the winning and success.
7. Cleveland Indians
How is it possible that you've identified your logo as racist but need to give it a yearlong farewell tour like it's Kareem Abdul-Jabbar? "My doctor has discovered cancer in my colon, and I will have surgery to remove it 12 months from now." Trevor Bauer is a dumbass who will probably donate his $420.69 to Trump-backed organizations that will lobby for the Indians to keep their logo. Do something about your midge problem, too. Buy some of those citronella candles and stick them around the stadium. Jake Taylor didn't lift this organization with his bad knees to see it go to hell like this.
6. Chicago Cubs
Co-owner Todd Ricketts was ticketed for a spot in Donald Trump's cabinet before he realized, I guess, that he wasn't interested in going to prison or being fired in six months. Fuck the Cubs' stupid brick outfield wall and the dumb overhang above it, too. Make it easier to hit a home run in that bandbox, why don't you? "Hey, remember that Jeffrey Maier kid who stole the home run in Yankee Stadium? What if we just had a net that just caught every 300-foot fly ball to the warning track instead?" This is the dumbass organization that didn't install lights in the stadium until 1988! NINETEEN-EIGHTY EIGHT! Were they trying to attract Amish fans? Imagine having electricity readily available but being AGAINST ELECTRICITY until 30 years ago! The Cubs were like those people living in the woods in The Village. That means they should replace the troughs in the men's rooms with urinals sometime around 2145.
5. Kansas City Royals
Ned Yost batted Alcides Escobar and his .272 on-base percentage leadoff for a large chunk of last season despite having his holiness Whit Merrifield readily available to get on base twice per game at the bottom of his lineup. Yost eventually made the switch and the Royals weirdly began to win more games but it was too late. You shouldn't like a team that has waterfalls in the outfield when it has a manager who doesn't understand the value of getting on base and a GM who is more concerned with players watching porn than with trading expiring contracts or replacing key players with someone better than Paulo Orlando.
4. Oakland Athletics
How can you hate the team with the lowest payroll? A team that hasn't won anything in nearly 30 years? Here's how—Moneyball. The A's discovered inefficiencies in the market and exploited them to the tune of one playoff series victory while everyone else was still wandering in the darkness. Once the secret got out and teams with actual money began using these strategies, it made those wealthy teams nearly indestructible and rendered the A's obsolete. Billy Beane basically invented the atomic bomb and then gave everyone instructions on how to build better versions of it. Now the A's are just a shitty team that plays in a stadium with a faulty septic tank and can't afford anyone good. Relocate this team to Montreal already.
3. St. Louis Cardinals
Best fans? More like the shittiest fans! How this bland-ass team in a bland-ass stadium became the standard bearer for playing baseball "the right way" is beyond me. David Eckstein winning a World Series MVP set the sport back decades. The Cardinals care so much about character and shit like that they could be confused with an NHL team. How long before the Cardinals take advantage of these fans that think so highly of themselves by selling them "stock" in the team like the Packers do with their fans? May this team go 81-81 for all eternity.
2. New York Yankees
Beyond all belief, there was a sentiment last season that the Yankees were now likable. This was based entirely on Aaron Judge, who seems delightful and every at-bat of his is must-watch stuff, but the Yankees are still a cesspool worthy of your vitriol. You can't build the entire plane out of Aaron Judge, as much as we'd all like that.
It feels silly even spelling out why the Yankees still suck shit, but let's do it.
Aroldis Chapman—He received a 30-game suspension under MLB's domestic violence policy after he was accused of choking his girlfriend and firing eight (8!) gun shots in his garage. Chapman admitted to firing the gun. The best part? This all happened while he was with the Reds and the Yankees not only traded for him anyway, but they re-signed him a few months after the Cubs acquired him as a rental! The Yankees added this guy twice! Why do I even need to continue???
Gary Sanchez—Spent a good portion of a benches-clearing brawl with the Tigers last season sucker-punching people on the ground.
CC Sabathia—This asshole screams at people who dare bunt while he's on the mound. Field your fucking position, dipshit.
Aaron Boone—A man with zero managerial experience was handed the reins of the sport's flagship team because his last name is Boone and he hit that home run a long time ago. If someone ever asks you to define privilege, just hand over a story about Boone being hired to manage the Yankees.
Giancarlo Stanton—Not so much Stanton the man, but what Stanton represents. The Yankees have bottomless resources to pay for the sport's best players because European settlers happened to hit the northeast coast first and set up there. New York doesn't have the highest payroll like in olden times but acquiring Stanton for nothing is the exact reason we've come to hate the Yankees over the past two decades, and that hate is back stronger than ever.
Despite all this, however, there is only one truly loathsome team in MLB.
1. Miami Marlins
America's foundation is being gutted by billionaire robber barons selling off businesses piece by piece in order to turn a profit that leaves employees devastated. Newspapers, retail stores, you name it—rich fuckfaces are coming after your health insurance and retirement funds all so they can buy a fifth house in a remote mountain town far from the human beings they are leaving in poverty.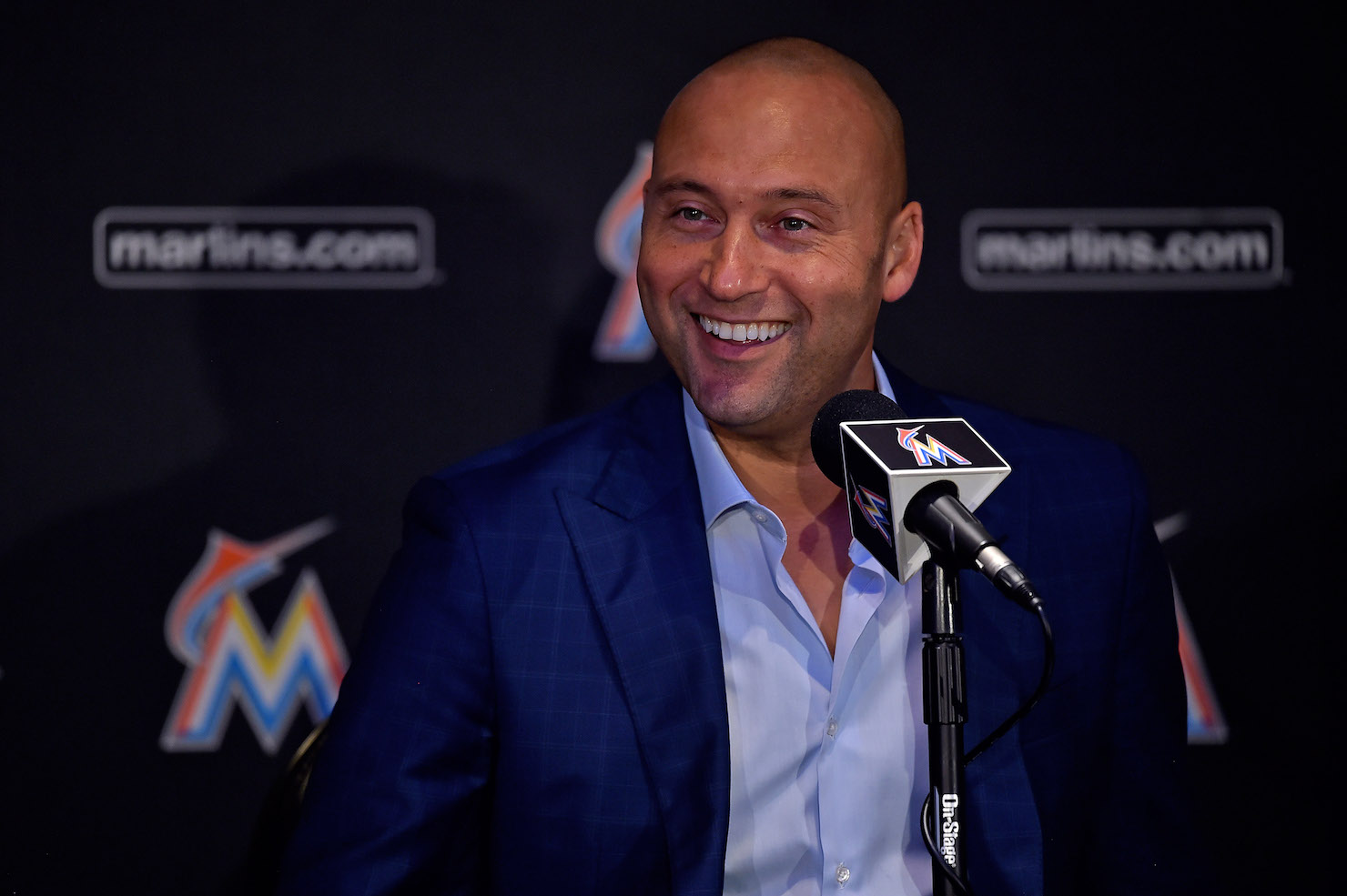 Retired Yankees shortstop and most overrated athlete in sports history Derek Jeter was part of an ownership group that purchased the Marlins during the offseason and proceeded to ship nearly every player of value to a place that could afford them. Jeter, who made about $265 million as a player and countless other millions in endorsement deals, made it his top priority to reduce costs and increase profits because rich people can't ever get enough money. He did so, of course, by trading Stanton to the Yankees, because rich assholes always take care of rich assholes who helped them become rich assholes.
The Marlins are representative of everything wrong with America right now and do not deserve a second of your pity. You should be rooting for Jeter and anyone else complicit in this takeover to go completely broke. These fuckers fired a scout while he was still in a hospital bed while recovering from cancer surgery. Cancer surgery! Even Michael Douglas in Wall Street would have let Martin Sheen get discharged from the hospital before canning him.
And if that's not enough to make you realize the Marlins are the least likable team in baseball, they are phasing out the home run sculpture in center field.
This team is owned by monsters. Cheer for their demise.
This article originally appeared on VICE Sports CA.