Ultraviolent prison rebellions in northern Brazil have escalated a cartel war in one of the world's most profitable corridors for cocaine trafficking. The massacre of at least 140 inmates so far this year—many tortured, beheaded, or dismembered by rivals—has naturally grabbed international headlines. But as someone who's covered the Amazon during its latest boom and bust, I've seen that the carnage within the prison walls is a consequence of a more insidious crisis in the world's largest forest: narco-corruption that blurs the line between cops and hitmen, governors and kingpins.
For decades, Brazilian prisons have been nerve centers for organized crime where cartel bosses direct drug traffic, order murders, and use torture and extortion to dominate the overcrowded system. On New Year's Day in Manaus, a sprawling port city on the banks of the Amazon River, the homegrown syndicate Familia do Norte (FDN) executed 56 inmates at a privately managed prison outside town. The FDN targeted rival members of the Primeiro Comando da Capital (PCC), Brazil's most powerful criminal organization, rooted in São Paulo. Four nights later at a state prison in neighboring Roraima state, PCC members butchered 31 inmates in an apparent reprisal. To quarantine the violence, authorities in Manaus have been shuttling high risk inmates to other prisons, but four more inmates were killed at an alternate facility within days, and uprisings are spreading elsewhere in the region despite a security crackdown.
The recent prison unrest is the most violent in Brazil since more than 100 prisoners were killed by military police during the notorious Carandiru massacre in São Paulo in 1992. Now cellphone images from the dungeon-like prisons have shocked a nation already reeling from the nationwide Lava Jato (car wash) graft scandal that saw dozens of corrupt politicians and businessmen sentenced to time in the spacious, air-conditioned facilities reserved for white-collar offenders. Security and intelligence officials are convening in Brasilia to test the winds of the gathering storm, but they are at least years—and arguably decades—behind the crisis. In mid 2016, as the world celebrated the Olympic games in Rio de Janeiro, a fragile alliance between the PCC and Rio's dominant Comando Vermelho (CV) began to fall apart. Up north, the Comando Vermelho has formed its own alliance with the Familia do Norte to extinguish any competition in the Amazon.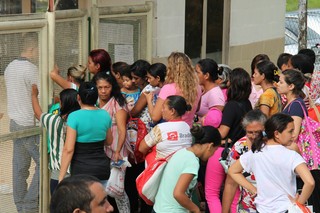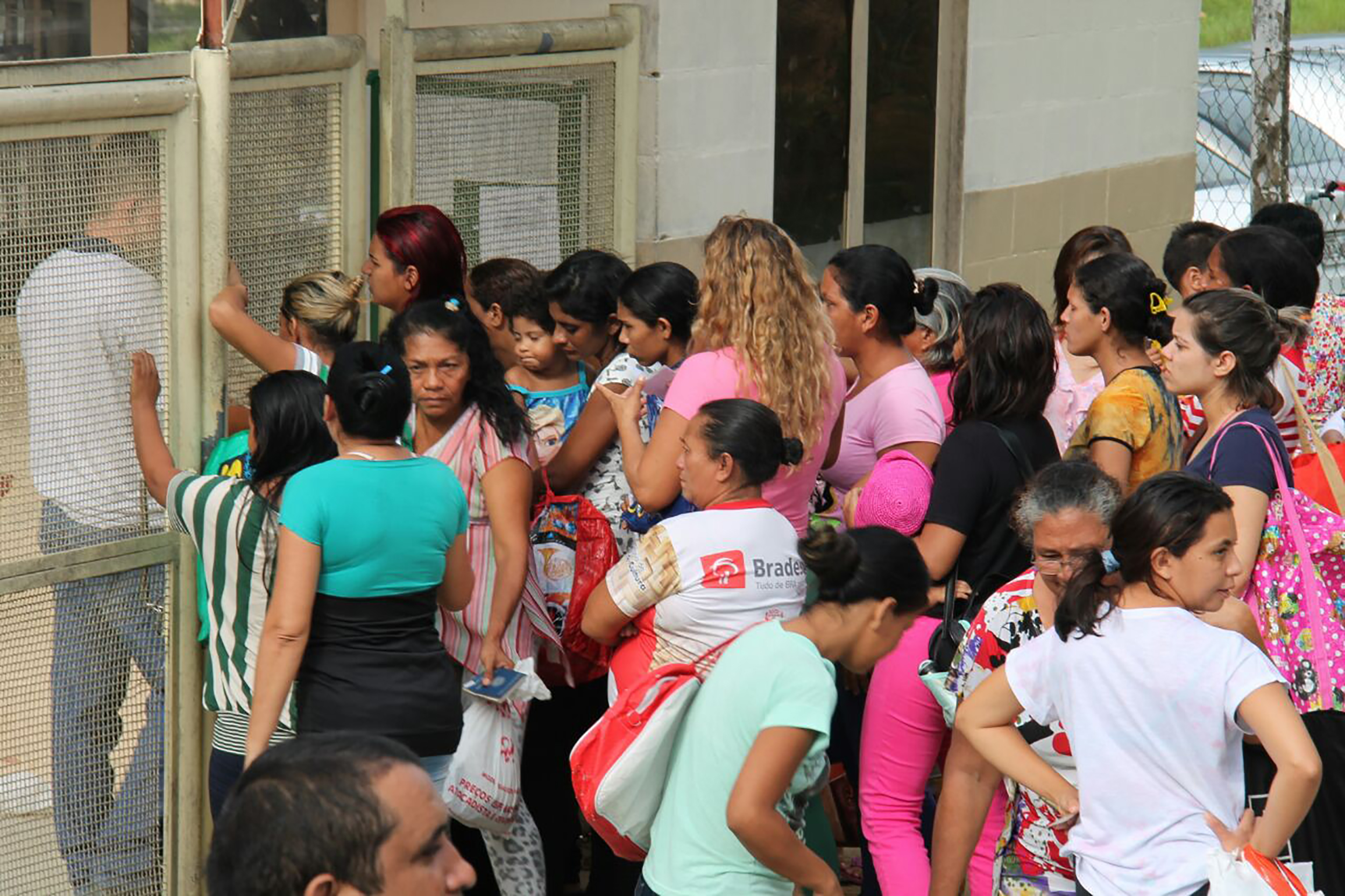 A city of 2 million people surrounded by millions of square miles of rain forest, Manaus has historically been defined by isolation, but a turn of the century commodities boom in Brazil helped finance billions in development in the Amazon. In 2014 and 2016, Manaus hosted World Cup and Olympic soccer matches in an urban center transformed by an influx of capital. Yet the uneven investments, catering to the tastes of a rarefied consumer class, only magnified inequality in the region. Now wealthy elites luxuriate in gleaming condos and frigid sushi bars while thousands of working-class residents live without running water or electricity along the city's maze of igarapés—polluted little rivers that rise and fall with the seasonal ebb and flow of the Amazon.

A tax-free port makes Manaus a manufacturing hub for home electronics, appliances, cars, and motorcycles, but the international waterway also makes the Amazon a lucrative channel for the distribution of narcotics and firearms to Brazil's largest cities and the open waters of the Atlantic. The volatile local economy makes the streets especially ripe for recruitment by one of Brazil's fastest growing cartels. In labyrinthine low-income neighborhoods across the city, kids stand watch on street corners, their fanny packs stocked with cash and cocaine cut and weighed in nearby houses. At trendy bars in the city's wealthier districts—some just blocks away from the poorest streets—patrons place orders by phone, and grams get delivered with a slap out the window of passing cars. Homicides are overwhelming the city's detectives and morgues, with bodies routinely found ripening on the outskirts of the city, where streetlights and telephone poles end in jungle.
All of that drug trafficking takes its toll. Thirty-four percent of inmates in the state prison system are there on drug-related crimes. Many wait behind bars for a year before trial. In 2015 and 2016, I visited a prison for pre-trial detainees, the Instituto Penal Antȏnio Trindade (IPAT), one of three private facilities on a road north of the city limits, past the newly renovated international airport, past the golf resort, past the landfill where vultures stir at the commotion of passing logging trucks. Out of sight, out of mind—until something goes wrong. The massacre on New Year's Day this year began when dozens of inmates escaped from IPAT to create a diversion for their brothers at another complex up the road for convicted prisoners.
What I saw during my visit to IPAT was an institution clinging to the illusion of security, a weary staff going through motions—ID checks and pat downs, metal detectors and x-rays—that everyone knew were no match for the will of the crime bosses inside. If the bosses wanted a gun, or a girl, or a precision scale inside these walls, they could find a way. If they wanted someone dead outside these walls, they could place a call.
I was there to investigate the July 2015 hit of a detainee whose beheading sparked a weekend of reprisal killings in Manaus that would come to be known as the Bloody Weekend. More than 38 homicides in 72 hours, some victims shot by cartel rivals, others shot by police in retaliation for the death of a beloved sergeant. To quell the violence, government officials visited one of the state prisons to negotiate for peace with FDN leaders, offering dominion of a prison-cell block in exchange for a cease fire in the streets.
Negotiating with the state is the magnitude of power the FDN can exercise when it controls traffic on the Solimões River, the murky waterway that links Manaus to Peru and Colombia, two of the largest cocaine-producing countries in the world.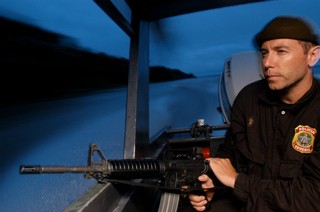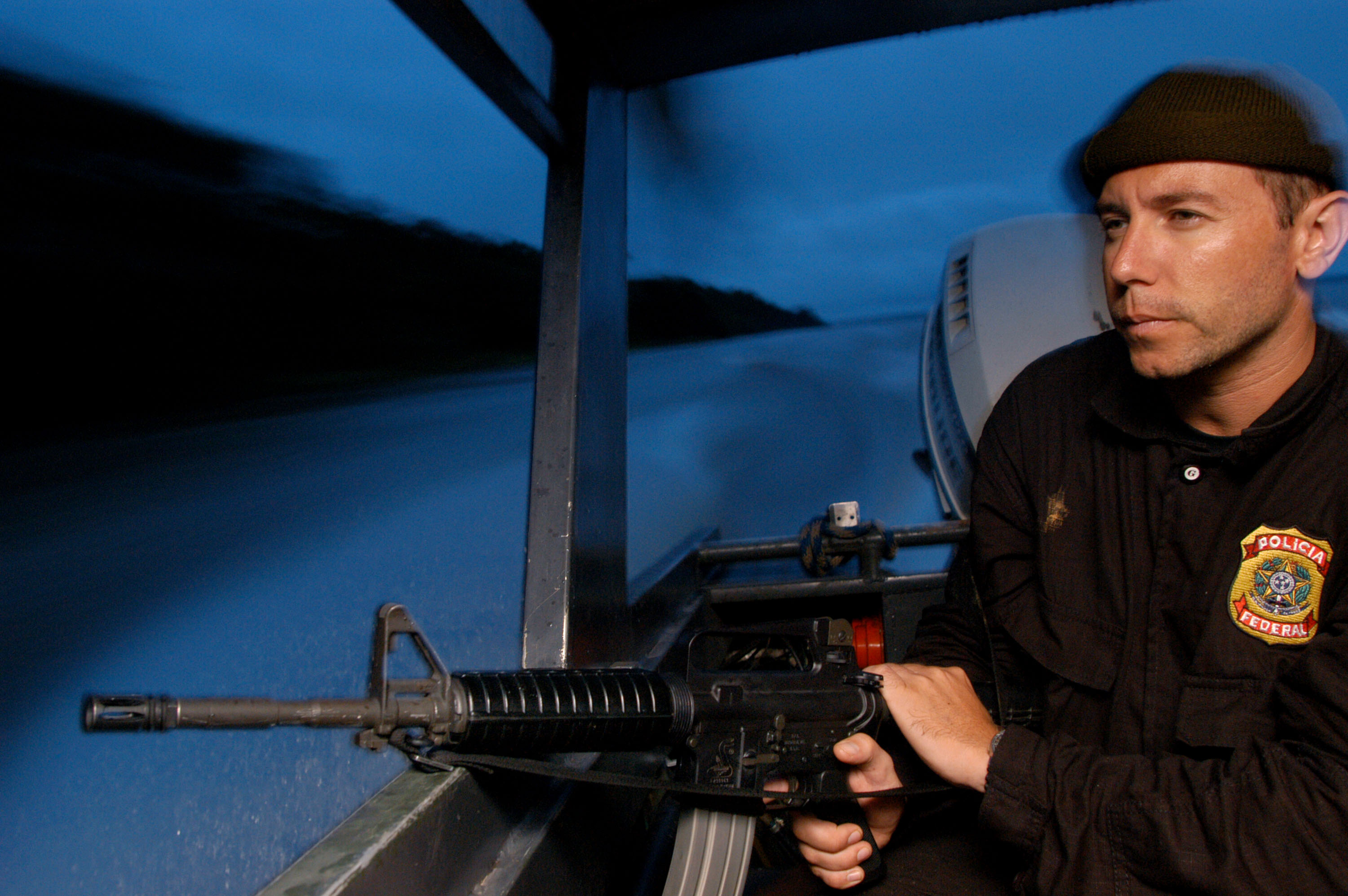 In December 2015, I took a boat 36 hours up the Solimões River to Tabatinga, a sleepy town that shares the riverine tri-border between with Brazil, Peru, and Colombia. What I saw was an impossible front for a drug war—a landscape where interwoven cultures and rivers make borders difficult to navigate, and poverty and exploitation warp the rule of law.

The frontier between Tabatinga and Leticia—capital of the Colombian Amazon—amounts to a speed bump on the main avenue where a yawning guard watches scooter traffic, a machine gun slung over his shoulder. Santa Rosa, Peru, is only accessible by boat, a twinkling village across the river channel where European cruise ships moor and tourists disembark for jungle tours. You wouldn't know it by day, but an estimated 300 tons of cocaine enter Brazil via Tabatinga each year, according to the federal police agent I interviewed there in 2015.
Cocaine and the raw materials used to process it cross the border year-round, primarily by boat. Traffic peaks during the wet season, when the heavy rains open channels in the flooded forest, allowing smugglers to navigate past checkpoints on the main river. Federal inspectors routinely stop boats, but just as in the region's prisons, the search and seizure efforts on the river intercept only a fraction a tiny fraction of contraband. Colombian and Peruvian syndicates are experts at disguising their products in almost any form, from hair gel to plastic toys and book pages. While the big cartels command the attention of international law enforcement, micro-traffickers try to exploit the overwhelmed system. The week I visited, inspectors at the Tabatinga airport—which has one flight a day—arrested a woman crossing through security with a belt of cocaine bricks taped under her blouse. It seemed like an absurd attempt at smuggling, but if some bricks didn't get through that way, there'd be no use in trying.
Infrastructure development in Manaus has aided the Familia do Norte as much as it has benefited international corporations like Samsung and Harley Davidson, connecting legal and illicit business alike to meet the demand of Brazil's growing domestic markets for durable goods, narcotics, and firearms.

The scourge of drug traffic has ravaged Upper Solimões indigenous communities, which suffer from disproportionate rates of addiction, domestic violence and suicide. Cartels extort indigenous men to cross their shipments; authorities recruit indigenous agents to go undercover; in Tabatinga and Leticia, urbanized, detribalized Indians wander alleyways by night, scrounging up liquor or cocoa paste.
"The cartels build houses right on the borderline," an officer of the Colombian National Police told me in Leticia last April. "If we bust in, they just move to the other side of the house. We can't fire a shot unless we have Brazilian or Peruvian forces with us."
International cooperation has its limitations when sovereignty is the top priority—and when the drug business complicates regional politics. According to the Brazilian federal prosecutor, the FDN is bolstered by Colombia's FARC rebel group, which sells the cartel drugs, assault rifles, and grenades, among other tools of the trade.
A 2015 international investigation of the FDN uncovered evidence that its operations are becoming more sophisticated. Legal teams. International wire transfers. Newfound efforts to influence politics back in the capital, where the real money flows. Meanwhile, development in Manaus has aided the Familia do Norte as much as it has benefited international corporations like Samsung and Harley Davidson, connecting legal and illicit business alike to meet the demand of Brazil's growing domestic markets for durable goods, narcotics, and firearms.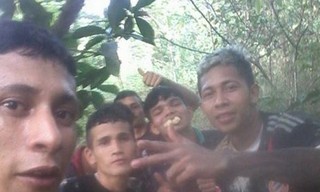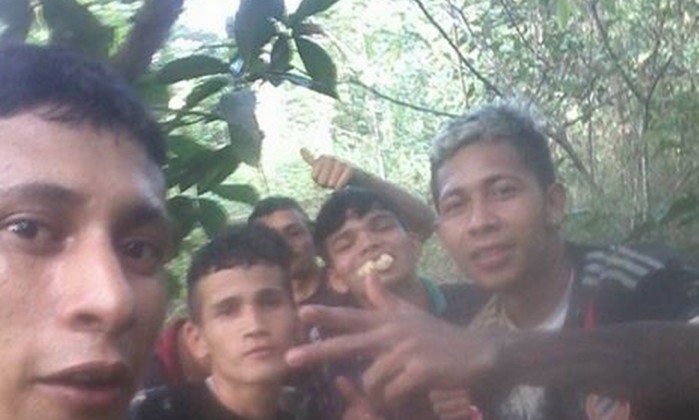 Many of the city's residents have gone from sporadic electricity to Instagram in less than a decade. Brayan Mota, one of the IPAT escapees, posted a selfie on New Year's Day as he and his friends scampered through the forest. Within hours, they were online folk heroes, photoshopped onto a movie poster of Shawshank Redemption. Within a week, the kid was the hero in a side-scrolling mobile game. During the massacre, prisoners grabbed photos and cellphone videos that circulated nationwide on social and traditional media in what some analysts describe as a propaganda campaign not unlike the tactics used by ISIS to spread fear and intimidation.

Days after the catastrophe in Manaus, members of the PCC seemed to condemn the attack: "Our goal was always to fight against the State and not against our brothers, even of other organizations," wrote one alleged member of the PCC's High Council of the North Region, asking partner organizations for donations to support the victim's families. "Know that you declare war not only to the PCC, but to all those who fight against the corrupt Brazilian State."
Agents of the troubled Brazilian state have responded with their own condemnations.
"There were no saints," said Amazonas governor José Melo of the FDN's victims. "These were murderers, rapists."
Yet the same federal investigation that revealed the Amazon government was negotiating for peace in the prisons also revealed that state officials may have traded favors for votes. A 2014 recording allegedly captured State Subsecretary of Justice and Human Rights Major Carliomar Barros Brandão assuring the cartel legal protection in exchange for votes from FDN loyalists: "Nobody will touch you," he apparently told FDN leader José Roberto Fernandes Barbosa.
It was a chance for the FDN to flex its new political muscle: "He will have more than 100,000 votes," Barbosa said, touting his sway in a certain quarter of the city. "You imagine every prisoner who has family there: If we give an order, they will comply."
Chris Feliciano Arnold is the author of The Third Bank of the River: Blood, Power and Survival in the Twenty-First Century Amazon, forthcoming from Picador USA.