This article is part of VICE Sports' 2016 NBA Playoffs coverage.
Richard Jefferson's dramatic turn as a long-shot pseudo-candidate for Finals MVP qualifies as one of the oddest developments in recent NBA history. It is wonderful and a little serendipitous; it also totally makes sense.
The ride up to how we got here goes back to DeAndre Jordan's free-agency kerfuffle with the Dallas Mavericks last summer. Jefferson's response to the whole thing was to back out of a deal in Dallas—he managed to do it without angering Dallas owner Mark Cuban—and sign a one-year contract with the Cleveland Cavaliers. On the court, Jefferson was no more than a shaky insurance plan; his days as a sleek scorer with the New Jersey Nets' Finals teams are more than a decade behind him. But Jefferson can still earn his paycheck as a steady vet who low-key pinches out many a fuse whenever expectations, ego, and pressure make the air a bit too thick.
Read More: Steve Kerr, Destroyer of White Boards, and Other NBA Finals Moments
And that was mostly what he has done in these Finals. After a regular season in which he averaged a career-low 5.5 points per game as a background extra, Jefferson was somehow Cleveland's second-best player in Game 2, behind LeBron James—the game was a mess, but he scored 12 points on six shots and the Cavs were only outscored by 14 points with him on the court!. He then replaced Kevin Love in the starting lineup for Game 3, and helped shift the overwhelming impression to that point that these Finals would be a merciless execution at the hands of the Golden State Warriors.
If before this series began someone had told the Warriors that Jefferson would be one of Cleveland's four most important players, they would have been thrilled. Instead, Jefferson has become the substitute teacher who refuses to throw on a movie and calls on kids who don't have their hands raised. From the Warriors' point of view, Tyronn Lue's decision to lean on Jefferson—and Harrison Barnes' flying elbow to Love's cranium—didn't necessarily shift momentum, but a 30-point loss is a 30-point loss, and they just took one of those. Jefferson, who was all over both ends of the floor all game, had a lot to do with that.
Jefferson's Snapchat account deserves an Academy award, but he isn't a better basketball player than Love, a three-time All-Star. Jefferson turns 36 this month; he is three years younger than his head coach. The Cavaliers outscored opponents by a team-high 9.9 points per 100 possessions during the regular season when the 15-year veteran wasn't on the court. But Jefferson looks like a better fit in this particular matchup against the Warriors than Love, whose poise and soul appear to have been pillaged by Golden State, and whose absence on the court led to a few momentous defensive adjustments as well as a distinct surge in ball movement for the Cavs.
The unexpectedness of it all is honestly pretty awesome, as are the subtle way Jefferson's "whatever it takes" mentality positively impacts most possessions. Jefferson, who looked washed three years ago when he spent a season as Golden State's locker room maester, has never been known for elite rebounding or faultless defense. At this stage in his career, he was the silhouette of a 3-and-D fill-in before those two qualities turned into actual strengths last week.
Jefferson had seven offensive rebound chances (which are the number of times a player is within three and a half feet of an offensive rebound, per NBA.com) in Game 2 and six in Game 3—more than anybody in the series not named Tristan Thompson. In the Finals, Cleveland's offensive rebound rate balloons from 26.9 percent when he is on the bench to a team-high 35.9 percent when he plays. It's an unlikely grit that seems to manifest directly from the desperate realization that each play is more important than the last.
Jefferson, for his part, is bubbly and restrained at the same time. There isn't a trace of anxiety in his game and he doesn't need (or want) the ball to make a difference, which only increases shot attempts for James and Kyrie Irving. Unlike with Love, the Cavaliers don't go out of their way to isolate Jefferson in the post against a smaller defender. He doesn't have Iman Shumpert-esque emotional meltdowns, and he is sufficiently over himself not to indulge in a heat-check. Even Jefferson's most adventurous moments have purpose. Here's an example: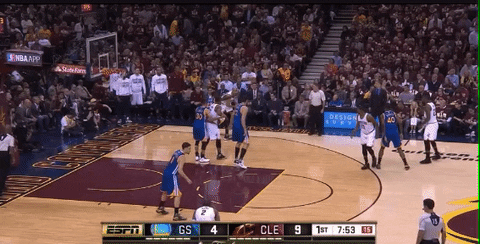 Once he realizes Steph Curry is guarding him, Jefferson forays into the paint to either score, draw a foul, or all the above. He's smart like that, and aggressive only in moments when the situation calls for it.
Jefferson's corner three with nine and a half minutes left in the first quarter of Game 3 felt like a night-ending exclamation point. It pushed Cleveland's lead to 9-0, forced Steve Kerr to call a time-out, and reminded the Cavaliers what confidence feels like. It was huge. But beyond his ability to knock down open shots at a reliable rate, Jefferson understands his place and never veers outside his lane. He immediately makes a decision when someone passes him the ball—a helpful skill that was polished during his two-year stretch with the San Antonio Spurs. Cleveland's assist ratio is never higher in these Finals than when Jefferson is on the floor, and every bit of ball movement helps against a Warriors defense that once looked capable of easily shutting down the Cavaliers' iso-heavy attack.
Offensive success for this team will ultimately boil down to shot-making, and secondarily to their ability to draw two defenders to the ball and exorcise any and all syrupy player movement from every possession. Jefferson helps all this in the aforementioned subtle ways, but his influence on the other end is easy to recognize.
Remember when Shaun Livingston burned Cleveland to the ground in Game 1? Well, Jefferson quietly mitigated that mismatch in Game 3, holding one of Golden State's most dangerous offensive threats to five points in 20 minutes.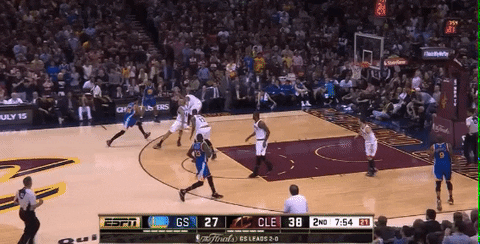 That's just a sliver of this story, though. Jefferson's presence in Love's place also created a trickle-down effect that pushed James onto Draymond Green and made on- and off-ball switches more seamless and less complicated for everybody else. The Cavaliers responded with more force and engagement.
Putting Jefferson in the starting lineup may be Cleveland's last and only meaningful adjustment from here on out. The Warriors will likely counter by playing Green at center more often in Game 4, and there's a decent-to-great chance those lineups have success. The Warriors are really good.
But Jefferson deserves some recognition for his inspired play and the overall effect he has had on this series. No sober person should call him this year's Andre Iguodala just yet, but another Cleveland victory could make that impossible thought look more realistic. So that's where we are. It's 2016, and Richard Jefferson just catalyzed a team in the NBA Finals. How amazing is that?
Want to read more stories like this from VICE Sports? Subscribe to our daily newsletter.