My Top Ten Most Epic Album Covers
There are a bajillion records out there with incredible cover artwork. Here are ten that I feel took an extra step to include purely epic visuals.
That's Jeff Ogiba. He's the buyer and co-owner of Black Gold Records, a sweet coffee shop and record store in Carroll Gardens, Brooklyn. We thought, since he knows so damn much about records and what not, that we should pick his brain about some of the most epic album covers of all time.
There are a bajillion records out there with incredible cover artwork. Here are ten that I feel took an extra step to include purely epic visuals:
HARD ATTACK
Dust, 1972
In 1972, before becoming known as "Marky Ramone", Marc Bell drummed for this New York City hard rock group. The album art depicts an epically perilous scenario: A brave warrior mid strike with shield up, ready to defend himself from a double attack by high level large mountain dwarves. If that's not epic enough for you, consider the fact that this is all happening atop the second highest snow-covered mountain of the realm.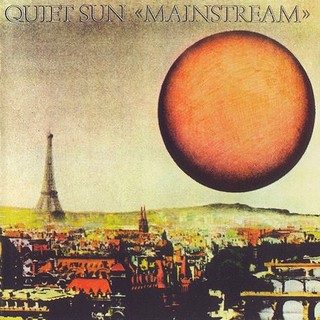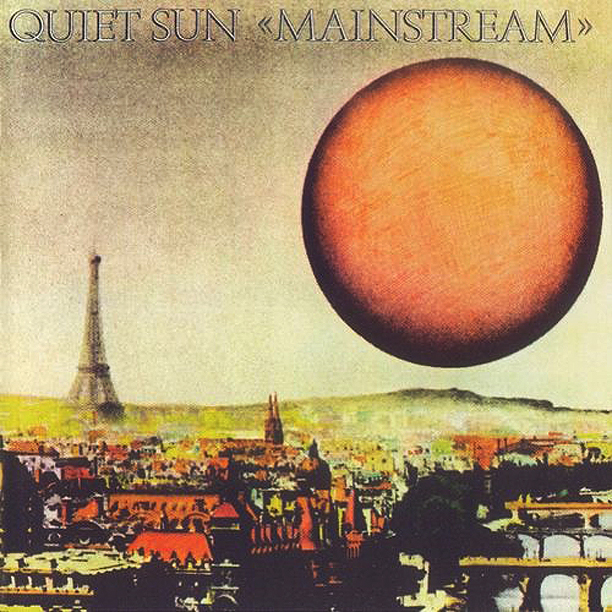 MAINSTREAM
Quiet Sun, 1975
This record cover absolutely horrifies me. The thought of a "Quiet Sun" that softy hovers over the outskirts of 19th century Paris is a pure and epic nightmare. It's also all too perfect and appropriate that Brian Eno handled synthesizers on this one.
WARRIOR ON THE EDGE OF TIME
Hawkwind. 1975
Take science fiction writer Michael Moorcock and and let him write the majority of the lyrics for an incredible mid-seventies space/psych rock album and you get Warrior on the Edge of Time. Based on Moorcock's reoccurring character "The Eternal Champion", this album's cover art captures the calm and brief moment before said champion takes on his next round of epic responsibility as a multi-dimensional keeper of time and balance.
TRILOGY
Yngwie J. Malmsteen, 1986
If you mix crack, meth, and ecstasy together you'll get a "Three Headed Dragon". If you try it, you more than likely will die. When you venture to the far cliffs of epic Malmsteenland, you may encounter one of these legendary beasts. Unless you can aim and strum a chord on a magical Stratocaster at lightning speed, you more than likely will die.
POWERSLAVE
Iron Maiden, 1984
Generally speaking, Iron Maiden can be described as a heavy metal band whose lyrics outline a history of epic fantasy (of which the band members have absolutely no opinion on). The band's mascot Eddie, travels through time to various places of importance and wreaks hellish havoc on all who get in his way. Here on Powerslave, the historically earliest instance of Eddie's reign, Eddie is a pharaoh of sorts who has taken his command to epic heights.
MUSIC INSPIRED BY THE LORD OF THE RINGS
Bo Hansson, 1972
The enemy is afoot, Mordor is far as hell away, and you are in the driver's seat as a mere Hobbit. Oh, and let's not forget that you are holding the fate of the universe as you know it in your little hobbit paw. Epic? Absolutely.
THE NEVER ENDING STORY SOUNDTRACK
Klaus Doniger & Giorgio Moroder, 1984
There's no question about whether or not this image of Atreyu soaring high with Falcor is epic. Everything about this movie was huge…well, except for the fact that the NeverEnding Story theme song was sung by Limahl. He's the dude from the eighties one hit wonder band Kajagoogoo, the group responsible for that cringeworthy track,"Too Shy".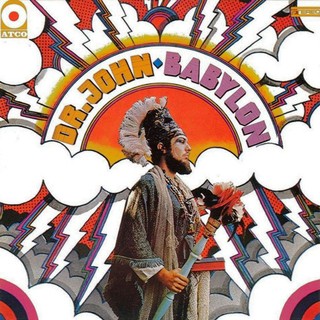 BABYLON
Dr. John, 1969
Dr. John has had his share of strange record covers, but this one takes the cake as the most epic one I've found. His self-depiction as an ancient Baylonian speaks for itself. The lightning bolts and cloud bursts invite a battle with Sun Ra and quite possibly Sun Ra's entire Arkestra.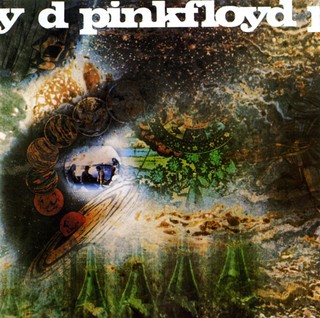 SAUCERFUL OF SECRETS
Pink Floyd, 1968
Pink Floyd's Saucerful of Secrets was a milestone for album cover art since it was one of the first albums on EMI to commission a designer from outside of the company. This collage takes comic clippings from some of the more introspective books of the time, incorporates the group, the planets, and the signs of the zodiac . What you end up with is larger than life visuals as well as perfectly suiting epic imagery during this toughest time for founding member Syd Barrett's mental health.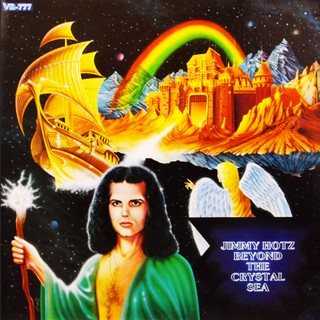 BEYOND THE CRYSTAL SEA
Jimmy Hotz, 1980
This incredibly scarce 1980 Christian psych/prog LP has an unarguably epic cover. From the majestic viking ghost ship to Jim Holtz's choice of hairstyle, scepter staff, and exposed chest, this cover alone will take you somewhere. With all this said, you have to admit that you're at least mildly intrigued as to what may lie beyond the stretches of the Crystal Sea.
If you live in New York, you can go bother Jeff at Black Gold Records in Carroll Gardens, Brooklyn.
You can also follow his (mostly) music-related thoughts at @jeffogiba
Stories