Trouble Is Throwing A Festival Inside A Life-Sized Maze
We've got all the info you need to get lost in the You Are Here Festival.

Laura Paris and Sam Hillmer are hosting an international festival in a giant maze.
You already know what to expect at music festival, and it involves elbowing your way past a bunch of sweaty drunk guys to the front of the eight-dollar water line. Wouldn't it be nice to go to a festival where the line between audience and performer isn't as clearly defined, and maybe you're forced out of the typical comfort zone of how we're trained to listen to live music?
Thankfully, the conceptual installation art duo of Sam Hillmer and Laura Paris (who operate as Trouble) have the answer. It's called the You Are Here Festival, and starting July 12 it's taking over Brooklyn's Secret Project Robot Gallery every weekend for a month, and then again this September in Berlin. The kicker? The entire festival takes place in a life-size maze. Here's a cool little virtual model of this year's maze design:
The curation of talent is outrageous. We've attached the full schedule below, but with a festival ticket you'll get to see Miho Hatori (of Cibo Mato), Hillmer's avant freak-out trio Zs, Laurel Halo, Lucky Dragons, Mick Barr, VAZ, Dustin Wong, Amen Dunes, WIN WIN, DJ sets by Das Racist… The list goes on, so Sam and Laura sent us a mix of some of the heavy hitters:
01:00 - 01:30 | Dustin Wong- Toe Tore Oh
01:30 - 02:15 | Eric Wubbels- Viola Quartet (Max Mandel, Tawnya Popoff, Victor Lowrie, Miranda Sielaff)
02:15 - 03:09 | Cellular Chaos- provisionally titled 'Orange'
03:09 - 04:00 | Hiro Kone- Knives
04:00 - 05:07 | Eola- Market
05:07 - 06:06 | Up Died Sound- Dust 8.1.10
06:06 - 06:52 | WIN WIN- Cada Buen Dia
06:52 - 07:42 | Laurel Halo- Morcom
07:42 - 08:56 | GDFX- Pwn Dat
08:56 - 10:04 | NYMPH- Snow Song
10:04 - 11:00 | DUBKNOWDUB- Step Into the Light
11:00 - 12:46 | Hubble w/ Patrick Breiner- Hubble Chase
12:46 - 14:13 | FUCKTON- Resist the Christian Menace!
14:13 - 15:36 | C. Spencer Yeh- The Strangler
15:36 - 16:49 | Noveller- Kites Calm Desert Fires
16:49 - 17:33 | Extra Life- Voluptuous Life
17:33 - 18:35 | Driphouse- Chompers World
18:35 - 19:39 | Bachanalia- Live on WNUR
19:39 - 20:48 | La Big Vic- Bobka Choca
20:48 - 21:45 | Psychic Reality- Hi High
21:45 - 22:47 | MV Carbon- Sidewalk Scrapes
22:47 - 24:00 | Das Racist- Power (feat. Danny Brown and Despot)
24:00 - 25:30 | ZS- ~
25:30 - 26:37 | Larkim Grimm- The Most Excruciating Vibe (Live on WFMU)
26:37 - 27:36 | Amen Dunes- Miami Beach
27:36 - 29:04 | Black Jeans- Canyons
29:04 - 31:42 | JACK Quartet- James Dillon - String Quartet No 6
29:39 - 31:50 | Diamond Terrifier- Chicken Shaman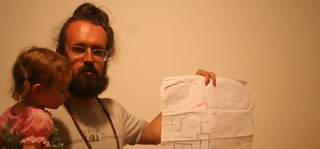 That's Sam. Last week I sat down with him to discuss the vision and history of the festival, and find out exactly what's going on with the maze:
NOISEY: So what exactly is the maze?
Sam Hillmer: The maze is exactly what it sounds like. It's a gigantic, life-sized maze built into the entirety of a gallery space. We're doing a month of time-based performance events inside the maze once it's built. This one is gonna be 20 by 40 feet, the entirety of the space. The idea is that the experience has no exterior.
Creepy. And what the hell is it made out of?
Well, the last two times we did it we made it out of salvaged doors. This time we're building a gigantic frame out of two by fours and then making the walls out of electrical cable. We're making a taut net for each wall. Electrical cables strung from floor to ceiling in a latticework. You can see through it, although it is obstructed.
So what happens inside the maze?
The maze has six elements: maze, projections, sound piece, video games, sculpture, and performance. We've got six projectors going through the latticed walls, and the projections will be footage of figures navigating the maze. There's also going to be an installation called Party Lab by an artist we're working with, G. Lucas Crane. It's a gigantic framework of mics and speakers that simultaneously record sound from the room and throw it to speakers on the other side, delayed in time. So if you're at the back of the maze and you say something that's picked up, it might show up at the front of the maze 10 sec later.
Weird.
Oh also, Babycastles is building video games inside of treasure chests that Laura designed, and when you get to a dead end, you open a treasure chest and there's a maze-related video game inside. The other component of the maze is all of the sculpture that Laura makes. She makes "maze inhabitants," resin casts of punk-expressionist figures having some sort of experience in the maze. This year they're going to be beaded into the lattice, all over the place. They're like the original inhabitants of the maze. Finally, a local artist named Watercourses will be preparing and leaving "potions" of various sorts hidden around the maze on random nights.
Nice. When was the first time you did it?
2007.
Where'd the idea come from?
Me and Laura, my partner in my art duo Trouble—in 2006 we came up with the idea of a life-size maze with sculpture in it. I should also mention that she's my wife.
Wow! Do you think the maze is maybe partially responsibly for your marriage?
Oh yes, definitely. Both of us really wanted to be with someone that we could collaborate with, a romantic relationship with an artistic core at the center. We met at an arts after school program that she started in Bushwick in 1993. We became friends, and in the context of our friendship she mentioned the maze idea, and we thought about working on it together. I left that job to do music full time, I was doing a lot of road time. When I left the job, we got together, and when we got together we were like hey, let's do that maze project.
So what attracts you to mazes anyway?
Mazes are one of those things that sort of appeared in my life. I wasn't expecting to get into it, I wasn't preoccupied with them, but when Laura brought it up… To me, what's interesting about mazes in this context is its capacity to interrupt social ritual. I'm a part of a community that engages with performance as a social ritual. If you're a person who goes to shows, you routinely go out and see live music. In and of itself, that's fairly exceptional compared to most people in America. Within that, - we're so preoccupied with how forward thinking we are that we don't realize the extent that the social rituals surrounding these things are routinized.
Yeah, festivals can be pretty fucking boring. Apart from being held in a maze, how is your different?
Well, festivals are always oriented around the concept of bringing someone far away to you. Like when a random fest comes to New York, most of the local community is excluded. There may be a few token people who are allowed to play, but the festival is this thing that exists in our midst and articulates this boundary. Our model is going to a community and inviting EVERYONE to be a part of it, and having outsiders become the minority. That's unique.
Nice, I think we can end there, but what would recommend for first timers?
You know, I think like, as didactic as I want to be about it, there's a phrase I love that's pertinent to the maze. "Expectation is the death of experience."
Trouble has set up a Kickstarter to help them with maze-related expenses, head here to help out. For more information, and to buy tickets, you can head right here. And, as promised, here's the full schedule:
July 12
Miho Hatori's New Optimism
ZS
Bachanalia
Ann Liv Young
DJ JG Thirlwell
July 13
Laurel Halo
Lucky Dragons
Hiro Kone
MV Carbon
July 14
Mick Barr
Dan Friel
Lorna Dune
Das Racist DJs
July 19
VAZ
Fuckton
Dub Know Dub
Eola
Das Racist DJs
July 20
Dustin Wong
La Big Vic
Loud Objects
Updied Sound
July 21
Phonetag
Hieroglyph Thesaurus (formerly Nine 11 Thesaurus)
WISH
July 26
JACK Quarter
C. Spencer Yeh
Higgins: Electronics with Strings
Tianna Kennedy
July 27
Guardian Alien
Cellular Chaos
Black Jeans
Uumans
July 28
Dome Theater
Amen Dunes
Hunter Hunt Hendrix' Kel Valhaal
Diamond Terrifier
Psychic Reality
Das Racist DJs
August 2
Extra Life
Larkin Grimm
Beige
Ice Choir
Das Racist DJs
August 3
WIN WIN
Mas Ysa
Driphouse
Eric Wubbels
Augsut 4
Dome Theater
NYMPH
Noveller
Black Crown Ceremony
Cool Places Sound Systems DJs
Stories