Adult Swim/Warner Bros.
It's been 15 years since The Oblongs was cancelled on the WB. However, reruns on Adult Swim continue to attract new fans to the animated comedy about a deformed family suffering from the effects of chemical waste. It's a show almost as strange as its creator: Los Angeles writer and illustrator Angus Oblong, known for wearing thick clown makeup and a red plastic nose everywhere he goes.
In addition to publishing Edward Gorey-esque children's books that aren't really meant for children, Oblong makes regular appearances in the comic convention circuit and contributes work to art exhibitions throughout LA. For $300 bucks (plus airfare and hotel), he'll also crash your wedding, go drinking with you, and, yes, stand at the foot of someone's bed to scare them when they wake up. "Do you want your kids to listen to you or eat their vegetables? Need your elderly husband to have an early heart attack?" reads the description on the "Special Services" page of his website.
We caught up with Oblong to talk about the successes and failures of The Oblongs, his upcoming projects, and what he'll do for $300.
VICE: How did you go from producing your own children's books to producing a television show?
My highbrow book of short stories, Creepy Susie & 13 Other Tragic Tales for Troubled Children was, at first, self-published. I drew them when I was 15, copied them at a local print shop, stapled them together, and sold them for $20. After a while, I couldn't make them fast enough—the sales were so good! But I submitted them to local publishers with no luck.
I was soon discovered by a talent agency that took me on as a client and asked me to create a animated series. I based the concept on the characters in my book so they could cross-promote, and my agent and I shopped the show around. It sold, went into production and aired! But when The Oblongs aired in Australia, it was stopped halfway through the first episode due to outraged callers. That might be one of my top ten proudest moments.
How close was the television series to what you imagined an adaptation of your artwork to be like?
The Oblongs was pretty close to my original vision, but missed the target on a few points. Showrunner Jace Richdale was a chickenshit afraid of offending anyone out there, so a lot of my jokes, situations, and plotlines ended up getting thrown aside. The show turned out more like The Simpsons and less like South Park; Jace had never seen an episode of South Park, and I kept telling him to watch it to see what we could get away with in those days. Anyway, The Oblongs turned out good, but not as great as it could have been.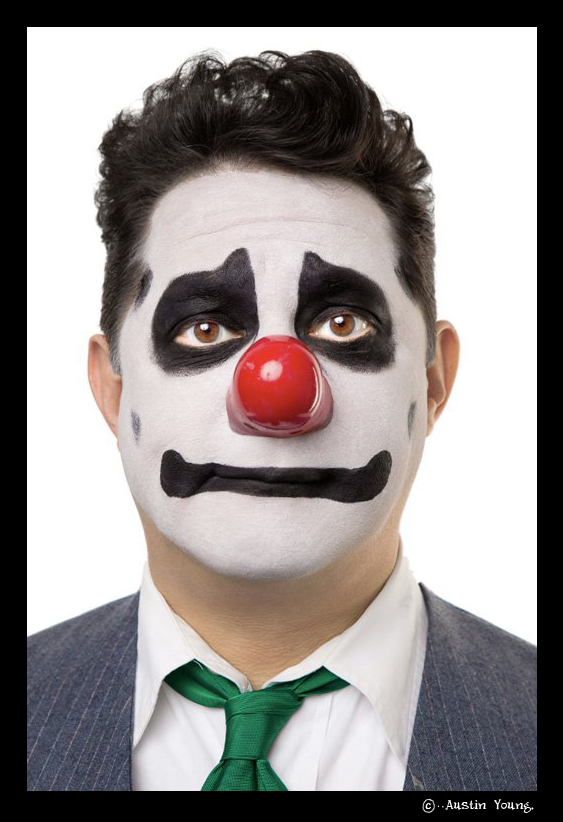 Bob Oblong will always be Will Ferrell's greatest role, to me.
I was one of five producers who had a vote, and I originally wanted Mark Hamill as the voice of Bob—but the other four producers wanted Will. He got the part and did a great job, but Mark's read for Bob was amazing. He was also in that movie from the 70s, Star Wars. If you haven't seen it, you should.
I love Jean Smart. One of my happiest moments was at the first table-read, where I got to introduce Jean to Will: "Pickles, meet your husband, Bob." Honorable mentions to Pamela Adlon, voice of Milo Oblong, Bobby Hill of King of the Hill, and current star and creator of Better Things on FX; and Jeannie Elias, voice of Beth Oblong, Mikey Butts, and Creepy Susie.
Over the years, has audience response to The Oblongs changed? Are there any plans in the works to bring it back or redevelop it?
When it first aired, it was confusing to many—offensive to people with sticks up their butts, and loved by the few who lived their lives as outcasts in society. I found my people. I'm just as surprised as anyone to know that the short-lived animated series I created so long ago is still going strong on many cartoon channels. I spent two years creating and pitching other animated series, but nothing went into production—although two of my pitches did get blatantly ripped off, one as a feature film and another as a failed animated series.
Rights to The Oblongs characters reverted back to me (I had to sign over the ownership rights for the show to go into production) two years after cancellation. If a network out there is reading this, approach me and let's get this party started!
Speaking of parties, tell me about the clown makeup.
Once the show aired, I was interviewed in numerous magazines, newspapers, blogs, and so on. The questions freaked me out: Is "Angus Oblong" your real name? (It's not.) Are you married? Any kids? Where are you from? How old are you? Do you like unicorn stickers? Then it came time for public appearances, and that's where the clown makeup came into play. It worked so well, I'm sticking with it!
What inspired the offer to attend weddings and scare sleeping people? And is it specifically just those two things or are you up for anything if given a plane ticket, hotel, and $300 bucks?
I like going to wedding receptions. And funerals, but I didn't think anyone would want me at their funeral. I've been flown out to go to parties or out bar-hopping with fans. It's always a great time, and I'm never worried about being murdered. Hell, if anything, I would murder them.
Did you study art professionally? Who or what influences your work?
I did not study art professionally, although some of my college courses touched on the things I needed some fine-tuning on, like color and design and figure drawing. My last timeclock job was as a waiter in a 50s diner in San Francisco. I wore a paper hat and a nametag that said "ELVIS."
My main influence growing up was B. Kliban. In fact, I just bought his entire collection for a talented friend with the same sensibilities I do. Today, my biggest inspiration is the general public. I can people-watch all day, sketching them and scribbling down new ideas.
What are you working on next?
I'm currently seeking a new literary agent to publish my two novels: The Victorian Hotel, which I wrote as a play, had a seven-week run in Los Angeles, and is now being performed again in Seattle in February. And my second novel, Creaky Heights, which is probably my best work, like ever. So watch for those!
I have to go now. My pet pig, Pugsley, is awake and he wants to go potty.
To see more of Angus Oblong's work or hire him to scare your loved ones, visit www.angusoblong.com__.
Follow James Charisma on Twitter.