'Asian' Restaurant Changes Name After Charges of Racism and Misogyny
Somehow, they thought "Misohawni" would go over well.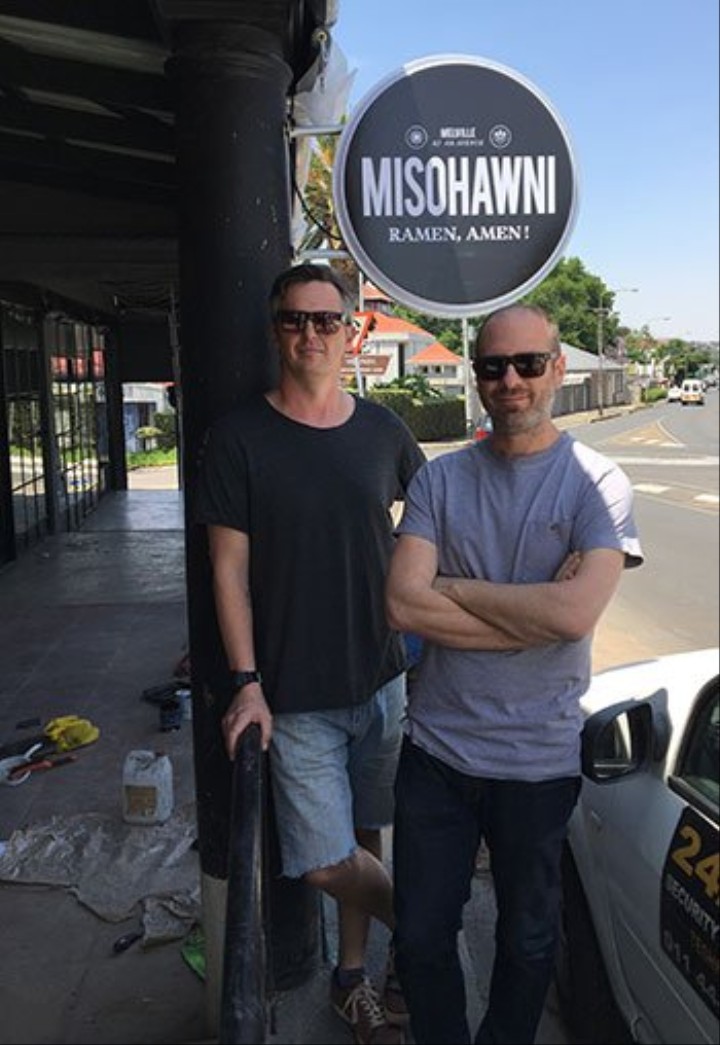 Image via Twitter user misohawni.
Ryan Vermaak and Fabio di Cosmo, two aspiring restaurateurs based in Johannesburg, South Africa, failed to see anything wrong with naming their yet-to-open "Asian restaurant" Misohawni. "Don't you just love the name?" the pair tweeted yesterday. (Their Twitter bio says that Misohawni is 'Cumming Soon'.)
The name is a phonetic spelling of a phrase used by a Vietnamese prostitute in the 1987 war film Full Metal Jacket. In the scene, the woman approaches two American soldiers and propositions them for sex. One of them says he'll only pay her $10, before posing for a photo with her and calling her a "[racial slur] whore."
The Internet reaction to the name has been swift, and overwhelmingly negative. (MUNCHIES has reached out to Vermaak and Di Cosmo for comment and has yet to receive a response.)
Several women said that they had been harassed by men who shouted that very phrase of them. In a powerful Twitter thread explaining the many problems with the name, writer Dakota Kim said that the name was a "celebration of the colonization" of minority women's bodies by white men. "When you put this on your sign, your menu, you celebrate your power over me," she said. "Your power to make me feel like shit just seeing it exists." MUNCHIES has reached out to Kim for response as well.
In a Facebook post, Vermaak and Di Cosmo apologized for the name and said they would be "taking immediate steps" to resolve a situation that they euphemistically categorized as a 'mishap.'
"In our enthusiasm to open the restaurant, we fully admit that we showed serious lack of expertise and understanding when it came to the name, and fell back on an ingrained stereotype that we clearly did not understand, and for that we are sorry," Vermaak said in the statement, posted this morning. The pair insists that the restaurant will still go forward.
"These issues are so complex, and especially fraught here. We have a culture of white ownership when it comes to the food, travel and creative industries so any active steps for reform by the wrongdoers and certainly any genuine remorse, isn't something we are used to seeing without backlash or in its weakest form, mere lip-service," food and travel writer Ishay Govender-Ypma (who has also contributed to MUNCHIES in the past) told MUNCHIES. "I'm skeptical that this apology is the genuine sort—I think it was a day of mad re-branding and a PR band-aid to go with it." She suggested that, if Vermaak and Di Cosmo wanted to show their sincerity, they would address the somewhat sloppy menu that they've assembled, work with an Asian consultant to "school them" on their mistakes and to speak about how they will "empower" chefs.
READ MORE: Pro-Trump, Anti-Global Warming Facebook Post Leads to Restaurant's Closure
There's certainly precedent for this kind of controversy: Earlier this year, Sarah Cattoor and Ryan Greening faced immediate criticism after announcing that their hip hop-themed breakfast joint would be called Me So Hungry. "We had no intention to be offensive to other cultures," the couple said in a statement sent to the Des Moines Register. In response to the blowback, the couple renamed the restaurant Eggs & Jam, and its menu features items like "Ludabiscuits," "Toast Face Killer" and "Baby Got Biscuit."
UPDATE 11/16: A spokesperson for Vermaak and Di Cosmo responded to MUNCHIES via email with the following statement:
The twitter account is not ours, we have reported it to twitter and are awaiting a response.

Regarding the feedback we have received, we were clearly insensitive and very misguided in our approach, we can only learn from this, correct our mistakes and take action. This is what we are focusing on for now as these are the elements that are within our control. We take responsibility for our insensitive name, and the negative sentiment it has received, we acknowledge that people will continue to feel this way about us and that is something that we will try to change slowly and with care.
We are currently working on some names but have not settled on anything yet.
The concept and cuisine will remain the same. This is food we love to eat, it has a great balance of healthy food, vegetarian options and meals that are shared and socialised over.
We suspended the page to give us time to formulate a response, it may not have been the correct thing to do in hindsight, but we were overwhelmed and just needed some time to reflect, consider and respond. We re-activated the page and then posted our apology, not the other way around.
We have learnt that we have work to do on ourselves to ensure we consider others, their backgrounds and the challenges people face that we are not aware of to hopefully make a positive impact.