Food Network star Sunny Anderson's Infladium is an inflatable snack stadium, as you might gather from the name. It purports to remedy the problem that afflicts so many during Super Bowl season—dealing with structurally-unsound snack stadiums made of cardboard or foil or paper, materials that crumble beneath the weight of chips and dip.
What a pain! Anderson's Infladium has a roomy a pool for guacamole in the center and receptacles for ice, cold drinks, chips, and Taquitos. It's only sold at Party City.
Party City briefly debuted a television advertisement shilling the Infladium earlier this week in the prelude to the Big Game. The commercial has now been pulled from airwaves, along with the retail chain's website and YouTube channel, following an onslaught of criticism for its casually dismissive attitude towards people who have gluten-free diets.
READ MORE: This Chef Is Taking a Stand Against Your Fake Food Allergies

"Those are some... gluten free options," one of the characters in the advertisement says, standing before a snack-packed Infladium while eyeing a sad snack that's forlornly sitting on a small table beside them.
"Do we even know people who are like that?" the other woman asks.

"Tina?"
"Oh, gross, yeah."
READ MORE: The Gluten-Free Backlash Has Begun on Social Media

Essentially, the ad uses people who abide by gluten-free diets as a punchline. And the joke fell flat, incensing viewers who are on gluten-free diets not because they hope to hop on a "trend," they say, but because they're genuinely ailing from food allergies or celiac disease.
The ad, its critics feel, downplays the gravity of these serious dietary restrictions and promotes the ostracizing of gluten-free people, feeding the belief that they're "weird" or misguided.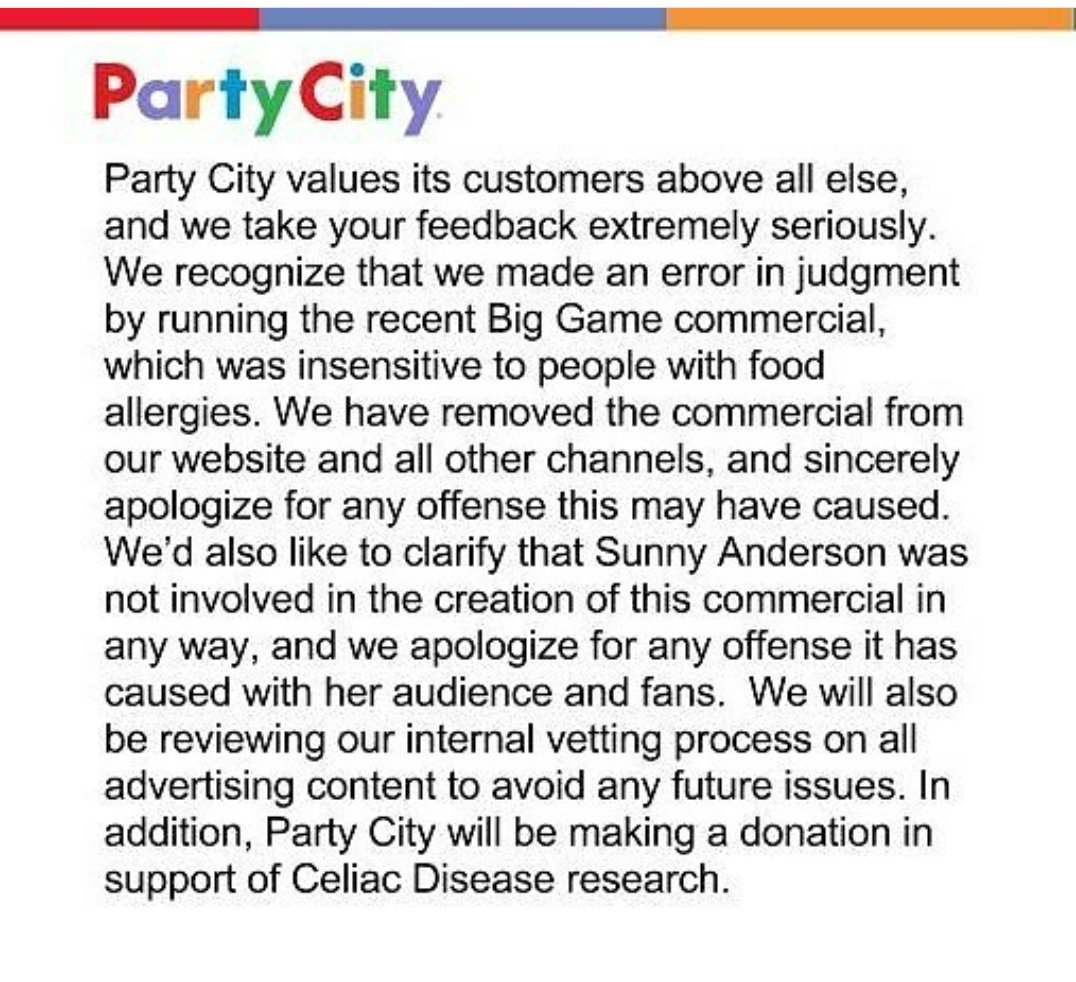 The backlash was swift and brutal, prompting Party City to pull the ad on Monday. Anderson, who did not respond to immediate request for comment from MUNCHIES on Tuesday, posted an apology on behalf of Party City to her social media accounts late Monday.
In the statement, the retailer expresses regret over its "error in judgment." The statement also claims that Anderson had nothing to do with the genesis of the commercial. Party City's statement closes with a promise to make a "donation in support of Celiac Disease research."
READ MORE: Even Doctors Are Saying You Should Stop Buying Gluten-Free Food for No Reason
When reached by email on Tuesday morning, Party City's Vice President of Marketing, Bill Furtkevic, clarified that the commercial in question "aired for less than 24 hours" before sending the same statement Anderson had posted to her Instagram page in full. Furtkevic declined to respond to MUNCHIES' inquiry regarding what organization it would be donating to or how big this donation will be.