Justin Baldoni is Hosting a Block Party to Help the Homeless on Skid Row
The Skid Row Carnival of Love connects volunteers with one of the largest populations of homeless people in America in Downtown Los Angeles.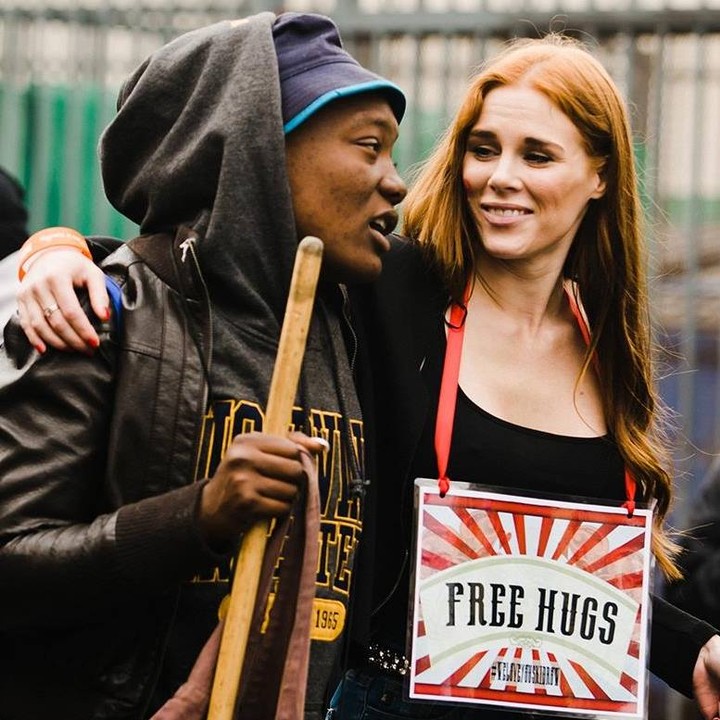 Image via Facebook
On January 27, actor and activist, Justin Baldoni, will continue his long-held tradition of forgoing his more typical birthday festivities by asking friends to instead celebrate with the residents of Skid Row in Los Angeles, an area he believes most people avoid but deserves a lot more attention. Only now, he's inviting the entire city to the party.

What started nine years ago as a crusade to help people living in tents on the street has now matured into a fully-functioning community outreach program with nearly 2,000 volunteers setting up their own tents to provide the residents of Skid Row with the means to create positive change. That means any government organizations, donors or employment opportunities the people of Skid Row don't have access to are gathered together on one day to make as much of a lasting impact as possible.
"It's not an area of the city anyone ever chooses to go to. I thought it was time we brought some light to the darkest part of the city."
The carnival itself is unlike any other outreach program, as Baldoni focuses on mixing community and compassion. While there may not be any carnival rides coming to town, the carnival has a history of being about as fun as it is productive, mixing face-painting and storytelling with helping struggling people get a leg up in the new year.
"I just wanted us to step outside of ourselves and be a community," Baldoni told VICE Impact. "It's not an area of the city anyone ever chooses to go to. I thought it was time we brought some light to the darkest part of the city."
According to Los Angeles Homeless Services Authority, an estimated 4,633 homeless people were counted as residing in Skid Row in January 2017, which may seem concentrated for a four-square-miles radius, but Skid Row is just one piece of a growing crisis.
The 2017 Greater Los Angeles Homeless Count estimated the number of people living on the streets in LA County has risen to 57,794 from 2016's estimated 46,874, which was already up 5.7 percent from 2015. And close to 10 percent of the homeless in Skid Row are kids under the age of 18.
---
Check out more videos from VICE:
---
"As cities continue to gentrify, more and more people keep getting pushed out onto the street," Baldoni says. "For just one day, we try to create a space where there are no 'homeless' people, where you can't tell who's rich and who's poor."
Instead of trying to clean up Skid Row to look like the rest of society, Baldoni brings as many volunteers as he can down there to get them the help they can't easily get for themselves, things as simple as a haircut, an ID card or a toothbrush.
"We're not teaching them anything. They're teaching us. It's about humanity."
Los Angeles native, Baldoni, wasn't too familiar with the history, or even the existence, of Skid Row until he was about 19 years old. He returned to California from shooting a film in Cape Town, a port city in South Africa with more than 7,000 homeless people living in shanties, only to find the same problem in his own city.
For his 30th birthday, Baldoni had the idea to take a few friends downtown to feed, clothe and bring supplies to those living on the street. He claims his goal wasn't to fix homelessness but to connect with the less fortunate on a human and visceral level. More times than he can count, Baldoni says people would thank him for treating them like a human being instead of a charity case.
"We're not teaching them anything. They're teaching us," he said. "It's about humanity."
By 2015, Baldoni had a group of 75 people joining him on his birthday. Soon after, he founded The Wayfarer Foundation, whose mission is to "transform the way our community responds to the needs of individuals and the families experiencing homelessness." The first few years were all about feeding the hungry and getting blankets and toiletries to the homeless, but now it's more of a celebration with BBQ, games, dancing and face-painting to go along with all the necessary hard work.
"I want this to be sort of a one-on-one thing where a volunteer spends part of the day helping the same person, hearing their story and connecting with them," Baldoni said.
But it's not all fun and games, as the carnival also brings in essentials like dental and vision exams and HIV testing. Last year, one man discovered he had HIV and was able to get the proper medical attention right away.
One volunteer told VICE Impact about the day they spent with a homeless woman and her four children, all under the age of six. "They latched onto me for the entire day," they said. "Their mom told me about the joy seeing her kids treated like everyone else for a day. I had no idea there were so many homeless kids in Skid Row."
Baldoni also recounted his good friend, Ben, who spent the day with a young boy living with his single mom and still helps out and visits the boy weekly.
As the homeless count continues to rise in LA County, so does the number of people willing to come together each year to help at the carnival. Last January, they helped more than 4,000 homeless people within one block of downtown on San Juan between 5th and 6th Street, but it also drew so many volunteers out that the Los Angeles Fire Department sent more than 500 of them home. But Baldoni assured us that he's working with LAFD this year to ensure more homeless people, at least 5,000, are getting the attention they need this year.
This year, they've doubled in size, expanding down 5th Street between Wall and San Pedro Street. The added space means they won't have to turn away volunteers like last year. But, according to him, the biggest challenge in helping with homelessness is its cyclical nature. By the time he's done helping someone in need back on their feet, they've already relapsed and returned to living on the street before he can return. Five years from now, he envisions being on the ground in the Skid Row area. That way people can get the help they need more than just one day every year and avoid relapsing.
"We're hoping to design a blueprint here for other cities," Baldoni said, mentioning bringing the carnival concept to at least one more city in 2018, possibly including Chicago, Denver or New York City.
In the meantime, Mayor Eric Garcetti's Executive Directive 13 aims to build 15,000 units for homeless and low-income families in Los Angeles. An economic study showed that placing homeless people in "permanent supportive housing" is one-fifth the cost of serving their needs on the street. As of June 2017, more than 7,000 low-income family units have been completed.
The Wayfarer Foundation currently has open signups for volunteers for the carnival but expects the available spots to fill up by the end of 2017. If you can't make it out that day or don't live in the area, there are always plenty of items in need, most notably feminine hygiene, socks, blankets and diapers.
"We're hoping to design a blueprint here for other cities."
Baldoni recommends volunteers bring very little, as water and refreshments will be provided. He only asks you bring a water bottle, comfortable shoes, an open mind, compassion and plenty of excitement.
"Because when the carnival comes to town, it gets everyone excited."
You can also combat youth homelessness by donating to Covenant House, an international network of homeless youth shelters, serving vulnerable kids in thirty one cities across the world.
Stories