Vegan Mapo Tofu Recipe
The classic Sichuan specialty, vegan.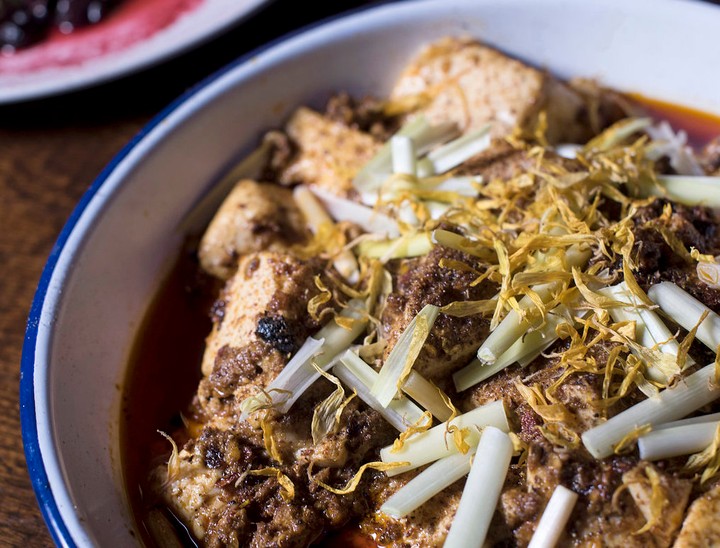 Photo by Liz Clayman
Servings: 4
Prep: 20 minutes
Total: 45 minutes
Ingredients
4 cups|897 grams silken tofu, diced into large squares
½ cup|107 grams grapeseed oil
8 ounces|234 grams Impossible meat or vegan meat substitute
¼ cup | 85g tomato paste
1 ½ tablespoons Korean hot pepper powder
1 ½ tablespoons Sichuan pepper powder
½ cup|147 grams doubanjiang
½ cup|80 grams minced garlic (about 9 cloves)
¼ cup|55 grams minced ginger (1 (3-inch) piece ginger)
3 cups|704 grams vegetable stock
1 tablespoon mushroom powder or umami seasoning
½ tablespoon kosher salt
½ tablespoon turbinado sugar
1 ½ tablespoons Sichuan pepper oil
3 tablespoons cornstarch
Directions
1. Bring a large saucepan of generously salted water to a boil. Add the tofu and cook, thing care not to break up the tofu, for 5 minutes. The salted water helps flavor the tofu and the poaching process helps the tofu retain its structure.
2. Heat 2 tablespoons of the grapeseed oil in a large wok or heavy bottomed pan over high. Add the "meat" and cook, breaking up with a wooden spoon, until browned, 7 minutes. Using a slotted spoon, transfer the "meat" to a bowl.
3. Add the remaining oil to the wok, along with the tomato paste and pepper powders. Cook until oil becomes a deep red hue and the tomato paste begins to darken slightly, but not brown, 1 to 2 minutes. Add doubanjiang, incorporate, and then add the garlic and ginger. Stir in the vegetable stock, mushroom powder, salt, and sugar and bring to a simmer. Taste for seasoning. This should be spicy, salty, slightly sweet and umami in that order. Mix the cornstarch with 3 tablespoons cold water, then stir it in. Add the tofu to sauce, stirring gently. Incorporate the reserved "meat" and drizzle in the Sichuan oil. Serve.
Stories