Tactical Guide to Namajunas Vs. Jedrzejczyk II: No Fluke Punch
UFC 223 offers a rematch for the strawweight title that might be the most intriguing matchup in the history of the women's divisions.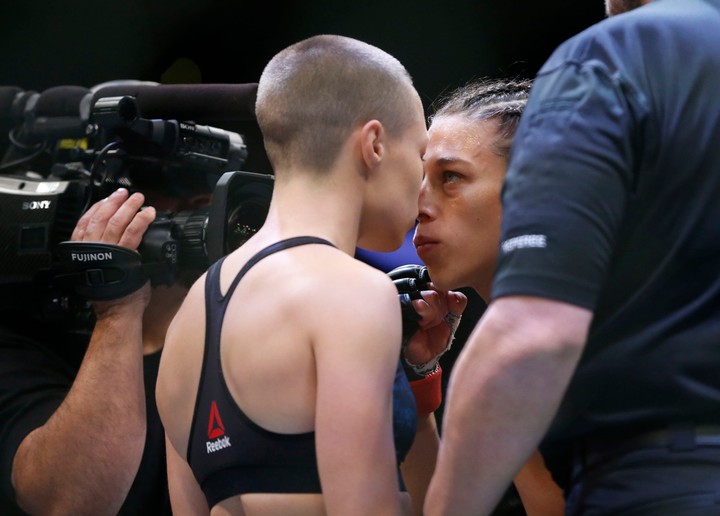 Noah K. Murray-USA TODAY Sports
Noah K. Murray-USA TODAY Sports
Rose Namajunas might only hold the strawweight crown for a few months, she might lose it all this Saturday and return to the ranks of "the rest." The sum total of her legacy might be a blip on Joanna Jędrzejczyk's record. But no one can claim she fluked her way there.
No, every excuse under the sun can be offered for Joanna Jędrzejczyk, but Namajunas had her sussed. She saw every counter before it left the long-time champion's head and had the measure of every strike. Namajunas utterly bewitched the champ: this poster girl for accuracy and economy in the cage, reduced to swinging at shadows and recoiling from flinches. And when Namajunas decided it was time to go, Jędrzejczyk's feet were stone. An anomalous result on paper, a reversal of the usual order, a subversion of expectations, but no damned fluke.
Yet the "lucky punch" is all just a part of the usual song and dance. That's fighting. You get your earth shattering twist and the price you pay is the same stale platitudes for weeks afterwards. When any great champion falls there is always someone to pop up and insist to those present that shooting Jesse James will not make one into Jesse James. In this case most don't expect it to. Rose Namajunas is erratic and inconsistent. She is not the ice cold, clockwork fighter that Jędrzejczyk was.
Nobody in the know expects Namajunas to match Jędrzejczyk's exceptional title defense record with the number of horrible match ups out there for her—Claudia Gadelha, Karolina Kowalkiewicz, Jessica Andrade. Every single one of those face-first brawlers who were made for Jędrzejczyk to dance circles around seems a terrible fight for Namajunas. Maybe Rose never comes close to Joanna's numbers and maybe she's just a transitional champion enjoying her cup of coffee in the big time. None of that is going to matter on Saturday night though, because unless she has forgotten everything she knew, she still has enough ring smarts to flatten Jędrzejczyk again unless the ex-champ brings something new.
Hypothetical Gameplans
Everything about Rose Namajunas's gameplan in the first fight was tailor made for Jędrzejczyk. We covered that extensively in How Rose Namajunas Killed the Queen. She stayed out of range of Jędrzejczyk's kicking game, and refused to press forward and feed that piston-like jab. She repeatedly feinted Jędrzejczyk out of position and numbed her wits to the real attacks that followed. Why change that which isn't broken?
Fighting at distance mitigates Jędrzejczyk's combination work and that is how she strikes best. Jędrzejczyk's jab is a counter punch, countering forward pressure, and if that forward pressure isn't there Jędrzejczyk struggles to find the mark with her jab out in the open. And of course, cutting gorgeous angles and stepping out the side door only works with an aggressive opponent. If they aren't providing the straight line aggression, side-stepping isn't taking a tight angle from which to strike as they turn, it is just slowly floating around them at range.
The gameplan ain't broke, but it can certainly still be built upon. Namajunas created and closed distance rapidly in the first bout, but had a tendency to hang about and admire her work once she got in. In fact, the one combination that Jędrzejczyk got off in the first fight came after Namajunas dragged her feet getting out of range. Of course, nothing came of it but if Jędrzejczyk has a smart team—and we have every reason to believe she does—they'll have noticed that. Catch-and-pitch could work a treat for Jędrzejczyk in the rematch if Namajunas doesn't start minding her Ps and Qs.
Catch-and-pitch is a style of counter fighting which works well for fighters who are conceding a speed advantage to the opponent in footwork. That is not to say that only slowpokes use it—after all, the shoulder roll is a style of catch-and-pitch counter fighting. But just as it says on the tin, catch-and-pitch is about physically receiving a blow—on the forearms, the elbows, the shoulders—and using that as the trigger to fire back with counters and counter combinations.
Jędrzejczyk has quicker hands, works better in combinations, and has a tighter left hook on the inside, but that doesn't matter if her feet are too slow to control the range. Going into a shell and working exclusively on the counter could work a treat. Namajunas works exclusively in singles and doubles but hangs around much longer, making her a great mark for a counter left hook. The new champ also rarely targets the body, meaning that if Jędrzejczyk wanted to utilize a high elbows "crazy monkey" guard or even employ a cross guard, she could go all in on catching and countering Namajunas with sneaky headshots.
If Namajunas wanted to mitigate the threat of counter shots and counter combinations, she could work on getting out the side door after she steps in with her one or two punches. A style more suited to her might be to get her guard up after the blows, lower her level slightly, drop her head forward as if to place it on Jędrzejczyk's sternum, and then shove Jędrzejczyk backwards. This is re-establishing range for the lazy man—rather than quickly change direction and move backwards or sideways, you simply make the opponent move. Don't scoff though, as we discussed in Giorgio Petrosyan and the Counter to All Strikes, the finest defensive technician in kickboxing is constantly shoving his opponents off balance after his strikes.
Another point about Namajunas's game in the first fight was that she didn't do much kicking. Namajunas used to lash out with her legs constantly but suffered a rough loss to Carla Esparza and settled down. Namajunas's feints repeatedly drew missed kicks out of Jędrzejczyk, it would be great to see her capitalize with high kicks as there are few repercussions to a blocked high kick when the opponent is so out of position. In addition, the stepping-off-line low-kick is a nice way to end punching combinations and re-establish range, solving the first problem we talked about. High and low kicks both also work exceptionally well off a shove out of mid-range.
For Jędrzejczyk, distance is disaster, and slow rounds, and lost rounds. Rose Namajunas is nothing like Gadelha, Kowalkiewicz, or Andrade. She has zero desire to drive a pace and she will take her time to dull Jędrzejczyk's senses and draw her out. Jędrzejczyk's first concern then is to get in without being made a fool by counters. The great defensive ring general must move forward and cut the cage. On the plus side if she is actually looking to do it, Namajunas's habits play quite nicely into it. The champion tends to back up without breaking the line and isn't shy about running from feints. A few feints and some good footwork should have Namajunas on the fence if Jędrzejczyk commits to making that happen.
By bringing the fight closer to the fence, Jędrzejczyk can force engagements and keep Namajunas in place for more than one strike. Furthermore with straight retreat removed, Jędrzejczyk can get to the body—the most important factor in this match up. At UFC 201, Karolina Kowalkiewicz was getting boxed up by Namajunas until falling into a clinch and hammering her body with knees, at which point the air instantly went out of Namajunas. It was one of the quickest changes in fighter temperament due to body shots you will see and it is a question that needs to be asked of Namajunas again.
Jędrzejczyk has been one of MMA's greatest proponents of the right straight to the body, and her secret is to get her opponent near the fence first. Opponents begin to square up as their back foot brushes the cage, but while the head can still move freely, getting the body out of the way without retreat is a tough task. Investing in this early and going to it frequently through the five rounds would be a great idea. It also serves as a great level-changing entrance, allowing Jędrzejczyk to come up with the left hook and continue into combination work, or fall into a clinch which would probably be a better idea.
Clinch striking would be a great idea for Jędrzejczyk. She is great in the clinch defensively and, frankly, Namajunas's most famous moments from the clinch have come as other women have tried to head and arm throw her—the plague of women's MMA—then given her back control.
Along the fence, Jędrzejczyk would do well to make like former women's featherweight champion Germaine de Randamie—and that is likely the only time you will ever hear that—and post her head beneath Namajunas's, throwing her hips back and having at her with knees to the midsection.
It would be good to see Jędrzejczyk eschew the jab, at least the one we know her for. Rather than looking to hit Namajunas with the jab, the jab could be flicked out in singles and doubles to make Namajunas move and facilitate that waltz towards the fence. If Jędrzejczyk wants to hit Namajunas in the head, why not do it with elbows during the pummelling in the clinch, or in combinations along the fence after digging to the body? Namajunas's face just doesn't hang around on the end of Jędrzejczyk's jab in the same way that the thoroughly defensively flawed Gadelha and Andrade's did.
Assuming Jędrzejczyk hasn't spent her entire camp training fencing with the foil, her straight line movement is unlikely to be on a par with Namajunas's. The champ's control of distance—both maintaining it and closing it—is the key to her winning this fight. If Jędrzejczyk can stifle that, then this is a fight in the clinch or in the pocket or even on the ground, and she is much better equipped to take Namajunas in those areas. Jędrzejczyk can create exchanges and clinches in two ways—catching Namajunas once she has stepped in, or corralling Namajunas towards the fence. If Jędrzejczyk cannot do that, it is difficult to see her winning this rematch.
Lovely distance work against Paige Vanzant.
Joanna Jędrzejczyk is a smart fighter. Her footwork as a defensive fighter has been marvellous and she has never looked to be fighting on instinct alone. In an ideal world she brings something new to this fight and gives Namajunas a new look to deal with.
If there is one thing the UFC strawweight division could do with it is a rivalry between two very different, exciting strikers at the top of the weight class. Whether this fight sets the table for a rubber match, or Rose Namajunas emphatically cements herself as the woman with Joanna Jędrzejczyk's number, this might be the most intriguing fight in the history of the UFC's women's divisions.
Jack wrote the hit biography Notorious: The Life and Fights of Conor McGregor and podcasts at The Fight Primer.
Stories