Texas Gov. Greg Abbott has a long and loud history of pushing for an unimpeded right to bear arms, but he was uncharacteristically muted on the subject of guns after a shooting Sunday at a small-town church left 26 dead in his state's worst mass shooting ever.
While Abbott did acknowledge that the suspect, Devin Kelley, who carried out the massacre with a military-style assault rifle, was ineligible to purchase a gun under federal law given his bad-conduct discharge from the Air Force, the rest of the governor's comments following the shooting have concerned other subjects.
The staunch Second Amendment advocate praised law enforcement's response to the tragedy, called the shooter "very deranged," and highlighted how Texans have found strength in faith and community after the shooting.
This is a far cry from Abbott's past strongly pro-gun, anti-gun control positions, which earned him an "A" rating from gun groups and a National Rifle Association endorsement when he ran for governor in 2014. He's long pushed for the right to bear arms, even after mass shootings.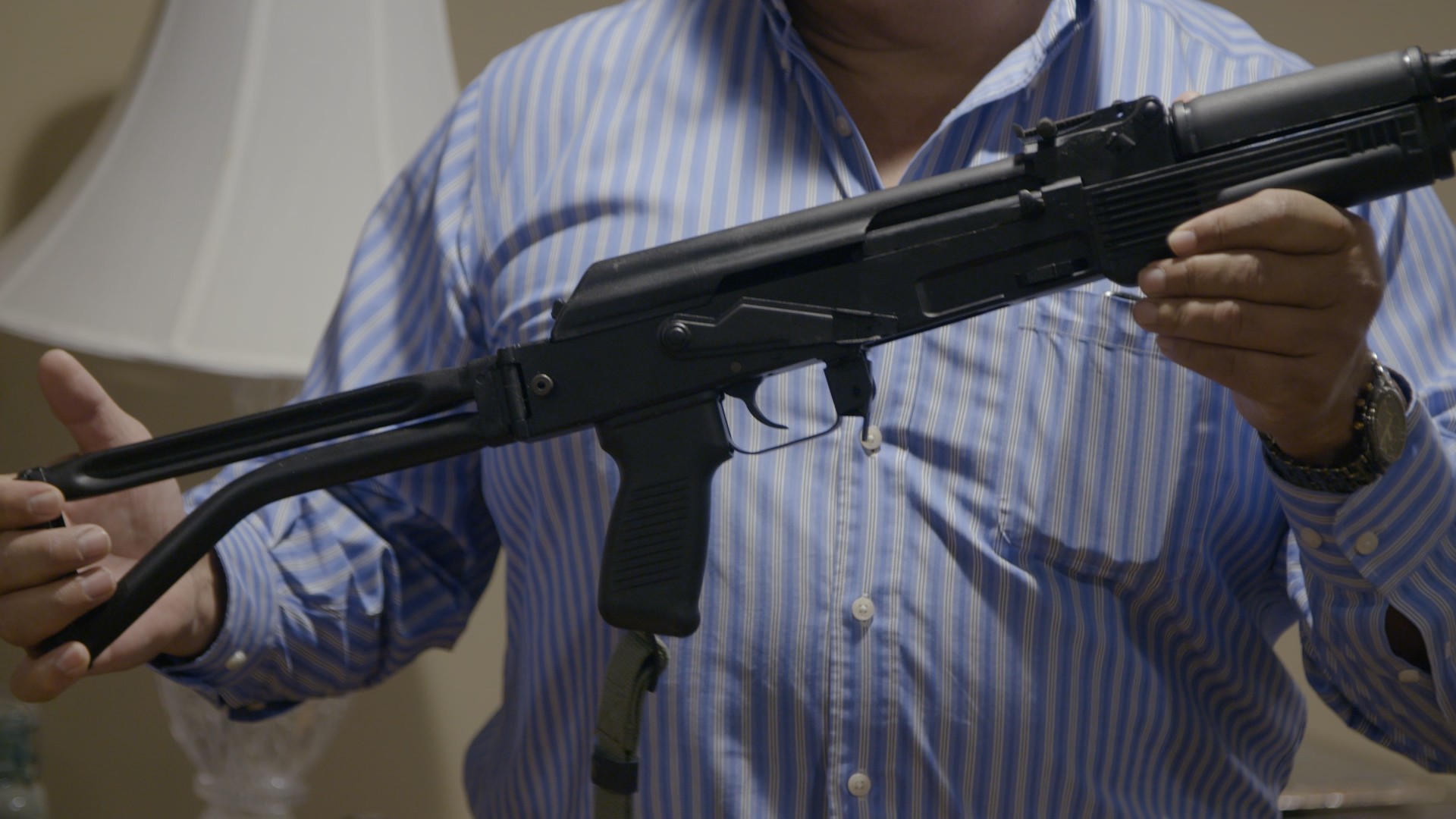 As governor
Earlier this year, he proudly tweeted a picture of a sign that said Texas refused "to be a disarmed victim zone" when it came to guns.
In May, Abbott also joked about shooting journalists while visiting a firing range to sign a bill that made licenses to carry handguns in Texas cheaper.

"I'm going to carry this around in case I see any reporters," he reportedly said, pointing to a bullet-ridden paper target.

After the Obama administration announced its intention to pursue gun control measures following the 2015 Umpqua Community College shooting in Oregon, Abbott tweeted his disapproval.
He's also been a vocal supporter of concealed carry laws on college campuses.
On the campaign trail
Things weren't any different when Abbott was on the campaign trail.
He lamented that Californians buy more guns than Texans, and urged his state to catch up.
And to him, guns and freedom were synonymous.
As Attorney General
Perhaps his strongest statement on guns, one with perhaps the most symbolic resonance in the wake of the historic mass shooting in his home state, came in 2013 in the months following Sandy Hook.
As he was considering a gubernatorial run, Abbott used campaign funds to buy ads encouraging New Yorkers to move to Texas, after New York expanded gun control legislation.
One ad lead to a page saying in Texas, "you'll be able to keep more of what you earn and use that extra money to buy more ammo."
"Texas is better than New York, and New York just gave us another excuse to say that," Abbott told Reuters. The ads, he said, were a "way to tweak our liberal friends up in the Northeast."