Uniform and The Body's Chaotic Collaboration Is Unsettlingly Perfect
The two noisy duos teamed up on 'Mental Wounds Not Healing,' due June 8 on Sacred Bones. Today, they're sharing the record's first single, alongside a brief interview about how the project came together.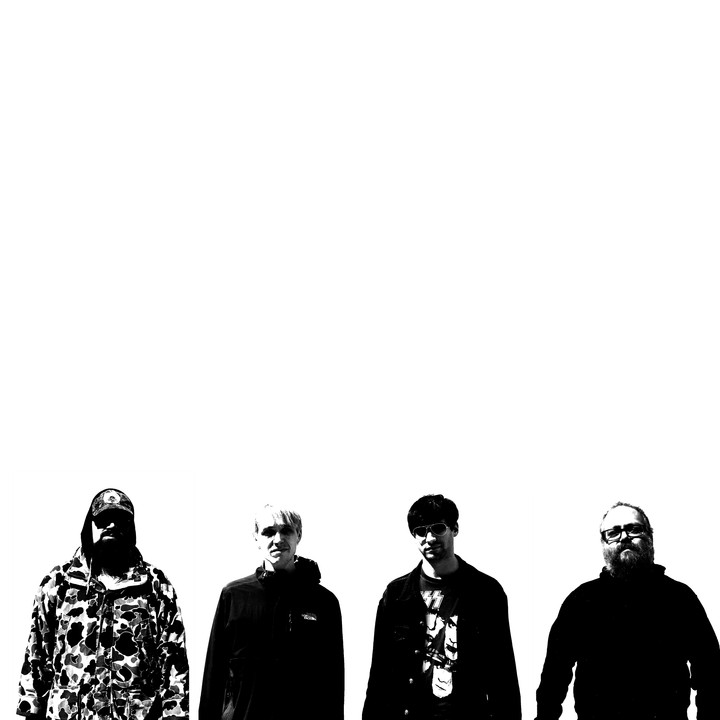 In a couple of weeks, The Body and Uniform will release a collaborative record called Mental Wounds Not Healing, the news of which almost feels inevitable. Over the last few years, the two duos have established themselves as some of heavy music's great universalists, scuffing the imagined borders between noise, industrial, hardcore, and metal and further illustrating that it all comes from similar places. Couple that similar approach with The Body's general prolificness (In addition to their warped solo records, one of which premiered here just last week, they've also made records with Thou, Full of Hell, Krieg and the Haxan Cloak since 2014), that they'd one day intersect with Uniform for a record named for a lyric from "Crazy Train" is almost too perfect.
Turns out, it makes sense on their end too. Uniform's Michael Berdan and The Body's Lee Buford say via email that their connection was the natural extension of a long-running friendship. "You know those friends that you waste the day away texting while you are supposed to be at work or otherwise doing something with your life?" Berdan says. "Well, I've got this text thread with Lee and Kristin Hayter [aka Lingua Ignota] that is a full-time affair." Lee brought up the idea of their bands touring together and of Berdan singing on a Body record, which casually bloomed into the seven cacophonous pieces that make up Mental Wounds Not Healing.
"Everything is relaxed around us," Buford says of their relationship and the process of making the record. "No bad vibes."
Berdan and Ben Greenberg—Uniform's guitarist and producer, who also holds many other roles in New York's underground—decamped to a studio in Providence, Rhode Island where The Body were putting the finishing touches on their latest album. They had some beats and musical fragments already in the works, which Berdan and Greenberg sent through the Uniform woodchipper, ultimately landing on a sound somewhere in the lurching middle section of the venn diagram between their two sounds.
You can hear it on "Come and See" the record's first single, premiering here. The needly drum machines of The Body's last few releases—something like classic boom-bap beats, with the gain knob turned just about until it snaps off—twist around the nauseous feedback of Greenberg's guitar wrangling. Elliptical synth bass riffs of indeterminate sourcing trace dizzy paths under the maelstrom as Berdan and The Body's Chip King—squelching as ever in extraterrestrial ecstasy—offer an uneasy duets over the top. It's unsettling, and awe-inspiring, the sorta stuff that'll either inspire you to bob your head or lay prostrate in supplication.
There are moments elsewhere on the record, like "The Curse of Eternal Life" and "Empty Comforts" that up the tempos, relatively speaking, pushing their industrial clatter into territories that begin to approach techno, or hardcore—putting them in a realm that's not super far from those blistered Industrial Strength releases that razed clubs with Pantera samples.
"I love techno and especially gabber," Buford says of the decision to fold in those sounds. "I'm a drummer so it makes sense to me to like music that is so percussion based. plus I grew up on hip hop so even though I play drums I prefer drum machines and samples. I'm kinda jealous of that scene too since we play such "heavy" music to see people dancing at those kind of events so I always kinda hope I can incorporate those two worlds."

Berdan, for his part, relates the sound of this record to an interview he says he once saw on Headbanger's Ball for Lollapalooza '93 wherein the EBM forefathers Front 242 said that "guitars were outdated instruments."
"12-year-old me was very mad at them," Berdan says. "25-year-old me agreed with them, and 37-year-old me is somewhere in between. I just like tunes."
As the title suggests, these sounds are the basis for meditations on mental health. "I think both our bands usually have that as the bedrock of our aesthetic/vision," Buford says. Berdan affirms that those issues are at the "backbone" of what Uniform does and says that they're a big part of why he makes music like this in the first place. "Dealing with parasitic thoughts and feelings day in and day out for my entire life is the integral component to everything remotely creative that I do," he says. "Playing music is a coping mechanism and a way for me to process pretty fucking awful sensations that I otherwise can't."
Even when Berdan's lyrics are hard to parse, which they often are, given the scuzz of this particular record—to say nothing of King's otherworldly howling—there is a sense of catharsis and overcoming embedded in the record's seven tracks. Even if they aren't healing, this record feels like a step in the right direction, a way to scour out some of the muck, and take another step forward.
The Body and Uniform's Mental Wounds Not Healing is out June 8 on Sacred Bones. You can listen to "Come and See" up above. If it was inevitable, it is also inevitably great.
Colin Joyce is an editor for Noisey and is on Twitter.