How to Direct a Brutally Violent Hitman Film, Minus the Cliché
"We Need to Talk About Kevin" director Lynne Ramsay talks to Broadly about "You Were Never Really Here," her subversive new thriller starring Joaquin Phoenix.
Director Lynne Ramsay; Joaquin Phoenix (Joe) and Ekaterina Samsonov (Nina) in You Were Never Really Here. Photo of Ramsay by Brigitte Lacombe courtesy of the Doha Film Institute.
The day I meet Lynne Ramsay, Soho is still under siege. The Beast from the East snowstorm is resident, and London still looks like an out-take from Happy Feet.

Yet Ramsay styles it out in leather jacket and white shirt, flinging a scarf around her neck when she steps out for a roll-up. She's spent more than 20 years living in London and working in America, but this is still very much a Glaswegian woman talking.
It's been six years since the release of We Need to Talk About Kevin, the film that established her as one of the most exciting directors of her generation. It's been a long wait, complicated by the drip-drip reports of the fall-out from Jane Got a Gun, the Natalie Portman-led Western she championed, but, after enforced rewrites and excessive studio pressure, allegedly walked out of on virtually the first day of shooting.
She returns to the cinema with You Were Never Really Here, an impressionistic interpretation of the classic pulp noir trope—a shadowy contract killer trying to survive after a hit goes wrong.
Set in modern New York, but shot in streets that haven't changed much since the days of Taxi Driver and Dirty Harry, Ramsay wrote the part of hitman Joe for a bearded, bulked-up and almost wordless Joaquin Phoenix. "He turned up looking like a maintenance worker," she says. "I loved it."
---
Watch: British Comedy's Rising Star Michaela Coel on Swapping God for Filthy Jokes

---
Phoenix, for his part, admitted to Vanity Fair that, on their first phone call about the film, he struggled to decipher her thick Scottish accent. "I said 'yeah' a lot," he said. "But then spent most of the time trying to figure out what she was saying."
This is the first time Ramsay is credited as the sole writer of a film since her 1999 debut Ratcatcher. She read the source material—a taut 90-page novella by Jonathan Ames—in Santorini, a Greek island she used as a hide-out after Jane Got a Gun blew up, and where she met her partner, a local chef originally from Belarus. Greece was the birthplace of her first child, a daughter who is now three.
"It was a village with no cars, in the middle of winter," she says. "There's a volcano, and everyone plays chess. There's nothing to do, so there's no distractions. I can get lost in stuff in London. I felt really focused there."
She read the book in one sitting. "Then I read Jonathan Ames had just been through this really bad break-up and went into this dark space before writing it," she says. "There's just something about the character Joe—a kind of mid-life crisis you don't normally see in other pulp noirs."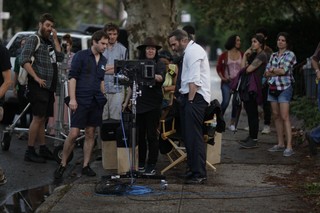 She started working on a screenplay and, within a month, had a first draft ready to show investors. "But I was terrified," she says. "Action sequences, me? Guns and violence? I hadn't done anything like this."
The hitman gone rogue storyline is a well-worn Hollywood trope—one that dates back to the earliest days of the studio era, and yet still remains a bankable format—look at how they cashed-in with the Taken franchise, or John Wick, or any number of Jason Statham movies.
Yet Ramsey, a filmmaker capable of exhibiting more technical mastery in a 30-second sequence than most directors can muster in an entire film, does something different and new here. You Were Never Really Here is a sensory mood-piece of a film, one that forces you, kicking and screaming, into the tortuous depths of Joe's head.
Through him, we hear the metallic churn of an indifferent city. We see, in the close-ups of a sweet being squeezed between his fingers, or in the barely-contained emotion and relational dynamics he has with his aging mother, all of which act as allegories for his suicidal compulsions. We share, via crisply aligned flashbacks, the traumas of his childhood. We learn what it's actually like to bludgeon a stranger with a hammer.
"I'm quite squeamish at violence in films," Ramsay says. "I said to a friend: 'I don't even like violence,' and they laughed and said: 'Well, why have you just made this?' But the psychological violence of this film was much more brutal. We've seen so much violence in the world that it can become banal. It can be very comic book. I enjoy a big dumb action sequence, and I love directors who can really handle action. But I kept thinking: 'OK, where's Joe's head at? What's he thinking?' I wanted the violence to be very, very personal. I saw it as beyond rage, a post-violence."
Before I'm allowed in to interview her, I'm told that Jane Got a Gun is out of the bounds of conversation. Legal complications—suing and counter-suing took place after her walk-out—have stopped her from talking about the experience in the press. Yet, asked if she has any advice for young, women filmmakers, she offers:
"It's tough being a filmmaker. Loads of directors work on projects for five years and then they don't get to do it and have to watch as some other director does. It can be a heart-breaking job sometimes—a real labor of love. You have to keep chipping away at it—it's tough, and it's tough for anybody—despite their gender."
But a recent experience cheered her. "At Sundance this year, there were all these young women filmmakers with their first short or first feature. And some of them said to me: 'You've really inspired me.' I thought to myself: 'Maybe you've been through all this trauma and pain, all this woe is me—for this'.
It opens up an opportunity to talk about the Time's Up movement. Ramsay, a forthright person who was raised in working-class Glasgow and whom has worked in the industry for more than twenty years, clearly detests talking about her work in relation to gender. "A man is never asked: 'What's it like to be a man and make a movie?'" she says at one point. Yet she senses, in the movement that has risen up since the revelations of Harvey Weinstein's longterm abusive behavior, a moment of significant and profound change. "I think it's the beginning of something crumbling," she says. "For a long time it felt like one of the facts of the world, but now I think there are just people saying 'no more.'"
But, she says, the dominance of the industry by nuclei of old men isn't just bad for women. "It's not just an issue for gender; it's race, it's country, it's class, it's sexuality, it's everything," she says.
She returns to the women she met at Sundance. "I'm optimistic about the younger generation," she says. "I've seen a lot of barriers being broken down. People are just not going to put up with the same shit anymore."
When I mention Weinstein's name, she's careful to add a qualifier. "There needs to be a balance," she says of the reaction to such predatory men. "We can't allow for witch-hunts." Still, she adds: "Everything's being shaken up. That's definitely happening and it's definitely a good thing— it can only be a good thing. It felt like the fall of the Roman Empire."
You Were Never Really Here is out in British cinemas now and in US cinemas on April 6.