It's officially the last day of the 2016-17 NBA season, which means every team is about to use free agency and the trade market to, in some way or another, alter their short and long-term outlook. That can mean pivoting away from the previous strategy or doubling down on what's helped find success in the past.
Some franchises are more predictable than others, but few are harder to forecast over the next few years than the Atlanta Hawks. Long viewed as the poster child of mediocrity—plenty comfortable inside a low-ceiling, high-floor home—Atlanta is poised to do something different behind stable ownership and Travis Schlenk, a new general manager who previously worked with the champion Golden State Warriors.
For Hawks fans used to rooting for teams that are pretty good but undeniably flawed, this could be an exciting shift. Atlanta has qualified for the playoffs every year since 2008, when a young core led by Joe Johnson, Josh Smith, Marvin Williams, and a rookie named Al Horford pushed the eventual champion Boston Celtics to seven games in the first round.
Two years later, they won 53 games before getting swept in the second round by Dwight Howard's Orlando Magic. That was their peak. But instead of blowing up the roster and shooting for a high NBA Draft lottery pick, Atlanta remained decent for a few years, then hired Mike Budenholzer away from Gregg Popovich's bench and plucked Paul Millsap from the Utah Jazz.
A magical 60-win season followed in 2014-15, as the Hawks maximized their collective strength and ripped through the league despite not having a top-15 player on their roster. The Hawks hunted quality three-point opportunities with admirable unselfishness, and just about everyone in their rotation could shoot and pass. It was special, until they met LeBron James in the playoffs, who did what he does.
Given everyone's ages and contract situations, that particular Hawks team wasn't sustainable. Even as commentators slapped a "Spurs East" sticker to the franchise's forehead, a path to prolonged almost-greatness wasn't there.
Today, the only remaining players from that group who are under contract through next season are Kent Bazemore and Dennis Schroder. Jeff Teague was traded to the Indiana Pacers so Schroder could grow as a starter, while Horford left for Boston and was essentially replaced by Howard.
Last week, Schlenk traded the three-time Defensive Player of the Year's two-year, $47.3 million contract—and all the soul-sucking post touches that come with it—along with a second-round pick to Charlotte in exchange for Miles Plumlee, Marco Belinelli, and an even worse pick. It's unwise to make a sweeping claim about an organization's direction after one transaction, but this seemed to reflect Schlenk's open desire to infuse flexibility, financially and on the floor, into the Hawks.
Dealing Howard wasn't a shock, even if the return was pitiful. But with the ostensible franchise center now an afterthought, Schlenk can use the rest of this summer to pour the concrete of a new foundation. Here's where things get a bit less certain, and potentially a lot more optimistic.
At his introductory press conference, Schlenk said re-signing Millsap was a priority. Soon after, he walked those words back by saying it's possible another team will offer Atlanta's best player more money. Since the Hawks have Millsap's Full Bird Rights and can give him a larger contract in years and dollars than anyone else, what Schlenk was really saying is that sacrificing an open cap sheet to bring back a 32-year-old doesn't jibe with where the Atlanta is headed.
Letting a productive four-time All-Star walk for nothing but cap space is not a great outcome, but it's much better than locking Millsap into a costly long-term deal. If he leaves, and the Hawks renounce all of their other other free agents—most notably Ersan Ilyasova, Thabo Sefolosha, and Mike Muscala—the Hawks will have roughly $26.5 million to spend, not including their $4.3 million room exception. And that total could nearly rise to $30 million if they also waive Mike Dunleavy Jr.
This route is possible, and will knock Atlanta from the playoff picture if Schlenk commits to it. Bottoming out doesn't appear to be as toxic as it once was with ownership, and that's kind of awesome to see. The Hawks would've been wise to tank last year—picks and/or prospects for Millsap would have been nice—but with so few teams projected to be truly awful next season, waving a white flag and obtaining a top-3 pick in 2018 could kickstart a franchise that's in sore need of a legitimate building block.
With the recent construction of a 90,000 square foot, $50 million medical-care practice facility that can be viewed as a competitive advantage, Atlanta could end up a sleeping giant even if they intentionally punt the 2017-18 season away.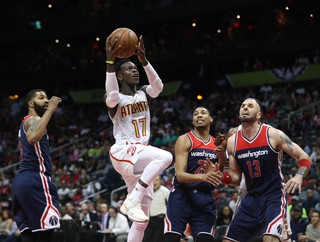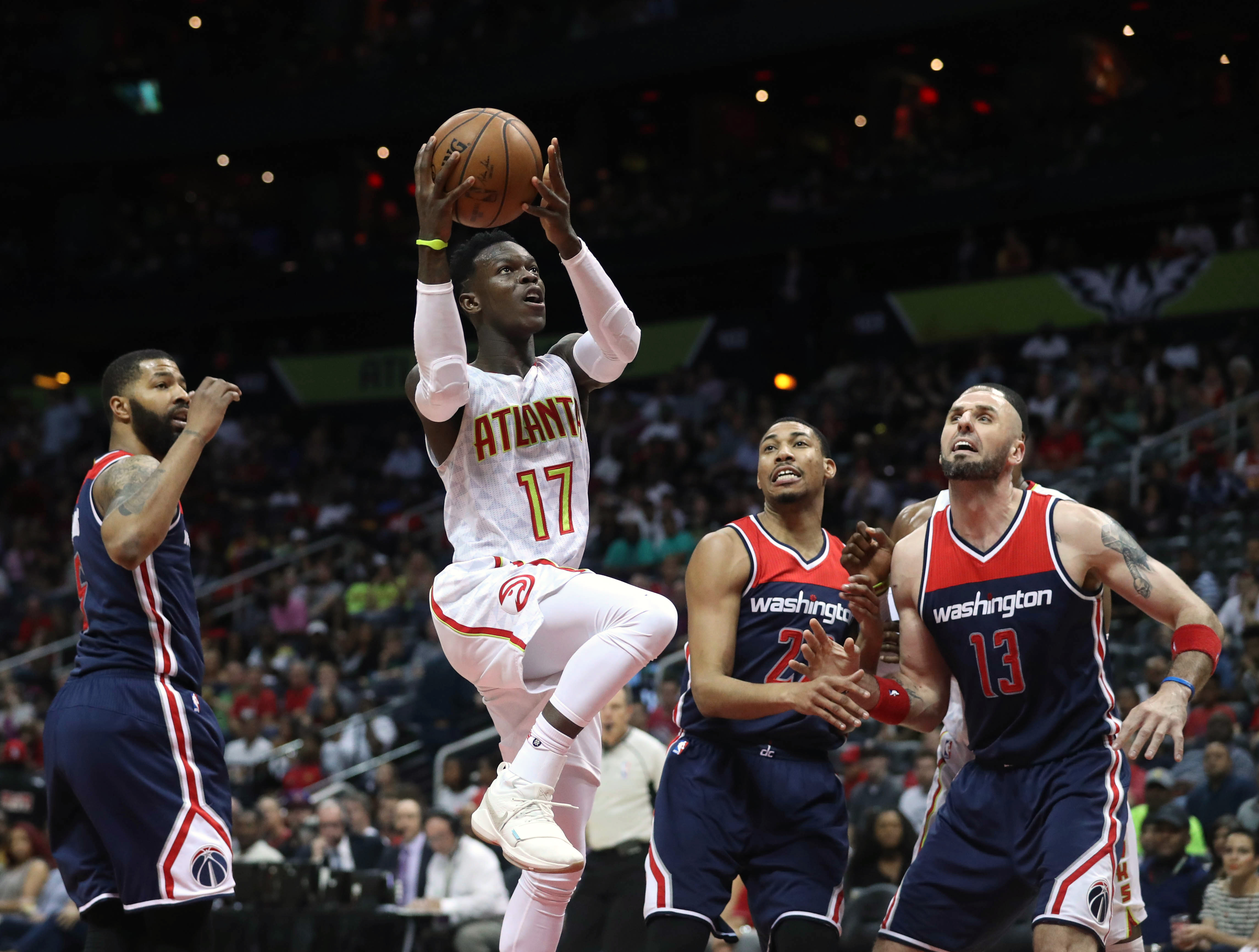 Schlenk says he wants to erect "a championship-quality team that's sustainable." Heading towards the bottom, accumulating assets, and avoiding bad contracts is one way to do it. But the new GM also told the Atlanta Journal-Constitution that "the Philly model is not our model ... what we did in Golden State is what we are trying to do here. We never really were terrible. We were winning 30-some games, staying competitive, so when you get the last month of the season you are in the playoff hunt."
If staying on the fringe of playoff contention while simultaneously preparing to swing for the fences like the pre-James Harden Houston Rockets is the plan, the Hawks could re-sign Millsap to a four-year deal, come to a reasonable agreement with Tim Hardaway Jr., operate above the cap and go shopping with their mid-level exception for someone like P.J. Tucker.
From there, unloading Kent Bazemore's contract is a must. He has nearly $55 million headed his way over the next three years—including a $19.2 million player option in 2019 that he'll probably pick up—while Atlanta is better off opening up more playing time for Taurean Prince, DeAndre Bembry, and incoming rookie John Collins, a scoring machine who should crack the rotation right away. The Hawks are known for player development, and likely can avoid embarrassment sans Bazemore, who could garner a decent pick in return.
If things aren't going great after re-signing Millsap, Atlanta could always flip him for more future assets or younger contributors at next season's trade deadline. Another option would be to pull off a sign-and-trade—similar to what the Los Angeles Clippers just did with Chris Paul—but that seems unlikely, given Millsap's potentially sour market.
Schlenk has repeatedly fawned over Atlanta's cupboard: In the next two drafts they have all of their own picks, a lottery-protected first in 2018 courtesy of the Minnesota Timberwolves that will likely convey, a top-10 protected first-round pick in 2019 from the Cleveland Cavaliers, and a 2019 second-round pick from the Washington Wizards.
For a rebuilding team, these are juicy bites at the apple that double as valuable trade chips. Atlanta can attach them to contracts they don't like (think Bazemore and Plumlee) and then, in the very near future, construct scenarios where multiple max-level free agents could team up in Atlanta. This is an untapped, attractive market, and once the salary cap levels off there won't be too many other suitors able to pull off the same pitch.
In the meantime, Schroder is a rapidly developing irritant—that's a good thing—who's compensated fairly until 2021. He'll be 24 next season, which means he can either hang around through a dramatic rebuild or produce at a quality level on a scary squad. There's also a decent chance some other team will be in search of a starting point guard over the next few weeks: the Timberwolves, Utah Jazz, San Antonio Spurs, New Orleans Pelicans, New York Knicks, Toronto Raptors, and one or two others may be willing to overpay for an intriguing ball-handler who positively impacts both ends of the floor.
The Hawks probably won't be in the news a ton this summer, but if they play their cards right they may soon be painting on a blank canvas, with a unique opportunity to strike in several advantageous ways over the next few years. If nothing else, the days of Atlanta hosting the most predictably monotonous team in the league are finally about to end.