US Army Infantryman Kyle Hockenberry, photographed by Laura Rauch.
Tattoos have always been linked to conflict. In the 18th century, British explorer and cartographer Captain James Cook returned to London with a crew of sailors who had been inked up by natives from the South Pacific. Today, soldiers all over the Middle East mark their bodies with tattoos to commemorate fallen comrades, mark divisions and units, and remind them of their loved ones back home.
This is an image of 19-year-old US Army Infantryman Kyle Hockenberry being treated following an explosion that cost him both of his legs and one arm. The photo was taken for a military newspaper, and went on to win photographer Laura Rauch an SPJ award. Tattooed across Hockenberry's ribcage are the words "For Those I Love, I Will Sacrifice." These are lyrics from "Hallowed Be Thy Name," a track from Indecision's 1998 record To Live And Die In New York City.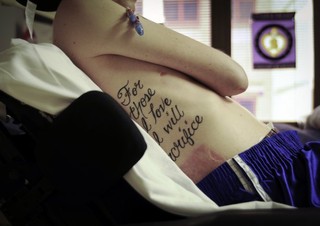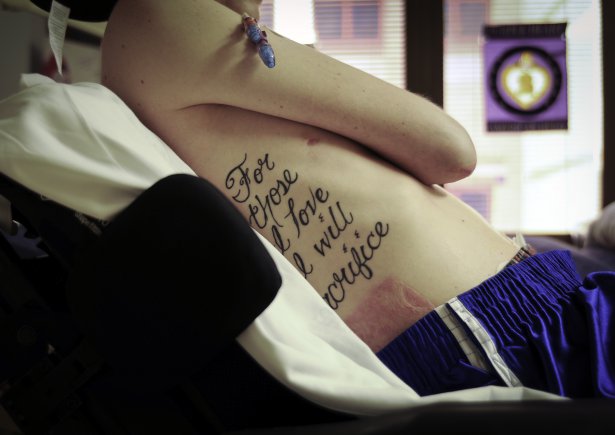 Indecision was one of the most prolific and outspoken hardcore bands in NYHC history. In addition to speaking out in favor of animal rights, vegetarianism, and social justice, the band toured five continents over its eight-year history, and was the first American band to play Croatia after the 1995 War Of Independence. The band was founded by Justin Lee Brannan, who has since worn many hats, including stints at Bear Stearns, the American Federation of Television & Radio Artists, and the Bank Of New York. He's currently the President of the Bay Ridge Democrats in Brooklyn.
Brannan wrote these words when he was sixteen years old, and was stunned to see them again after the image was picked up by Time Magazine. Yesterday, on the 68th anniversary of D-Day, I gave Brannan a call to understand what it feels like to see his words in such an off-putting context.
NOISEY: So how did you first come across this photograph?
Justin Lee Brannan: It was on an insider US military blog and a friend sent it to me. It completely blew my mind. He had gotten the tattoo two weeks before he was deployed. He's a 19-year-old kid. The thing is, lots of people have these words tattooed, and I never knew what to say over the years when people would come up to me and show it to me. But to see it like that, for once in my life I was speechless.
I felt an instant connection with Kyle. The first thing I wanted to find out if he was alive, and how I could get in touch with him.
Have you made an effort to get in touch with him and his family?
Once I got over the initial shock, it was a prompt for me to do something for the guy. I've reached out to a couple of his relatives, his cousins, some people on Facebook. There's a documentary being produced about Indecision now, and we'd love to include him in it and tell his story, if he's cool with it. I just want to meet him and tell his story, and the story of his courage.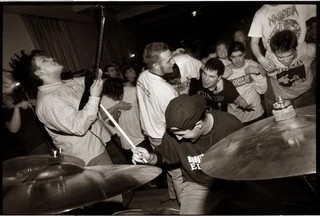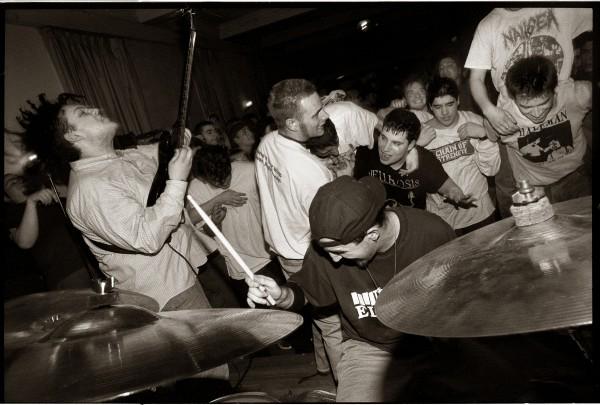 Justin, on the far left, performing with Indecision. Photo by The Joint.
How does it feel to see your words tattooed on a true casualty of war?
Well first off, I don't want to assume that Kyle knows my band or my music. That's irrelevant to me at this point. It instantly became bigger than me and my words. It's all so humbling that it makes me feel like I need to do something to say thank you, or let him know that I appreciate what he's done for me and this country. I'd like to shake his hand, say thank you, and, you know, bullshit with him for a while.
Kyle did such a selfless, courageous thing. It takes it to such an insane level of self-sacrifice. I may have written those lyrics when I was sixteen, but I'm proud of the meaning that Kyle, and the people who follow the music, have put into it.
When I read the lyrics, I detect a strong anti-authoritarian theme. Lines like "I question the sin, systemized beliefs organized, identity in honor in fear." It creates a bit of cognitive confusion; are you in support of the war? Is it difficult for you to see these words returning to you on a fallen soldier?
Certainly the song is about questioning authority. But number one, I wrote those lyrics when I was sixteen years old. I think I've figured some things out since then. That said, part of belief in anything is being critical. Being critical is part of believing. But also, this whole experience speaks volumes to the interpretation of music, and what it means to different people, and how little sections and fragments of songs can take on a life of their own, out of context.
Really, the song was written about appreciating the here and now, living in the moment, and not taking anything for granted. That's part of what I meant by saying "for those I love, I will sacrifice." People in war, they're sacrificing for absolute strangers, people they've never known. It's a very overwhelming thing.