Heval Mohamed Kelli came to the United States two weeks after 9/11. He, along with his parents and brother, had been living in Germany for six years after fleeing Syria in 1996, where his father had been jailed for months on end. The family settled in the suburbs of Atlanta; Kelli, who was 17 at the time, supported his family by washing dishes. He dreamed of going to college but knew that his options were limited.

Then he got a scholarship to a prestigious private high school, and a mentor to motivate him. Today, Kelli is a cardiologist at Emory University. He spends his free time volunteering in Atlanta—he works at a free clinic; he runs after-school programs for high school students, many of them refugees. He works just a block away from the restaurant where he used to wash dishes.
Kelli would like to devote some of his volunteer efforts abroad. But due to President Trump's "Muslim ban," the recent executive order that prohibits entry to the US from seven majority-Muslim nations, leaving the country now feels too risky, even though he became an American citizen in 2006.
"My parents and my brother depend on me. I have mentees, projects, and communities that look up to me. I have a lot to lose if I cannot come back," Kelli says. "I can't give that up, even if there's a .001 percent chance if I can't come back in…I spent 15 years building this. I can't risk it."
Twenty-five percent of doctors working in the US are foreign-born (there aren't more specific numbers for the countries affected by Trump's ban). Some who happened to be abroad when the executive order was passed, such as Sudanese citizen Suha Abushamma, an internal medicine resident at the Cleveland Clinic, are among the 90,000 people struggling to return. Those who might have thought of providing foreign aid through organizations like Doctors Without Borders, or whose research demands visits abroad, may find themselves stymied by the country's new immigration policies, regardless of their own immigration status.
Born in Iran and educated at Harvard and the University of Albany, Kamiar Alaei is the founding director of the Global Institute for Health and Human Rights at the University of Albany. He, along with his brother Arash, have designed HIV prevention programs for at-risk populations in various countries throughout the Middle East, Central America, and Central Asia. They have received federal grants to build women's health clinics in Iraq; they have set up exchange programs for American doctors to work in these regions, and for foreign doctors to train in the US. The brothers were jailed on a visit to Tehran in 2008, and when they were freed in 2010 and 2011, they came back to the US on an EB1 visa, reserved for outstanding scientific researchers and given the highest priority.
Now the ban has thrown their careers into a tailspin. The brothers were planning a trip to Central Asia, but have had to cancel it. Though Kamiar became an American citizen in 2015, neither he, nor Arash, a green card holder, is confident that they will be allowed to return if they leave the country. "We submitted a proposal for working on women and girls' right to health [internationally]," [Kamiar] Alaei says. "Now we don't know if we can continue that work."
Their youngest brother, Ali, is visiting their 82-year-old father in Iran, and was supposed to come back to the US next week to work as a visiting scholar at the University of Albany. But he is a green card holder, and they fear he won't be allowed back in. They have no idea what to do.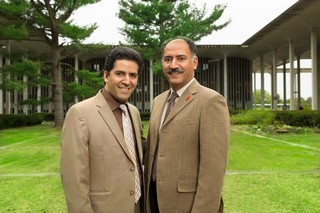 Alaei can no longer promise his foreign collaborators that the exchange programs they set up, scheduled to start in the coming year, will take place, but he's trying to stay optimistic. Hopelessness might discourage these foreign doctors from working with him in the future, or with any other American researchers. "This is a key value of the US—we show how the US contributes to those countries by helping scholars," Alaei says. "It has a huge impact in those regions, to see how Americans love those people. We don't want to change the fact that those countries are very interested in the work we are doing." He says he understands the intention of the ban, and agrees that safety is important, but blames misinterpretation and poor implementation for the issues facing his work and his family.
No official numbers exist on how much medical manpower the US sends abroad every year. Tonic contacted eight international aid organizations, but the spokespeople who replied didn't feel able to make broad statements about the impact of the ban. "It is early stages so we are still evaluating any effect this might have," says Jessica Brown, a press associate with Doctors Without Borders.
Many, including Kelli and Alaei, think the effects of the ban won't stop after 90 days. "You never know. Right now I am safe. But don't know in the future," Alaei says.
Kelli is trying to emphasize the positive to his friends abroad. "I love the momentum. Yes, we're going through a hard time, but there are a lot of people on the ground showing so much love," Kelli says. "We have to think positive."