It's not that I don't like the photos, though they do blatantly miss a pretty important step of smoking (the whole "lighting" thing). What I can't stand about "Roll It, Lick It, Smoke It" is that no one seems to know where it comes from, even though it might be the most popular "weed porn" image on the web. Plenty of photos get turned into memes or thrown on merch, but as far as I know, the origins of "Roll It, Lick It, Smoke It" remain a mystery. Who took these photos, and why? Where were they taken? Why was the lighting step not included? And dammit, who is she?
Surely you've seen these images before—three horizontally-stacked, black-and-white photos of a closely-cropped human face rolling, lighting, and smoking what I can only assume to be a blunt. It's been put on T-shirts, hoodies, and muscle tees, from "hitofweed.com" all the way to Walmart. There it is in a Facebook cover photo, pinned on Pinterest, reblogged on a Tumblr called—I'm projecting here, but something to the effect of "KushGod69." It's on grinders. It's on phone cases. I can almost guarantee someone has it tattooed on their body.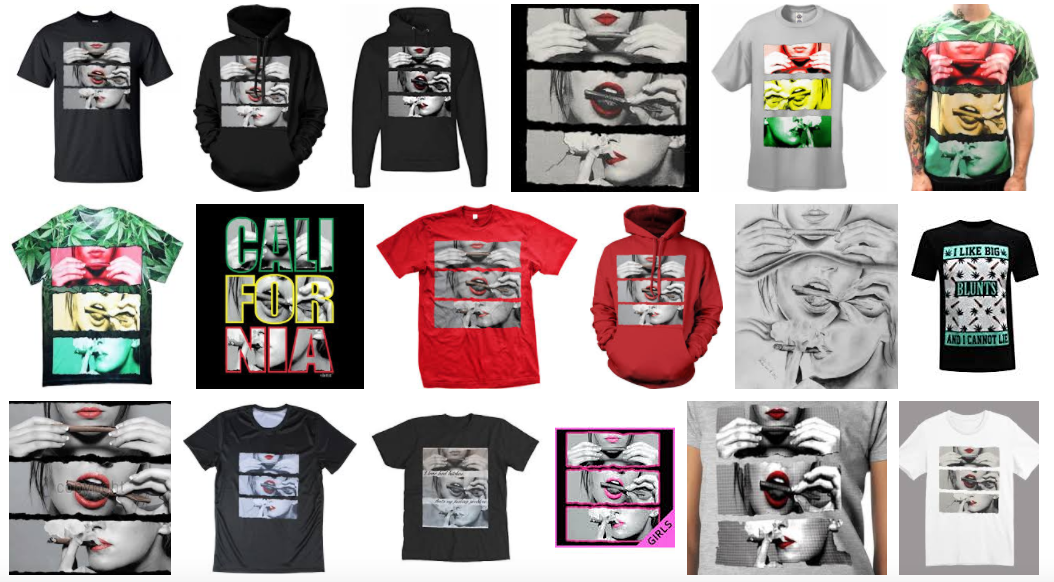 In honor of Weed Week, I decided to try to find out as much as I could about the photos' origins. Similar to a meme or an Instagram photo that's been reposted into oblivion, "Roll It, Lick It, Smoke It" has been cropped and re-cropped, colored and re-colored, sized and re-sized, and altogether repurposed hundreds of times to make a little dough, sell a skate deck, or garner a handful of Tumblr hearts. Haphazard Googling seemed to show that the photo began making the social media rounds mid-2011. I deduced what the original version of the series looked like: three black-and-white photos with jagged edges on a white background.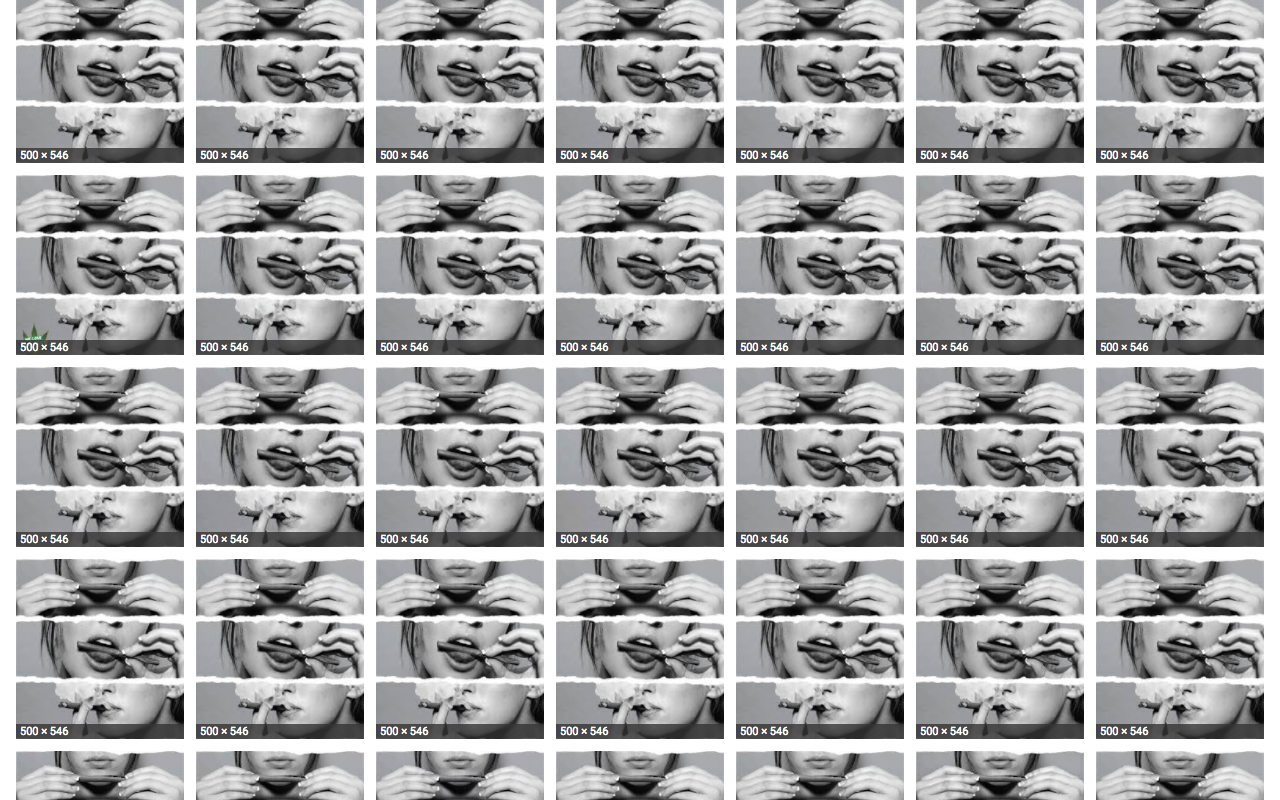 I ran the highest quality version of the photo series into several reverse image search engines to see if I could find the earliest posting of the image. The results took me through a maze of NSFW Tumblr pages, inane and undated Pinterest boards, and various blog posts with headlines like "17 Reasons Why You Should Date A Girl Who Smokes Weed," few of them valid.

When credited at all, the photo series in question was almost always sourced to a different blog's hosting or to an entire social media platform such as Twitter.com. Finally, after hours of internet sleuthing, I found a promising lead: a May 11, 2011 post from a long-dead comics blog called 4thletter actually appeared to credit the photo, first to a Tumblr post, and then to a post on a site called freshjive.com.
Freshjive's post wouldn't load. The streewear company folded around 2012, but the URL http://blog.freshjive.com/2011/04/how-to-roll-a-blunt/ appeared to show that the post had been put up in April of 2011, right around when "Roll It, Lick it, Smoke It" started getting shared. Though I couldn't initially view the post itself, more googling revealed that Freshjive had also uploaded a video called "Freshjive Moving Pictures - How To Roll A Blunt" on April 29, 2011. It's still viewable via Vimeo, and I've reposted it below:
The woman in the video was certainly not the person in my picture, but dozens of aggregations of the now-unviewable Freshjive post also included the "Roll It, Lick it, Smoke It" picture, credited to Freshjive. The earliest listings of T-shirts with the image appear to be credited to Freshjive, leading me to believe that this company may have had the rights to the photo, or were the first to post it online.
Pulling an archived version of the Freshjive blog post confirmed my suspicions. At 800 pixels by 873 pixels and 356 kilobytes, "BLUNTS1.jpg" looks like the first posting of "Roll It, Lick it, Smoke It" on the internet. Unfortunately, the photo is uncredited on Freshjive's post.
Since Freshjive has been inactive for years I had a hard time finding anyone who knew anything about the post. I reached out to the author of the 2011 post, a guy named Max Gibson. I eventually got him on the phone, but I've yet to receive an on-the-record comment. I even posted the pic in several request subReddits, but heard nothing.
For now, my quest ends here. I can't be sure that Freshjive were the originators of the photo, but they sure seem like the first people to post it. I remain caught in between hoping the original creator of "Roll It, Lick It, Smoke It" remains blissfully unaware of their photos' descent into social media purgatory, and hoping they're happy with their images' ubiquity. Whatever the case, I hope today they have the opportunity to roll it, lick it, and smoke it—as long as they remember to light it first.
Speaking of which, if you have any hints about "Roll It, Lick It, Smoke It's" origins, drop me a line at peter.slattery@vice.com.
Related:
This Is What Happens When You Repost an Instagram Photo 90 Times
Yooo, There's a Pizza Box That Turns into a Pipe You Can Smoke With
[NSFW] Le Corbusier's LC4 Chair: Design Icon and... Porn Fixture?