Dead Man Winter Returns With Rollicking, Ambient Introspection
'Furnace,' Dave Simonett's second solo record is uplifting and intensely emotional.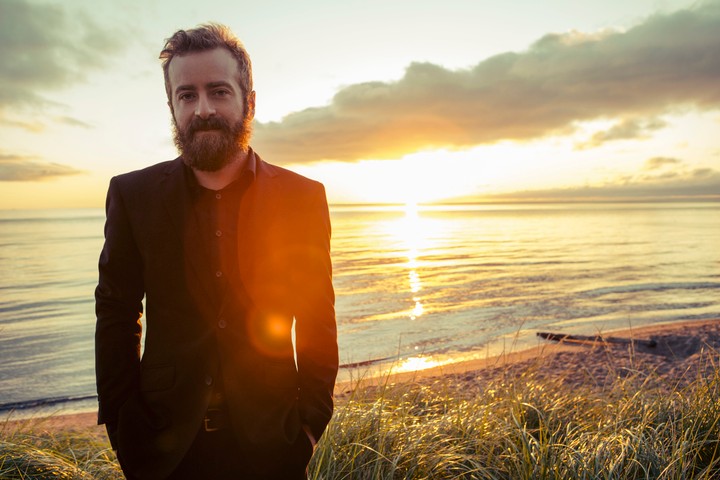 If you've listened to Trampled by Turtles, and you're here because you recognize Dave Simonett's name and want to see what his second solo release as Dead Man Winter is like, it's not what you might be expecting.
In the midst of a chaotic divorce and raising two kids, Simonett did what many people do when things get hairy and they need to clear their head: he rented a home in a small northern Minnesota town and wrote until he figured things out. The result of that is Furnace, a collection of ten songs that capture the intense emotional turmoil that happens when a relationship you built a life around is suddenly different, or gone completely. His folky singer/songwriter inflection coupled with a few moments that are downright ambient really lend itself to the subject matter of the album. It feels like the kind of album you would write if you went through a hell of a lot more than you initially thought you were in for.
He didn't set out to write an album about such deeply personal experiences. "Creatively it's not what I was trying to do but it's what happened and it's what came out," Simonett told me when I asked him his approach to writing the album. In fact at the outset, he made it a point to not write about it. But as it stands, isolation often amplifies the very thing you're trying to avoid, he found that no matter what, he somehow ended up writing about it anyway.
You can listen to it below. Furnace is out January 27, via GNDWIRE/Thirty Tigers. Preorder it here, and check out his tour dates below.
Feb 3 - Lutsen, MN - GNDWIRE Records Ski Party
Feb 10 - Minneapolis, MN - First Avenue
Feb 17 - Fargo, ND - The Aquarium
Feb 18 - Duluth, MN - Pizza Luce
Feb 19 - Madison, WI - High Noon Saloon
Feb 21 - Philadelphia, PA - The Boot & Saddle
Feb 23 - Cambridge, MA - The Sinclair
Feb 24 - New York, NY - Bowery Ballroom
Feb 25 - Washington, D.C. - The Hamilton
Feb 26 - Charleston, WV - Mountain Stage
Mar 9 - Menasha, WI - The Source Public House
Mar 10 - Milwaukee, WI - The Pabst Theater
Mar 11 - Chicago, IL - Schubas Tavern
Mar 20 - Bozeman, MT - The Filling Station
Mar 21 - Missoula, MT - Top Hat Lounge
Mar 23 - Seattle, WA - Tractor Tavern
Mar 25 - Portland, OR - Aladdin Theater
Mar 27 - Arcata, CA - Humbrew's
Mar 28 - San Francisco, CA - Slims
Mar 29 - Los Angeles, CA - The Echo
Mar 30 - San Diego, CA - Soda Bar
Mar 31 - Phoenix, AZ - Crescent Ballroom
Apr 1 - Santa Fe, NM - The Bridge
Apr 2 - Colorado Springs, CO - Ivywild
Apr 4 - Denver, CO - Bluebird Theater
Stories