The end of 2017 has become a daily and public roll call of sexual harassers and abusers across our most powerful industries. Today it was Sen. Al Franken's turn—news anchor Leeann Tweeden revealed that the Democratic lawmaker from Minnesota groped and kissed her without her consent. It's time, many people agree, for Franken to resign.
But if this nauseating news cycle wasn't bad enough, former Fox news anchor Greta Van Susteren jumped into the fray with a very helpful message: one promoting her 'Sorry' app. To which I have to say: NOT NOW, GRETA.
Lest you jump to the conclusion that Van Susteren is an ally trying to hold some feet to the fire, remember that she dismissed the woman who accused Roger Ailes (the now-ousted Fox CEO), of sexist behavior behind the scenes. (She later regretted this).

But just as problematic as Van Susteren's response to that debacle is this frickin' app she's been promoting for the past month. Advertised as a competitor to Snapchat and Instagram, the free Sorry app is based on a simple premise: People can record apology videos to the app, and viewers can choose to accept or reject their apologies. I downloaded the app to see exactly how it worked.
The videos are short and rough, ranging from a dude saying "I'm sorry for forgetting my good coat because it's really cold outside" to a woman saying "I'm sorry I don't have any makeup on" to her husband. One guy apologized for everything he did wrong (including those he doesn't remember) in his 19 years of marriage. And there's a video from Van Susteren herself welcoming her fans and saying sorry she was so cryptic about the app. These videos, it's important to say for privacy reasons, can be downloaded and shared via email, texts, etc.
After watching a video (you have to watch the whole thing), users are prompted to choose between three purple emojis that say Great, Meh, or Nope. And it's this feature that Susteren is hoping will provide some public feedback for Franken and his ilk.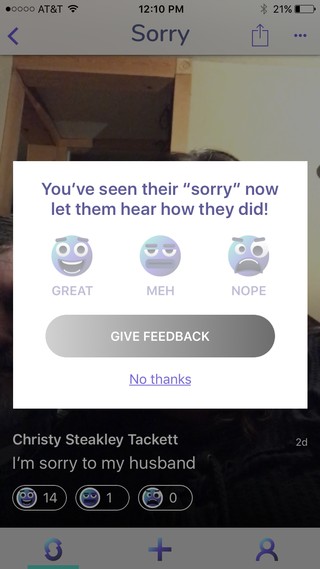 Having a spent a few minutes on this app, I can safely say this will not end the cycle of sexual abuse, nor will it provide any redemption for the victims of sexual harassment. In fact, posting a public apology amid a bunch of seemingly innocuous and irrelevant apologies seems like it would only serve to diminish the weight of this systemic disease.
Furthermore, as we've seen on Reddit and other so-called democratic social media platforms, the public court of clicks and likes is not the best way to serve justice, nor is it safe for people who have been silenced and sidelined for years, as any person who has ever tried to publicly call out instances of sexism will tell you.
I've got a hunch that Franken is not the last man we'll hear about on the sexual harassment front. So for now, it would probably be more helpful for us all to figure out how to handle these situations and prevent more harassment in the workplace. 'Sorry' Greta, none of these processes can be disrupted by an app.