The US Is the Last Country to Remain Outside the Paris Climate Agreement
Syria signed the agreement in Germany this week.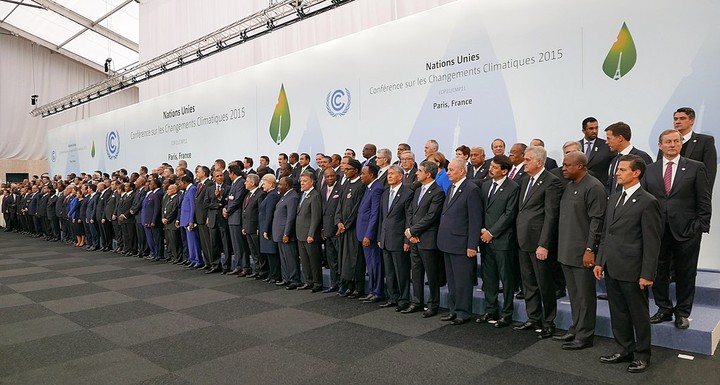 Image: Presidencia de la Republica Mexicana/Wikipedia
It's official, the US is number one. And by that I mean the only country in the world to not participate in the Paris climate accord now that Syria agreed to sign the agreement at the United Nations talks in Bonn, Germany today.
Earlier, Syria and Nicaragua had both held back from the agreement—a pact to limit carbon emissions—alongside the US, but for different reasons. Syria, as you might have heard, is dealing with a brutal civil war. Nicaraguan leaders, meanwhile, said the Paris accord didn't go far enough to address climate change concerns, but decided to climb on board in October. But President Donald Trump decided to leave the agreement*, signed and ratified under Barack Obama, in June.
Trump cited some interesting reasons for not wanting to be held to the same standards as the rest of the world. In his June remarks, he said he wanted to protect the country from "the draconian financial and economic burdens the agreement imposes on our country" and legal implications.
Read More: Are We All Screwed If the US Leaves the Paris Climate Agreement
There are actually no legally binding clauses in the agreement, and the US, under Obama, pledged less per capita to offset carbon emissions than countries like Sweden, the UK, and Japan.
Trump, who said he wanted to negotiate the terms of a new agreement, also called the US a world leader in environmental protection, and said leaving the agreement wouldn't change the country's commitment to the environment. But the US is the second largest contributor to global carbon emissions, according to organizations like the Union of Concerned Scientists. And it's home to an increasingly anti-science administration and an environmental agency official who thinks the air is "too clean."
The Paris agreement isn't perfect. Many critics say it has no teeth, since countries can balk on their commitments without repercussions. But it's also the largest international treaty to itemize and plan for collective climate change action and provide some sort of road map to decreasing our emissions. And we don't exactly have time not to be taking action.
For the US to be the only country in the world to abstain from a global climate agreement, then, is not a symbolic gesture. It's a middle finger to the entire world.
Editor's Note: While Trump announced his plan to withdraw in June, but it takes three to four years to permanently leave the agreement.