People Are Sleeping on the Street For One Night to Raise Funds for Homeless Teens
On Thursday, thousands of people will be sleeping outside as part of the national movement to raise needed funds to combat teen homelessness.
Image via Flickr.
This is part of an going series in support of the release of the new VICE Documentary Films documentary Shelter and part of VICE Impact's commitment to addressing teen homelessness.

Every November since 2011, America's largest non-profit shelter for homeless youth, Covenant House, has been hosting "sleep outs" at their locations across the country. Community leaders, business activists, and individuals who have the benefit of going to sleep with a roof over their head are all invited to spend a night sleeping on the street outside one of the shelters. After an evening meeting and conversing with the young people who've come there to escape broken homes, abusive foster situations, and even sex traffickers, sleeping bags are laid out and visitors attempt to sleep, whatever the elements.
Youth homelessness is a desperate reality for hundreds of thousands of kids across the United States, and a sobering revelation for those who choose to look at the problem. For example, on a single night in January of last year, roughly ten percent of the country's half a million homeless population were under the age of twenty-four; nearly four thousand of them were kids, unaccompanied by family, under the age of eighteen. This year, planned for the night of November 16, Covenant House developed a new event for outreach, Sleep Out America, so that even if you cannot make it to one of their shelters, you can still spend an evening outside—wherever you are—as an act of solidarity with homeless youth.
"To be in this country, with all of our resources, for kids to have no place to go is obscene," Tom Manning, Covenant House's VP of Public Relations, told VICE Impact. "When you take into account some of the places they're coming from, if they weren't coming to Covenant House, where would they go? There's nowhere else."
Founded in 1972 in New York, Covenant House shelters are now located in thirty-one cities spread across six countries (including those in Latin America). The mission, of course, is to ready the youths so that they will be off the streets for good. Since its institution six years ago, when staff members went to the kids in their shelters with the idea, the sleep out event has been an essential fundraiser to Covenant House's cause. If you're looking for way to combat youth homelessness, here's how to do it with more than just a check.
Sleep out at a shelter
Covenant House welcomes all to meet the kids that they are assisting in getting back on their feet. On November 16, at shelters across the country, people can listen to their stories and sleep out on their behalf. It's important to note that no one who participates is pretending to be homeless ("It's not a gimmick," says Manning); rather, it's an opportunity to expand one's perspective and one's empathy.
---
Check out more videos from VICE:
---
Pamela Sandonato, VP of Covenant House's Peer 2 Peer Outreach & Events, told VICE Impact that, while they are thankful for all manner of donation, getting to know the kids as individuals is at the heart of their work.
"We see that a lot of times, people do a fundraising activity that is a disconnect to the cause itself. So we're very fortunate to have people who've run a marathon on our behalf, but the amount of people who've run a marathon and stepped into our shelter is very limited. The number of people who come to sleep out spend twelve hours with us, and then the desire to return is great," she said.
"People get to the shelter around seven or eight, and they don't go to sleep until midnight. We change the conception you have of a homeless kid. He or she becomes the kid that you talked to the entire night," Colleen Veldt, who is the manager of P2P Fundraising, told VICE Impact. "You're not kidding yourself. You're not pretending to be homeless. But you are getting a very small peek into how resilient this young person must be to have made it through all of that and still walk through the doors and accomplish things and move on."
Start a Sleep Out America group
Not everyone who wishes to participate in the sleep-out can make it to a shelter, obviously. That's where the idea for Sleep Out America started. It is, more or less, a DIY sleep out: you get together some friends or co-workers (there are several kinds of groups to choose from) and sign up to promise to sleep outdoors—in your backyard, on your roof, in the parking lot of your church or company HQ—on the night of November 16. Covenant House will provide you a step-by-step tool kit to make the most of your night, and you can follow along with other participants through Facebook Live streams from across the country. While giving you some materials, Covenant House encourages you to spend the night in any way you choose, just don't mess around.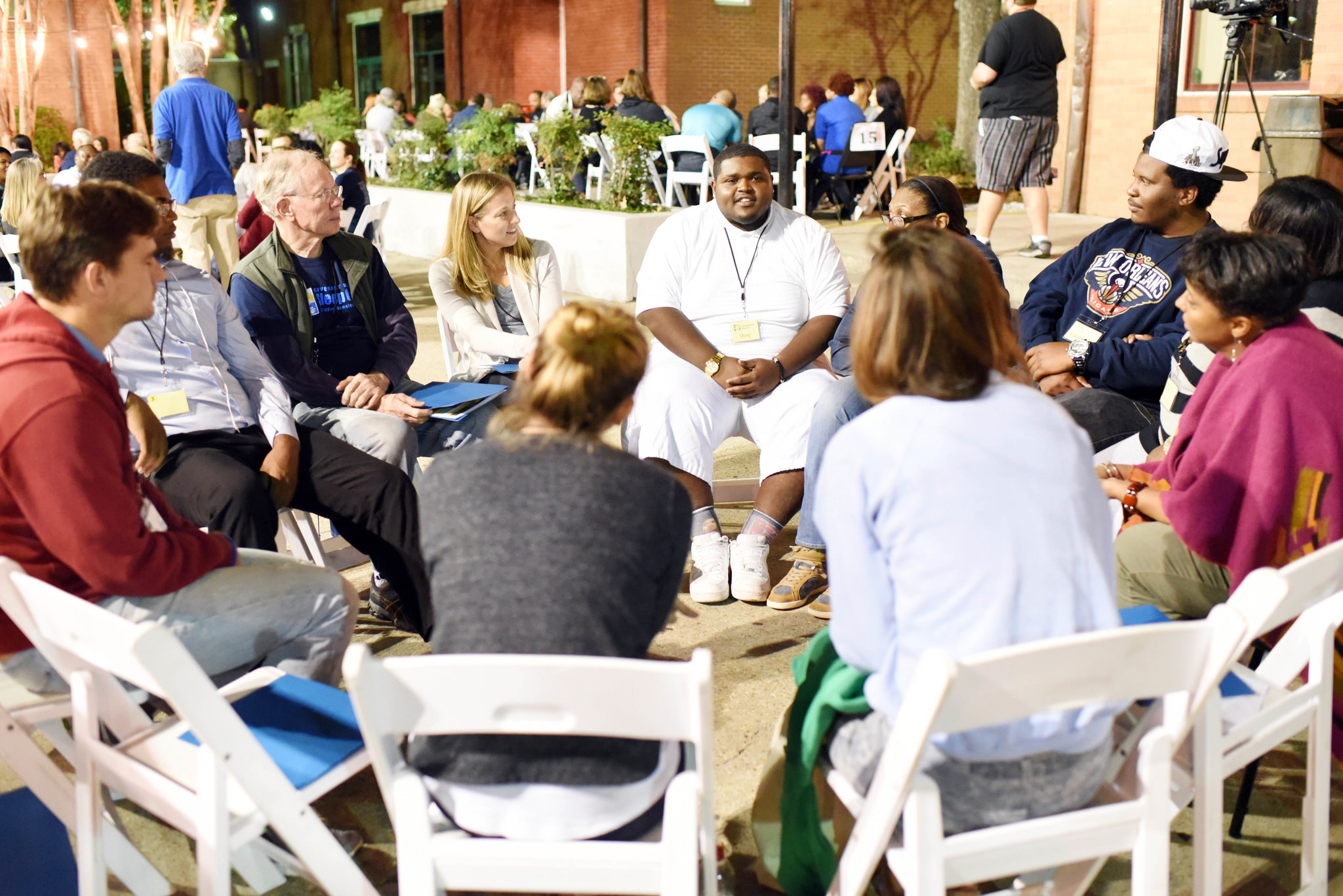 "Take it seriously. It's not a slumber party. It's not a campout. It's an activity that you're choosing to do for a really specific reason. Get to know these kids, either by watching a video or reading the material, and get an understanding that you're doing this as an act of solidarity with kids who don't have a choice, and feel empowered by that." Veldt said.
(Even if this date is too close, there are other sleep outs throughout the year, like one for young professionals which happens in March. Plan ahead!)
Join a candlelight vigil
On the night of the national sleep out there will be a candlelight vigil at locations around the country, including Times Square in New York. The vigil is a recognition of the young lives that have been lost to the streets, as well as a call to action in support of the nearly two million youths who will experience homelessness this year.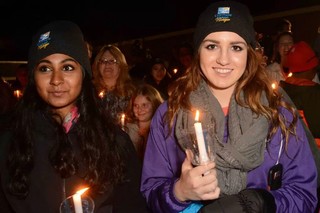 In New York, the procession will start at the Covenant House shelter on 41st Street & 10th Avenue, and will end in Times Square, where kids will tell their stories and stars of Broadway will be on hand to sing. Get in touch with your local Covenant House to see if they are participating in a vigil.
Just DIY
While Covenant House fully employs most of their staff and outreach teams, volunteer opportunities do present themselves at individual sites. You'd have to get in touch with your local shelter to see what they need, whether it be a donation of time, toiletries, baby supplies or holiday gifts. Figuring that teenagers and young adults might want some cool clothes for Christmas, one bar manager told VICE Impact that she canvassed all of the bartenders she knew, and filled up a U-Haul with leather jackets and ripped jeans. Sandonato emphasized that Covenant House welcomes these kind of creative ways to pitch in.
"We know that there's a lot of people out there who are looking to be a part of a movement. We're in the business of saying yes," she said.
Advocate
"We're at the forefront of advocacy in youth homelessness and trafficking, especially in Washington DC. As far as social activism goes, we're working on how to take this base that we get from Sleep Out America, and plot out what our next steps look like," said Sandonato.
As you might expect, Covenant House is a strident advocate for policies that assist their vulnerable population, but they focus their resources on four issues: the trafficking of minors, foster care reform, employment/education, and transitional housing. You too can be a voice for homeless youth, either by taking their advocacy pledge, or by simply making steps at a personal level.
"Even if it's talking to your employer about the hiring process; are they open to young people who might not have much—if anything—in the way of opportunity," says Sandonato. "We're looking to build a base of social activists who can talk about this population of kids."
"There's a phrase that we overuse here: the great promise of a young person's life," said Veldt. "It's able to be realized because there is a safety net and support system here. The possibility and opportunity and optimism is here. We tell them, 'You're going to go out and be a force for good. We give you a place to sleep so you can go out and change the world.'"
Combat youth homelessness by donating to Covenant House, or join or organize your own sleep out event.