The VICE Morning Bulletin
​​Trump-Putin meeting possible in Vietnam, ​regime recaptures last big ISIS stronghold in Syria, ​​Weinstein lawyers say no indictment coming​, and more.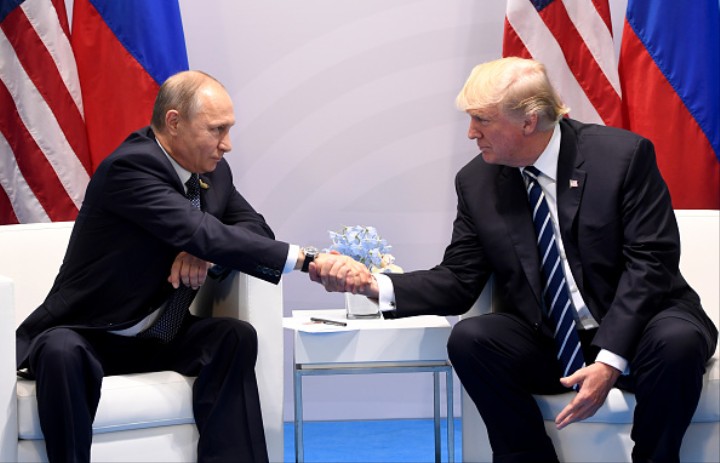 Photo by SAUL LOEB/AFP/Getty Images
Everything you need to know about the world this morning, curated by VICE.
US News
Anticipation Swirls Around Potential Trump-Putin Meet
The two world leaders could meet Friday at an economic summit in Vietnam, according to a Putin aide. The logistics of the meeting were still being hashed out, and it might not happen at all, but both Trump and Putin are slated to attend the Asia-Pacific Economic Corporation leaders' assembly.—CNBC/AP
FEMA to Offer Airlift to Stranded Puerto Ricans
In an historic move, the Federal Emergency Management Agency (FEMA) plans to make airlifts to the mainland available to those stranded in shelters in Puerto Rico. FEMA traditionally would put displaced victims of the hurricane in hotels, but hotels across the US territory were said to be completely booked, and thousands have been forced into overcrowded shelters.—VICE News
Senate Republicans to Reveal Major Tax Rewrite
After House Republicans appeared to scrap plans to target corporate tax avoidance, the Senate GOP was set to unveil its own version of "tax reform" Thursday. Among other things, that plan was expected to call for eliminating the state and local tax deduction and maintaining the estate tax, at least in part, whereas the House approach would kill it entirely.—The New York Times/Politico
International News
Trump Suddenly Warms Up to China
The president heaped praise on Chinese counterpart Xi Jinping Thursday during a two-day trip to the country. "My feeling toward you is an incredibly warm one," Trump said, adding that he would no longer "blame" China for its trade surplus—long a point of contention—appearing instead to point the finger at his own government.—VICE News
Iran Arrested Dozens of Dual Nationals
Over the past two years, authorities in Iran have arrested at least 30 dual nationals, perhaps double the figure previously revealed. Those detained are reportedly often used for leverage in international negotiations and held on flimsy espionage-related pretenses.—Reuters
Syria Recaptures Key ISIS Stronghold
Syrian government troops took down a critical ISIS stronghold this week, cutting off a route the group relied on for travel between Syria and Iraq. Now that the eastern territory, Bukamal, is in regime hands, ISIS forces only have a few remaining power centers in the country.—The Washington Post
Everything Else
Country Star Calls Trump a 'Fascist Fucking Pig' Outside CMAs
Sturgill Simpson played a surprise set outside the Country Music Awards Wednesday, busking for donations to the ACLU and calling President Trump a "fascist fucking pig." "Nobody needs a machine gun," he added, "and that's comin' from a guy who owns quite a few guns."—Billboard
Weinstein's Lawyers Say He's Not Getting Indicted
Following reports that prosecutors in New York were considering indicting Harvey Weinstein on sexual assault charges as early as next week, the disgraced mogul's lawyers said they believe their client is in the clear. "We do not believe an indictment of Mr. Weinstein is imminent," a Weinstein spokesperson said in a statement. "We strongly believe we will demonstrate that no criminal charges are warranted."—The Hollywood Reporter
Make sure to check out the latest episode of VICE's daily podcast. Today, we're taking a deep dive into the world of hacking.