Activists Will Lead a Ten-Day March from Charlottesville to Washington D.C.
Your daily guide to what's working, what's not and what you can do about it.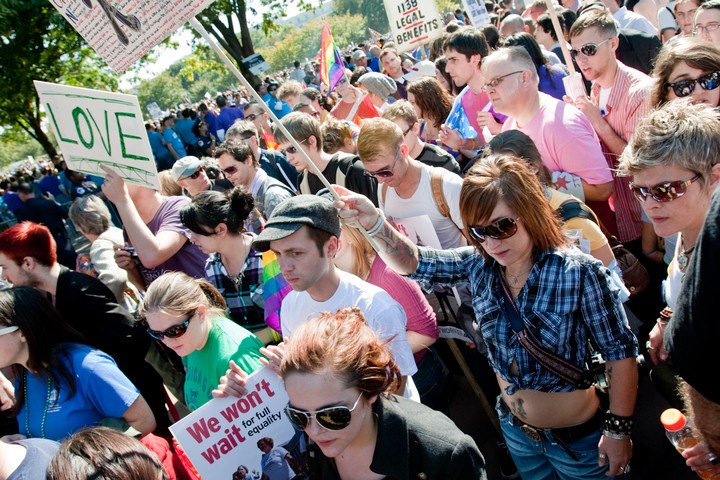 By Tony Webster from San Francisco, California (National Equality March), via Wikimedia Commons
March to Confront White Supremacy kicks off for DC: The 10-day "March to Confront White Supremacy" took from off from Charlottesville, Virginia today. As reported by Jezebel, The march is being led by a diverse coalition of activists and groups including Women's March, Working Families, the Action Group Network, United We Dream, Color of Change, and others. Once in DC, the organizing continues with a sustained civil disobedience campaign targeting President Trump. Learn more about the timeline and how you can participate.
Patriotism under siege: In July, President Trump fired off a controversial tweet banning transgender people from serving in the military, calling such service both a "disruption" and a "burden." The decree threatened an Obama-era policy that allowed trans troops to serve openly in the military, putting the livelihood of as many as 6,630 active duty service-people in jeopardy.
Despite the president's unofficial rule, the Joint Chiefs of Staff said tweets aren't policy and that the Pentagon wouldn't enforce anything until receiving implementation guidance. The Pentagon's response was a short lived victory because the president issued such guidance over the weekend. According to CNN, the memorandum also bans the Department of Defense from providing medical services to trans people currently serving.
Transgender rights need to be protected now more than ever. If you want to stand against this injustice, the Center for Transgender Equality has several ways for anyone to get involved. And check out this piece from Broadly about how one trans soldier is reacting to Trump's new ban.
---
Check out some more video from VICE:
---
Justice be damned: Arizona Sheriff Jeff Arpaio was stripped of his badge of 24 years after he was convicted of criminal contempt for defying a 2011 court order against racial profiling. In July, a US district court judge found Arpaio guilty of illegally detaining people that he suspected were undocumented immigrants without proof, which could have landed him in jail for up to six months along with a hefty fine. However, President Trump made good on his word from his rally in Phoenix earlier in the week where he hinted at pardoning Arpaio's crimes before the sentencing even took place.
The president took to Twitter to announce the news over the weekend stating, "[Arpaio] kept Arizona safe." It's worth noting that Arpaio was a vocal Trump supporter during his presidential bid and Trump even thanked him after he won the Arizona Republican primary. Critics of the president's move say that although it's completely legal, this is a blatant disregard of judicial authority. Top Republicans, including House Speaker Paul Ryan and Arizona Sen, John McCain, expressed their disapproval.
Stop sign: Uber has been called out for having a culturally insensitive workplace with accusations of sexism and sexual harassment. Uber's problem with inclusivity is an issue that the tech industry in Silicon Valley has been struggling with for a while. Recently, the company has tried to rehab its image by taking on more diversity initiatives such as selecting a female CEO, though apparently there weren't any women interested in the job, and donating to female-empowerment philanthropies like Girls Who Code has brought some backlash.
Not everyone's buying Uber's new commitment to gender-equality—one such organization is Black Girls Code. Last week, founder of the non-profit Kimberly Bryant turned down $125,000 from Uber, claiming that the donation appeared to be a PR stunt. Bryant told TechCrunch, "I've been open to the notion that they can transform themselves. Yet their past history and 'political' nature of maneuvering is and was troubling."
Down another player: President Trump's deputy assistant Sebastian Gorka is the latest in a string of White House appointees to be unceremoniously dismissed. Gorka has been a controversial member of Trump's team given accusations of Islamophobia and his lack of expertise in Middle-Eastern foreign affairs as a supposed counter-terrorism adviser. Also, Gorka, a London-born US citizen of Hungarian parents, was linked to nazi-affiliated far-right groups in Hungary—which he's denied.
In his resignation letter, Gorka felt bitter about getting axed, stating that #MAGA promises have been "undermined" in recent months. The White House countered with a different side of events that made Gorka out to be incompetent at his job saying, "Sebastian Gorka did not resign, but I can confirm he no longer works at the White House."