The VICE Morning Bulletin
Manafort offered "private briefings" to Russian billionaire, Hurricane Maria cuts all power in Puerto Rico, North Korea compares Trump to barking dog, and more.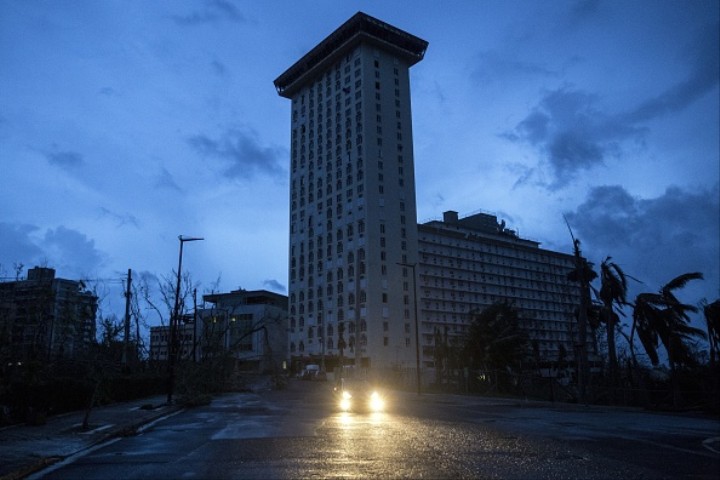 A building left completely without power in San Juan, Puerto Rico, after Hurricane Maria made landfall September 20. Photo by Alex Wroblewski/Getty Images
Everything you need to know about the world this morning, curated by VICE.
US News
Hurricane Maria Cuts All Power on Puerto Rico
The entire US island territory has been left without electricity after the Category 4 storm struck it hard Wednesday. The National Weather Service instituted a flash-flood warning for the whole of Puerto Rico Thursday morning, urging residents to "move to higher ground NOW!" Emergency official Abner Gómez Cortés said, "Once we're able to go outside, we're going to find our island destroyed."—NBC News
Manafort Offered 'Private Briefings' on 2016 Campaign to Russian Billionaire
Former Trump campaign chairman Paul Manafort was reportedly willing to present information on the US presidential election to wealthy Russian businessman Oleg Deripaska. One of Manafort's July 2016 emails, obtained by special counsel Robert Mueller's team, revealed that "private briefings" were floated for Deripaska, a previous Manafort client with ties to the Kremlin.—The Washington Post
SEC Reveals Cyberattack on Company Filings Database
The Securities and Exchange Commission was hacked last year in a breach to its computer system that could have led to illegal market trading. The agency's chairman, Jay Clayton, said "actors have managed to access or misuse" the filings database that stores financial details public companies are required to disclose.—CBS News
Trump Now Open to Renegotiating Iran Nuclear Deal
The president is open to tweaking an Obama-era agreement with Iran over its nuclear development program rather than canceling the thing completely, according to administration officials. One serious option in the mix is to let an October 15 deadline pass without approving Iran's performance, giving Congress 60 days to decide whether to reintroduce sanctions and exacting pressure on Tehran.—The New York Times
International News
Rescuers Search for Missing Schoolchildren in Mexico City
On their second night of search efforts, rescuers attempted to free a schoolgirl whose moving fingers could be seen in a pile of debris. One official said the girl, known as Frida Sofia, indicated other children may still be alive under the rubble of a school in Mexico City. Officials in the capital said 52 people had now been pulled alive from collapsed buildings. At least 245 people have been killed by the magnitude 7.1 quake, and some 2,000 more hurt.—AP
Buddhist Nationalists Try to Cut Supplies to Rohingya Minority
Demonstrators in the Myanmar city of Sittwe hurled gas bombs at Red Cross charity workers to prevent them from packing up 50 tons of international aid bound for embattled Muslim communities. Police officers fired above their heads to break up the crowd, made up of hundreds of Buddhist nationalists. Eight people were arrested.—Reuters
North Korea Dismisses Trump After UN Speech
North Korean foreign minister Ri Yong-ho slammed President Trump's warning that the US was prepared to "totally destroy North Korea." "If he was thinking about surprising us with the sound of a barking dog, then he is clearly dreaming," Ri said in his country's first acknowledgment of the speech, adding, "I feel sorry for his aides."—BBC News
Iraqi Troops Attempt to Seize Hawija from Militants
Government soldiers have begun a push on the ISIS-held town of Hawija in northern Iraq, according to Prime Minister Haider al Abadi. It follows a separate operation to clear ISIS fighters from the western Anbar Province, launched two days ago.—Al Jazeera
Everything Else
Hurricane Relief Benefit Raised $55 Million
The recent Hand in Hand telethon raised a grand total of $55 million for residents impacted by Hurricane Harvey and Hurricane Irma, organizers Scooter Braun and Bun B revealed. Money will be allocated to various charities by Comic Relief USA.—Billboard
Amy Poehler Working on New Netflix Series
The star is collaborating on a new eight-episode comedy with Orange Is the New Black actress Natasha Lyonne and the writer and director Leslye Headland. Lyonne will star as the guest at "a seemingly inescapable party one night in New York."—Rolling Stone
MSNBC Host Apologizes for Eight-Minute Rant
Lawrence O'Donnell said he was sorry after the release of dark outtakes from his show—in which he kept yelling "stop the hammering!"—were released. The host tweeted: "A better anchorman and a better person would've had a better reaction to technical difficulties."—The Huffington Post
Ty Dolla $ign Drops New Tracks, Album Details
The rapper released two new songs, "Dawsin's Breek" and "Message in a Bottle," from his forthcoming album Beach House 3. Dolla $ign also shared the LP's cover art and release date: October 27.—Noisey
'Sabrina the Teenage Witch' Gets Dark Makeover
Producers at the CW are reportedly developing a new version of the classic sitcom entitled The Chilling Adventures of Sabrina. Roberto Aguirre-Sacasa, best known for Riverdale, is heading up the ostensibly edgy rethink.—i-D
Almost One in Five Students Think Violence Against Speakers Is OK
A new study by the Brookings Institution found 19 percent of college kids think violence against a campus speaker making "offensive" statements is acceptable. Forty-four percent of respondents said hate speech wasn't protected under the First Amendment, even though it generally is.—VICE
Stories