Nestled amid the hills on the northern Japanese island of Hokkaido, the small town of Shimokawa—a rural community focused around the local lumber mill and dairy farm industries—may seem an unlikely breeding ground for ski jumping legends. But is largely thanks to Shimokawa, and the other small towns surrounding the nearby city of Nayoro, that Japan has produced some of the greatest jumpers in history, placing them fourth in the Olympic ski jump medal count behind just Norway, Austria, and Finland.
When you visit Shimokawa, it's easy to see why. During the long winter months, young hopefuls gather amid the snow covered pine trees to hurl themselves off nearby hills, gliding gracefully through the crisp air as they hone their takeoff skills. When snow eventually turns to greenery during the brief summer months, artificial matting is laid down to form a makeshift course. The motivation for many of these jumpers is provided by the southern city of Sapporo, a contender to host the 2026 Winter Olympics.
But when asked for their inspiration in the sport, one name, out of all the Japanese ski jumping luminaries, crops up over and over again.
"Kasai."
Slightly built and long haired, with the boyish grin of a much younger man, 45-year-old Noriaki Kasai is Shimokawa's favorite son. Most of his competitors at this Winter Olympics, where he and Japan finished sixth in the men's team event, were not even born when he began his Olympic story at Albertville 1992. Now, Kasai is eyeing his ninth Games in Beijing 2022. "It's not a matter of trying," he told reporters, this week. "I will definitely be there. I watched the others win medals and it fired me up. I can still keep going and I can still win medals. I am by no means finished."
This kind of statement may seem wildly optimistic. Even more so when you consider that Kasai competes in one of winter sport's most daredevil events, one where most jumpers retire in their early 30s having either lost the willpower to maintain the impeccable flexibility needed to achieve the longest jumps, or become psychologically frayed at the prospect of concussion, broken bones, or worse which can result from mistiming a landing.
But Kasai has always done things his own way.

"I was born in 1972, the year Sapporo last hosted the Winter Olympics," he told Vice Sports. "Japan won many ski jumping medals that time, so it was perhaps my destiny to become a jumper. In Shimokawa, the snow means that we ski much more growing up, compared to other sports. It is a passion there. But I succeeded in all sports as a child. If I had tried another sport instead of jumping, I probably would have been successful too."
Such was Kasai's prowess at the event that he made his first World Cup start at the age of 16. His trademark fearless approach, risking life and limb in both practice and competition, soon landed him the nickname of "Kamikaze Kasai."
"I have a strong will, which is very important to be a good ski jumper," he says. "But over the years I have had many injuries. I would risk everything, I twice broke my left shoulder, I've had problems with my knees. As I've got older, I've had to cut down on training to keep going."
One of the most remarkable aspects of the Kasai story is how he completely remodeled his technique mid-career to keep pace with the evolving rules and regulations of ski jumping. The Kasai who became world champion in 1992 and claimed silver at the 1994 Olympics in Lillehammer, was distinguished by his extraordinary style, whereby his body would be held flat as he soared through mid air, with his skis almost resting behind his ears.
"People called me 'Dumbo' like the elephant in Disney," Kasai smiles. "But then they changed the rules."
By the 1990s Japanese ski jumpers had established themselves as among the best in the world due to their slighter builds, allowing them to fly further than many of their European competitors. But the authorities were concerned that these advantages were pushing many jumpers to starve themselves to lower weights. And so in the early 2000s, regulations were introduced regarding technique and equipment which necessitated ski jumpers to rework their basic biomechanics, a bit like a gymnast having to relearn their twists and leaps completely from scratch.
If I had tried another sport instead of jumping, I probably would have been successful too.
By that point Kasai, then in his early 30s, was believed by all to be a spent force. The 1998 Winter Olympics in Nagano was supposed to be the crowning glory of his career. Ranked in the world's top three going into the competition, Kasai had been tipped for gold in front of his home fans.
But in the 1990s, Kasai was known for putting vast amounts of pressure on himself, gambling everything to try and finish first. At times he would use too much power, a high risk strategy in an event where holding to form is everything, to try and reduce wind resistance and fly further. "I often failed," he admits.
In Nagano, a disappointing seventh place finish in his opening event, the normal hill competition, saw the Japanese team decide to omit him from his favored large hill and team events. In his absence, Japan claimed gold in both. Robbed of the chance to win a medal at a home Olympics, Kasai was distraught. "It was the hardest moment of my career," he says. "I didn't think I would be the same athlete again. But then these regrets became my greatest motivation."
Still, by 2002, Kasai appeared to be on the verge of retirement. Ranked 51 in the world, he came in 49th at the Salt Lake City Winter Olympics. But then after spending years back home in the hills where he grew up—slowly, painstakingly, reworking his basic method of jumping, Kasai would rise again.
In 2014, at the age of 41, Kasai was once again ranked third in the world, his highest ranking since 1998, becoming the oldest jumper to win a World Cup event when he claimed victory at Bad Mitterndorf in Austria. Remarkably, he produced arguably the finest performance of his career, to claim individual silver in the large hill event at the Sochi Olympics, losing to Poland's Kamil Stoch, a man 15 years his junior, by a mere 1.3 meters.
"My success with age is simply due to my will to continually improve," Kasai says. "Even now, at 45, I hate to lose even though it has happened to me over and over again. I think it's great to be competing with these young jumpers, even though some of them weren't born when I started. I have always tried to learn something from my competitors, whether it's Matti Nykanen (the Finnish four-time Winter Olympic gold medallist) who was at the top when I started, or Gregor Schlierenzauer (the 28 year old gold medallist in Vancouver)."
A relentless desire to learn, combined with a few superstitions, are key to the Kasai story. For him, his distinctive bright gold helmet serves as his lucky charm. "I had my helmet specifically designed to be this color," he says. "Yellow is lucky for me. So while this helmet is only worth around 300 euros, because of the color it is worth ten times as much to me. I would be devastated if it was ever stolen."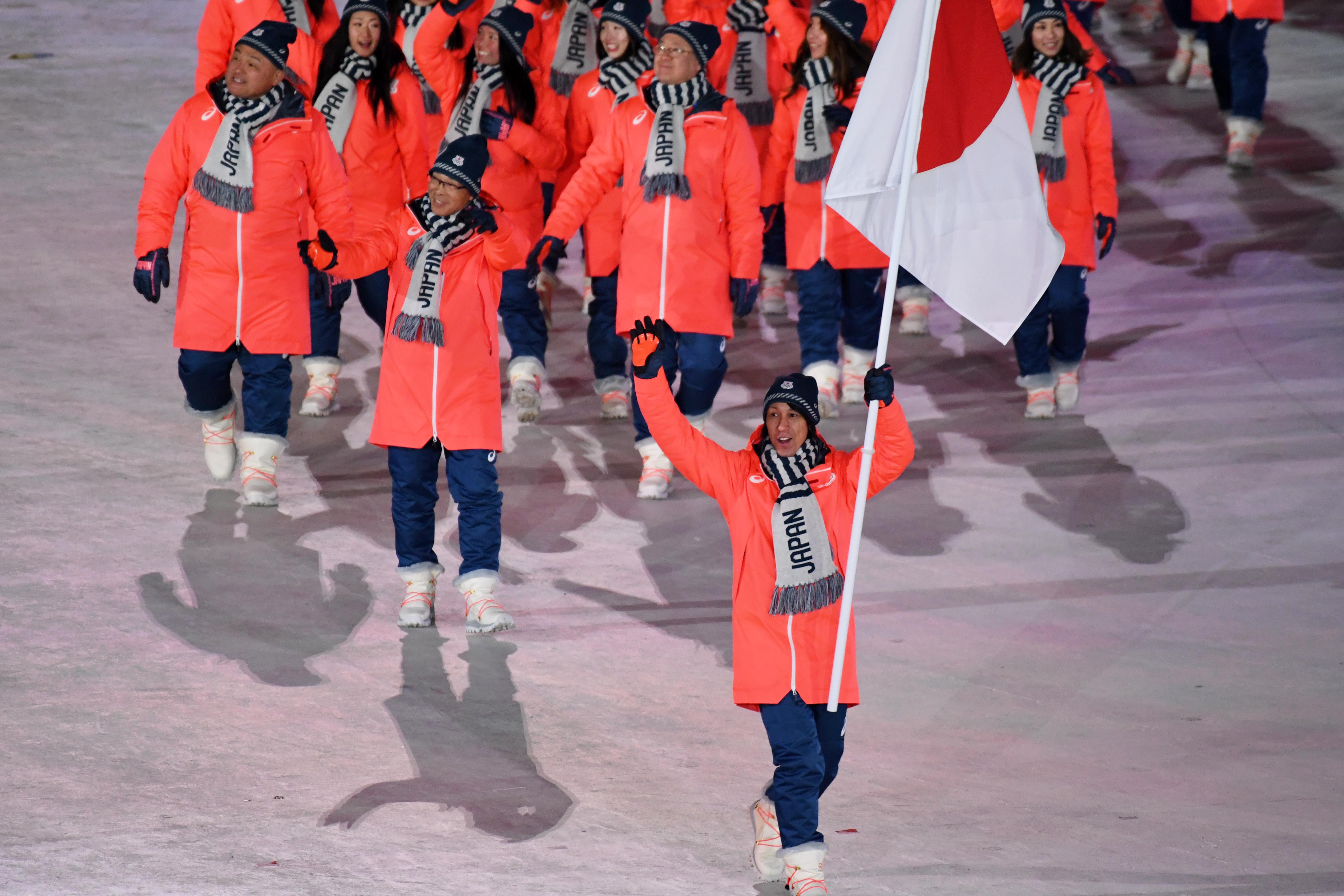 Now, as Kasai continues to compete, the records continue to fall. Not only has he competed in more Winter Olympics than any other athlete, he is the oldest ski jumping medallist at the Games, and has competed in more than 500 World Cup events, more than any other athlete. His longevity has made him a cult icon in countries far away from his native Japan. In Poland, a rap song has been recorded about his feats, while in Finland, a punk band has dedicated a track to Kasai.
But characteristically, Kasai has his sights set on yet more milestones. "I've been competing in World Cups for 29 years now but I still feel like a 20 year old. I do the same training regime as the young jumpers and I haven't changed that in 30 years. So while 500 starts is a good number, but my favorite number is 6 so I consider 500 as a midway point. It's definitely not the end. I now want to reach 600 starts. If I'm going to hold the record for most starts, it might as well be one which nobody can ever beat."
Like the young jumpers in Shimokawa, Kasai even has his eyes set beyond Beijing, and on 2026, particularly if Japan can bring the Olympics back to Sapporo. "When I turned 40 I thought I would continue jumping until I'm 50. But now this is only another 5 years. Right now I'm thinking of continuing jumping for another 10 years till I'm 55."
However, even for Kasai, qualifying for an Olympics in his mid 50s would not be easy. He admits that for the first time, he began to feel some of the signs of age as the strain of trying to reach PyeongChang mounted. "It's amazing to have made an eighth Olympics but I put a lot of pressure on myself in the process of trying to qualify for the team," he says. "I'm more mentally exhausted from thinking so much for months and months on how to improve my form. More than anything, I'm trying to stop myself from overthinking."
But driving him on towards a ninth and maybe even a tenth Olympics, is the burning desire to not just compete but win a medal in front of his young family. Since Sochi, he has married and now has a 2-year-old daughter. "The only medal I have never won in my career is an Olympic gold," he says. "It's a wish which is still there. I want nothing more than to see my daughter see me win a medal with her own eyes."