In 2014, The New Yorker published a short article about the then 32-year-old director Josephine Decker under the headline "A Star Is Born," following the theatrical release of her second feature film, the critically praised experimental thriller Thou Wast Mild and Lovely. In the past four years that star has only been burnished, culminating with the premiere of her third feature, Madeline's Madeline, to enthusiastic reviews at Sundance last month and again at the Berlinale last week.
As with Thou Wast and her first feature, Butter on the Latch, which follows two female friends from Brooklyn on their trip to a Balkan arts camp in the Californian countryside, Madeline's Madeline skirts genre. It is a coming-of-age story, of sorts, with Madeline (Helena Howard), a Brooklyn teenager just home from an in-patient stay to treat an undefined mental illness, finding her footing in an experimental theater troupe. The time frame is short, however, and intensely focused on Madeline's relationships with her mother, Regina, and her theater troupe director, Evangeline.
Regina (Miranda July), a single mother, frets over Madeline's eating habits and prescription medication; she is overprotective and fragile and doesn't know how to talk to her daughter, sometimes exploding into a nearly violent state. Lofty Evangeline (Molly Parker) is taken with Madeline and her mesmerizing acting talent, pushing her despite being aware of her not-totally-sound mental state. This spirals into problematic territory as Evangeline changes the troupe's improvisational work into an expressionistic group retelling of one of the teenager's dreams, in which she envisioned burning her mother with an iron.
The chasm between mother and daughter is never really bridged, ending instead with an inflamed monologue that transforms into a Sleep No More-style physical performance in which the whole acting troupe winds up in the street in grotesque pig heads. Howard is biracial, and the film deftly touches on the complicated racial dynamics of the mother-daughter relationship without ever pushing it into the spotlight. Howard, who is 19, absolutely smolders in this role. Already a critical success—it was voted one of the best films at Sundance in IndieWire's annual critics survey—Madeline's Madeline seems poised to be the vehicle credited with introducing us to Helena Howard.
As the Berlinale drew to a close this weekend, I sat down with Decker to talk about convincing July to take on her role, getting work made that's focused on female characters and mental illness, and directing complicated films in an industry shaken up by #MeToo and Time's Up.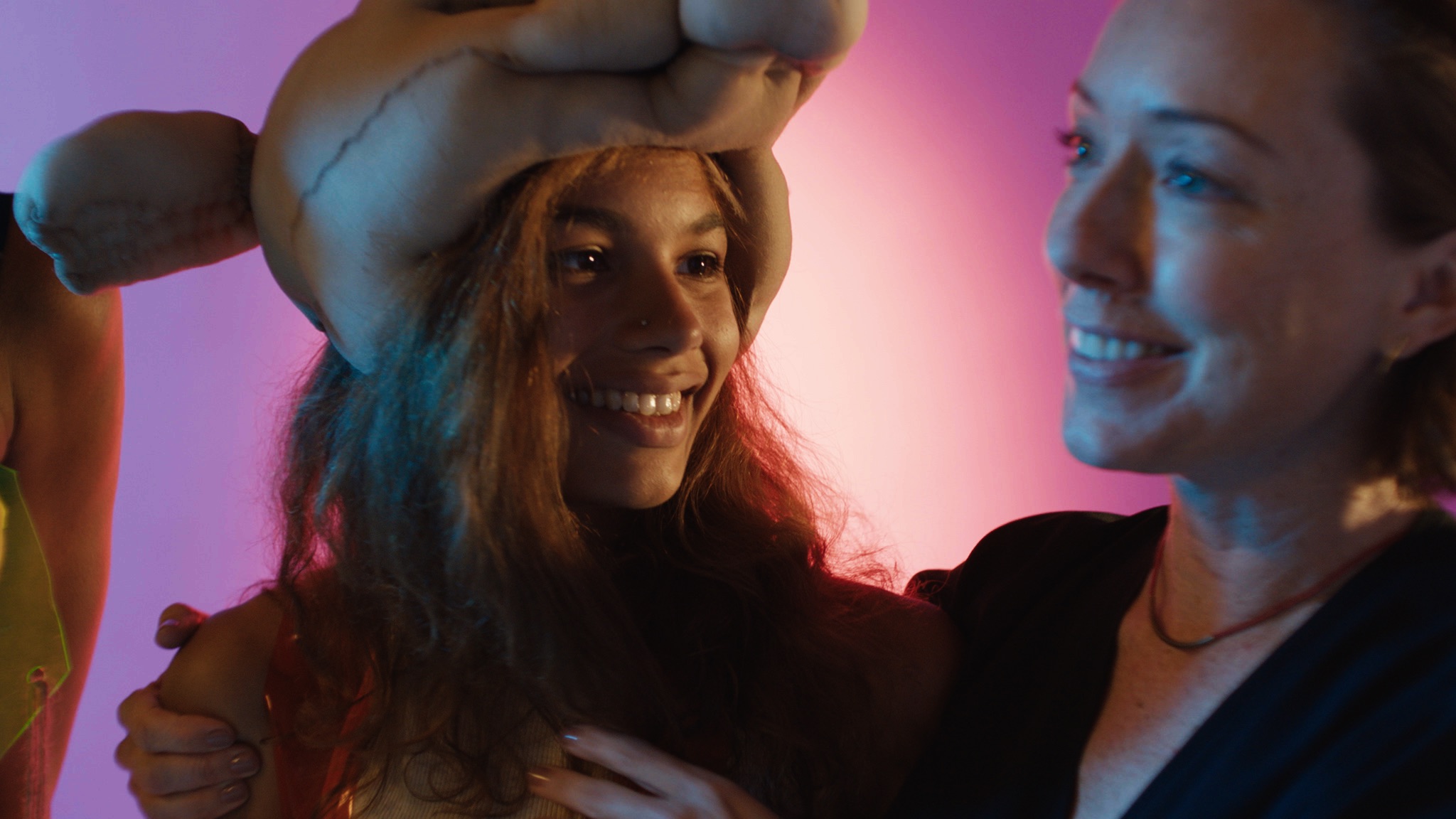 BROADLY: This was an unusual role for Miranda July. How did you get her involved?
Josephine Decker: I had to kind of beg! I didn't tell her this at first, but I really knew that we had to get to her personally. Nothing was going through agents. I was scrounging around for a way to get in touch with her. I walked sadly into my roommate's room in New York, and was like, "Agh, we're never going to get Miranda July, and I just need her email address." And she said, "Oh, I won a prize from her in 2004, I think I still have her address."
So I wrote to her, and she responded, "Oh, I don't really know about acting, and I don't really have that much time, I'm working on my own art, but maybe we can meet for a coffee and talk about it." And she's in LA and I'm in New York. I was on the phone with my boyfriend when I got that email, and I realized: I think she thinks I'm in LA. I asked, "Should I just say yes?" And he said, "You should just say yes and buy a plane ticket." So I bought a ticket at one in the morning to fly out at seven in the morning.
Even with July on board, was it hard getting a movie made about women and mental illness?
The way this movie came together was so complex. I will not proclaim it to be easy. I think it was really helpful that my last film, Thou Wast Mild and Lovely—I think that people just liked it. And white men, who are still handing out all the money, really liked that very sexy movie. We actually have an amazing team of investors and people who really believed in this project, and gave me so much creative freedom. I feel like for my first three films I had a lot more freedom than I'll probably have coming towards me. When the budget gets bigger, the freedom gets smaller.
It was really funny being in Sundance. We had such a diverse crew of all-female department heads, and every executive producer is a white man. And they're great fucking white men! They invested in this movie and gave me all this freedom. They're perfectly awesome. But I was like, Wow, the money still lives in one place. And I think that's true not just of my film, that's true in all of Hollywood. The money's still trickling out down to us from them, despite all the changes. Luckily there are some good ones. And actually, they were pretty excited about the film. To speak to their generosity, I don't think any of them were like, "We need to make our money back on this." I think they were getting into it to support the art.
"As storytellers, it's kind of on us to sort of reshape the way older women are identified in cinema and give them stories."
Your main characters represent an interracial mother-daughter relationship. How did you go about addressing that so subtly?
My partner is African-American, and I think it feels natural for me to depict a family that looks like that, because that's how I envision my own family looking eventually. I think this whole film, in a way, is about how do you tell a story that's not your experience? But when you're writing, you're drawing from the things you know well, and the things you feel you can live inside of.
It's so funny, meeting Helena and being close to her for four years. I think that the really natural, kind of organic relationship that developed between us, that probably to some degree is reflected in the dynamics of the film. It wasn't something that needed a bunch of commenting on — these are two people relating to each other, and growing up together, and they have different experiences of their lives, for sure. I think race is related to that. On a deeper level, the things that are more present in their relationship are their codependency and the complicated issue that arises when a mother is raising a kid more or less on her own, and how much anxiety is wrapped up in that. That kind of overprotective relationship turning into something that's really chaotic and dangerous for both parties.
What has your experience been like in the film industry, after the emergence of the #MeToo movement?
I remember talking to Miranda about it, after the election. We were talking about how you keep on going doing the things that you're doing in an environment where you're thinking , I should drop everything and be an activist full time. I'm speaking to the election, not necessarily #MeToo, but I think they're related. We also were talking about how, more than ever, it's important to be a female artist, speaking from and to her own experience.
I think it's the #MeToo movement, but also the crystallization of things before that. When Hillary wasn't elected, I know that I thought, Oh, there's a huge misunderstanding in our culture about mothers. I was thinking about what a complex relationship I have with my mom, what a complex relationship everyone has with their mom, how much resentment [there can be], and how I think culturally, especially as Americans, we have a real lack of respect and love for our older women. I think it's a problem. As storytellers, it's kind of on us to sort of reshape the way older women are identified in cinema and give them stories. There are just not that many stories about them. So I think when we experience one, we put all of our weird crazy shit onto them.
I think women are activated. Even more than people [simply] care now, it's that women feel more and more deeply empowered to push these stories forward, I think because there's such an obvious cultural stake to it.
Do you think there is or will be a shift in the way that push is received, in terms of audiences or the people controlling the money?
I hope so. It seems like that's starting to happen. But I also saw a really haunting Dave Chappelle show that came out on Netflix, where he was like, "Yeah, women, great, you're having your moment now. Remember when we had our moment, when we got released from slavery and then there was Jim Crow 20 years later? They're going to come for you. White men have a lot of power, and they're going to come for you, and it'll be insidious and it'll be invisible.' And so, you know, I don't have a lot of illusion. In a way I think that's what's happening with Trump now. We had Obama, and then we had Trump, and that's not an accident.
I do hope that power switches, but I am always concerned about a story of progress. As we look toward a narrative of the progress women are making, and the progress that we can make in the future of cinema, we need to be wise about the invisible ways that that progress is being held back. And I think honestly, that is why #MeToo is blowing up, because this has been invisible. And the narrative of progress of women isn't complete if we ignore this.