Everybody who was voted into the 2017-18 NBA All-Star game is a great basketball player. Each one lifts their team in a unique way that reflects the value of their respective skill-set, while simultaneously stomping all over their opponent's spirit. Nobody who's on this list is bad at what they do for a living.
But in the wise words of Russell Westbrook, there are "All-Stars" and there are "All-Star All-Stars." Tiers still exist within the group of 24 who made it, and what follows is my attempt to rank them off one simple question: "Who is the best player at this precise moment in time?" Past performance weighs in a tiny bit, but the majority of this evaluation is more about the first 45-50 games of this season than anything else.
It's not a mock draft or a look at the 24 best players in the world (otherwise Chris Paul and Kyle Kuzma would easily crack it), and it's always nice to remind everyone that whenever comparing a bunch of players it's impossible to separate them from everyday roles, supporting personnel, and whoever happens to be their coach.
The list is based on myriad statistics and countless hours of observation, but is also very much not scientific and exists more as a thought exercise than anything else—an end-of-January snapshot that tries to illustrate who the best of the best of the best currently is out of a special pool made up of 24 special players that are headed to All-Star weekend.
So without further ado!
---
1. LeBron James
This isn't LeBron's best season, and the pieces around him are as bad as they've been since he first spurned Cleveland for the Miami Heat. But it's still so silly to argue for anyone else in this spot. James hovers over the rest of the NBA; physically, he's somehow still up there with anyone. He can swat floaters off the glass, snatch (and slam) seemingly uncatchable lobs from the sky, dominate entire stretches at any position, in any role he wants, and make Jeff Green look like a good basketball player.
James remains the best, and that's after you ignore his age and how unprecedented all he's doing in his 15th season truly is.
2. James Harden
This spot could go to Steph Curry or Kevin Durant and that'd be fine. Harden gets the nod here just because he's having one of the best individual seasons the league's ever seen, on the second best team, with way more responsibility on his shoulders, while sharing the backcourt with another ball-dominant force.
Harden leads the league in scoring and usage rate while assisting nearly 45 percent of his team's baskets when on the floor. (For a quick reference, the only players who posted assist rates of at least 45 percent last year were Harden, Russell Westbrook, Chris Paul, and John Wall. I mean...this is legendary stuff.) He's a master at throwing pillow-soft lobs while running full speed towards the hoop, or snaking a pick-and-roll, emptying the backside and gifting whoever set the screen with a perfect drop pass.
Yes, his defense isn't great and Houston's system and roster could not be more complementary to Harden's strengths. But he's doing things no player ever has before as the MVP front runner (and lone All-Star) on a legitimate championship contender.
It's fun to imagine how Durant's numbers would look like if he switched places with Harden tomorrow, still operating with so much space but having the ball in his hands far more than he currently does. That'd be a success, but Harden is the superior passer; we already know how effortlessly he involves and lifts everyone else around him, regardless of how the defense tries to guard him. The only player in recent times who's on his level is LeBron, arguably the greatest player who ever lived.
3. Steph Curry
So, yeah, it turns out Steph Curry is definitely not declining. He leads the NBA in offensive and overall Real Plus-Minus, with a True Shooting percentage that's somehow reached where it was two seasons ago (a league-leading 66.9), before Durant entered the frame. A career 50 percent shooter from the corners, Curry is actually down to 34.1 percent right now, which is by far an all-time low. Once that number regresses to the mean, we might be looking at a two-time MVP who's somehow better than ever. (He's also shooting over 60 percent on long twos. For anyone else that'd demand a standing ovation. For Curry, nobody bats an eyelash.)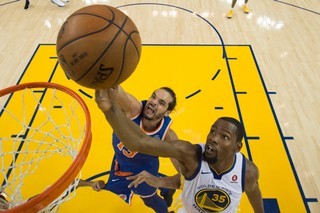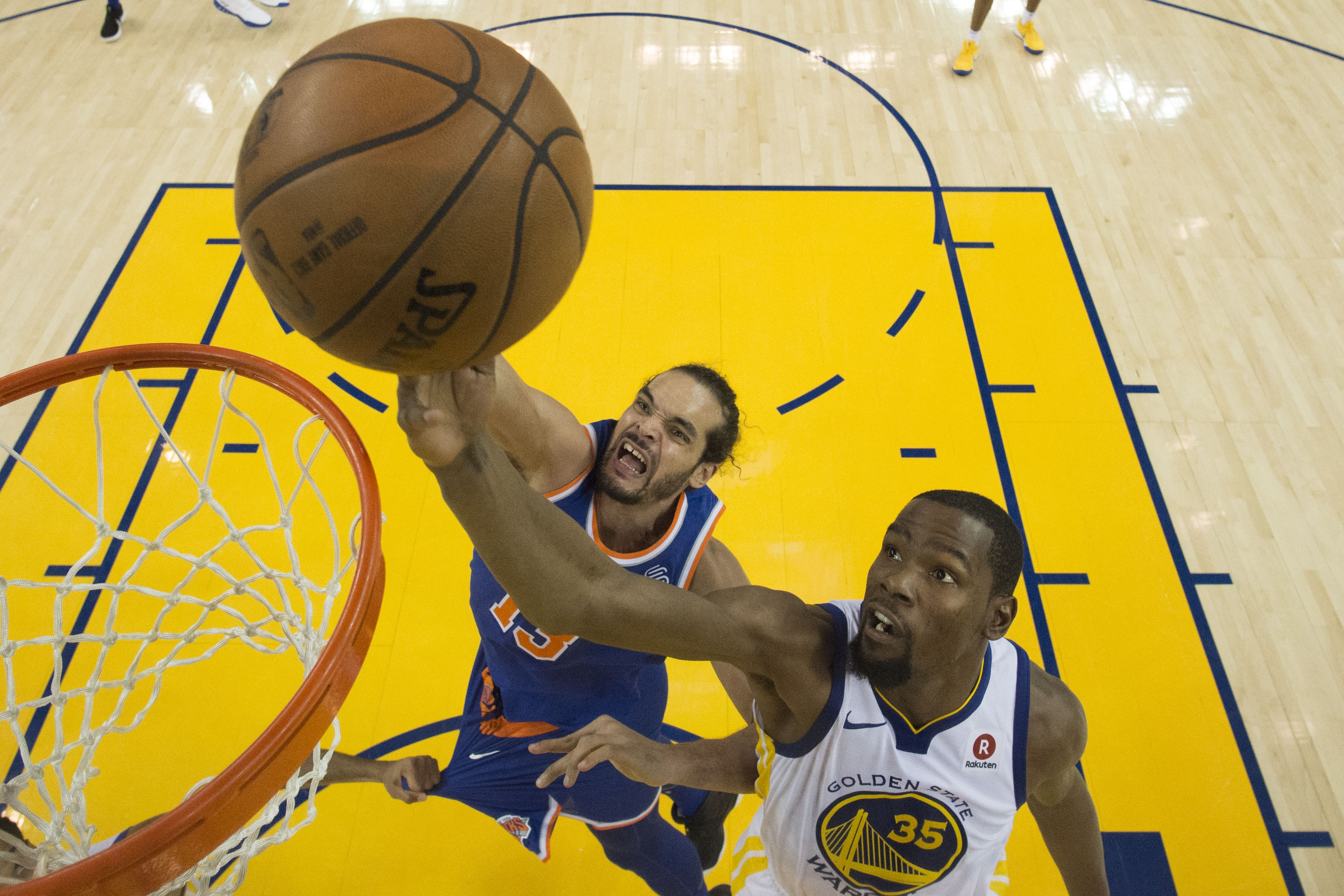 4. Kevin Durant
I'm not sure what the flaws in Durant's game are right now, and, again, lumping him in with the two guys ranked ahead is fine. Unlike anybody mentioned above, Durant is going to make an All-Defensive team this season, and probably garner some votes for Defensive Player of the Year. The Warriors are starting to run more pick-and-rolls with him and Curry than ever before, and any offense that has Durant on the floor is dangerous by nature.
5. Anthony Davis
Davis could/should/will be number one on this list someday soon. Watching him drag a questionable supporting cast to a playoff berth in the Western Conference while essentially only needing to play a game of checkers against teams that are sweating through four-dimensional chess is comedy. The Pelicans have adopted an uptempo playing style that gives Davis plenty of opportunities to attack, be it with a quick post-up, drag screen, or simple rim run.
Davis just sort of does what he wants. His one-dribble pull-ups are unguardable. Lobs anywhere near the basket are magically converted into two points. There is no strategy to slow him down, which is terrifying after you realize he's yet to find much comfort behind the three-point line and doesn't try as hard as he can at all times on the defensive end. If he played for, say, the Chicago Bulls, Davis' name would be on the tip of everybody's tongue at all times.
6. Giannis Antetokounmpo
Much like even the liveliest prose can't wholly describe a beautiful sunset, no numbers can make Giannis Antetokounmpo look more impressive than he is when you just watch him play.
In-between blips of frustration in a half-court setting (remember: he just turned 23!) that are caused by mental mistakes and a still-developing jump shot, is a tidal wave of dominance. The Bucks hardly have any three-point shooters and yet Antetokounmpo still finds a way to attempt over half his shots at the rim. Defenders duck under screens praying he'll pull up, or that they can meet him on the other side before he waltzes through the paint to unfurl his fruit-roll-up arms at the basket.
The qualities that make Giannis great really make him great. But the most obvious flaws, plus his team's general struggle, keep him out of the top five. For now.
7. Jimmy Butler
Sometimes—when his fadeaway turnarounds are falling, he's taking charges, getting pick-six steals, and nobody can box him out despite it being the 45th minute—Butler looks like the best player in the world. He's an energy guy who evolved into a superstar but never forgot how critical it is to work harder than the other nine players on the court every second you're in the game. He's like Marcus Smart, if Marcus Smart could score whenever he wanted.
Butler's impact in Minnesota has been obvious. He's taking smarter shots, contending for an All-Defensive team, and has helped elevate one of the NBA's losingest franchises into a stratosphere they've only reached once or twice in their history. If this list were ranking two-way players, he'd be in the top three.
8. Russell Westbrook
Westbrook is not perfect. He chases stats, bricks seven out of every 10 three-point tries, struggles to co-exist with talent that exists in the same ballpark, and prevents modern principles from influencing how his team can/should operate. Counterpoint: He's also the most ferocious player in the league, who, despite those aforementioned shortcomings, will probably average another triple-double—the backlash to which is understandable and something I happen to agree with, but, like, it's also completely fine to marvel at something nobody else has done/can/will do—for a team that's headed to the playoffs.
9. DeMar DeRozan
He's finally the best player in Toronto, which is what that team has low-key always needed if they seriously want to think about emerging from the East.
10. Kyrie Irving
He's an aesthetic pleasure with an endless collection of counters, and counters to those counters (and counters to that counter's counter), that transport him wherever he wants on a basketball court. Guarding him on the perimeter must feel like undoing a Russian nesting doll made entirely from Rubick's cubes.
The Celtics' grow dull when he sits, and even though—as owner of the team's highest usage percentage—he's contributed to their frequent stagnation by morphing some of the free-throws and threes they enjoyed a year ago into pull ups from the mid-range, Irving's nightly magic act is powerful enough to assuage even the most genuine concern that they own the NBA's worst offense in their last 15 games.
11. DeMarcus Cousins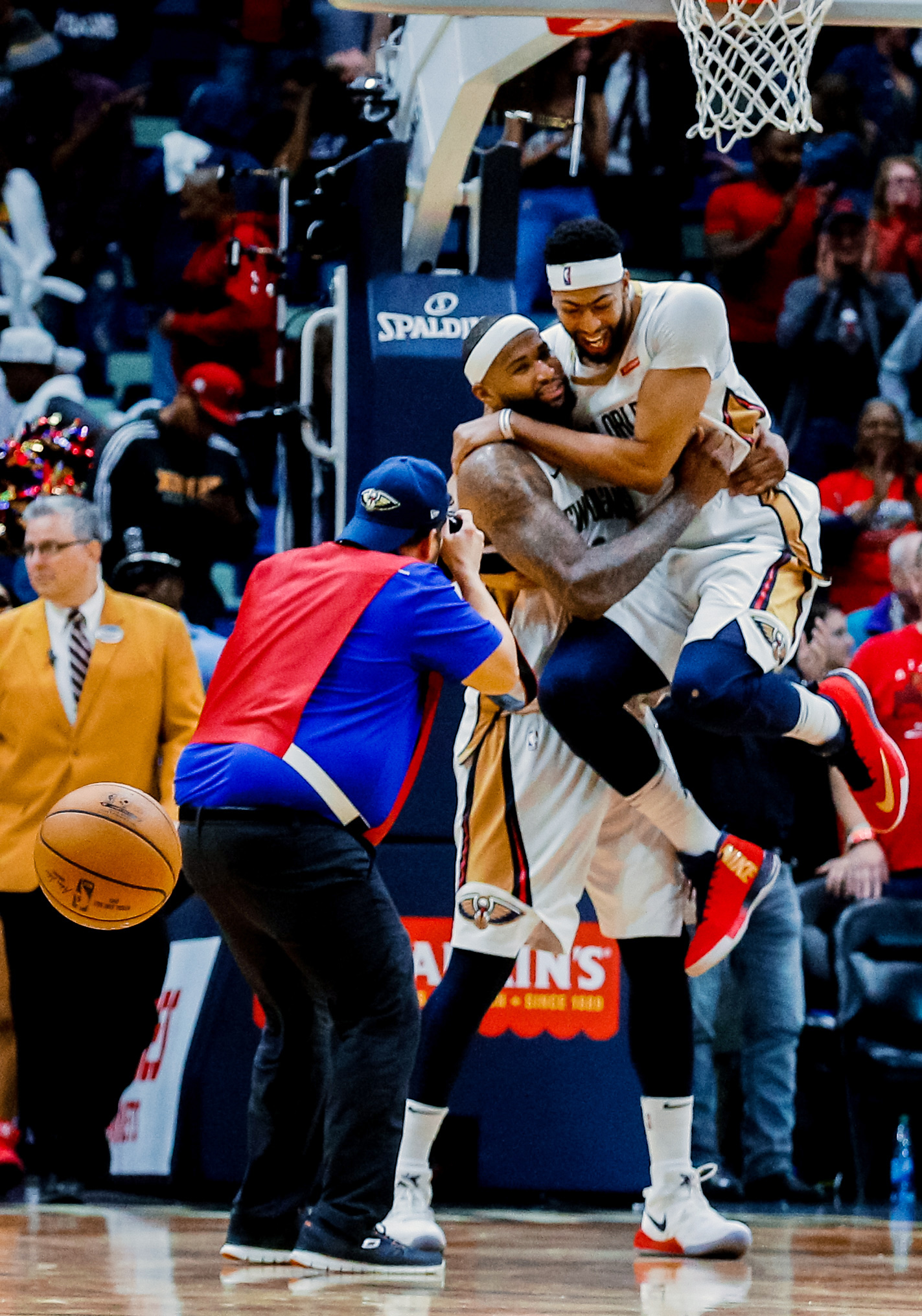 The numbers are insane. The three-point shots, the belligerent drives, the bold passes, the intimidating success when he's on the block. It's all madness. Here's a list of everyone who ever averaged 25 points, 13 rebounds, and five assists per game for an entire season. All that's keeping Boogie from joining them are 0.1 rebounds. If he had the same mindset, will, and attitude as Butler or Westbrook, he'd be the greatest big man who ever lived.
12. LaMarcus Aldridge
The Spurs are the definition of competence once again, and Aldridge is their best (healthy) player by a wide margin. He's been as prolific and dominant with his back to the basket—whether the defense helps or not—as anyone, and according to Synergy Sports is shooting 71.7 percent on put-backs (which is great). There are several reasons why it feels like San Antonio has not skipped a beat in Kawhi Leonard's absence, and "LaMarcus Aldridge" should be credited as at least two of the top five.
13. Klay Thompson
We'll dive deeper into this conversation when Draymond Green comes up, but what would Thompson's role be in a different setting, if he had to do much more than spray three-pointers at will and cut to the basket? What if he instead worried about setting teammates up, running pick-and-rolls, getting to the free-throw line, or creating his own offense?
This question is less interesting to me than it is for Green because Thompson's historically relevant trait (being the second-best shooter who ever lived, nbd) would matter regardless of where he played. Plop him on the Miami Heat or Denver Nuggets tomorrow and his gravity combined with the ability to guard the opposing team's first option every night would instantaneously make both teams dramatically better. His game is so devastating and more translatable than what Green (who is great!) brings to the table.
Long-held maxims that apply to 99.99999999999 percent of everyone who's every picked up a basketball don't matter for Klay. You know how coaches like to say "defense travels"? What's out of a player's control are nights when jump shots don't want to go in. But effort and awareness on the defensive end can be as consistent as they want it to be.
With Thompson, even in the ultra-rare game where his shot doesn't fall for four straight quarters, the opponent will never not think his next one is good. That treatment positively impacts everyone around him, whether he has the ball in his hands or not. It's special. He's the King of complementary pieces.
14. Kyle Lowry
One of my favorite signature NBA sequences takes place every time Kyle Lowry sprint dribbles up the court, surveys the defense, and the jacks up a shot two feet behind the three-point line. This is unfathomably difficult, but somehow Lowry makes it look casual. His game is kind of like a scuffed diamond, and I mean that in the most endearing way possible.
15. Karl-Anthony Towns
Forget about his 40 percent three-point shooting, the reliable double-doubles, or fact that he never, ever gets injured. When Towns starts doing stuff like this even more often than he already is, it's officially time to hide the children.
16. Joel Embiid
The good news for Joel Embiid is nobody can guard him one on one. Back off and he'll can a soft jumper that feels like a favor but is actually a set up. After the first two go in, he'll pump fake, catch his defender in the air, and take off for the rim with a first step that's simply unfair in a body that humongous.
The bad news is he turns the ball over a ton whenever defenses double team him down low. But Embiid is too perceptive a player for that flaw to linger as a long-term concern. The bottom line is that 66 games into his career, he's already an extremely high-usage weapon who provides the impact of a Defensive Player of the Year candidate when stalking the back line. In so many ways it's a miracle he's already this high on this list, and if he can stay healthy there's no reason why he won't be in the top 10 for years to come.
17. Kristaps Porzingis
Did anyone think Porzingis would lead the league in blocks this season, even after he ranked sixth in block rate a year ago? He currently has 12 more than Anthony Davis, who's in second (in 134 fewer minutes!). That's nuts. Even better is New York's opposing field goal percentage when Porzingis is near the rim, or how teams don't even try as many shots when he's on the floor, always lurking with a field goal post strapped to his shoulders.
The high-usage blitzkrieg from the mid-post has tailed off of late, though. And while he's finally pick-and-popping defenses into submission, and growing in areas that indicate he's almost a lock to become the first option on a very good team someday, Porzingis hasn't shown the ability to make anyone around him better.
An above-average point guard may eventually ease the burden he's yet to assume—those low assist numbers are quite bad—but we aren't there yet.
18. Damian Lillard
Lillard's game-changing range will always be a cool thing. As most defensive schemes are designed to keep the ball away from the middle of the floor, Lillard has the quick-twitch ability to run a pick-and-roll on the left side and still get to his right hand for a deadly pull up (of which he's knocking down 39 percent on more attempts than anyone except Harden and Paul.
He's trying harder on defense this season, and Portland is above-average on that end when he's on the floor for the first time since Aldridge, Nicolas Batum, Robin Lopez, and Wesley Matthews were his teammates. There aren't any obvious reasons to put him higher on this list and it's increasingly difficult to slot him further down.
19. Bradley Beal
It's almost odd that it took Bradley Beal six years to make his first All-Star team, particularly with worse numbers than what he had entering last year's break. Oh well. This dude has always been very good. So much more than a pretty jump shot, the 24-year-old is sneakily athletic and so much stronger than he appears.
Beal has always been a catch-and-shoot nightmare, but has steadily evolved into someone who can create space on the perimeter and finish through contact at the rim. Look how bored he is after conquering Mt. Biyombo.
I express more excitement whenever I don't spill any water on the counter trying to fill up my coffee maker in the morning. Beal is beyond surprising himself.
20. Victor Oladipo
Context is key when comparing Victor Oladipo and Paul George, but let's go ahead and have a look anyway. To the surprise of literally everyone, including Nate McMillan, Kevin Pritchard, and Oladipo's extended family, the former second overall pick is slightly more efficient than the four-time All-Star, with a stronger net rating and higher usage rate.

Welcome to this season's great Cinderella story. Oladipo is one of the most efficient isolation and pick-and-roll scorers in the league right now, with subtle pocket-pass nuance that resembles a younger, smaller Harden. The Pacers are excrement without him, and have their best offense in nearly 15 years when he plays. He's shooting 40 percent on just over three pull-up threes per game (same as Irving) and among all players who drive the ball at least ten times every night, his field goal percentage is only 0.5 percent lower than Antetokounmpo's.
If you need to take a minute and pour yourself a glass of water, I completely understand.
21. John Wall
Wall sometimes looks more like he's speed-skating around a hairpin turn than whirling around a big man to attack the rim. He is lightning. A true pick-and-roll maestro who puppeteers second-line defenders with his eyes, battles power forwards in the post, and turns the open floor into his very own moon bounce.
There's so much to love, but injuries and general, um, I don't know, malaise (?) have made this year feel like a relatively disappointing stretch of Wall's career. Every time he misses a pull-up jumper at the right elbow (that the defense wanted him to take) it serves as a harsh reminder that this guy never learned how to knock down threes at a decent rate. He's currently 13 percent below the league average from the mid-range and eight percent under the league average from above-the-break.
He isn't finishing at the rim as well as he normally does and there just haven't been as many "oh my god!" moments or performances as one might expect. He's still very awesome and an athletic marvel, but as most of his colleagues are rounding out and improving their games, Wall appears to be standing still.
22. Al Horford
There aren't many players who influence nightly matchups the way Horford does. He's a cure-all elixir for Brad Stevens, a gifted defender who habitually makes scoring against the Boston Celtics one of the hardest things to do on a possession-by-possession basis in today's NBA. How many players can switch between Embiid and Ben Simmons without any help? How many centers can take a defensive rebound the length of the court and then orchestrate a backdoor layup on the fly by whipping a one-handed bounce pass off a live dribble?
Horford is 31 and having the most efficient and important season of his career. His assist rate and True Shooting percentage have never been higher. He's shooting the ball as well if not better than any center ever has, for a team that's been down an All-Star shot-creator all year and goes from a top-five offense to well worse than the 30th ranked Sacramento Kings based on whether or not he's in the game. He's a lighthouse for all the young pieces on Boston's roster. They don't gamble or foul nearly as often when he's on the floor.
All the little ways he impacts winning are rising-sun dependable, and those who judge him off box score stats alone either can't appreciate all the indirect ways Horford consistently makes life easier for everyone around him, or too lazy to recognize them in the first place.
23. Draymond Green
Defensive instincts, physicality, and passion are traits that help make Draymond Green an indispensable part of a great team. The Warriors go from being one of the best defensive groups in the league with Green on the court to a run-of-the-mill bunch when he sits. Even though his intensity is understandably 10 percent below what it's been in past years on a night-to-night basis, there are still hundreds of moments from the past few months that encapsulate how special, and rare, he is.
Here's one from a recent loss to the Houston Rockets. After the Warriors trap Harden, Green needs to rotate off P.J. Tucker in the corner to cut off the release valve, Clint Capela. This is typical stuff, and what a normal defender in Green's position would do is rush over and force Capela to either put it on the floor, shoot, or kick it out to the open shooter.
It's different against Green, who subconsciously probes approximately one million data points in 0.3 seconds in order to execute the game plan. Anyone who expects Capela to take a dribble on this play might as well ask him to breathe underwater. Green suffocates him on the catch and contests a pass he knows is coming. His fingertip deflection gives Shaun Livingston plenty of time to rotate over and block Tucker's shot. It's perfection.
Golden State's offense is slightly better when Green isn't in the game, but they hum when he's out there. Unselfish, intelligent, adaptive, and outwardly confident at all times. He's a winner, and perhaps no player in basketball has maximized the opportunity provided by his situation more remarkably.
But the age-old conversation about the 27-year-old continues to this day. While acknowledging his positive impact and irreplaceable value, it's fair to wonder how effective he'd truly be on a team that not only has three other players on this list, but three other players who're all already headed to the Hall of Fame. Even with them providing open shots and passing/driving lanes that could fit a BMW, he's an inefficient, low-usage, high-turnover fourth (sometimes fifth) option.
The vaunted Death Lineup, made possible by Green's ability to slide up to the five, is getting shredded this season; Golden State has actually been a bad basketball team when he's at center. That's more strange than a legitimate concern, but still worth noting, given how transcendent those groups have been.
In the end, Green enjoys more space than any playmaker ever has in the history of the sport—and deserves credit for not squandering it. But relative to everyone else here, a majority of them facing much harsher nightly challenges than Green, he has to take a bit of a tumble.
24. Kevin Love
Mix a possibly phony illness with Cleveland's toxic work environment, then sprinkle in some horrendous defense and all the different trade rumors he constantly finds himself in, and what do we make of Kevin Love right now?
He stretches the floor, knows how to draw fouls, and has positive qualities (i.e. half-court passing) that turn to vapor beside LeBron James. Love is a pick-and-roll target every night, with permanent defensive warts that he can't do anything about. But he's also a steady presence on a team that badly needs his consistent production.
There are valid arguments against him going to Los Angeles, but still plenty of positives to take away from how he's played this season, in a thankless role as one of the 20 most skilled offensive players in the world. That said, there's a reason why the Cavaliers wanted to trade him for Paul George.