MAGA-Dress Singer Files Sexual Assault Complaint Against Corey Lewandowski
Joy Villa filed the legal complaint days after accusing Trump's former campaign manager of touching her inappropriately during a photo op.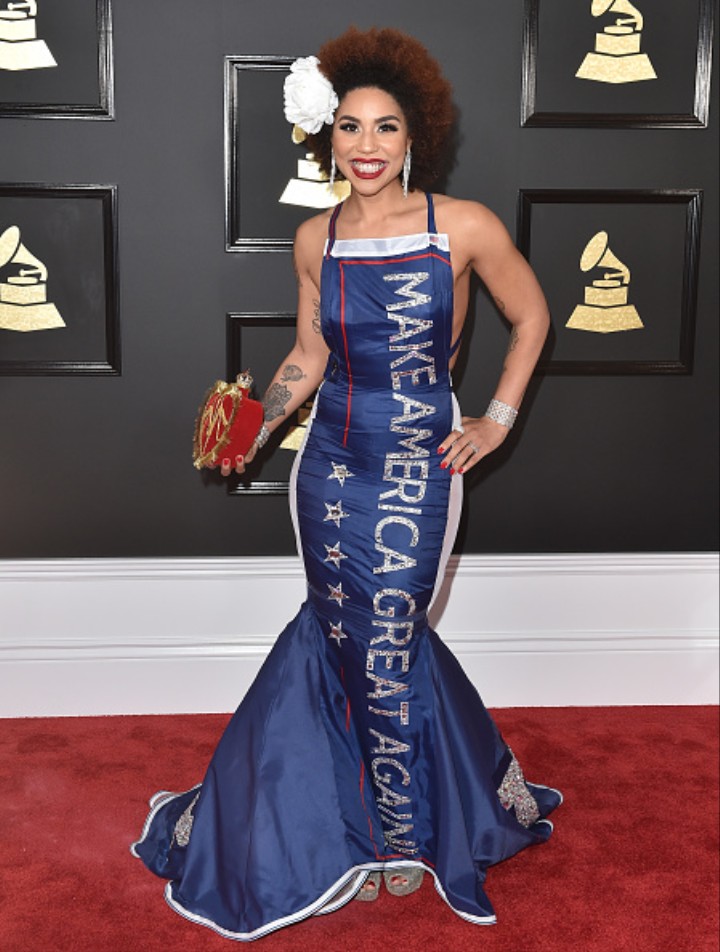 Recording artist Joy Villa attends the 59th GRAMMY Awards at STAPLES Center on February 12, 2017 in Los Angeles, California. Photo by Axelle/Bauer-Griffin/FilmMagic
Days after Joy Villa detailed her account of former Trump campaign manager Corey Lewandowski touching her inappropriately during a photo op, the singer and congressional hopeful said she has filed a formal complaint about the alleged incident.
"I did nothing wrong," Villa told the Associated Press. "I realized if he's not going to respond or apologize to me, I think it's the right thing to do."
The Trump supporter who once wore a MAGA dress to the Grammys told the AP she's planning to meet with Washington detectives next week to discuss an alleged incident in which Lewandowski touched her inappropriately at a holiday party at the Trump International Hotel in November. Villa told Politico, after meeting Lewandowski, he rolled his eyes at the suggestion that they take a photo together, but ultimately posed alongside her.
"I'm wearing this silver suit and stretchy pants, and after the photo, he smacks my ass really hard," Villa told Politico. "It was completely demeaning and shocking."
After telling him that she could report him for sexual harassment, Villa said Lewandowski responded, "'Go ahead, I work in the private sector.' Then he smacks my ass again."
Lewandowski—who was accused of assaulting a female Breitbart reporter during the campaign, but was never prosecuted—has not yet commented on the allegation. According to Politico, the former campaign manager has remained close with Trump and could be considered for a West Wing job in 2018. He reportedly just attended a White House meeting with Trump about the 2018 midterm elections.
Villa, who's received the president's encouragement to enter politics, told the AP she was "initially fearful to come forward." She said the cops told her that her allegation could be considered sexual assault and was classified as a misdemeanor.
"It was the most ridiculous thing I have ever experienced. It was shocking and gross," Villa told Politico. "It's how every woman feels when she is sexually harassed."