The VICE Morning Bulletin
Record Pennsylvania snowfall prompts emergency, US Homeland Security reaches dozens of countries, Hamas says US wants Palestinian capital in suburb, and more.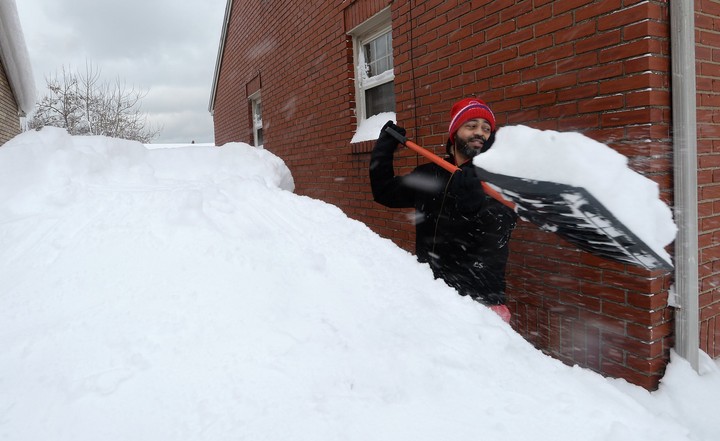 Patrick Harden clears snow from the roof of his car on Tuesday, December 26, 2017, in Erie, Pennsylvania. Photo by Greg Wohlford/Erie Times-News via AP
Everything you need to know about the world this morning, curated by VICE.
US News
Emergency Declared as Erie Sees Record Snowfall
Officials in Erie, Pennsylvania, declared an emergency, and cops urged residents to stay indoors after 34 inches fell on Christmas Day. According to the National Weather Service, 62.9 inches of snow have fallen in the area since the storm began Sunday.—CNN
Homeland Security Now Active in 70 Countries
The US agency reportedly has 2,000 employees operating in 70 different countries, a growth that has prompted accusations of overreach from foreign leaders. One German politician said the US had shifted its "immigration controls to European countries." The Homeland Security assistant secretary for international engagement, James Nealon, explained: "Many threats to the homeland begin overseas, and that's where we need to be."—The New York Times
Three Cities Sue the Pentagon Over Gun Background Checks
New York City, San Francisco, and Philadelphia are suing the Defense Department for its failure to, at least in some cases, enter the criminal convictions of military personnel into the FBI-administered background check system. New York City's lawyer Zachary Carter claimed the Pentagon had "shirked its legal obligation" and said the suit was aimed at fixing "a broken system that puts lives at risk." —VICE News
Virginia Halts the Drawing of Lots for State House Seat
The Virginia State Board of Elections suspended a plan to choose the winner of its House of Delegates contest at random after Democrat Shelly Simonds moved to mount a legal challenge. Simonds was at one point judged to have won by a single vote, but the electoral board then decided a ballot originally deemed ineligible would count for Republican David Yancey, tying the race.—The Washington Post
International News
Sick Evacuated from Rebel-Held Area in Syria
Ambulances have begun taking those in need of medical help from the besieged area of Eastern Ghouta to government-controlled Damascus, according to the International Committee of the Red Cross. Among those receiving treatment were sick women and children, some of whom required high-level surgery. —BBC News
Gunman Said to Take Hostages at Moscow Factory
At least one person was killed after an assailant opened fire with a gun at a pastry factory in the Russian capital Wednesday. An unknown number of people at the factory were said to be held hostage, and police attempted to communicate with the gunman. One Russian news agency reported that two people had been injured in the attack.—Reuters
Hamas Says US Wants Palestinian Capital in Suburb of Jerusalem
Ismail Haniya claimed the US proposed Abu Dis, a village on the outskirts of Jerusalem, become the capital of an independent Palestinian state. Haniya said the location had been offered to the Palestinian Authority as part of a peace deal, and that a bridge linking Abu Dis to the al-Aqsa Mosque in Jerusalem's Old City had been suggested.—Al Jazeera
North Korean Missile Chiefs Face New Sanctions
The US Treasury has imposed sanctions on Kim Jong Sik and Ri Pyong Chol, claiming the two have been leading players in Pyongyang's development of ballistic missiles. Russia, meanwhile, has offered to act as intermediary between the US and North Korea, according to a Kremlin spokesman.—AP/Reuters
Everything Else
Corey Lewandowski Faces Sexual Assault Allegation
Singer Joy Villa has filed a complaint with Washington's Metropolitan Police Department after asserting that Donald Trump's former campaign manager "slapped my ass" twice at an event in November. Villa described the incident as "disgusting and shocking and demeaning."—AP
Kanye Gave Kim Kardashian Corporate Stock for Christmas
Kim Kardashian has revealed that Kanye West gifted her stocks in Disney, Netflix, Apple, Amazon, and Adidas. The Disney stock alone was reportedly worth around $100,000, according to details on the certificate she shared on Instagram.—Billboard
Mark Hamill Regrets Criticizing 'Star Wars' Characterization
The actor has apologized after suggesting he was not entirely happy about Luke Skywalker's gloomier incarnation in The Last Jedi. "I regret voicing my doubts & insecurities in public," Hamill tweeted, praising director Rian Johnson for making an "all-time GREAT" movie.—Deadline
El Chapo's Lawyers Claim Lack of Funds
A lawyer defending Sinaloa cartel boss Joaquín "El Chapo" Guzmán claimed his team is "insufficiently funded… to be properly prepared." Eduardo Balarezo asked that the Brooklyn federal court trial, set to begin in April, be delayed until next summer.—VICE News
First Act of 'Hamilton' Posted on Porn Site
Twitter users noticed that the entire first act of Lin-Manuel Miranda's acclaimed musical has been uploaded on Pornhub. The bootleg video was entitled: "REVOLUTIONARY TWINKS HAVE HISTORICAL FUN."—VICE
Utah Senator Thanks Newspaper for Dubious Honor
Senator Orrin Hatch said it was a "great Christmas honor" to be named as "Utahn of the Year" by the Salt Lake Tribune. Hatch failed to realize the paper's editorial was intensely critical, attacking his "utter lack of integrity."—VICE News
Make sure to check out the latest episode of VICE's daily podcast. Today we explore some holiday hangover cures.