Trump Just Fired the Rest of His HIV/AIDS Council
Six members of the council publicly resigned earlier this year.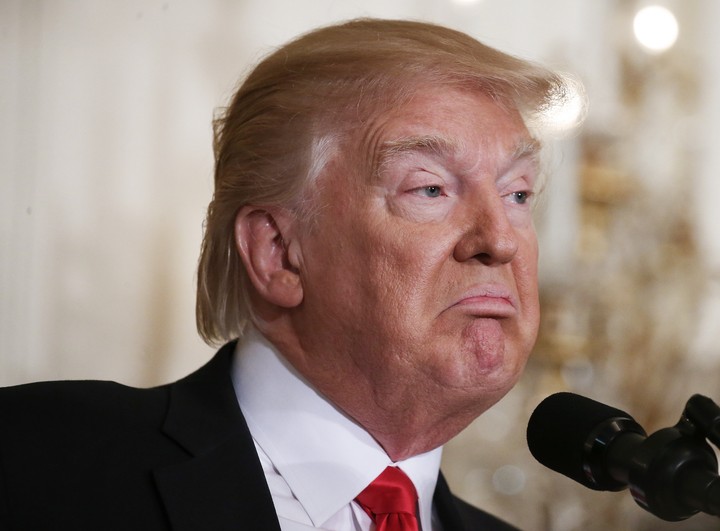 Mario Tama/Getty Images
President Trump has fired the remaining members of the Presidential Advisory Council on HIV/AIDS (PACHA), reportedly breaking the news with a letter delivered by FedEx. The dismissals come just over six months after six members of the 16-person council resigned, publicly declaring they could no longer effectively work "within the confines of an advisory body to a president who simply does not care." No explanations have been offered for the firings.
PACHA was created in 1995 to provide advice, information, and recommendations to the Secretary of Health and Human Services. It aims to promote effective treatment, prevention, and the eventual cure of HIV and AIDS; it provides ongoing feedback and recommendations about the National HIV/AIDS Strategy, which guides the federal response to the epidemic.
The blueprint was created by White House Office of National AIDS Policy in 2010 and revised in 2015. Under Trump, however, members of the council were frustrated; the six who resigned in June said the administration has "no strategy" for dealing with HIV/AIDS, "seeks zero input from experts," and "pushes legislation that will harm people living with HIV," as well as undercutting vital research into the disease.
Now the remaining members of the council have been terminated. Gabriel Maldonado, CEO of LGBT and HIV/AIDS group Truevolution, was among the PACHA advisors fired. As to why the entire council—some of whom had time left on their term as advisors—were sacked, he told the Washington Blade that the "explanation is still unclear."
"I can only speculate," Maldonado said. "Like any administration, they want their own people there. Many of us were Obama appointees. I was an Obama appointee and my term was continuing until 2018." He suggested that "ideological and philosophical differences" may have played a role, pointing to moves such as the recent "ban" on words including "transgender" and "diversity" in budget documents by the Centers for Disease Control and Prevention.
---
More from Tonic:

---
While the logic behind the firings remains opaque, activists have decried the move. Scott Schoettes, a Chicago-based HIV/AIDS activist who resigned from PACHA in June, tweeted that the administration (and Vice President Mike Pence in particular) is "eliminating [the] few remaining people willing to push back against harmful policies, like abstinence-only sex ed."
It's unclear why the administration would decide now to remove members of the council. In September, Trump signed an executive order renewing PACHA for an additional year, along with 31 other presidential bodies. And it's not unprecedented for an incoming administration to remove members before appointing its own: President Obama did so with George W. Bush's appointees before choosing his own team.
But Maldonado wonders about the timing. "It is common for appointees to be terminated and for folks to kind of want their own people in," he told the Blade. "I think where the discrepancy comes in is why a year later, No. 1? Two, many of us, our terms were over earlier this year and we were sworn back in, and three were stayed on nearly four months after an executive order was signed continuing the council."
For now, the administration's plan, as is so often the case, remains unclear. But the Blade reports that new members may be in the works: The White House has been reaching out to LGBT Republicans and activists, inviting them to submit their names for PACHA appointments.
Read This Next: Preventing HIV Is a Matter of Privilege

Stories