Myanmar's jailing of two Reuters journalists who reported on the military atrocities against the Rohingya was slammed Monday by human rights groups as an attempt to "whitewash crimes."
The court in Yangon sentenced Wa Lone, 32, and Kyaw Soe Oo, 28, to seven years hard labor under the colonial-era Official Secrets Act.
The pair spent months investigating a massacre of 10 Rohingya by Myanmar security forces in northern Rakhine State, part of a campaign of violence that the U.N. has decried as genocide.
The state claimed the case had nothing to do with the reporters' investigation but was a matter relating to the illegal possession of state secrets. The journalists were arrested in December after they were invited to meet police officials at a Yangon restaurant where they were handed rolled-up papers allegedly linked to the security force operations in Rakhine State.
A Myanmar police captain subsequently admitted he had been ordered "to trap" the reporters.
Both defendants pleaded not guilty to the charges, arguing that they had followed "journalistic ethics."
Unlike previous court appearances, the pair were not allowed to speak to the journalist amassed outside.
Reuters editor-in-chief Stephen Adler called the decision "a sad day for Myanmar, Reuters journalists Wa Lone and Kyaw Soe Oo, and the press everywhere."
The decision prompted widespread criticism, with politicians, activists and fellow journalists calling on the government to overturn their sentences.
READ: The U.N. just called for Myanmar's military to be prosecuted for genocide
Scot Marciel, the U.S. ambassador to Myanmar, called the court's decision "deeply troubling," while Federica Mogherini, spokeswoman for the EU High Representative for Foreign Affairs and Security Policy, said the sentences "should be reviewed and the two journalists be released immediately and unconditionally."
Activists fear the sentence suggests Aung San Suu Kyi's government is ceding control of the country to the military.
"The outrageous convictions of the Reuters journalists show Myanmar courts' willingness to muzzle those reporting on military atrocities," said Brad Adams, Asia director at Human Rights Watch. "These sentences mark a new low for press freedom and further backsliding on rights under Aung San Suu Kyi's government."
Others point out that by jailing two journalists who had helped uncover the scale of the atrocities, the judiciary is now complicit in those crimes.
"The court has rendered itself complicit in the government's efforts to obscure the campaign of ethnic cleansing that is being perpetrated against the Rohingya and to whitewash crimes committed by soldiers and other authorities," Matthew Bugher, head of the Asia programme at human rights group ARTICLE 19, told VICE News.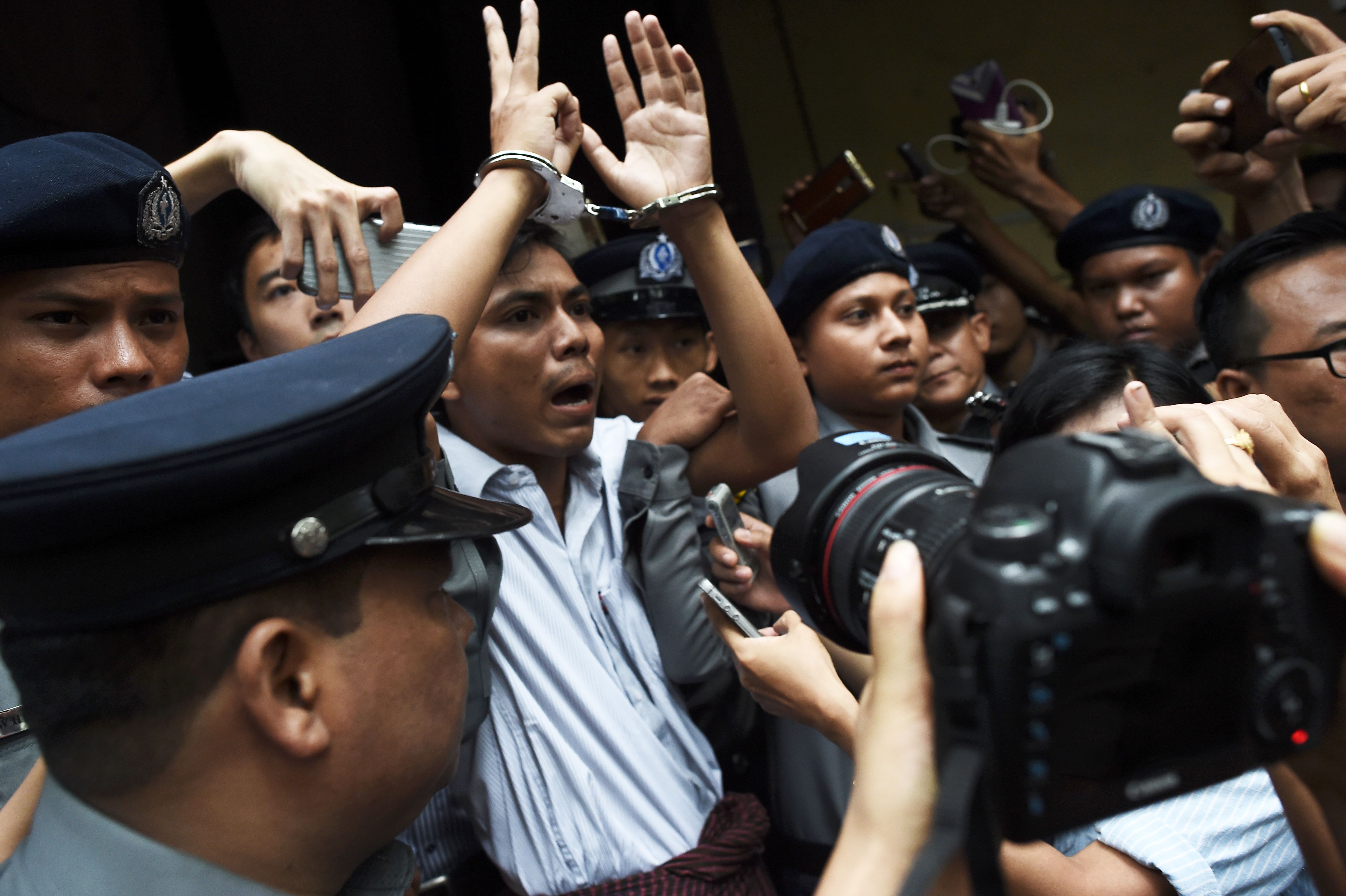 The government and military continue to claim that what happened in Rakhine State in August 2017 was simply a response to terrorist attacks on military stations. However, Tirana Hassan, Amnesty International's director of crisis response, says jailing journalists won't absolve them of their crimes.
"Today's verdict cannot conceal the truth of what happened in Rakhine State. It's thanks to the bravery of journalists like Wa Lone and Kyaw Soe Oo, that the military's atrocities have been exposed," Hassan told VICE News in an emailed statement. "Instead of targeting these two journalists, the Myanmar authorities should have been going after those responsible for killings, rape, torture and the torching of hundreds of Rohingya villages."
Aung Htun Oo, a media trainer at the Yangon Journalism School, said "the world of Myanmar news media is now in darkness. I understand this is trying to silence journalists so that they do not dare to say anything in the future."
Cover image: Myanmar journalist Wa Lone is escorted by police after being sentenced by a court to jail in Yangon on September 3, 2018. (YE AUNG THU/AFP/Getty Images)