Southern California's beloved psychedelic jaunt Desert Daze announced its return last month, with a new lakeside location and a starting lineup that includes Tame Impala, Warpaint, Mercury Rev, and a lot more.
Today, Noisey is pleased to present the second phase of Desert Daze's 2018 rollout, with a chunk of rising talent and old school heroes to sweeten the deal. New additions include Earth performing 2008's breakthrough The Bees Made Honey in the Lion's Skull, an exclusive North American performance by Uncle Acid & the Deadbeats, Portishead side project Beak>, Jarvis Cocker's mysterious new solo project JARV IS..., HINDS, Boogarins, and a lot more. Damien Echols of the West Memphis Three has also been tapped for the fest's alternative programming lineup to present High Magick: A Guide to the Spiritual Practices That Saved My Life on Death Row. All that, plus great films, talks, art installations and projections, the return of the Mystic Bazaar, and newly added late night programming.
Take a look at the new additions and poster below, and visit desertdaze.org to score those tix and more information.

Desert Daze 2018: Phase II
Jarvis Cocker introducing JARV IS...
Earth perform The Bees Made Honey in the Lion's Skull
Uncle Acid & the Deadbeats (North American exclusive)
Damien Echols presenting High Magick
Beak> (ft. Geoff Barrow of Portishead)
HINDS
Boogarins
Föllakzoid
Wand
Bedouine
Imarhan
Hand Habits
Mannequin Pussy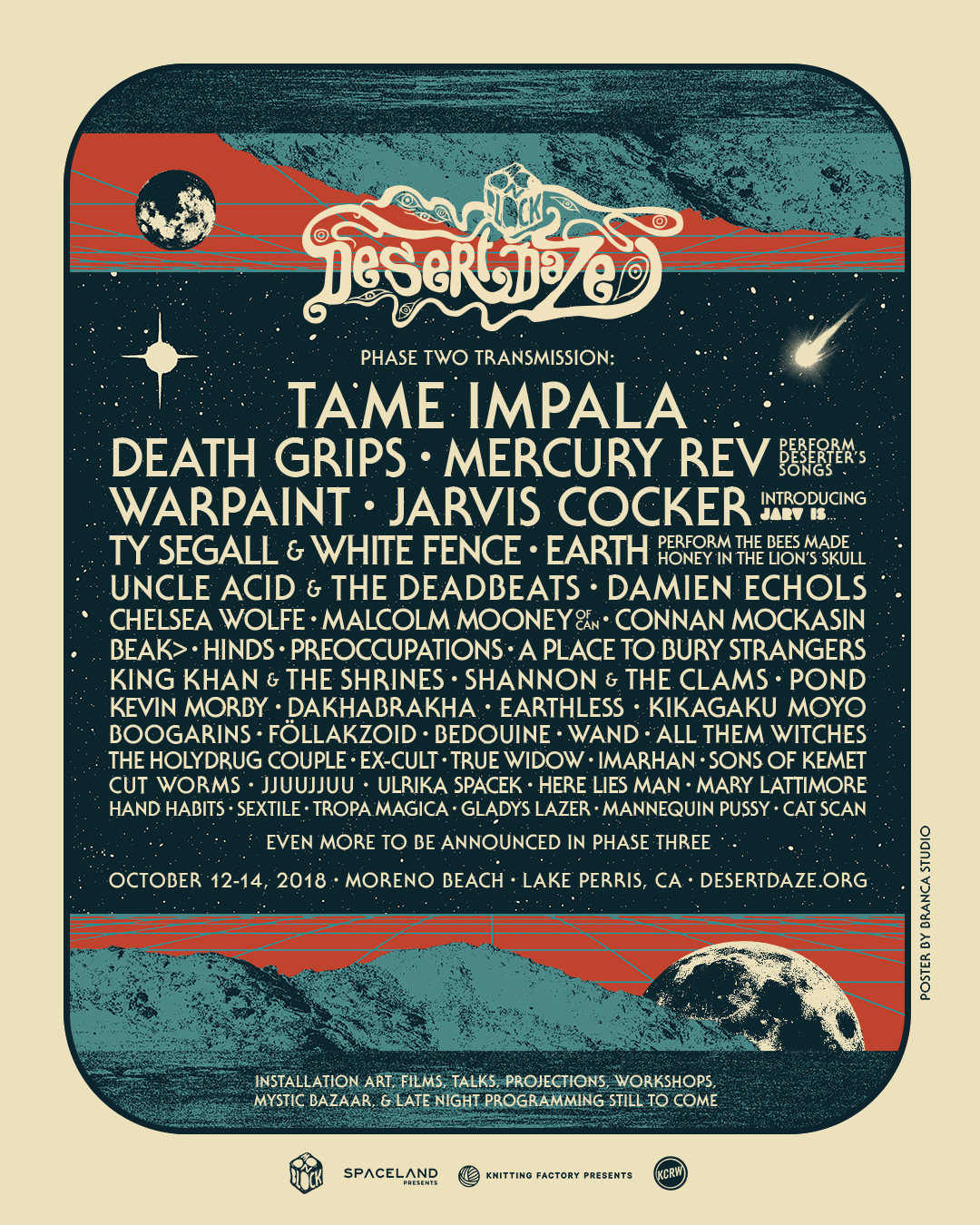 Desert Daze 2018 goes down Oct 12-14 on the delightfully surreal shores of Moreno Beach at Lake Perris in Southern California. Tickets and camping passes are on sale now. Visit desertdaze.org for
more information, and to watch the new Visualizer Radio.
Stay tuned to Noisey for Phase III of the lineup, including two more headliners.
Andrea Domanick is Noisey's West Coast editor. Follow her on Twitter.