Easy Glazed Shrimp Recipe
Crispy fried shrimp get the royal treatment with a quick dip in some honey, whipped butter, and Hennessy.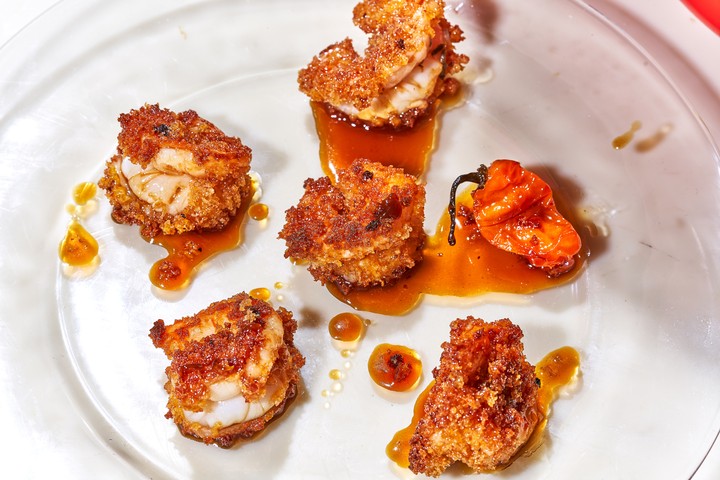 Photo by Heami Lee
Servings: 4
Prep: 15 minutes
Total: 35 minutes
Ingredients
3 eggs, lightly beaten
1 1/2 cups|160 grams panko breadcrumbs
2 pounds|900 grams jumbo shrimp, peeled and butterflied
kosher salt and freshly ground black pepper, to taste
1/2 cup|125 ml olive oil
1/2 cup|125 ml Hennessy
1/2 cup|65 grams light brown sugar
1/3 cup|110 grams honey
1/4 cup whipped butter
1 tablespoon fresh lime juice
1 habanero
Directions
1. Place the eggs and the panko in two separate large bowls. Season the shrimp all over with salt and pepper, then toss in the eggs, taking care to coat completely, then toss in the panko, pressing the breadcrumbs all over to ensure an even coating.
2. Heat the olive oil in a large skillet over medium-high. Working in batches, fry the shrimp, flipping once, until golden all over, 1 to 2 minutes. Transfer to a paper towel-lined plate and season with salt.
3. Meanwhile, heat the Hennessy in a medium skillet over medium-high. Using a lighter, carefully ignite it so it catches fire. Allow the flame to burn out, then add in the remaining ingredients. Cook, stirring and allowing the butter to melt. Toss in the shrimp, allowing them to be evenly coated. Transfer to a serving platter and eat immediately.
Stories