Trash Talk is VICE's new interview series where we invade the homes and studios of some of New York's most talented artists and creatives, dig through their garbage, and then ask them really pointed questions about it.
The first time I saw Chris Turner perform was at an event for Martin Luther King Jr. Day called #MLKNOW. Hosted at the historic Riverside Church, the place where the civil rights leader gave his iconic "Beyond Vietnam" speech, it featured a bevy of well-known celebrities reading radical speeches and performing politically themed music. But the up-and-coming singer stood out among the A-listers for his unique style. He had a blown out Afro, vintage eye frames, and a striking denim trench decorated with images of naked black women. But what really left an impression on me was his uncanny falsetto, which seemed to lift up the audience with every word he crooned. Since that day, I've been obsessed with his music, which transverses genres like jazz, R&B, and hip-hop, and connects them all together through his deeply literate lyrics that veer from the sensual to the socially conscious.
The artists hails from East Oakland, an area with a tremendous amount of history—it's where the Black Panther Party for Self Defense was founded. But he attended San Francisco's School of the Arts, taking the notorious Fruitvale BART Station to Daly City every day. He came up alongside black West Coast creatives like famed Creed director Ryan Coogler. And he moved to New York City in the 2002 to study jazz, embarking on a professional career that's taken him all over the world, singing back up for groups like the Roots and Usher, to writing songs with Prince and Esperanze Spalding, to dropping his own excellent projects, like 2012's trippy LOVElife Is a Challenge and 2016's excellent LOVE BOMB cover EP.

Despite the role music plays in his life, what's most precious to him is family. He met his artist wife, who adorns all of his clothes with gorgeous illustrations, while he was studying music at the New School. They've been together since 2004, were married in 2010, and have two beautiful, brilliant kids, with another baby on the way.
The apartment they share in Inwood Manhattan, a neighborhood that sits right above Harlem, is Turner's refuge from the world and fuels a lot of his creativity. Its walls are covered in art by his wife, there are children's toys scattered on the floor, and the aroma of incense with hints of really good weed wafts in the air.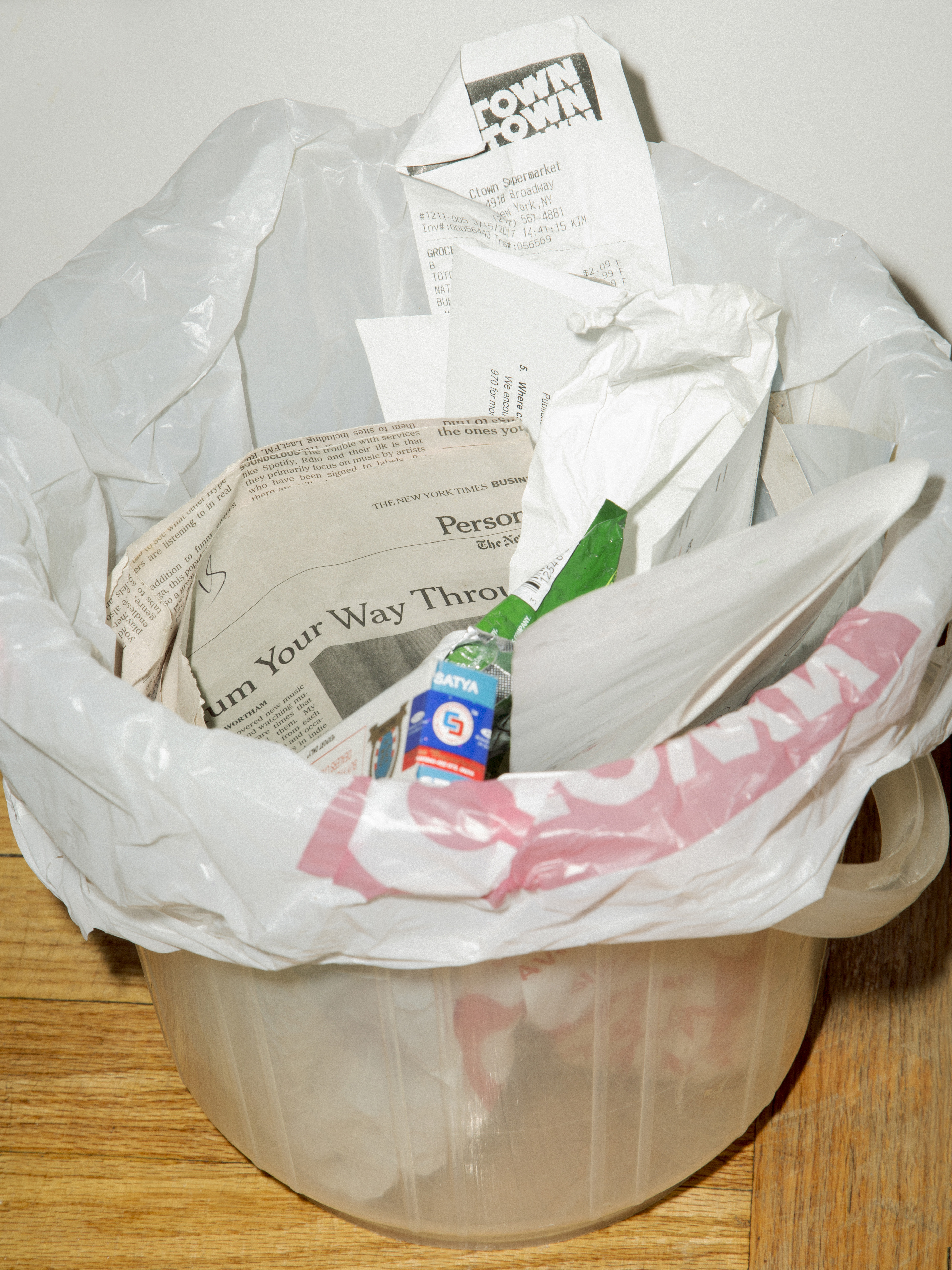 Most of the space is overrun by his curious kids, but he's also got a private spot for himself, a neat little recording studio that he uses to sketch out ideas for his songs before taking them to the studio. Inside, there are tall KRK speakers, guitars, and microphones mingling with his insane sneaker collection and ash trays filled with roaches from late night recording/smoke sessions. This is where I decided to dive headfirst into Turner's garbage in an effort to know a little more about him and his creative process. Here's what he had to say about the treasures I unearthed.
Greyhound Ticket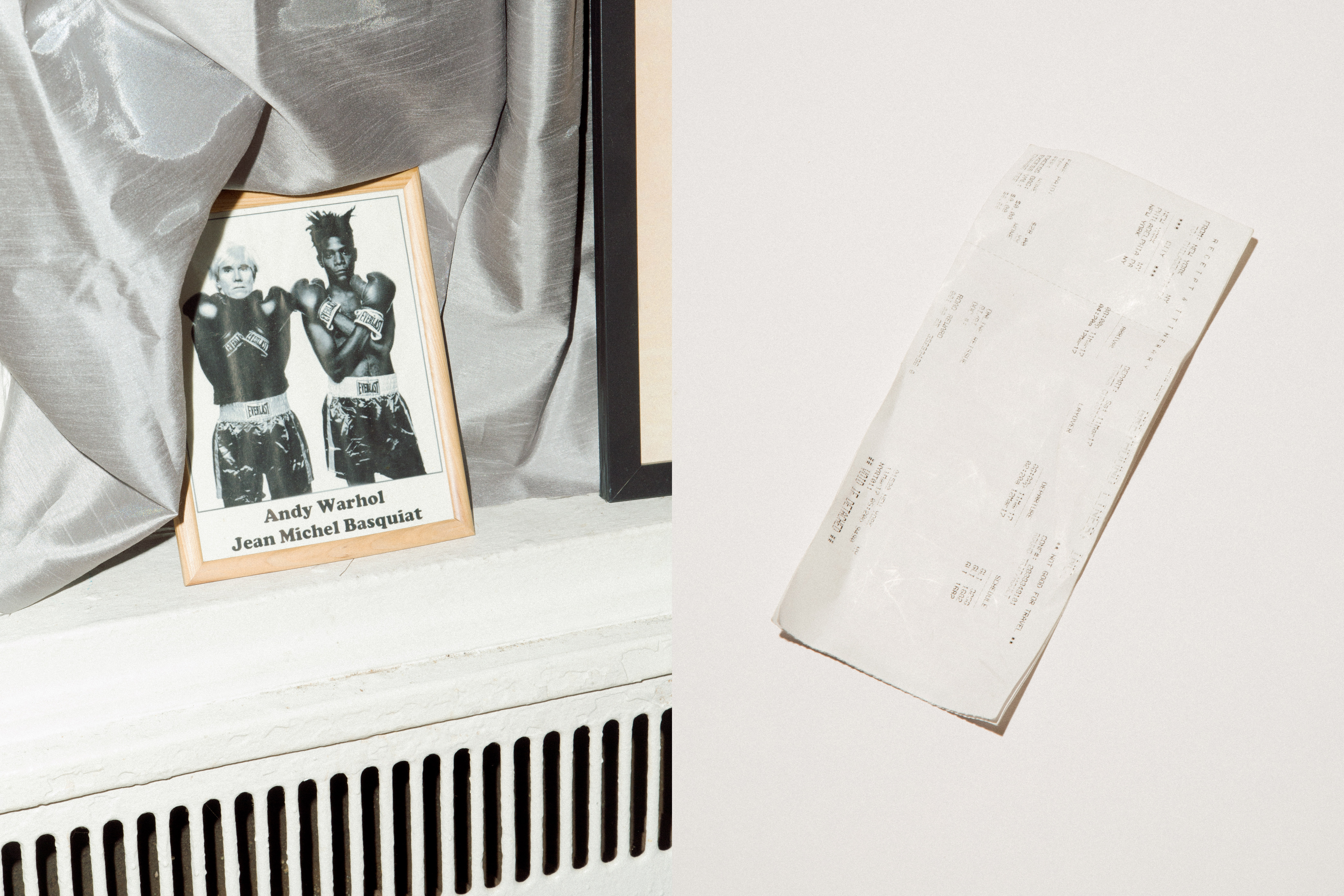 "I took the Greyhound a few days ago. I did a show in Philly at Johnny Brenda's with Killiam Shakespeare, Muhsinah, and Aaron Camper. It was dope. But it was more than just a show. It was with my project 'Belvedere,' which has been like a three-year process. Belvedere is the name of street where I'm from. It started with Killiam Shakespeare, and it grew in to me working with Ben Kane, who mixed D'Angelo's record. It's not cheap finishing up the album because Kane does it all analog to make some of the sickest, most retro sounds. When it's all wrapped up, we're going to get it mastered at Sterling Sound by the dude who did Amy Winehouse's music."
Flier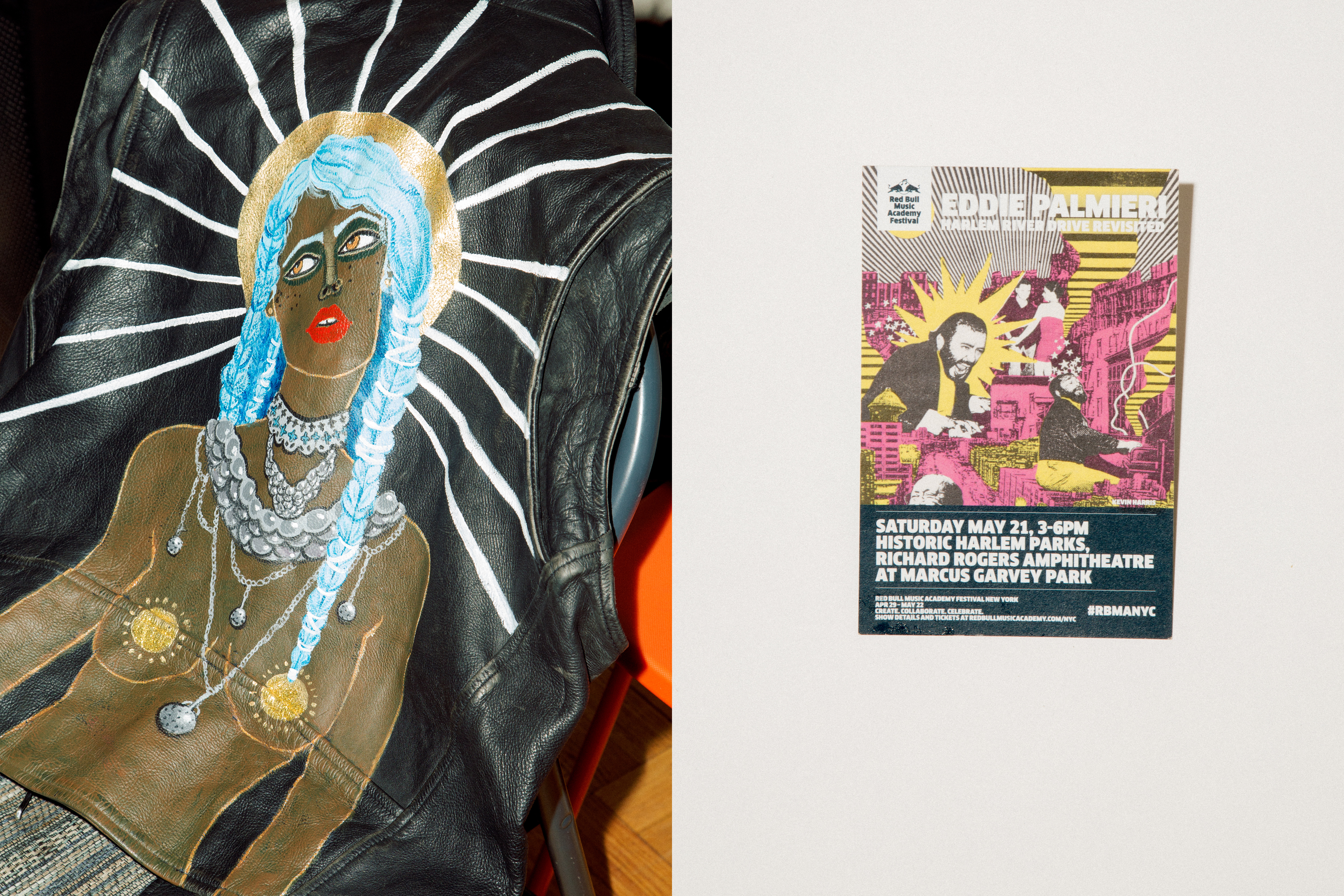 "This is a flier from a concert I did this summer with Eddie Palmieri. He's one of the originators of Latin jazz, a real legend. He put out this classic album in the 70s called Harlem River Drive. He's having me and a whole bunch of other young artists do a new version of that album this year. That's the dope thing about music—I've been able to work with legends like Eddie Palmieri and even Prince before he passed...
Prince took one of my voice memos, and then we made it into a song. It all started while I was on tour with Esperanza Spalding. She heard my memo and sent it to him. He sent back lyrics, and then we wrote to it, added lyrics. He came to the studio in Brooklyn and sat next me with crystal cane. The song came out as "We Are America." There's a video of it featuring Janelle Monae and Stevie Wonder. It was a political thing, used to raise awareness about the problems with Guantánamo Bay."
Incense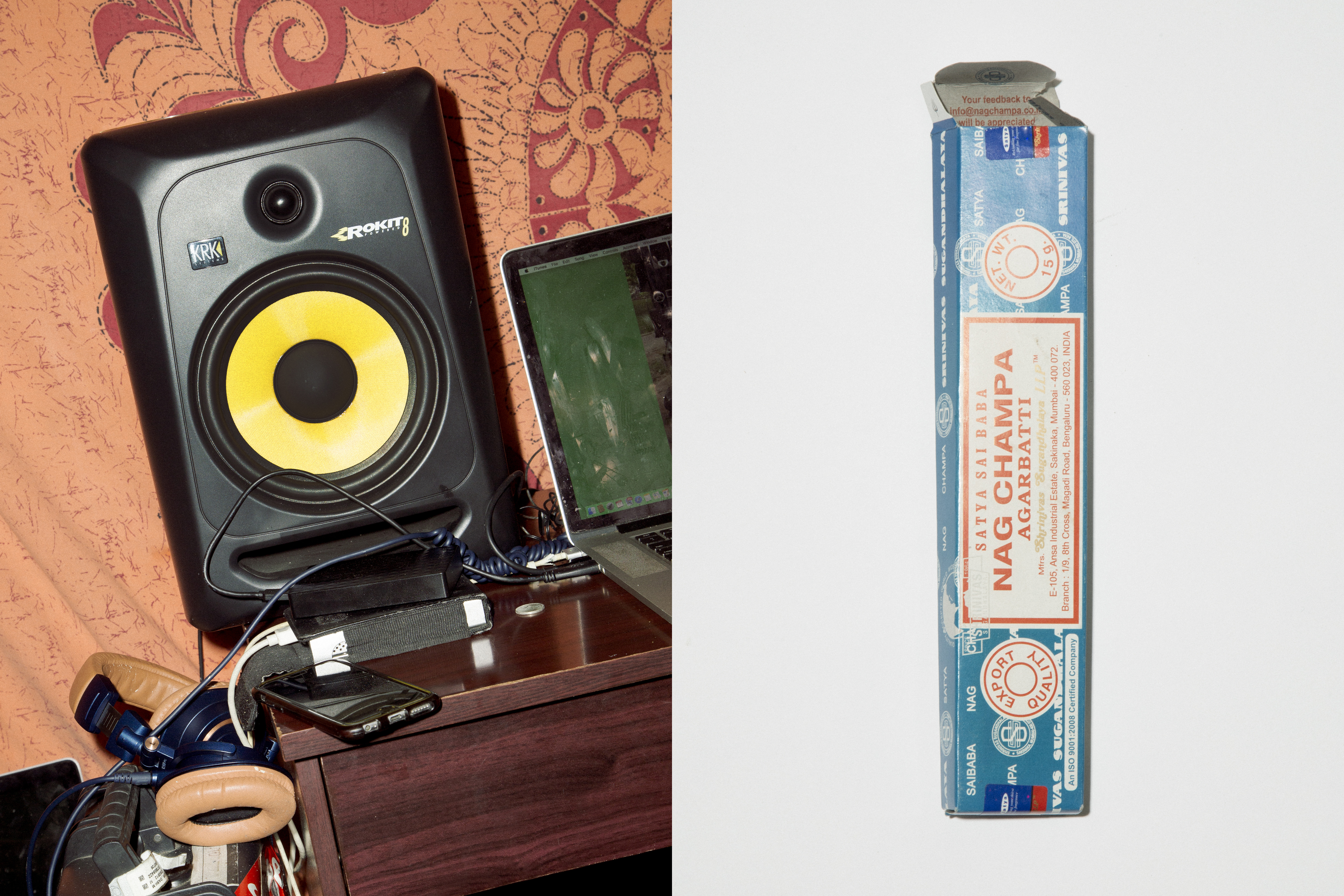 "This is our favorite incense, that's why there's no more of it [laughs]. I like nag champa because it is peaceful. People laugh at me because wherever I go, I bring it with me, along with some echinacea oil. When I burn incense, it definitely makes me feel at home. I also use it to cover up my medical marijuana. I've been burning it since I moved to New York, when I was living in dorms. On our first date, I brought my wife over to my dorm room, and I was burning some of this incense, and I got written up. I was smoking weed, too, but I blamed it all on the incense. Incense is never going away for me. Luckily, no one can tell on me for burning it now."
Grocery Bill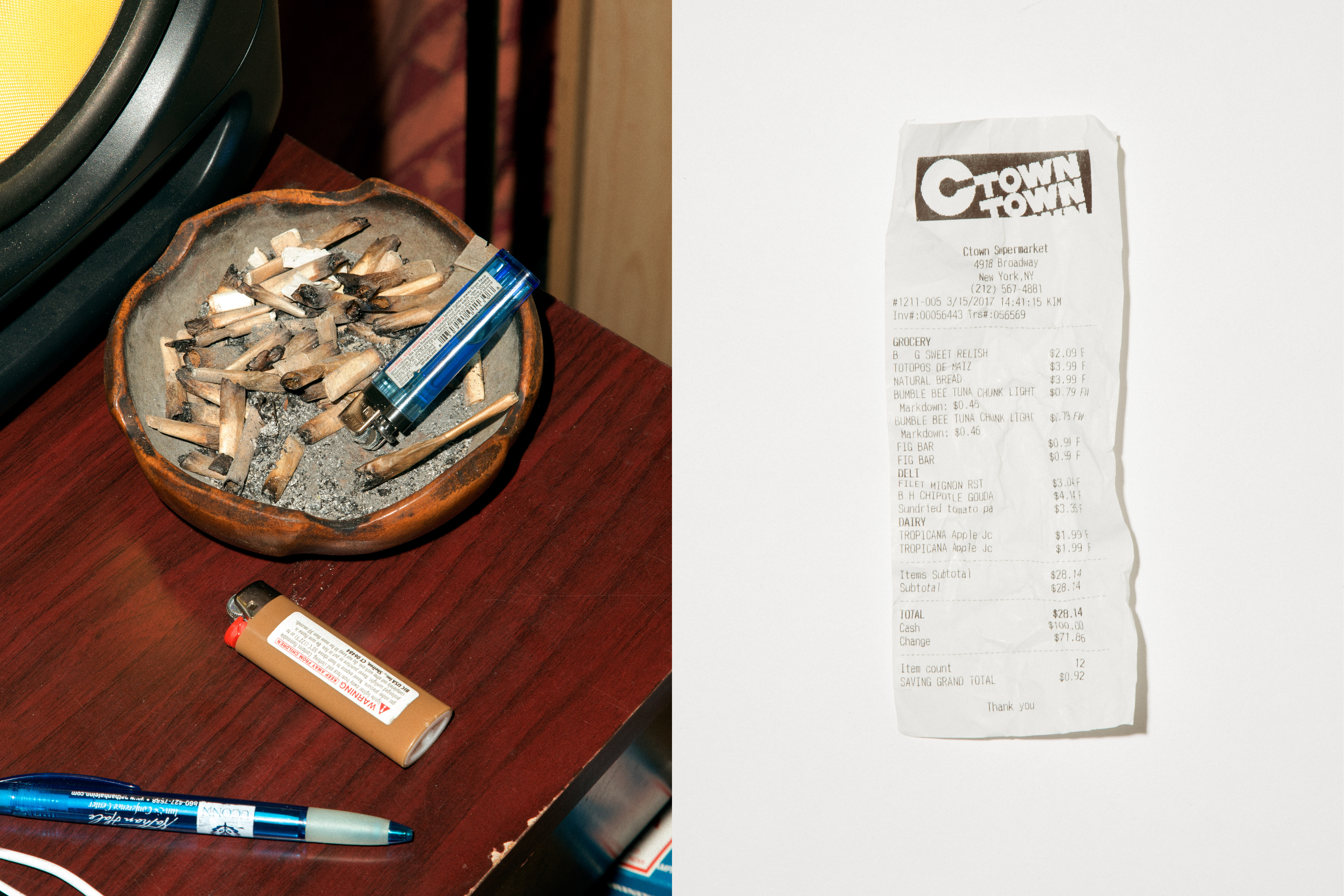 "My wife is awesome as far as holding the house down, teaching my kids, and having the house clean, but I get to chef it up for her. I make some really famous salsas—I'm a chips and salsa connoisseur, because it was my favorite snack growing up. As far as cooking, I've never been a red meat or pork guy, because my dad just didn't have us eating it growing up. I guess he ate it all his life, and a lot of our family died of high blood pressure. So I've always been very big on poultry, seafood, and veggies. But now we've been trying to cut back on the meat intake in general. We're just trying to eat better. My daughter's the pickiest. It's crazy because my boy, he'll eat all the veggies. But if my daughter sees anything green..."
Stage Plot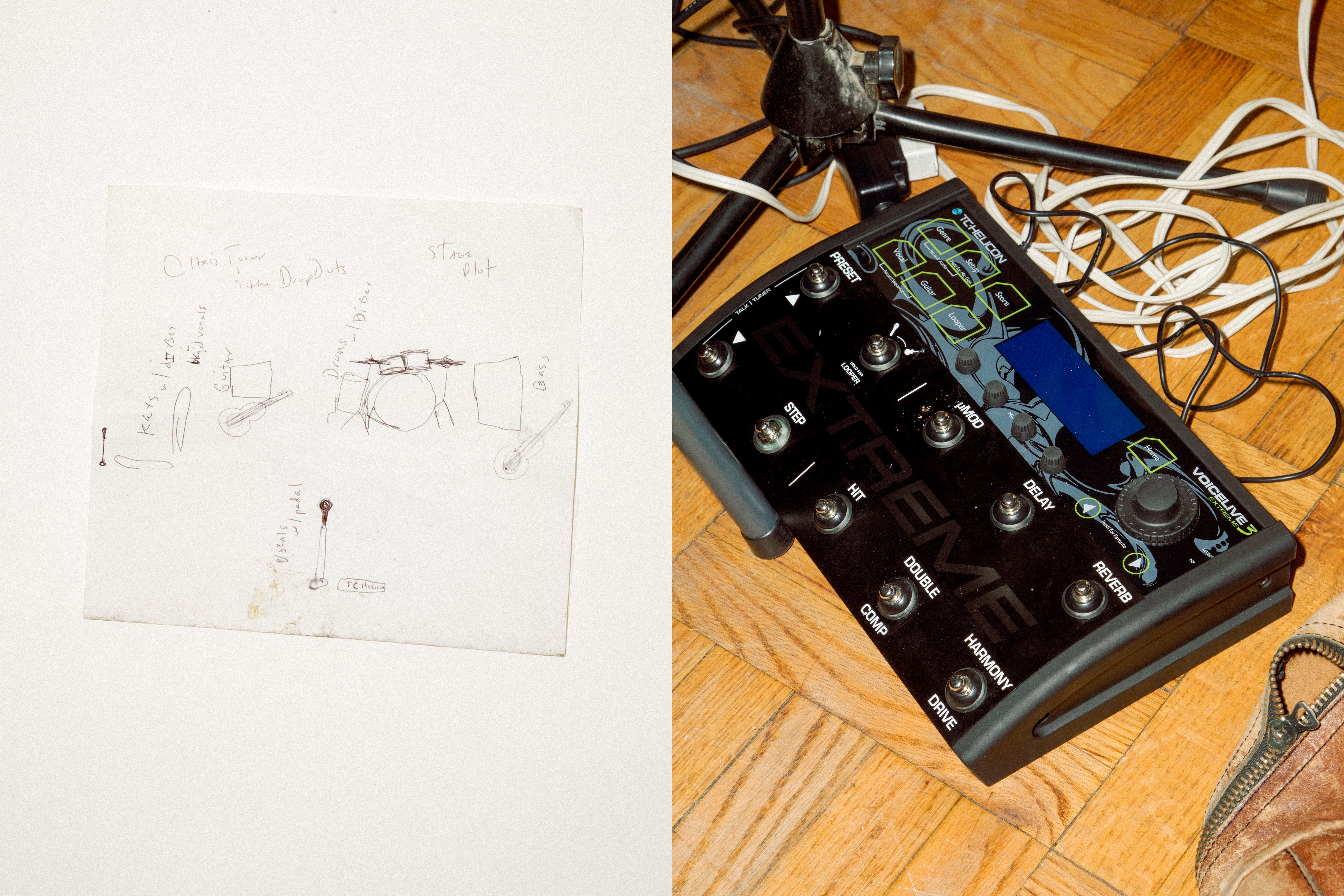 "I had a show at SOB's in January, and somebody asked me to send them a stage plot, so I drew one up myself. A stage plot is like what you send a venue so they know how your band is set up. It's funny, I tell my kids all the time that I can't draw. But I was just like, 'Fuck it, this is how it looks.' I sent it, and the venue was like, 'Oh, cool, thanks!'"
Student Loans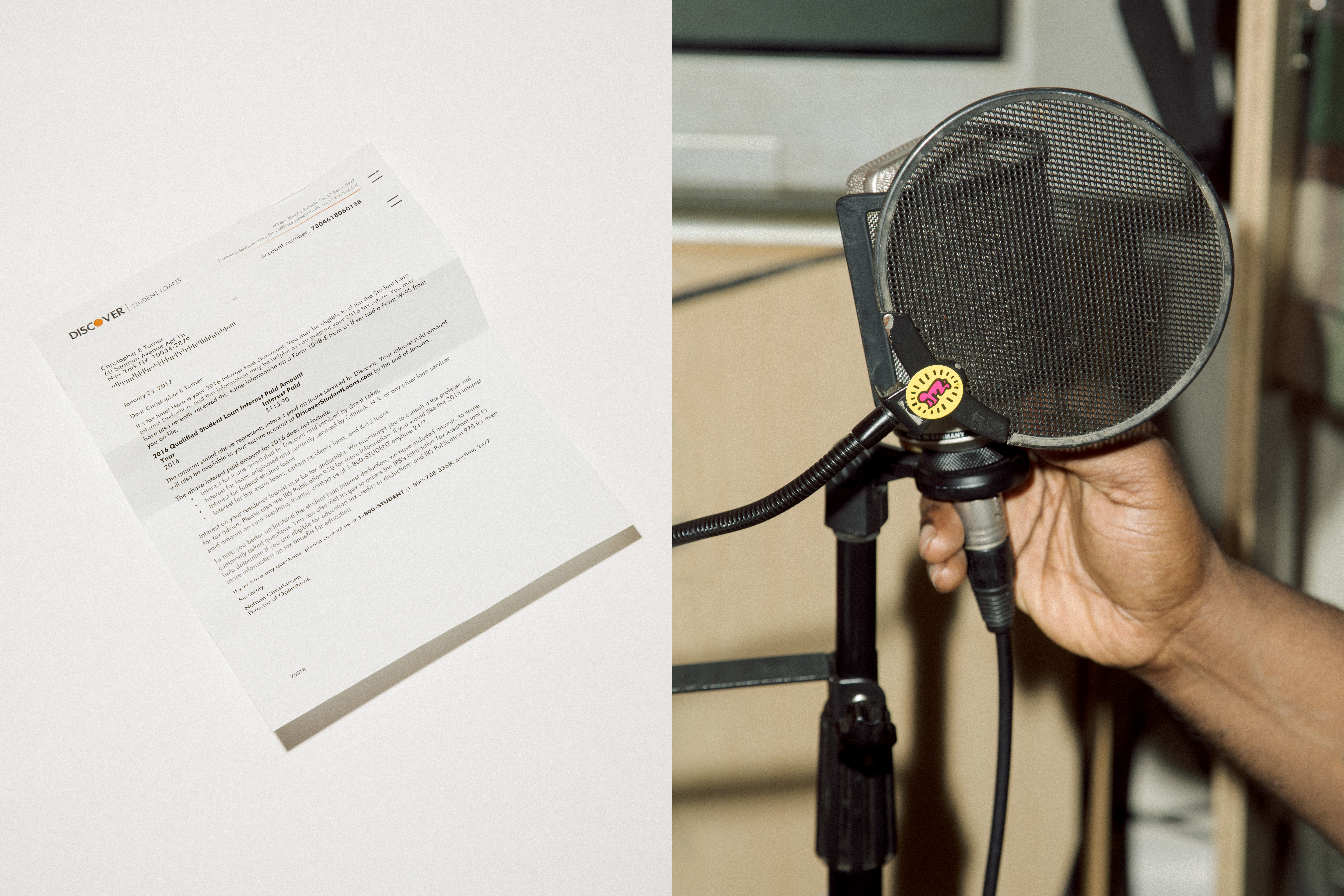 "I have a lot of these invoices. I went to two universities. It took me five years to graduate from the New School. I started in 2002, and I almost lost my scholarship. So I took a semester off to go back home and go to San Francisco State to get my grades together. I talk to the bill collectors every now and then. [Laughs] I check in, just to let them know I didn't forget about it. It's coming!"
Drawing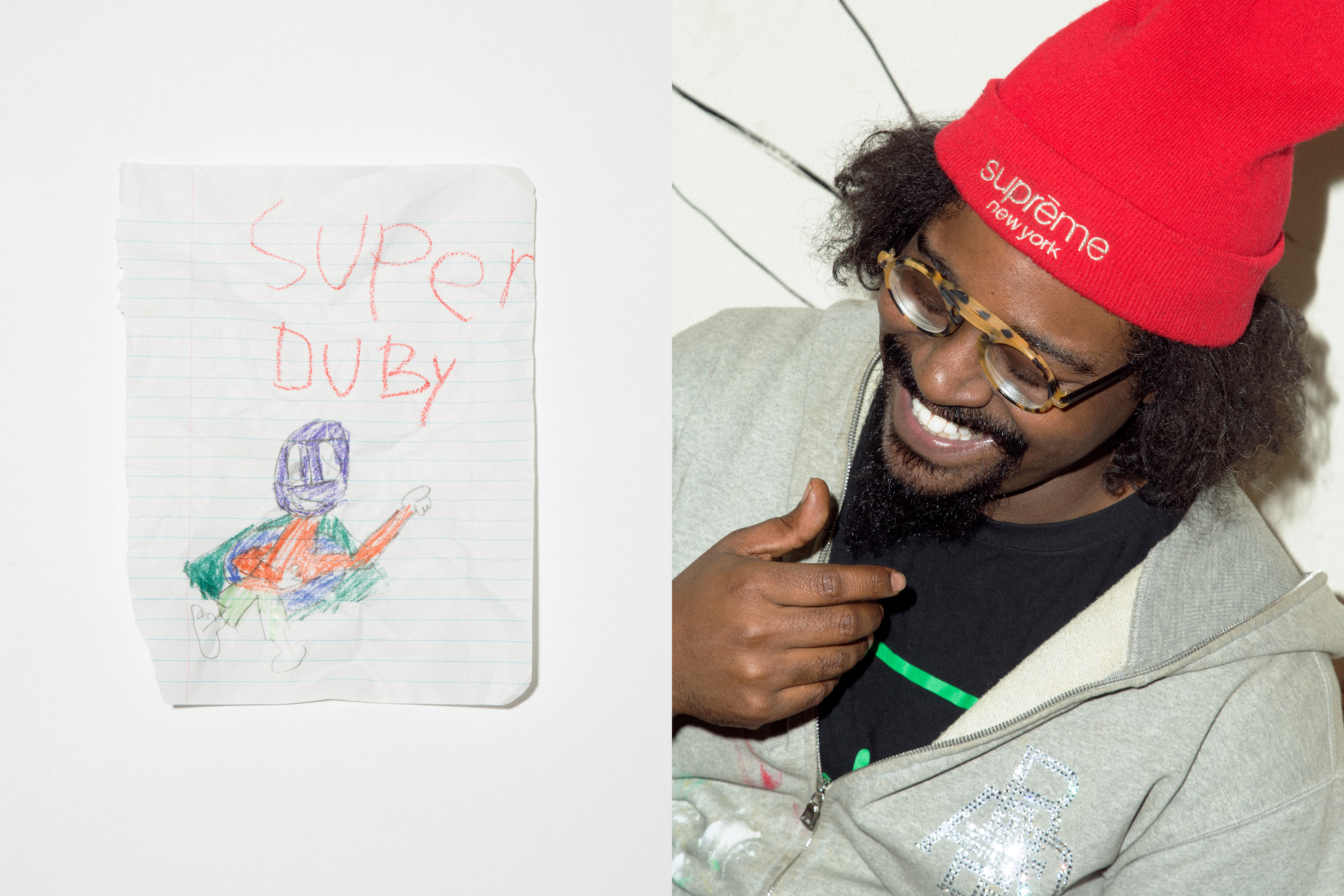 "This is my daughter's stuff. Actually, I have her drawings tatted on me. She's just awesome as far as how she lets her visual art shine. It's funny because before my son was born, she was more vocal. She wasn't as shy when it came to singing. But then, when he popped out, he was so just like, 'Ahhhhh!' That she's a little bit shy around people when it comes to that. And drawing became more of a way of her expressing herself. But they both can draw and sing. They're pretty cool."
Rolling Papers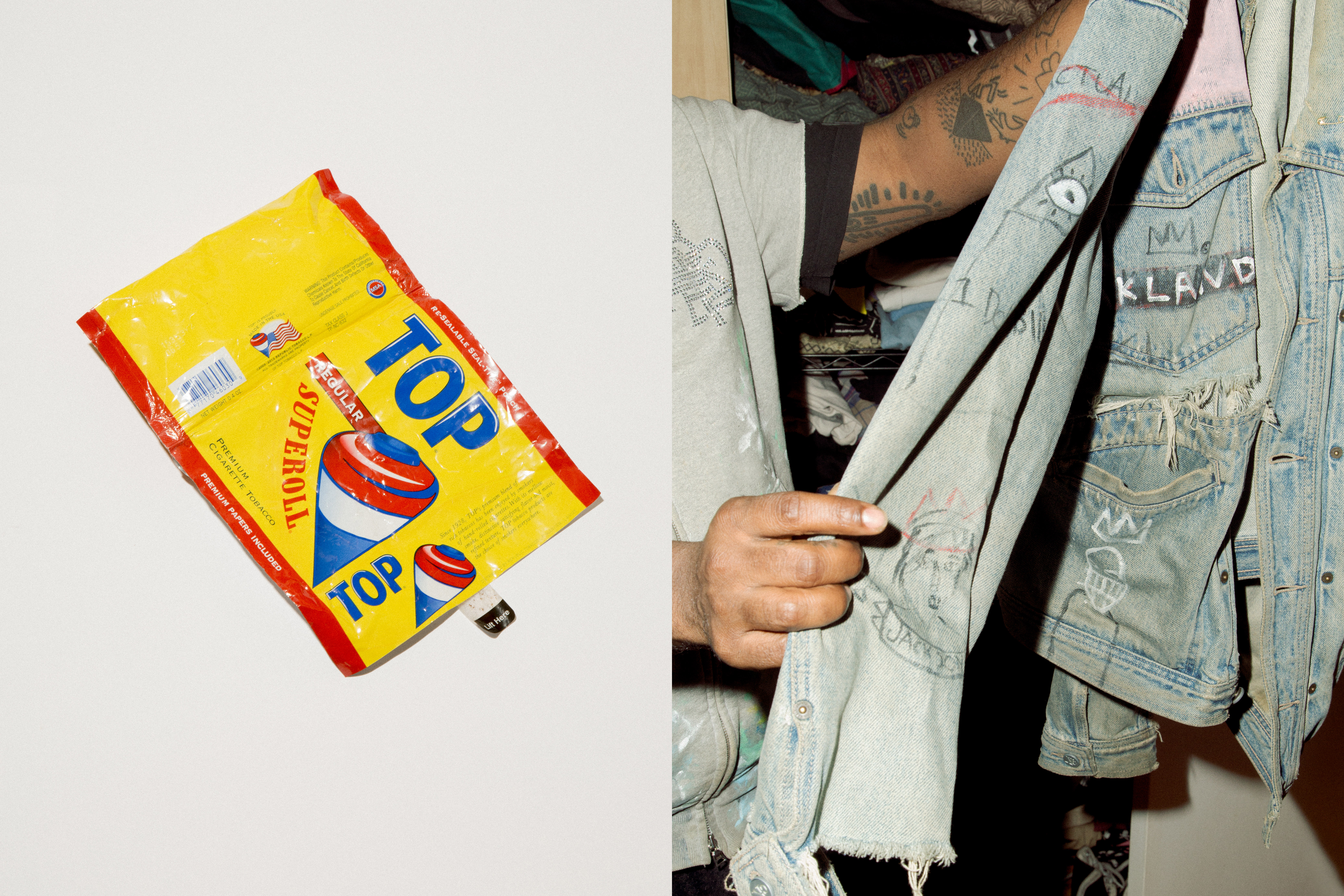 "After being on tour, I roll spliffs Euro-style. Well, I guess mine is the 'Bay/Euro-style,' because I add a little dry lavender seed mixed in with my tobacco, and I grind that first for a nice, little blend. Then I add whatever flavor marijuana I have. And that blend has become my thing. Literally, I'll smoke with people, and they'll be like, 'Wow! The taste!' But because of my wife being pregnant, I'm trying to cut out the tobacco part. So that's the symbol of me throwing it away. [Laughs]"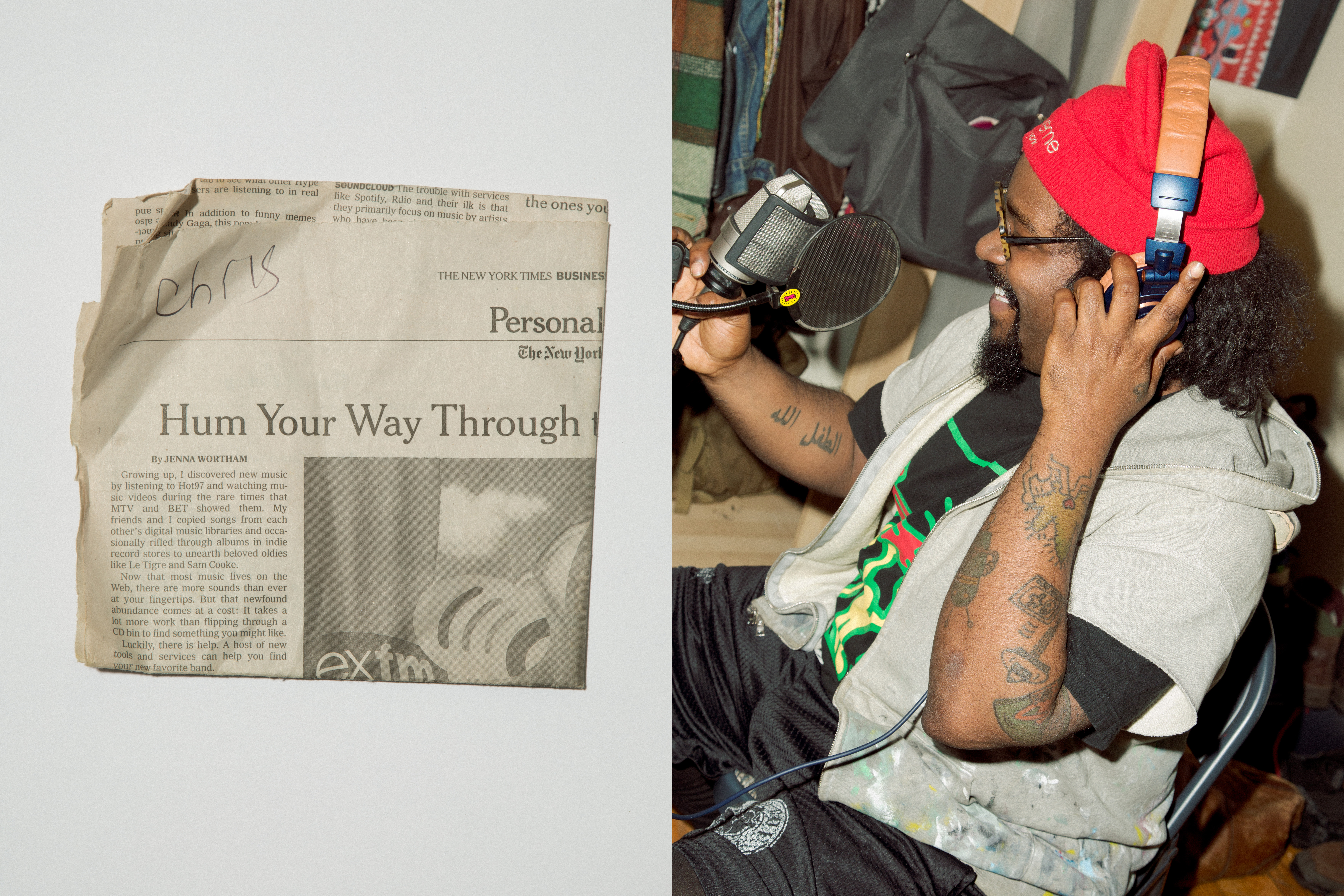 "This is funny. My dad sends me newspaper articles all the time. My dad tries to help me because I wouldn't be singing if it wasn't for him. He quit his job when I was eight—he was a buyer for Macy's—to focus on his own music. So I take his advice, and I love it. But I threw this clipping out, because it made me frustrated. I know I have some really good music. If this business was that easy, I would already be on top of things. The beautiful thing is, I get to sing—I had a show two nights this past week. I have shows all throughout New York, and I get to teach music at the New School. I get to use my voice to make money, which is awesome. But I'd love to really take it to the next level."

All photos by Eric Helgas
Listen to more music by Chris Turner on his SoundCloud.
Follow Wilbert on Twitter.