I decided to start teaching in public schools because of my own experience with education. Throughout my time in my Philadelphia-based-suburban high school, I was resentful of my lower-middle class family's lack of resources. We lived in a 900 square-foot house, I shared a bedroom with my sister, and we shopped at secondhand stores.
But it wasn't until I was in college that my father sat me down and explained something that would transform my perception of education: my parents had made the conscientious decision to live frugally in a more expensive area so my sister and I could attend the best public school district in the tri-state area. That sacrifice is something I can never repay, something I am forever grateful for, and something that I know not every parent has the ability to provide for their children.
Now I teach because I believe that it is every child's right to have a rigorous, exciting, and vibrant education, independent of their parents' income or zip code. And science, in my incredibly biased opinion, is the best subject to teach because it allows students to foster their curiosity about the world around them. I get to help kids explain puzzling phenomena from their own lives, such as how cracks form in sidewalks, why bakers are some of the sweetest chemists, and why garbage smells worse in the summer.
But all of that seems threatened with our new administration. Betsy DeVos getting confirmed as the new Secretary of Education lies in direct conflict with these two reasons I get up before dawn 180 days out of the year: my passion for public education and for teaching science.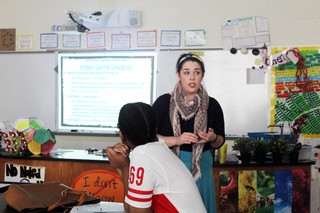 DeVos, born to an unbelievable amount of wealth, attended only private schools for the entirety of her education and has spent much of her adult life championing the voucher program for charter schools—a workaround to get public funding into pseudo-private educational institutions.

Unlike true public schools, charter schools have the ability to hand-select (and possibly discriminate against) their potential student population. That would mean that government funds that could go to public schools that serve a diverse population of students would instead be allocated to schools that serve whoever they want. Not to my classroom, where textbooks are outdated and ragged; not to helping teachers offset the hundreds of dollars they spend on supplies for their students every year; and not to improving the quality of the free lunch my students receive daily.
I can't imagine any vision more antithetical to one of the principles the United States was founded on: free, quality public education for all.
As a science teacher, DeVos's religious rhetoric hits my classroom even harder. I knew before committing to teach that Southern culture would present barriers to educating my students about the research and information gathered by the scientific community, including evolution, global warming, and sexual education. Throughout my career, I have had the opportunity to clarify such questions as, "Why didn't the Bible mention dinosaurs?", "If evolution is real, why aren't we still gorillas?", and, a personal favorite, "Can you get pregnant during a full moon?"
A school system that allows for religious ideals to be taught and pursued can only mean perpetuated misconceptions.
Science teachers across the country, and especially in the South (which has the highest rate of teen pregnancy in the nation), already battle an unbelievable amount of misinformation from our students regarding scientific fact. Meanwhile, DeVos stated in a 2001 interview for The Gathering that, "Our desire is to confront the culture in ways that will continue to advance God's kingdom."
Even if there are claims that she has no desire to push her beliefs, DeVos has clearly grounded herself in ensuring that we bring religious values to public education that should be secular and inclusive. A school system that allows for religious ideals to be taught and pursued can only mean perpetuated misconceptions, and dealing with the following repercussions.
As one of the hundreds of thousands of secondary science public school teachers in the US—a nation founded on revolutionizing public education and the Establishment and Free Exercise clauses of the Constitution—I urge everyone to exercise their civic duty and responsibility to stand up for excellent public schools and science education for every child, so that they, too, can feel the excitement of understanding this admittedly confusing world around us.